May 18, 2023
Contact: Brian Consiglio, 573-882-9144, consigliob@missouri.edu
Recent University of Missouri graduate Paul Odu thought he was joining a Zoom meeting last week with his mentor to discuss his undergraduate thesis — but university officials had something else in mind. President Mun Choi and several others joined the meeting and surprised Odu as the recipient of the 2023 Mark Twain Fellowship.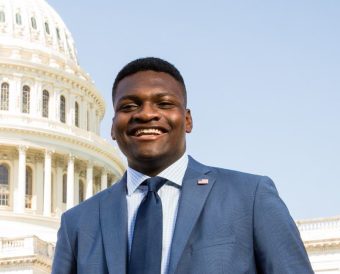 The highly competitive, MU-sponsored award annually supports one Mizzou senior or recent graduate to pursue graduate study outside North America in any discipline. The award comes with a $50,000 scholarship to cover tuition.

Odu, a Kansas City native who majored in economics and constitutional democracy with a minor in history, graduated from MU in December 2022. Odu was also active in the MU Honors College and graduated with the Honors certificate. He hopes to use the award money to participate in a graduate study abroad program at the University of Cambridge in England.

"It is so well deserved, Paul. In the short interaction I had with you, I said to myself, 'He is a special person.' You are going to go really far and it makes me proud to be a part of this university knowing you graduated from Mizzou. We are so proud of you," Choi said during the surprise announcement. "In 25 or 30 years from now, when we all look back and ask, 'Where is Paul now?' We won't have to look far. You are going to do amazing things. People who have received this fellowship in the past are doing amazing things. Keep achieving excellence and know that we are all here to support you."
In its 10th year, the annual Mark Twain Fellowship is awarded to one MU senior or recent graduate who demonstrates high academic achievement, leadership, service and character.
"You are accomplished both as a person and as a scholar. Thank you for letting me be a part of your intellectual journey," said Thomas Kane, director of undergraduate studies for the Kinder Institute on Constitutional Democracy who served as a mentor to Odu. "My time with you has been a case study in your intellectual humility, generosity and just as important, your love of intellectual curiosity."
During his time at MU, Odu participated in a year-long study abroad fellowship at the University of Oxford, where he studied British, European and global history. He was a member of Phi Beta Kappa, the nation's most prestigious academic honor society that champions education in the liberal arts and sciences and academic excellence. Odu was also a finalist for the prestigious Rhodes Scholarship.
"I think we are doing Cambridge a big favor in sending their way a student as strong as Paul," said Jay Sexton, chair of the Kinder Institute on Constitutional Democracy. "Elite universities can learn a lot from the best state school students we have here in Missouri. Paul is going to shred it over there!"

Odu credits all his mentors for supporting him during his time at MU.

"This is incredible, I am honored," Odu said. "I could not have done any of it without my mentors, especially Dr. Kane, and I cannot describe how impactful you've been in my life."