Feb. 14, 2023
Contact: Eric Stann, 573-882-3346, StannE@missouri.edu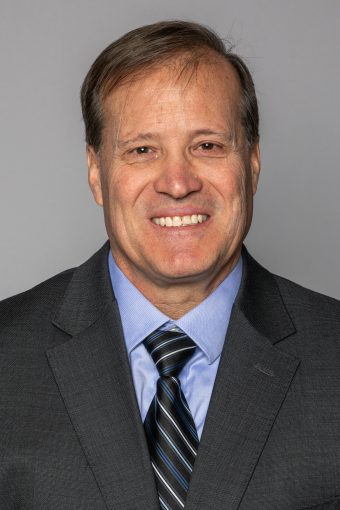 Today, the National Academy of Inventors (NAI) announced David Grant, executive director of the University of Missouri Midwest BioAccelerator (MU-MBAr), has been elected to the rank of NAI senior member. Grant, who is also a research design engineer in the MU College of Engineering, joins the ranks of an elite group of inventors recognized for their contributions to society.
"I am honored to earn the rank of NAI senior member," Grant said. "It's humbling to now be a part of this great group of inventors, and I'd like to thank the leadership, faculty and staff at MU, as well as my mentors, for all the support given to me along the way. To me, this is really a team award — I couldn't have accomplished what I've done so far without all the people surrounding me throughout my career."
NAI senior members are active faculty, scientists and administrators from NAI member institutions who have demonstrated remarkable innovation producing technologies that have brought, or aspire to bring, real impact on the welfare of society. They also have growing success in patents, licensing and commercialization, while educating and mentoring the next generation of inventors.
"David has excelled in patenting his cutting-edge inventions as well as in licensing his technologies for commercial product development," said Kattesh V. Katti, Curators' Distinguished Professor of Radiology and Physics and chairman of Mizzou's NAI chapter. "His contributions toward Mizzou's life sciences enterprise are phenomenal. His selection as a NAI senior member is richly deserved."
Grant's research primarily involves designing medical devices and products, along with other biomedical engineering innovations. Over the past 17 years, Grant's efforts have led to the development of two patented technologies, two licensed technologies and three filed patent applications. One example is a novel collagen biomaterial that Grant co-developed at MU. It was licensed to a startup company that he also co-founded, EternoGen, LLC.
Grant has also co-founded four other startup companies — G5 Biological Innovations, LLC; G5 Biomedical Consultants; Nanocine, LLC; and Surgical Momentum, LLC. In his role as executive director of MU-MBAr, he helps facilitate research innovations in health security with 17 universities throughout a seven-state region.
"I'm an engineer by trade, and I enjoy learning and problem solving," he said. "A lot of my motivation for developing new ideas for devices and products comes from being able to impact someone's quality of life. To do that, I take what is often lifelong research and help translate it into commercial applications."
In his role at the College of Engineering, Grant conducts biomedical research and mentors MU students working on research projects in the Department of Bioengineering. Grant said one of the main reasons he chose to work in academia is the interaction he has with his students.
"I come from a family of educators," he said. "Every day, I'm energized by the enthusiasm the students bring to learning and being able to help mentor them in support of achieving their goals is rewarding to me. I consider it a calling, and I feel fortunate to have former students follow up regularly with me to let me know that I've made a huge difference in their lives."
Grant has received several awards at MU, including most outstanding advisor, excellence in teaching and recognition for his entrepreneurial spirit.
"I've been working at Mizzou for 21 years and counting," he said. "I was initially attracted to MU because we have so many resources in one place that other institutions don't have, such as an engineering school, business school, law school and medical school. It's been a great collaborative environment, and now with the addition of the NextGen Precision Health initiative, I'm excited to see how Mizzou's commitment to improving the lives of Missourians and beyond continues to grow. I'm eager to see how we can use our collaborations across the campus to help leverage our resources across the state of Missouri, the Midwest and the country."
This year's class of NAI senior members represents 50 NAI member institutions and research universities across the nation. Together, the members of this class are named inventors on more than 1,200 issued U.S. patents.
The National Academy of Inventors is a member organization comprising U.S. and international universities, and governmental and non-profit research institutes, with over 4,000 individual inventor members and Fellows spanning more than 250 institutions worldwide. It was founded in 2010 to recognize and encourage inventors with patents issued from the United States Patent and Trademark Office (USPTO), enhance the visibility of academic technology and innovation, encourage the disclosure of intellectual property, educate, and mentor innovative students, and translate the inventions of its members to benefit society. The NAI has a close partnership with the USPTO and is one of three honorific organizations, along with the National Medals and National Inventors Hall of Fame, working closely with the USPTO on many discovery and innovation support initiatives. The NAI publishes the multidisciplinary journal, Technology and Innovation.