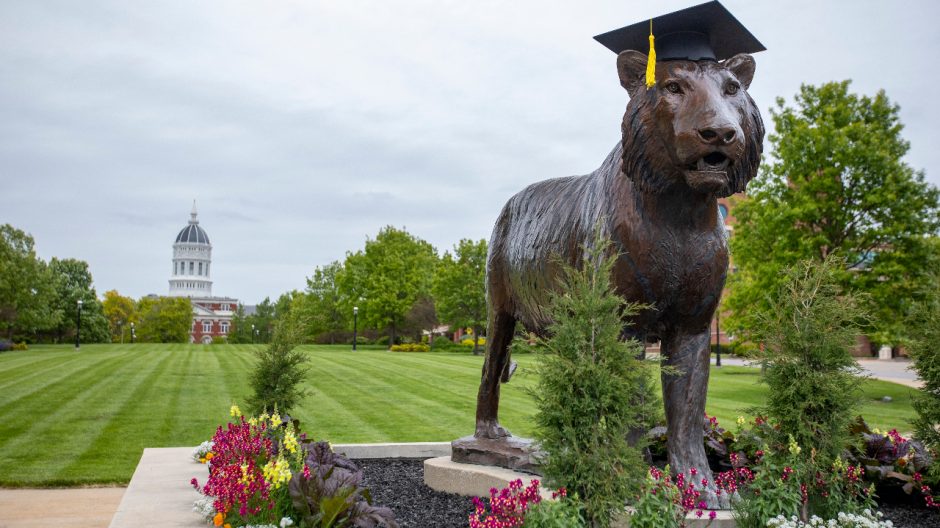 May 8, 2023
Contact: Sara Diedrich, 573-882-3243, diedrichs@missouri.edu
The University of Missouri will soon celebrate the accomplishments of 6,019 students with more than 6,650 degrees at MU's spring commencement ceremonies. University officials also will honor Kristy L. Weber, a renowned orthopaedic surgeon, and Ed Rapp, a highly accomplished businessman and philanthropist.
"We couldn't be more proud of our graduates, who have worked hard to reach this important milestone and are now ready for their life's journey," said Mun Choi, president of the University of Missouri. "We know that they will contribute as productive citizens and make important contributions to Missouri, the nation and beyond."
Of the 6,652 degrees MU is awarding during commencement weekend, 4,815 of them will be bachelor's degrees, 1,137 will be master's degrees and 272 will be doctorate degrees. There also will be 102 law degrees, 44 education specialist degrees, 116 veterinary medicine degrees, 107 medical degrees and 59 professional degrees awarded. Some students will receive more than one degree.
In all, students from the graduating class hail from 50 states and 47 countries. There are more than 900 online students in the Class of 2023.
"The University of Missouri's impact on the world can always be seen clearly at commencement," said Michael Williams, chair of the UM Board of Curators. "Students from across the state and globe come together to celebrate their accomplishments and then will venture throughout the world to positively impact thousands of people every day. Our graduates truly make a difference, and it's a privilege to be a part of this celebration."
Weber, who is among the most accomplished orthopaedic surgeons in the world and specializes in the treatment of children and adults with benign and malignant bone and soft tissue tumors as well as metastatic bone disease, will receive her honorary degree at the School of Medicine ceremony. Rapp, who worked for more than 37 years at Caterpillar Inc., where he was named group president and chief financial officer before he retired in 2015, will receive his honorary degree at the College of Engineering ceremony.
"These extraordinary students are on the cusp of taking their world class education at Mizzou and sharing their knowledge with others," said Latha Ramchand, provost and executive vice chancellor for academic affairs. "We look forward to seeing where they will go from here."
Schedule of Ceremonies
Friday, May 12
Graduate School – Masters and Education Specialist Degrees
Honors College

2 p.m. | Jesse Auditorium



Graduate School – Doctoral Degrees
Sinclair School of Nursing

6 p.m. | Jesse Auditorium



Robert J. Trulaske College of Business

7 p.m. | Mizzou Arena
Speaker: Ed Rapp, retired executive from Caterpillar Inc., and Honorary Degree recipient
Saturday, May 13
College of Arts & Science

Ceremony 1 -- 8:30 a.m. | Mizzou Arena
Ceremony 2 -- Noon | Mizzou Arena



School of Medicine

11 a.m. - Jesse Auditorium
Speaker: Ben "Doc" Schmidt, a gastroenterologist based in St. Louis.


School of Law

2:30 p.m. | Jesse Auditorium
Speaker: W. Brent Powell, judge with the Missouri Supreme Court and Mizzou Law alumnus



School of Health Professions

3:30 p.m. | Mizzou Arena
Speaker: Vivek H. Murthy, the 21st Surgeon General of the United States



College of Agriculture, Food & Natural Resources
Sunday, May 14
Missouri School of Journalism

9 a.m. | Mizzou Arena
Speaker: Nikhil "Nik" Deogun, CEO of the Americas/U.S. senior partner for Brunswick Group, an international communications advisory firm, and former managing editor of CNBC



College of Engineering
College of Veterinary Medicine

1 p.m. | Jesse Auditorium
Speaker: Ashley Bourgeois, veterinarian, board-certified veterinary dermatologist, podcaster and alumni of MU College of Veterinary Medicine



College of Education & Human Development
ROTC Commissioning of Officers
Air Force ROTC

Saturday, May 13
11 a.m. – 1 p.m. | Busch Auditorium, Cornell Hall



Army ROTC

Sunday, May 14
10-11 a.m. | Francis Quadrangle
Speaker: Col. Darrell L. Green, class of '92 and 2022 member of the MU Army ROTC Hall of Fame



Naval/Marine ROTC

Sunday, May 14
9-10:30 a.m. | Student Center, Leadership Auditorium (2501)
Speaker: Cmdr. Brett Holdiman, retired from U.S. Navy,
For more information on the commencement ceremonies and Columbia accommodations, please visit: commencement.missouri.edu.
Honorary Degree Recipients Biographical Information
Kristy L. Weber biography
Born in St. Louis, Kristy L. Weber is among the most accomplished orthopaedic surgeons in the world, specializing in the treatment of children and adults with benign and malignant bone and soft tissue tumors as well as metastatic bone disease. Today, she is the Abramson Family Professor in Sarcoma Care Excellence and vice chair of faculty affairs in the Department of Orthopaedic Surgery at the University of Pennsylvania as well as director of the Sarcoma Program at the Abramson Cancer Center in Philadelphia. Weber has built a collaborative sarcoma research team combining clinical and basic research between Penn Medicine and Children's Hospital of Philadelphia.
Her impressive journey began at the University of Missouri, where Weber graduated summa cum laude in 1987 with a bachelor's degree in animal sciences. She went on to earn a medical degree from John Hopkins School of Medicine before eventually finding her passion in orthopaedic oncology and serving as a fellow in orthopaedic oncology at the Mayo Clinic in Rochester, Minnesota.
Weber's celebrated work is reflected in her current role as president of the American Academy of Orthopaedic Surgeons — the first woman elected to the position. Her nominations to several leadership positions in the AAOS, especially that of president, have included rigorous evaluations of her clinical, research and leadership performance. Her peers in the field of orthopaedic surgery nominated her for the position. Weber is highly respected for her work and as a person of influence in her field.
Weber has earned high recognition as a clinical doctor, being named to both America's Top Doctors and Best Doctors in America from 2015 to 2018. She was also named to Philadelphia magazine's annual Top Docs in 2018 and 2019 and Baltimore Magazine's Best Doctors in 2011. She has contributed to more than 100 published manuscripts, 48 book chapter and six books since 1989 and has been invited to make more than 200 presentations.
Weber has held numerous leadership positions and served on many committees for orthopaedic associations. She continues to be a mentor and advisor to pre- and post-doctoral students, laboratory students and medical students. Weber has received countless awards, including honorary memberships and fellowships, and is often invited to speak at national and international courses.
Weber's dedication to patient care as a physician is exemplary. She was awarded the Kappa Delta award from the American Academy of Orthopaedic Surgeons in recognition for her achievements as a surgeon-scientist. Additionally, she has led national organizations such as the Musculoskeletal Tumor Society, Ruth Jackson Orthopaedic Society and Secretary of the Orthopaedic Research Society. Weber is a founding member of the nonprofit, International Orthopaedic Diversity Alliance, and served as its inaugural president in 2021-22. She is committed to improving the culture and diversity of orthopaedic surgery and received the 2022 FOCUS award for the Advancement of Women in Medicine.
Weber is regarded as a preeminent physician, orthopaedic surgeon, academic scholar and national leader while also embodying the highest character, standards and professionalism.
Ed Rapp biography
Ed Rapp has led a life dedicated to improving the lives of others. A respected leader known for his integrity and philanthropic nature, Rapp is a first-generation college student from rural Missouri and a proud alumnus of the University of Missouri. His compassion, generosity and devotion are unmatched, showing his deep roots in the values of MU.
In 1979, Rapp received a bachelor's degree in finance from MU and began work as a pricing analyst at Caterpillar Inc., the world's leading manufacturer of construction and mining equipment. He had a highly successful career at Caterpillar, serving in numerous positions over the next 37 years, including being named group president in 2007 and chief financial officer in 2010. Over the years, he lived and worked around the world, including assignments in the United States, Africa, Europe and Asia.
Rapp's career was cut short in late 2015, when he was diagnosed with Amyotrophic Lateral Scierosis or ALS, also known as Lou Gehrig's disease. In 2016, he retired from Caterpillar and founded Stay Strong vs. ALS that invests in institutions focused on finding a cure and improving assistive technologies for ALS patients. To date, his foundation has raised more than $15 million in support of finding a cure for ALS. Additionally, Rapp serves on the executive committee of ALS Finding a Cure and is the chairman of the advisory board of Answer ALS.
The same clarity of vision and focus that were at the center of Rapp's success as a business leader are now the driving forces behind his success as an ALS philanthropist. For example, when Rapp learned there was no central repository of data to assist the ALS research community, he brought together Google and Microsoft to improve access to information and make it more accessible to researchers around the world.
Rapp has also been generous with his time and resources to support MU, which includes serving on the Trulaske College of Business Dean's Advisory Board and establishing a scholarship to support students from Cooper County, Mo., where he grew up. He also donates to and supports the Heartland Scholars Academy in the business college to support first-generation college students from rural communities.
Rapp has long been a supporter of his local Easterseals chapter and has served on the local and national boards of Junior Achievement, which inducted him into its Hall of Fame.
With his son, Rapp is involved in residential and commercial development and started Rapp Ventures, a private equity company focused on early-stage companies across a range of industries. In 2022, Rapp published "The Flywheel of Life and Leadership," a book outlining a comprehensive approach to life and leadership.
In addition to his degree from MU, Rapp is a graduate of the University of Illinois Executive Development program. He and his wife, Ann, live in Cary, North Carolina, near their children and grandsons.