May 1, 2023
Each year during Show Me Research Week the office of undergraduate research hosts the Visual Arts and Design Showcase (VADS). The show, which is now in its eighth year, is hosted at Columbia Art League, and features work from students from all departments who specialize in a variety of mediums.
As a juried exhibition, participating artists meet guest jurors to discuss their art, its conceptual framework, and any artists who inspire their practice. Students are also given the opportunity to compete for a variety of awards and cash prizes.
Danielle Hardy, a senior majoring in digital storytelling, was awarded the grand prize for the "Artistic Expression" category and the Columbia Art League award, the former coming with a $2,000 cash prize.
"I was truly honored when I won these awards," Hardy said. "I was not expecting to win anything, so when I did, I was over the moon."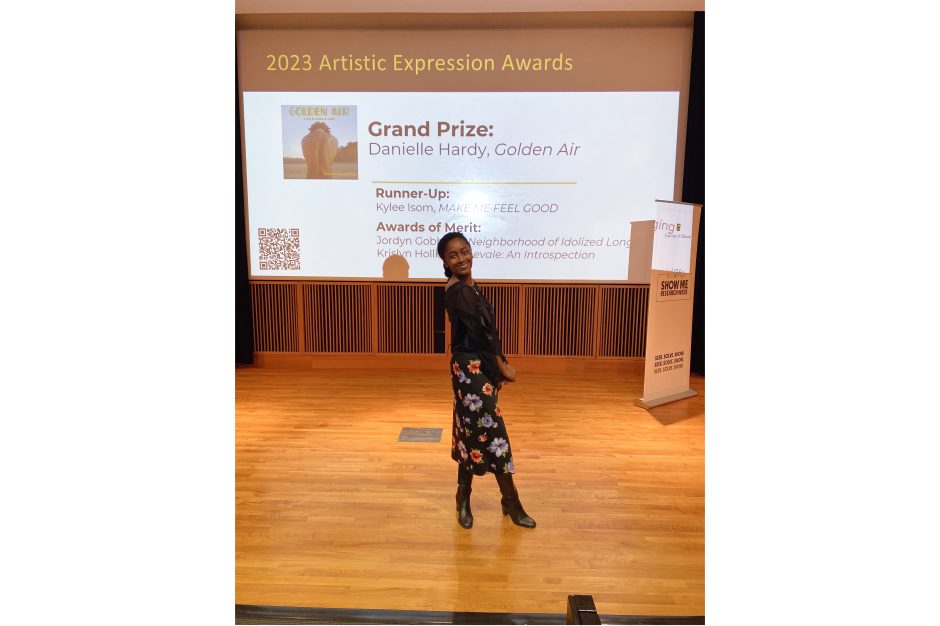 Hardy displayed her video project titled "Golden Air", a non-narrative short film that centers around the relationship between nature and the beauty of Blackness in nature. This short film, made during Hardy's advanced Digital Storytelling class, is a part of her larger artistic practice which explores Black historical themes in modern contexts through photographic mediums.
"I hope that when people of color watch "Golden Air" they resonate with the message I am conveying about occupying one's place in nature," Hardy said. "Further, I hope that when white people see this piece they can walk away with a gained perspective of my experience as a Black woman in nature."
Hardy was one of 12 students who received awards for their work in this year's showcase. Awards were sponsored by departments here at Mizzou, as well as this year's event sponsors.
Jonathan Asher Photography Award
Lilyann Hames for "Wear Me Out," Photography category
MU Museum of Art & Archaeology Award
Jack Rintoul for "Love and Suspense," Strategic Communication and Graphic Design
MU Libraries Award
Mara Fenwick for "Magic Bubble," Textile and Apparel Management category
Alyssa Pierson for "Tinker & Bell," Textile and Apparel Management category
Artistic Expression
Runner up – Kylee Isom for "MAKE ME FEEL GOOD," Photography category
Awards of Merit

Jordyn Gobble for "A Neighborhood of Idolized Longing," Art category

Krislyn Hollis for "Carnevale: an Introspection," Art category
Applied Design
Grand Prize — Brooke McKee for "Tie the Bow," Textile and Apparel Management category
Runner up — Sydney Flowers for "Columbia Performing Art Academy," Interior Design and Architectural Studies category
Awards of Merit

Abby Blenk for "Entropy of a Memory," Video category

Sydney McClintock for "Killing V," Textile and Apparel Management category
People's Choice
Mara Fenwick for "Magic Bubble," Textile and Apparel Management category
All 44 projects have been archived on the MU Libraries Digital Exhibitions and Online Forums site. Here, each student artist has their own exhibition page consisting of photos of their work, their artist statement and their artist video.
Story written by Samantha Novak