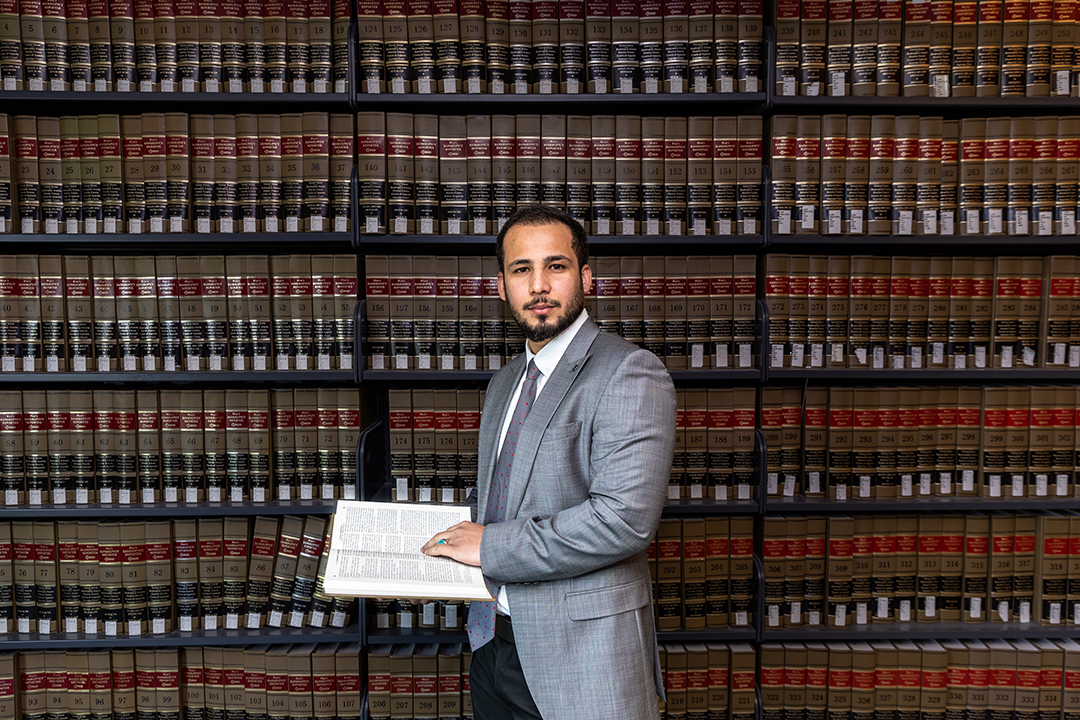 Nov. 29, 2022
Contact: Marcus Wilkins, wilkinsm@missouri.edu
Photos by Abbie Lankitus
At first, Zarifullah Darkhily assumed the explosions echoing through the halls of Kabul University were automobile backfire in the streets of Afghanistan's capital city. In reality, terrorists had breached the building on Nov. 2, 2020.
For the young professor and his contemporaries, it was their darkest day
"I thought of my family and my friends," said Darkhily, who was head of the institution's public policy and administration department at the time. "I thought briefly of how I was at this university trying to be useful to my people. But mostly I thought about getting to safety."
Darkhily survived, but 22 people were killed and dozens were wounded. The day stays with him as he continues to pursue his calling in higher education.
Two years later, Darkhily is serving a two-year appointment as a visiting professor at the University of Missouri School of Law. Placed here through the efforts of the Afghan-U.S. Law Alumni Association and MU faculty, Darkhily imparts daily his knowledge of human rights law and international law to Honors College students and law students.
"I talk about my background, my career, what I've been through, what my people are going through and what it means to be an advocate for human rights," Darkhily said. "If my experiences can help students better understand the world, I hope to give them everything I have."
Nomadic academic
Darkhily's home of Panjshir, Afghanistan, translates to "five lions," a reference to the brothers who, legend says, rerouted flood waters in the region during the 10th century. Located about 100 miles from Kabul, the rugged mountains that surround the picturesque valley made it a military stronghold that resisted the Soviet Union in the 1980s and the Taliban in the 2000s.
As a boy, Darkhily would come to know his birthplace only through photos and stories. In the 1990s, when he was less than a year old, Darkhily's family left its war-ravaged homeland seeking safety and opportunity in neighboring Pakistan.
His father found work as a restaurant cook, and young Darkhily immediately adopted his new country's favorite sport, cricket. When he wasn't playing on the pitch, he was prioritizing his studies — especially English.
"When peace finally came to Afghanistan 17 years later, my family decided to return," Darkhily said. "There was a new government and renewed hope."
As an 11th grader in Kabul, Darkhily would soon witness the innerworkings of the country's standardized college placement test with a system many considered to be less than fair.
"My cousin was a law student, so I became familiar with certain legal subjects," Darkhily said. "The exam process motivated me to stand against corruption."
As a college undergraduate, Darkhily competed in elite-level moot court competitions. His passion for law intensified, and he applied for and received a grant toward an LLM — a one-year, internationally recognized postgraduate degree — in sustainable international development law at the University of Washington in Seattle.
After graduation, an enthusiastic Darkhily returned to Afghanistan to teach at Alberuni University. In 2018, he ascended to a position as lecturer and head of department in the School of Public Policy and Administration at Kabul University.
Giving his all
A year after the terrorist attack on Kabul University, the Taliban reestablished power. Afghan academics with real or perceived U.S. influence — including those who had completed part of their education in America, such as Darkhily — were instantly viewed with suspicion by the totalitarian regime. Darkhily sought refuge through the Afghan-U.S. Law Alumni Association — an entity that, among other things, helps place its members in American higher education.
The organization contacted Ben Trachtenberg, associate dean for academic affairs in the MU School of Law. Darkhily's English proficiency, impeccable reputation and impressive résumé made him an obvious fit for Mizzou.
"We were able to help get Zarifullah out of a terribly dangerous situation, but it wasn't just charity on our part," Trachtenberg said. "One of the great purposes of an institution like MU is to bring together people with deep knowledge and diverse perspectives. Now, our students are learning about international human rights from somebody who was a department head at a major international university. He is providing our students and faculty with access to his expertise in way that otherwise wouldn't have been available to us."
One of those students, freshman history major Ilay Kielmanowicz, said he has gained equally from Darkhily's academic knowledge and the visiting professor's personal experiences.
"In professor Darkhily's class, we take in-depth looks at issues that are current and topical. While I often view things from a political and moral perspective, he will point out the international legal perspective," said Kielmanowicz, who takes Darkhily's human rights course through the Honors College. "I enjoy listening to him and learning from him. He is a very charismatic person."
As Darkhily nears completion of his first semester at Mizzou, he said he has come to appreciate his new academic home's culture of cooperation, collaboration and support. It's an environment that has also reinvigorated his passion for teaching.
"I couldn't help those students in Kabul achieve their ultimate goals, but I would love to play a role in helping my Mizzou students achieve their dreams," Darkhily said. "Not just dreams of becoming attorneys and judges, but also being wonderful people who care for every human being on the face of the planet."