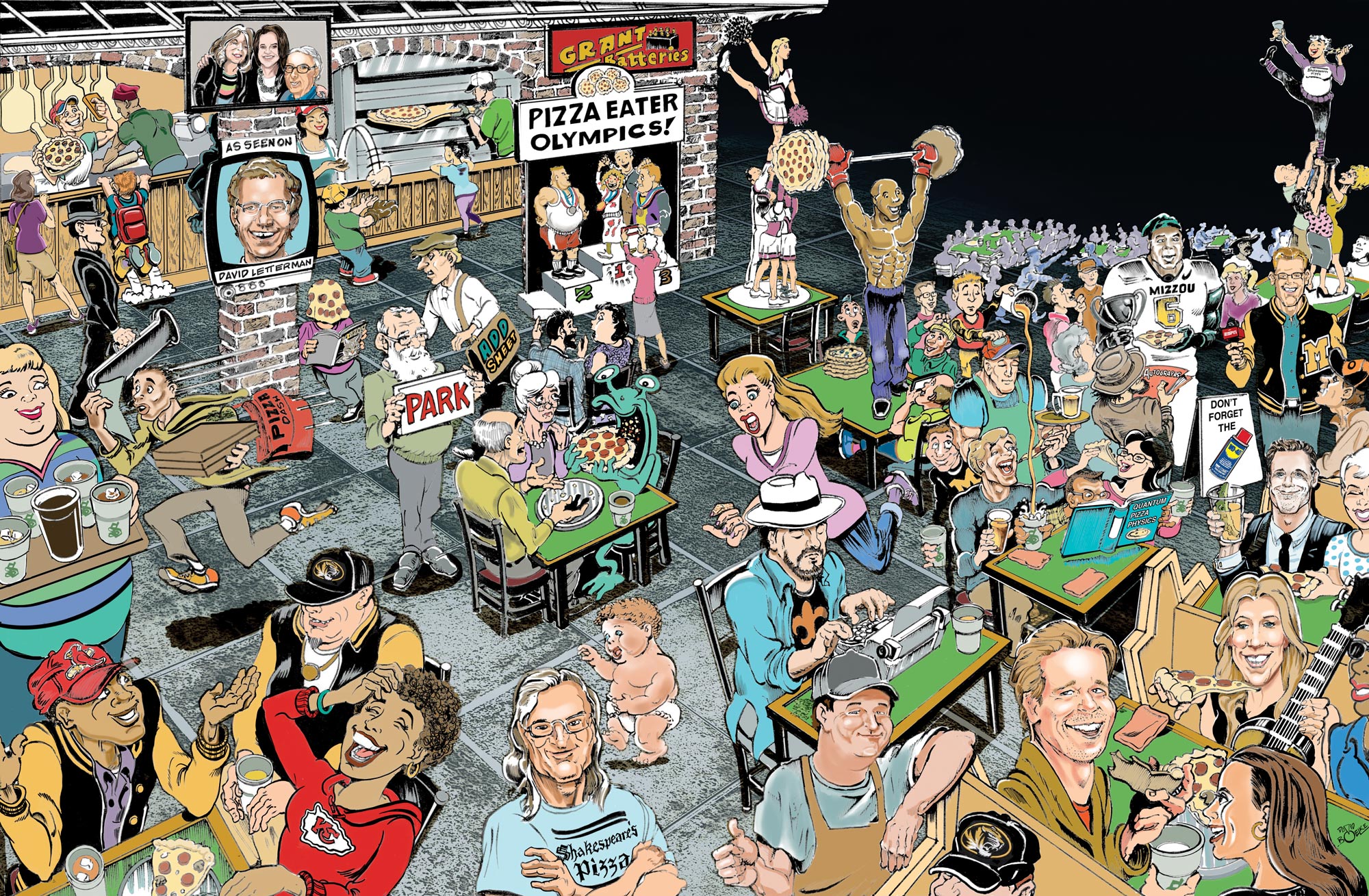 Published on Show Me Mizzou April 27, 2023
Story by Marcus Wilkins, BA '03
University of Missouri alumni of a certain age might remember the sights, sounds and smells of the early days. Squint your mind's eye. Hear the echoes of Marching Mizzou rehearsing in nearby Peace Park, the Doobie Brothers blasting from the Monte Carlo down the block. See the bell-bottomed patrons exiting the signature khaki-and-green storefront with steaming boxes of crispy, melty pie. Inhale.
Since June 4, 1973, Shakespeare's Pizza and Mizzou have shared the intersection of Ninth and Elm like a pair of rollicking college pals shouting Saturday night plans through the CoMo bustle. Stationed at the downtown gateway connecting campus and city, it's considered by local real estate experts to be one of the most commercially coveted tracts in the state. Strictly a delivery and carry-out business at first, the Columbia spot was one of three early bi-state locations — and the only one to survive. Its original brick-and-mortar home grew in size and reputation as a campus rite of passage until one bittersweet day in 2015.
But ideal location is just one part of a trinity that has made Shake's an indelible college hangout. The others? Obviously, there's the legendarily delectable, award-winning pizza (as in Good Morning America's top vote-getter on "Best Bites: College Edition"). But there's also a less tangible "vibe" or "-ness" or je ne sais quoi — usually attributed to the hip and happy employees.
MU students have represented an overwhelming percentage of those pizza wranglers. Shakespeare's has nourished innumerable campus assemblies, commencement celebrations and late-night cram sessions. Countless Tigers have realized academic trajectories, career paths and romantic relationships within the pizzeria's fragrant brick- and wood-paneled confines.
Read on for a firsthand account of Shakespeare's Pizza from the people who've collectively lived it for 50 years.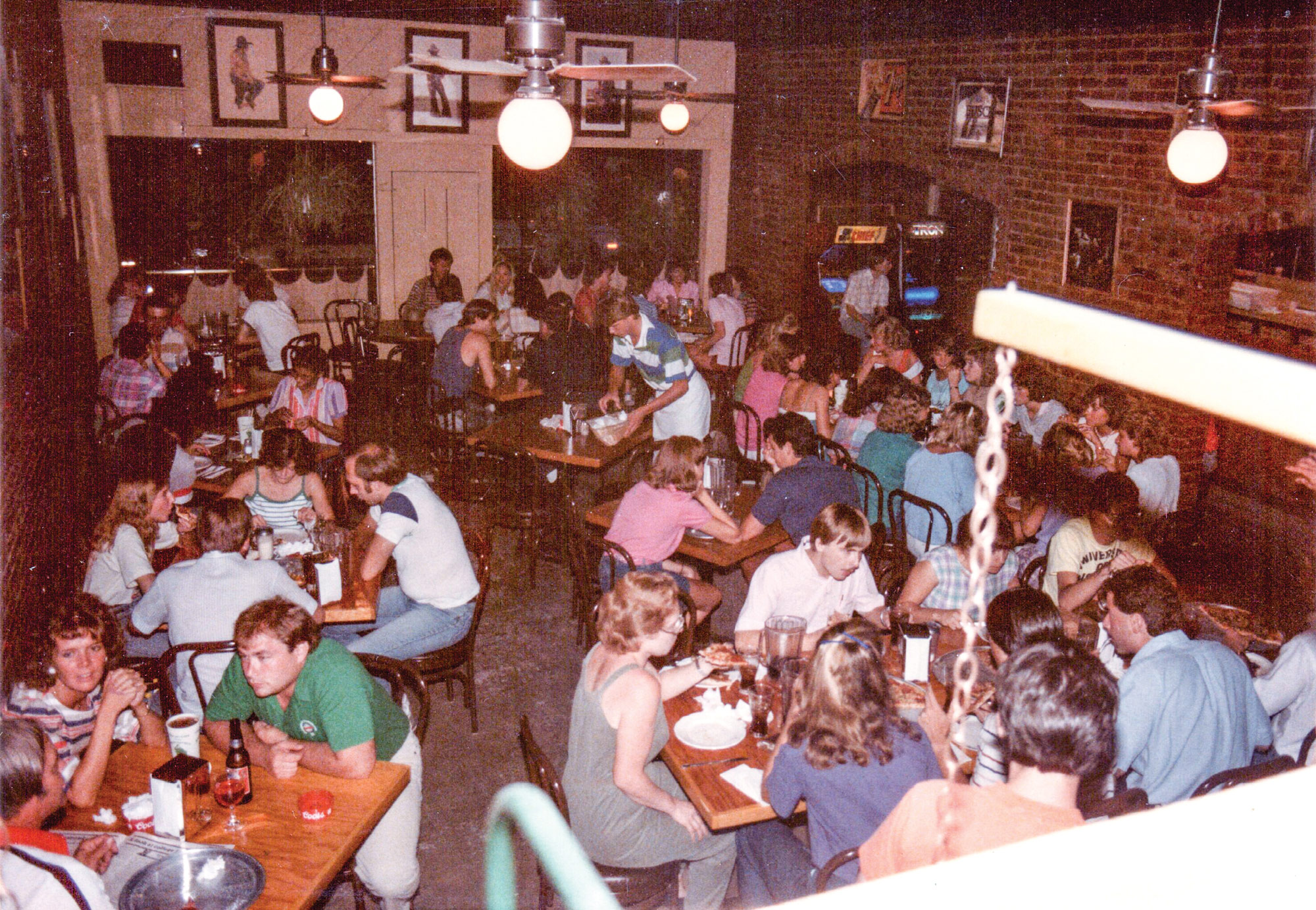 Fire up the ovens
Shakespeare's was established by the Star Corp., a New Orleans company aiming to set up locations in every Big Eight Conference city. Jay Lewis, who died in 2016, purchased three Shakespeare's Pizza restaurants in 1976, including Kansas locations in Manhattan and (gasp) Lawrence.
Nancy Lewis, owner
My husband and I married in '73, and we subleased a little house on Nelwood Drive. The lease was up, and our new place needed work. We discovered this new pizza place downtown, and it was really good, so we ordered it every other night while we were fixing up the house.
Kurt Mirtsching, BS BA '81, general manager and employee since 1978
The original building was built in the 1920s. It had four bays, rented to butchers, bakers and candlestick makers.
Nancy Lewis
We were in our 20s, and we got to know the original owner, Bill Hahn, because we all hung out and partied together. One day, Bill told Jay he needed to sell it and move back to St. Louis. Jay said, "I'll buy it!"
Zennie Reynolds, prep cook and Shakespeare's longest-tenured employee since 1976
Jay was a hard worker and a great guy. I tell the younger employees around here that I saw him get down on his hands and knees to clean around the toilets — he wasn't above doing those things.
Alycia Lewis, BJ '09, Jay and Nancy's daughter and director of operations
Dad would get up early and be back home, as I got ready for school, rhythmically stamping checks in the kitchen. He'd take me along sometimes, and I'd look for quarters under the pinball machines.
Kurt Mirtsching
Shakespeare's started in bay No. 3. We expanded into the units closest to the J-School in 1978 where the restaurant Campus Edge had been. The partitioning wall had holes cut in it to make two units one usable space.
Nancy Lewis
The décor was a function of not having a lot of money. We bought the retro metal signs at flea markets and antique malls; the wood paneling was discounted from my dad's lumber business, and the exposed brick was underneath the drywall.
Kurt Mirtsching
Eventually, we occupied all four units when Dawson's Shoe Shop left No. 4. We purchased the Lone Sock laundromat to the west and filled an alleyway to create a party room and second kitchen.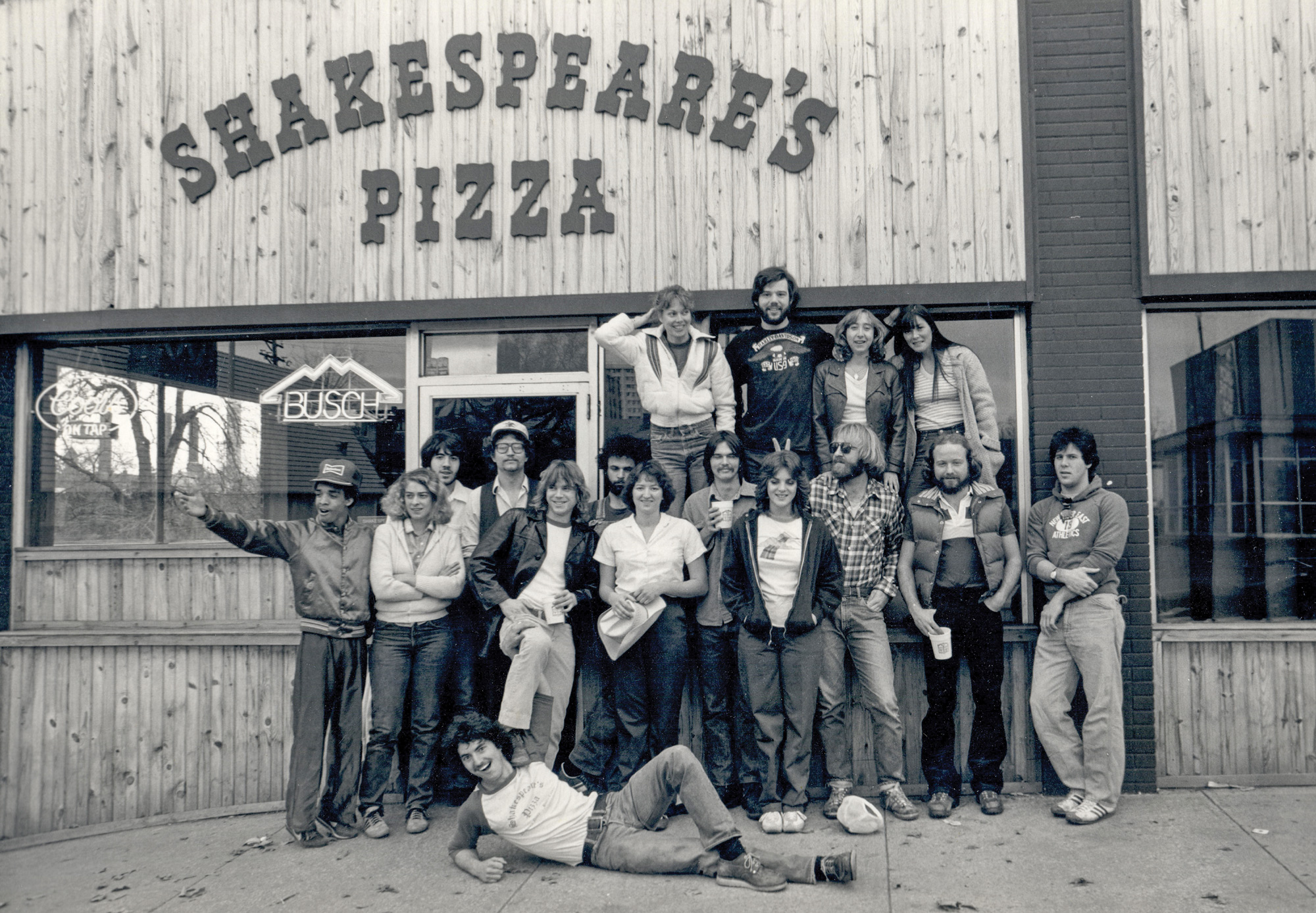 Personnel pan pizza
Meet the people who make the pizza that make the place.
Zennie Reynolds
I met Jay when I moved here from Chicago in 1976 at Bogarts Bar and Restaurant on Seventh Street. Jay
offered me a job and picked me up at 5 a.m. every day to set things up.
Andrew Weir, MM '20, manager and IT director and employee since 2006
Zennie stories have become almost folk tales — like Paul Bunyan or Babe Ruth. He's been here forever. I loved spending time with him in the mornings when I used to open.
Bryan Simmons, BS '04, south location manager and employee since 1999
How many restaurants have a prep cook who is also a top-notch kickboxer? Zennie has traveled the world for international competitions. He was in the movie Kickboxer — with Jean-Claude Van Damme!
Zennie Reynolds
I still run into so many Mizzou and Shakespeare's alumni at Homecoming or downtown and they say, "Zennie! You haven't changed a bit!"
Toby Epstein, BA '05, manager and employee since 2005
Our average employee has been here three-and-half years and our management staff a collective 100 years. Of course we have turnover, but when people don't stick around, I think it's because the industry is not for them.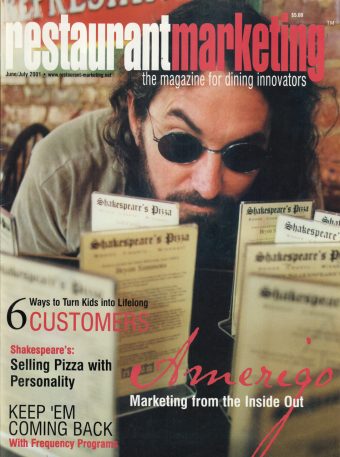 Word of mouthwatering
Shakespeare's marketing has a style. But in the end, as the menu reads: "It's the pizza, stupid. And maybe the beer. Everything else can go fly."
Kurt Mirtsching
We try to be authentic. We don't want our messages to sound like they're vetted by a home-office focus group. If you're honest — say what you mean, admit when you're wrong, follow through — then people will buy into your message. We're consistent with everything else, too: colors and font, logo, hand-painted signage, quirky ads, the cups that everyone keeps and reuses. It's all part of the image. It might seem like it was thrown together, but there's careful thought behind it.
Toby Epstein
We use unsmoked provolone instead of mozzarella because we think it's a higher quality and better-tasting cheese. We slice the pepperoni ourselves, which few outfits bother to do, so it's thicker. We cut vegetables daily, and the Italian sausage is a special recipe made just for us. We also don't abide by the "pizza matrix" — the idea that the more toppings you order, the less you distribute on a pizza. You get 28 pieces of pepperoni, whether you order a pepperoni pizza or one with seven additional toppings.
Zennie Reynolds
The pizza is good because it's so simple, made with good ingredients: sugar, yeast, flour in the dough; garlic, onion and a little cayenne pepper in the sauce. Simple.
Kurt Mirtsching
When advertising, our brand is so established we don't need to shout, "We use fresh toppings." We run funny ads that stick in people's minds. In the '80s, we did an Add Sheet ad proclaiming "We make our own window cleaner!" because we used to mix ammonia, detergent and water. The Late Show with David Letterman picked it up for his "Dumb Ads" segment. The next day my phone blew up.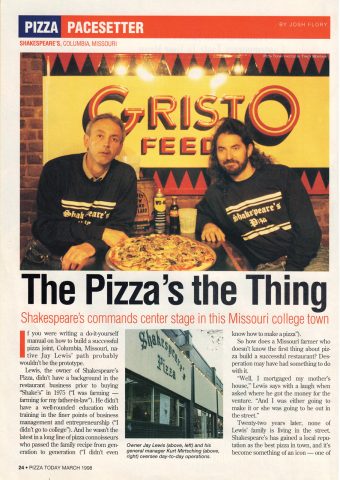 David Bailey, BA '10, bartender and manager from 2003 to 2017
During Mizzou Homecoming 2012, we were so busy downtown that we had a two-hour wait for pizza and the fire marshal told us we had to stop letting people in. I worked the bar, and we did more than $4,000 in sales that night. I pretty much had a 10-hour panic attack. But the best part is you see your crew in the trenches the whole time — having fun and working hard.
Making more dough
Shakespeare's branches out to keep up with demand.
Toby Epstein
One year, during Tiger Walk [the annual event at which new Tigers run through the Columns], the ovens couldn't keep up with the pizza output. They were cooked on top but raw underneath. Now we have the other two locations deliver pizzas downtown to help out.
Alycia Lewis
Dad decided to open the West Broadway store in 2004 when we had expanded all we could downtown. Then the same thing happened for the south location in 2012. We needed to find a much bigger production space for our frozen-pizza operation, so Peachtree Drive was perfect.
Toby Epstein
For Tiger Walk, we serve about 2,000 students. In the beginning, we made pizzas in the old kitchen and carried them to the parking lot and the line of freshmen around the block. We ultimately asked students to line up down the alley because when they wrapped around the building, customers would drive by thinking we were busy, but the dining room would be dead.
Alycia Lewis
Dad joked about being tired of people asking him when he was going to expand, but he didn't like to start big new projects until loans were paid off. I appreciate that philosophy now.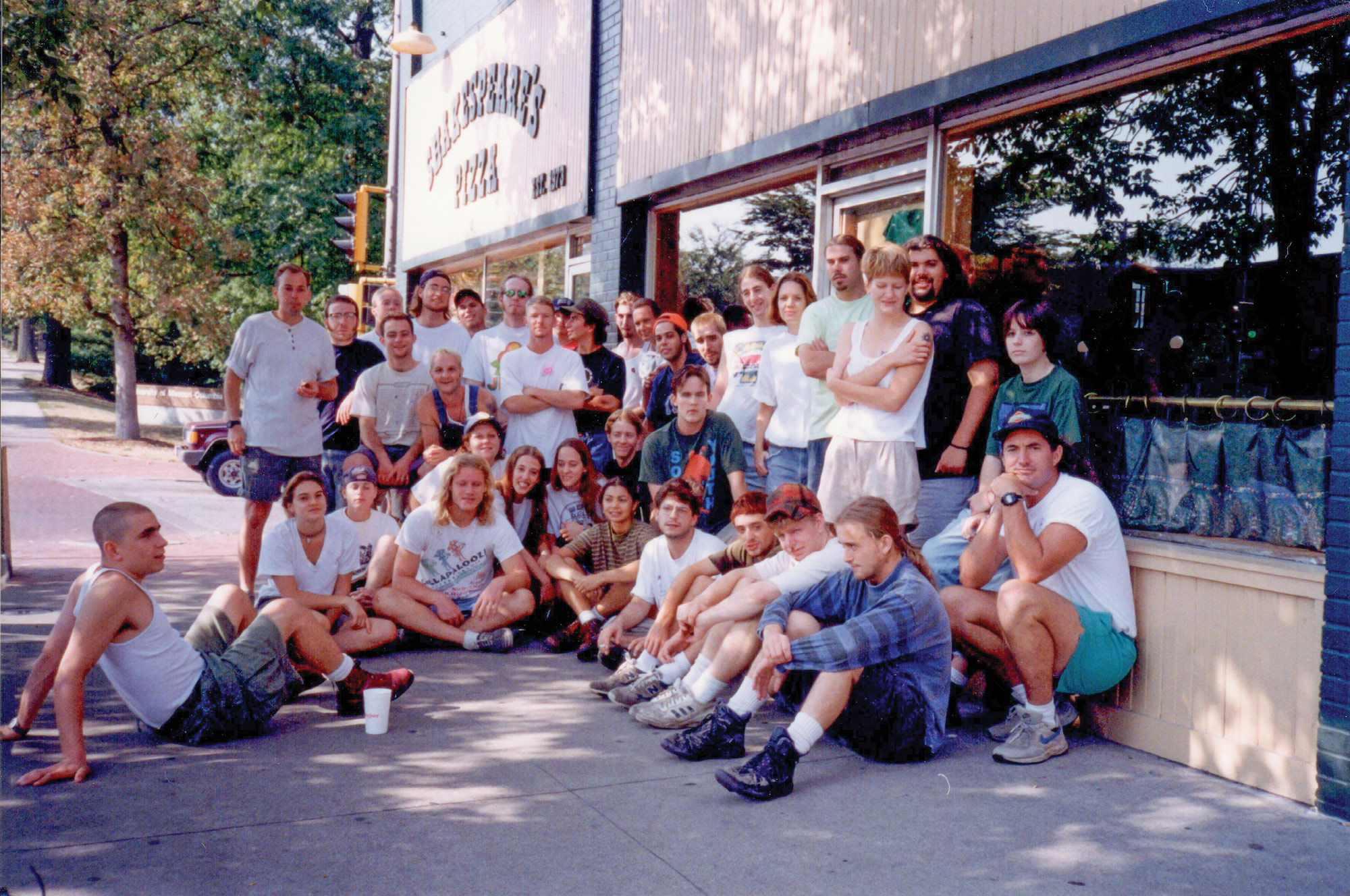 Clocking out, clocking in
The end of an era marks the beginning of a new generation.
Kurt Mirtsching
In October 2014, we learned the property owners would demolish the building downtown to build apartments, and that was tough. But we agreed to occupy the first floor, and we set about preserving the important details. The contractors kept the demolition date secret and scheduled an early-morning start because there was genuine concern that fans would make a human chain of linked elbows singing "Kumbaya, we love Shakespeare's."
Toby Epstein
During that time, I walked around with a tape measure measuring things so that we could closely recreate the restaurant. People often asked me why I was measuring, and for three months, I would say the same thing: "Me and Bryan [Simmons] are trying to settle a bet." Then I'd walk away.
Kurt Mirtsching
Talk about landmark events, CoMo history and how much Shakespeare's shook the tectonic plates of our community. This was it.
Toby Epstein
The property was torn down on June 17, 2015. We made the announcement on April Fool's Day, so many people thought it was a joke. From May 2015 until August 2016, we occupied "Tempspeare's" next door — currently Las Margaritas.
Everything on it
The downtown location reopens.
Kurt Mirtsching
The construction company separated the building material for us, so we used the original bricks when we rebuilt the place. The tin-plate ceiling tiles from the '20s were preserved. We added a larger party room; 8,000 square feet of overall space; and the nifty yellow-brick road to direct customers to the restrooms. But otherwise, it's the same.
Alycia Lewis
People say to me all the time "I was in Florida wearing my Shakespeare's T-shirt and someone stopped me" or "I was in Paris …" Mom and I visited the world's oldest pharmacy in Florence, Italy, and a woman there had worked for Shakespeare's!
Jessica Kelty Weir, BA '06, employee from 2002 to 2012
I often joke that Shakespeare's was my sorority; my entire social circle centered on Shakespeare's. I met my husband there, and I was one of the first employees to have a baby while employed at Shakespeare's. We joke that our son Calvin is made of pizza.
Toby Epstein
I've had about 800 people work for me since I've been managing, so I've probably interviewed thousands. When I ask, "Why did you apply here?" they usually say, "Because the people are so cool!" Sometimes I wonder if they think I'm actively looking for someone who is "cool."
Kurt Mirtsching
I lived in the dorms at Mizzou, so I use this analogy. We always wanted to go to "Bob's room" on Friday night, early in the evening, before we'd hit the town. Bob had that killer stereo and Bob had the fun posters on the wall and Bob was cool. Nobody wanted to go to "Joe's room" down the hall.
That's what Shakespeare's is — Bob's room. Shakespeare's is the cool place where you want to hang out with your friends, laugh and eat good pizza.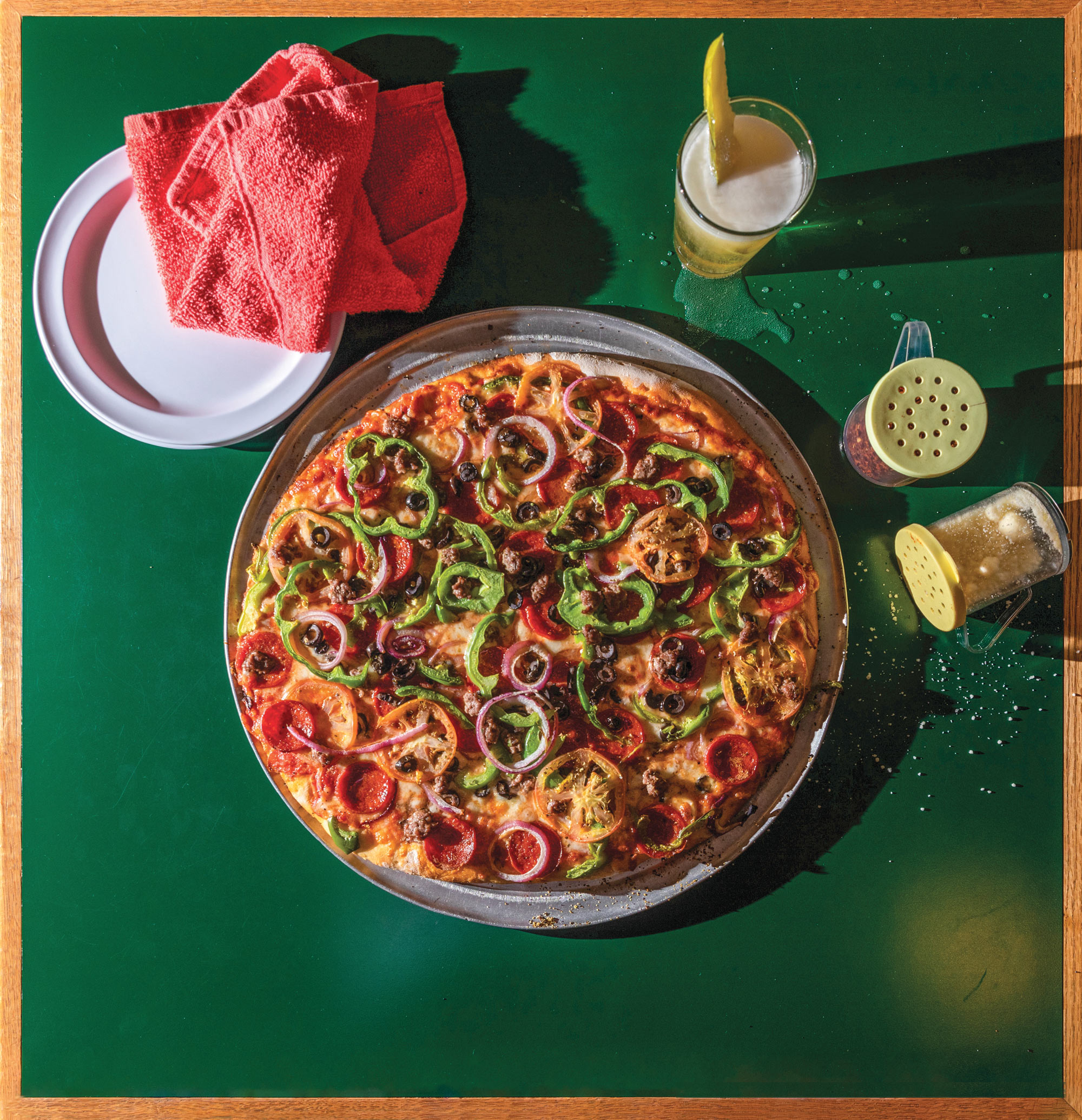 To read more articles like this, become a Mizzou Alumni Association member and receive MIZZOU magazine in your mailbox. Click here to join.