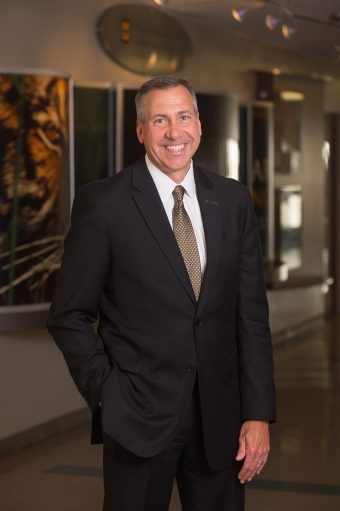 January 27, 2023
Contact: Brian Consiglio, 573-882-9144, consigliob@missouri.edu

As he celebrated his five-year anniversary as dean of the MU College of Agriculture, Food and Natural Resources, Christopher Daubert reflected on the college's biggest accomplishments since 2017 and discusses top priorities moving forward.
How does CAFNR research support Missouri's agriculture industry?
CAFNR researchers are making discoveries and producing knowledge that help improve the production of Missouri commodities: beef, swine, corn, soybean and poultry. They have paved the way for genetic testing of cattle that can look for the presence of specific adaptions, such as heat resistance. They found zinc is a key regulator of sperm functions during the sperm capacitation process in swine, which can improve fertility outcomes for pork producers. Studying small RNA in plants to help maximize crop yields, which can help address global food insecurity while improving environmental sustainability, earned one CAFNR professor an election to the National Academy of Sciences, one of the highest honors a U.S. scientist can receive. We have made incredible strides in the amount of research funding the college is awarded each year – in Fiscal Year 2022, our research awards were 56% higher than in 2018, the baseline year for our strategic plan.
Who is CAFNR's top stakeholder?
It's our students. We prepare them after graduation to make an impact in a constantly evolving society. In fact, 99% of the 2020-2021 graduating class found employment or enrolled in graduate/professional school within 6 months of graduation, making them competitive candidates on the job market. What's even better, nearly half of CAFNR students graduate completely debt-free, thanks in part to the $1.3 million in scholarships awarded to CAFNR students annually. They take advantage of opportunities at MU not offered anywhere else in the United States, such as the only food science program at a public university in Missouri. Our total enrollment numbers were up 3.1% overall from fall 2021 to fall 2022, and nearly 8% for new students (first-time college and external transfer students).
What programs, collaborations, Centers and initiatives are you most proud of during your 5-year tenure?
We have been promoting and advancing our Programs of Distinction and our Grand Ideas. One of our main priorities was launching the Show-Me-State Food, Beverage and Forest Products Manufacturing Initiative, which enhances processing for Missouri commodities in-state and increases employment opportunities in Missouri, which will boost economic benefits.
Our Center for Regenerative Agriculture, Missouri Water Center and the National Swine Resource and Research Center all serve as collaborative homes for research, education and extension work, spanning state, regional and national level projects. The Missouri Agricultural Experiment Station provides research faculty with real-world conditions to test and develop strategies for advancing agricultural production and technologies. These collaborative resources will help us get closer to our goal of doubling the value of agriculture in Missouri by 2030.
How did the pandemic impact your deanship?
I've been inspired by the resilience of our students, faculty and staff. I'm proud that, despite the pandemic, we still prioritized providing our students with an uninterrupted, world-class education. We transformed our livestock arena, Trowbridge Event Center, into a socially distanced classroom to allow students to learn in-person with safety precautions in place. In fact, social-distancing efforts in classrooms allowed 83% of CAFNR classes to continue to be held in person in fall 2020. We also adapted to the changing environment by preparing CAFNR for a post-covid world through CAFNR Regenesis, a reorganization of our academic divisions and restructuring of our network of research centers across the state.
What are you most looking forward to in the future?
We've established a strong foundation for investments and growth. I am excited to see how CAFNR thrives with access to new resources. I have always enjoyed helping faculty, staff and students grow and develop. This job has never been about me. I've always wanted to lead through service. We imagine a healthy world, and I'd like to think we are having a positive impact on Missouri, its agriculture and natural resources, and the people of our great state.