Feb. 27, 2023
Contact: Marcus Wilkins, wilkinsm@missouri.edu
Photos by Abbie Lankitus
Artists from an array of academic departments — Architectural Studies; the School of Music; the School of Visual Studies; Textile and Apparel Management; and Theatre — regaled a lively crowd with their collective creative genius for the University of Missouri's Chancellor's Arts Showcase Friday, Feb. 24, 2023, at the Missouri Theatre.
The event featured a gallery of physical art including several student-designed garments, original clay pottery and perspective-challenging pop art paintings, followed by a series of inspiring stage performances at the opulent downtown Columbia venue.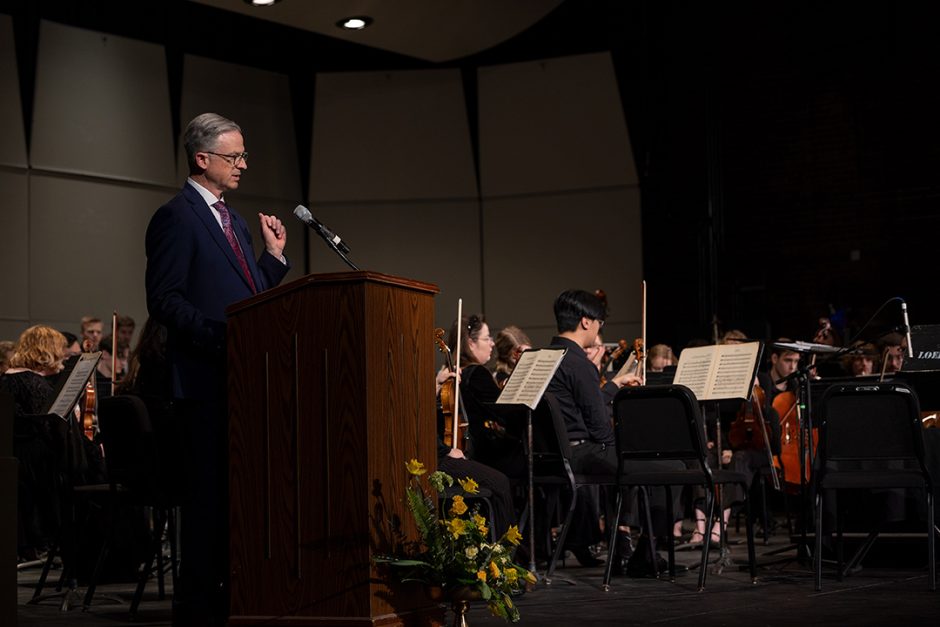 Cooper Drury, dean of the College of Arts and Science, delivered opening remarks. Launched in 1977, the showcase was originally titled the Chancellor's Festival of Music. It has since expanded to feature a broad scope of visual and performing arts. "Art is what makes us human," Drury said. "And dare I say — better humans."
Abby Blenk, a senior digital storytelling and art major from Cincinnati, introduced the School of Visual Studies segment of the program.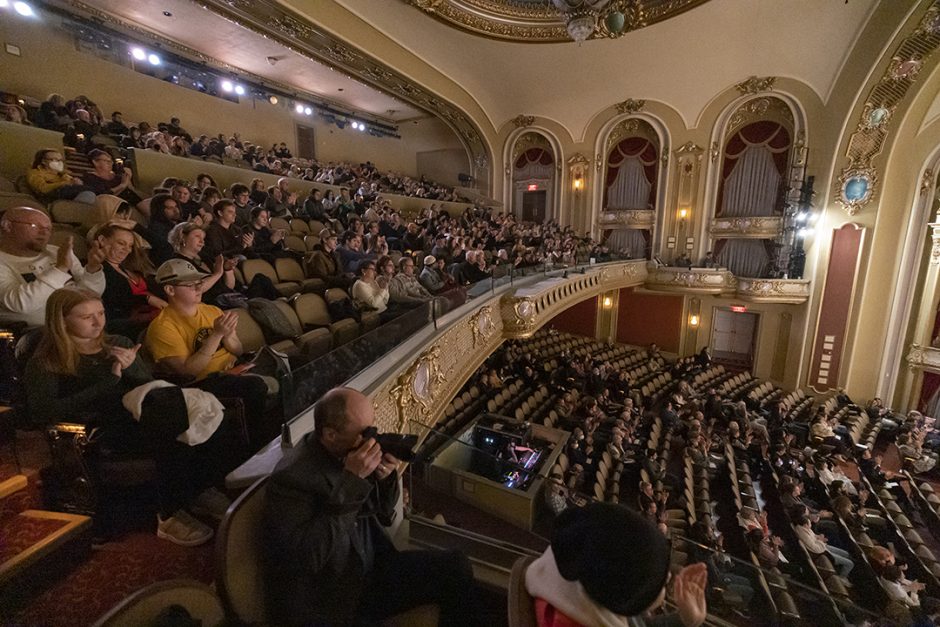 Family, friends, faculty and fans filled the Missouri Theatre for the showcase. Built in 1928 and listed on the National Register of Historic Places, the theater is central Missouri's only remaining pre-Depression era movie palace and vaudeville stage.
Conductor Yoshiaki Onishi, codirector of the Mizzou New Music Ensemble in the School of Music, led the student orchestra in a performance of "TREATMELIKEADOG." The energetic composition about a pair of family dogs is part of "toy piano concerto" by morima, a junior composition major from St. Louis and the 2023 recipient of the Sinquefield Composition Prize. Jeanne Sinquefield presented the award, the 18th time it has been bestowed.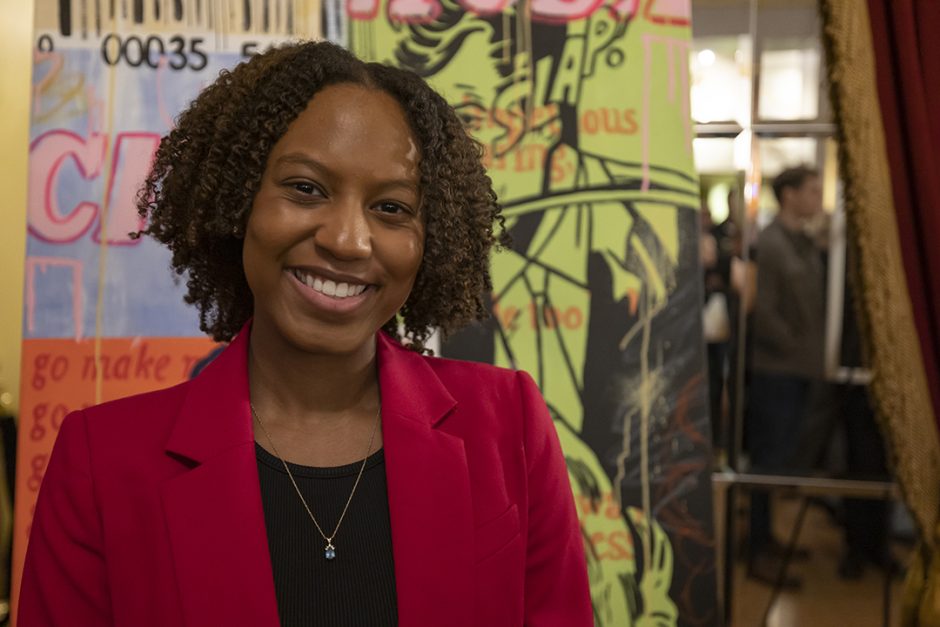 Kourtney Hay, a senior fine arts student from St. Louis, uses acrylic paint on canvas and pop art imagery to explore political and social themes, and issues surrounding feminism and women's rights. "I'm a photography major, but paint is a medium I am comfortable in," Hay said. "I have to thank my photography professors Travis Shaffer and Joe Johnson who have helped me think conceptually through critiques."
Christine Amling, a junior fine arts major from Chicago, presented four ceramic pieces at the showcase. "I was focusing on creating a better relationship with the clay, trying out new forms, testing methods and just seeing what shapes I could make," Amling said. "I didn't really have a plan before I would throw on the wheel. I let the clay decide what it wanted to do and then just tweaked it."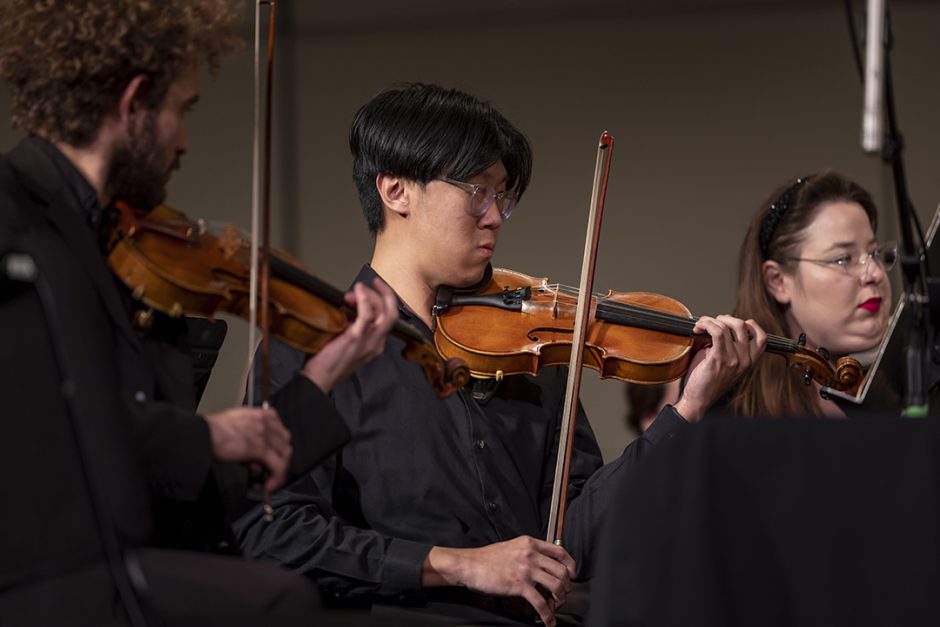 School of Music students performed "Jupiter" from The Planets by Gustav Holst (1874–1934) and conducted by Stephen Rogers Radcliffe, visiting assistant professor and director of orchestral activities.
Jenna Lene, a freshman textile and apparel management major from Kirksville, Missouri, presented a glamorous yet versatile Ginger Rogers-inspired dress that features a romper and a detachable train. "Mizzou has one of Ginger's pink silk dresses on campus and I took a lot of inspiration from it," Lene said. "Obviously, she wore a lot of glitter and feathers, and the corset is very structured — as the dress would have been during her time. But I tried to modernize it, as well."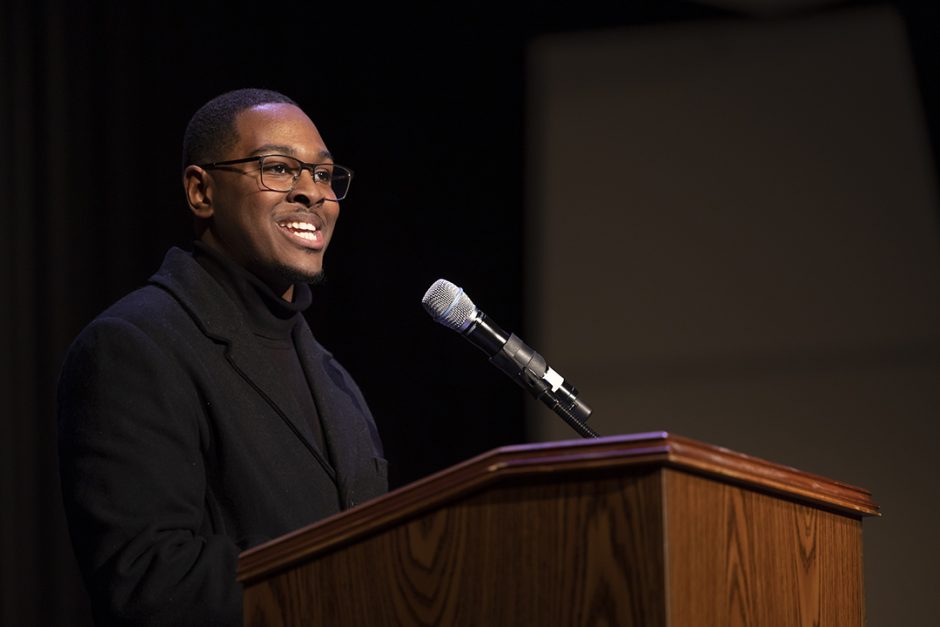 Reggie Coleman, a junior theater major from St. Louis, introduced the Department of Theatre segment of the evening's festivities.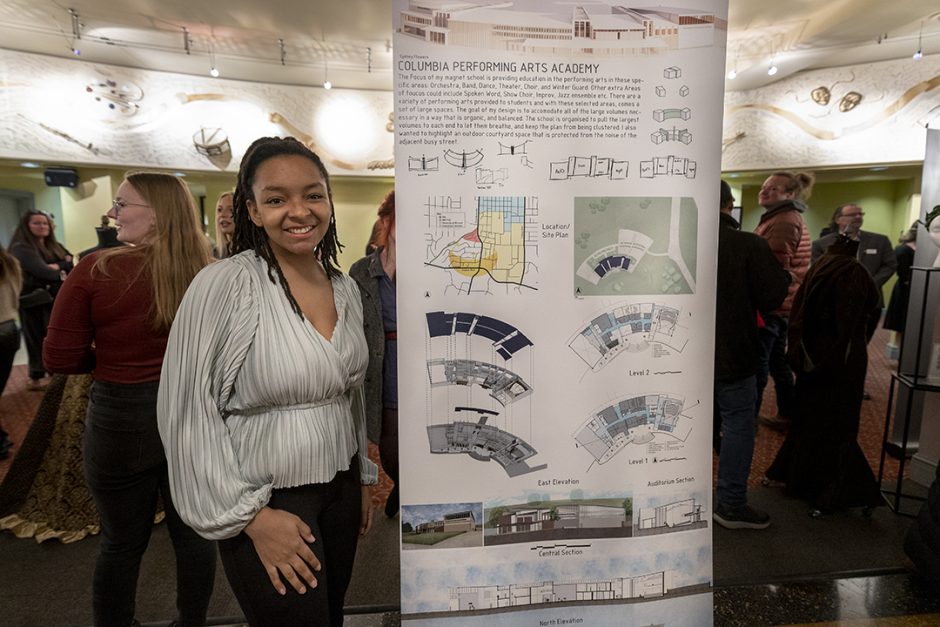 Sydney Flowers, a junior architectural studies major from Jefferson City, Missouri, presented her elaborately imagined proposal for a fictitious Columbia Performing Arts Academy at the intersection of Providence and Stadium. "I've been a band geek my whole life, so I thought it would be interesting to explore a high school I would have wanted to attend," Flowers said. "I focused on creating flow among the large spaces that are necessary in a performing arts building."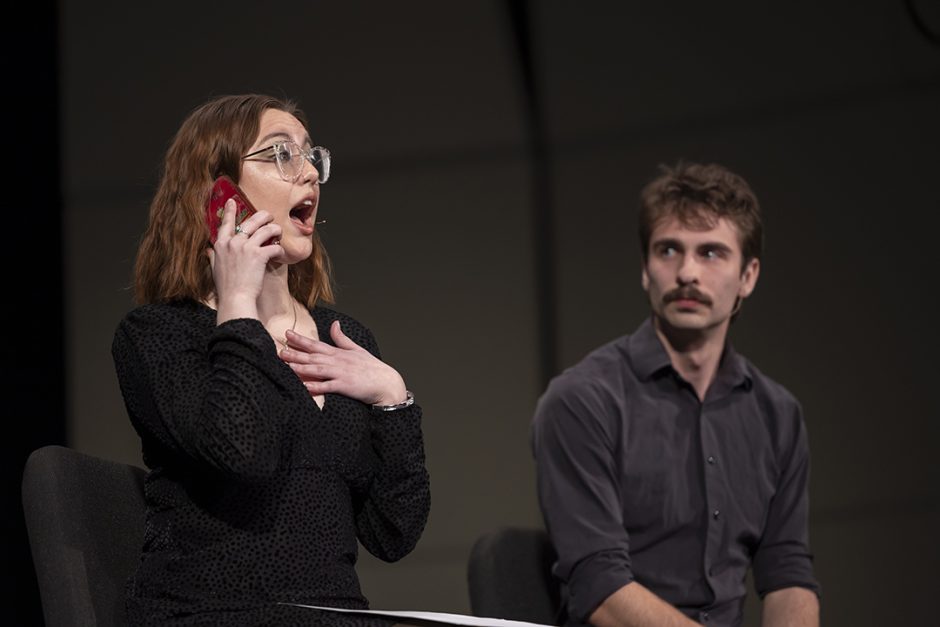 Payton Woodruff (left), senior theater major from Florissant, Missouri, and Nick Frieders, senior theater major from Oswego, Illinois, perform a scene from Crimes of the Heart by Beth Henley.
Caleb Jared (left), senior theater major from Mahomet, Illinois, and Gabriel Levi, junior theater major from Chicago, perform a scene from Romeo and Juliet by William Shakespeare.
Read more on President Mun Choi's blog