March 8, 2023
Contact: Sara Diedrich, 573-882-3243, diedrichs@missouri.edu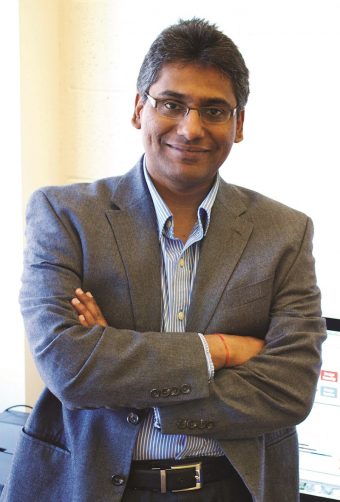 Each day local newsrooms across the United States are inundated with a myriad of press releases and story pitches competing for attention from a staff already strapped for time.
Prasad Calyam, a professor of electrical engineering and computer science in the University of Missouri College of Engineering, and his team are among an elite group of researchers working to integrate automation and artificial intelligence to help local news organizations solve this challenge and others. The goal of these projects — coordinated by The Associated Press and financed by the John S. and James L. Knight Foundation — is to narrow the technology gap between national and local newsrooms and support the long-term sustainability of the industry.
"We are excited to do these projects because of their importance and national impact implications," Calyam said. "And we are already developing similar techniques in our lab — analyzing data using AI."
The MU team is working on two of the five local newsroom projects the AP has selected to reduce tedious, time-consuming tasks with AI-based solutions. Other research teams come from Northwestern University and Stanford University. The idea behind the projects is to eliminate lost production time and liberate local news staff to concentrate on more in-depth assignments. The AP already uses AI to help gather, produce and distribute news. These initiatives from AP are designed to help local newsrooms leverage AI and automation to bolster their news coverage.
"Bringing together local newsrooms and university computer science teams is a smart move and can lead to big things for journalism," said Randy Picht, executive director of the Donald W. Reynolds Journalism Institute at the University of Missouri. RJI helped connect the AP to Calyam and his students.
The first project the MU team is working on involves using AI to sort and prioritize emails from outside sources, such as news releases and story pitches, and populate them into a content management system for television station WFMZ-TV in Allentown, Pennsylvania.
"Right now, they have to manually prioritize the stories and pitches which takes a lot of time and is inefficient," Calyam said. "We can help by automating the process with AI."
The second project involves assisting with the development of an AI system that would ingest police blotter items that arrive as PDFs in an email attachment into a database, write a date-driven brief or summary and load the story into a content management system for the Brainerd Dispatch. A daily morning newspaper in Brainerd, Minnesota. Additionally, Calyam and his team are using AI to organize the crime data so the news staff can search the database to identify trends, such as where crimes are occurring in the community.
"We are just scratching the surface of how AI can help in newsrooms," Calyam said.
The projects are expected to be completed by summer.