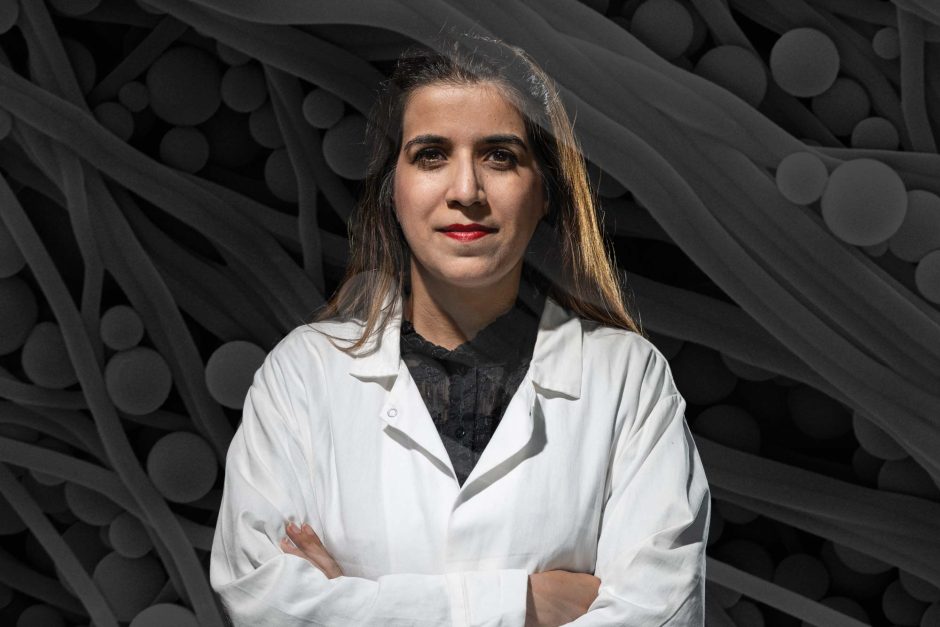 Published on Show Me Mizzou Sept. 4, 2023
Story by Blaire Leible Garwitz, MA '06
They're tiny, they're increasing in number and they're everywhere: in the soil where we grow our food, in the air we breathe and in the water we drink. These particles, known as microplastics, occur when sunlight, wind, water and other natural processes break down plastics, wreaking havoc on the environment.
A new Mizzou engineer is investigating the effects of these plastic pollutants in stormwater runoff. "I'm looking at the fate of plastics as they're exposed to sunlight and become degraded and brittle, leading to more fragments being released into our water system," says Maryam Salehi, assistant professor in the Department of Civil and Environmental Engineering and a National Science Foundation Early CAREER awardee. "Heavy metals such as lead, copper and zinc can cling to plastic particles, making water more toxic."
Our water supply isn't the only thing affected by plastic pollutants. Salehi is also working with the U.S. Department of Agriculture to study the fate of plastic mulch and plastic-coated fertilizers on our soil system. "These plastics accumulate year after year and can be transported to deep soil, potentially polluting groundwater," she says. "The additives they carry could also leach into the soil and be transported into the crops being grown."
Salehi arrived in fall 2022 as part of the $1.5 billion MizzouForward initiative to elevate and promote the University of Missouri as one of the best research universities in the nation. The decade-long investment strategy includes capital for up to 150 new world-class faculty hires.
Her overall research goals? To better understand how plastics are polluting our water and food and to inform policymakers on ways to mitigate the risks of such pollutants within the environment. "There are no monitoring practices for plastics being released into stormwater, which can end up as our drinking water," Salehi says. "We need mitigation strategies to control plastic pollution, and I want to encourage policymakers to take action to reduce the consumption of plastics."
In the meantime, the researcher encourages people to reduce the volume of plastics they buy, reuse grocery bags and recycle what they don't need. "I find it very fulfilling to be able to educate others, especially students, about plastic pollution," she says. To this end, she held a workshop in May for undergraduate students on plastic pollution in agriculture; it included lectures, field sampling and laboratory analysis. Salehi also conducted a weeklong summer camp in June for middle and high school students that focused on environmental engineering and pollution.
"Mizzou is giving me so many opportunities to expand and share my research," Salehi says. "There are so many avenues here I can explore."
To read more articles like this, become a Mizzou Alumni Association member and receive MIZZOU magazine in your mailbox. Click here to join.