Sept. 25, 2023
Contact: Courtney Perrett, 573-882-6217, cperrett@missouri.edu
The Mizzou Medal of Distinction is among the University of Missouri's most prestigious service awards designed to recognize its honorees for serving their community through a sense of accomplishment and vision.
The award's first recipient is Nobel Laureate George P. Smith, Curators' Distinguished Professor Emeritus of biological sciences, who was awarded the 2018 Nobel Prize in chemistry for his development of phage display, which allows a virus that infects bacteria to evolve new proteins. The discovery has proven vital in the realm of vaccine development for complex diseases like Malaria.
"The Mizzou Medal of Distinction is an honor we give to people doing the very best at pushing the frontiers of excellence in research, scholarship, creative endeavors and professional and humanitarian service to keep our university grounded in its land-grant mission," said MU Provost and Executive Vice Chancellor for Academic Affairs Latha Ramchand. "Beyond receiving a Nobel Prize for Chemistry, Dr. Smith used his prize money to support student scholarships in the humanities — it's a story I've told many times now as it speaks to the humility and dedication to service he represents."
The medal is designed to recognize individuals who excel in their field through scholarly, artistic, professional, governmental or humanitarian achievements. The honor is singular in that the medal is meant especially for those who have demonstrated a commitment to serving the public interest as it aligns with the state of Missouri motto: "Let the welfare of the people be the supreme law."
"The work we do in this college and on campus is the critical work that keeps society moving forward," said Cooper Drury, dean of the College of Arts and Science. "The beauty of what we get to do is explore the world, push boundaries and challenge one another, which is a mission really championed by George in a way that this honor reflects."
On Sept. 21, the medal was awarded to Smith at the College of Arts and Science All Faculty Welcome Back event. Designed by Olivia Childs, Katie O'Russa and Jess Nguyen, graphic design majors in the School of Visual Studies in the College of Arts and Science, the medal was modeled on the theme Mizzou Roots: Takes Great Care for Seeds to Grow with guiding principal words botanical, peaceful and harmonious.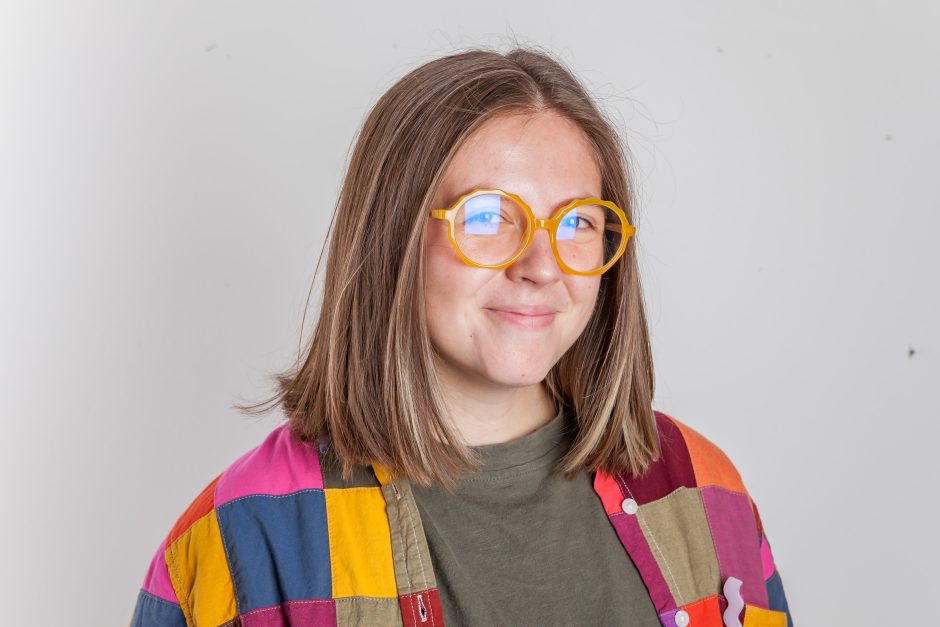 "I love making the world a happier place through design and art," said Olivia Childs, BFA '22, now a creative designer based in Portland, OR. "Knowing Mizzou is a happy place for me, I brought forward the plants and natural beauty of the botanical gardens on its campus, hoping that anyone who receives the medal is filled with a sense of refresh, happiness and joy from their accomplishments."
The students were mentored by Deborah Huelsbergen, Curators' Distinguished Professor of graphic design in the School of Visual Studies.
"I think this is a great way to showcase the fact that our students are professional designers," Huelsbergen said. "They are doing amazing work, which is symbolic in that the university selected them to conceive this design instead of an outside graphic design firm, so it's a very full-circle experience."