Oct. 3, 2023
Contact: Deidra Ashley, ashleyde@missouri.edu
Photos by Abbie Lankitus
As the United States faces a nursing shortage, the University of Missouri is investing in hands-on learning that will prepare nursing students to improve lives and communities in our state and beyond.
The Sinclair School of Nursing recently opened a new four-story, 64,000-square-feet facility that features state-of-the-art classrooms and learning spaces. The Miller Family Simulation Center is just one example of a space that's making a difference for our students — and their future patients.
"This new center is completely dedicated to nursing students and has been tailored to fit our specific needs," said Kim Oeth, an assistant teaching professor in the School of Nursing. "The skills lab and simulation suite complement the work our students do in a hospital setting and allow us to teach in a completely controlled environment. We have the latest technology — both from a clinical and teaching perspective — which gives our expert professors more opportunities to expose our students to all of the skills they'll need to provide the best care for their patients."
Read on for a look inside the lab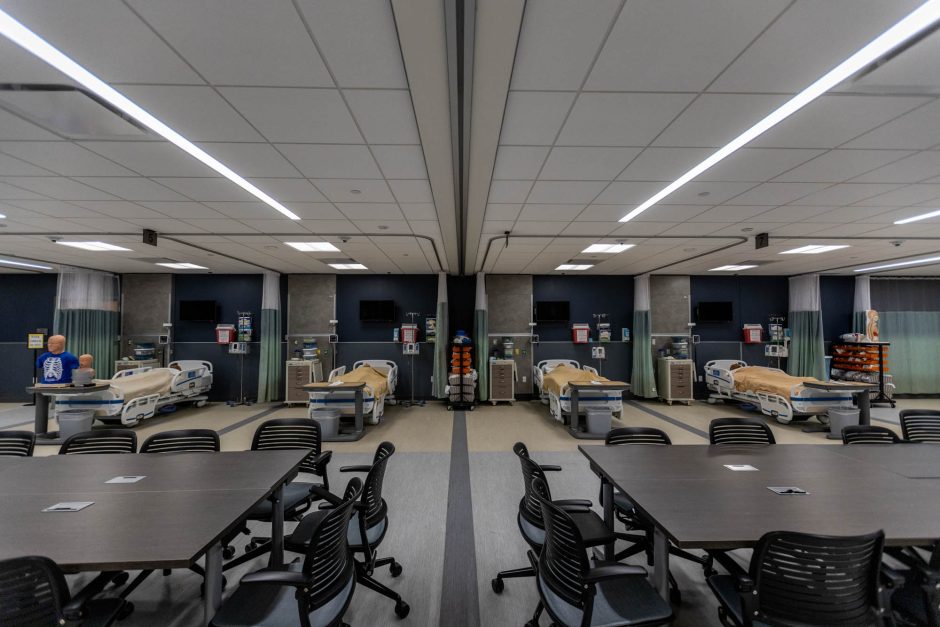 The clinical skills lab features a 14-bed immersive classroom equipped with technology to replicate a bedside environment for assessments and interventions. Each bed is supplied with the medical devices and supplies you would find in a hospital room — and if the need would arise, these units could be converted to a real-time hospital space.
In addition to a large open space for skills training, the simulation suite features seven high-tech rooms for students to practice different clinical scenarios. "Simulations allow us to control exactly what's happening with the patient," Oeth said. "They can also be recorded — giving our students the opportunity to go back, watch themselves and see how they can improve."
Each week, students do health assessments — taught by different nursing faculty — to grow their skills. "The skills lab has allowed me to get hands-on practice with nursing skills in an environment where it's OK to make mistakes and learn from them," said student Elizabeth Hedglin (left). "I feel so much more confident working with patients because I've already seen the equipment and practiced it with my peers and instructors."
"The first semester of nursing school was very intense due to the number of skills we needed to learn in a short period of time," said nursing student Ashton Young (right). "The exceptional tutelage of our instructors and the ability to practice in the new skills lab have given me confidence to perform many of these skills in a clinical setting."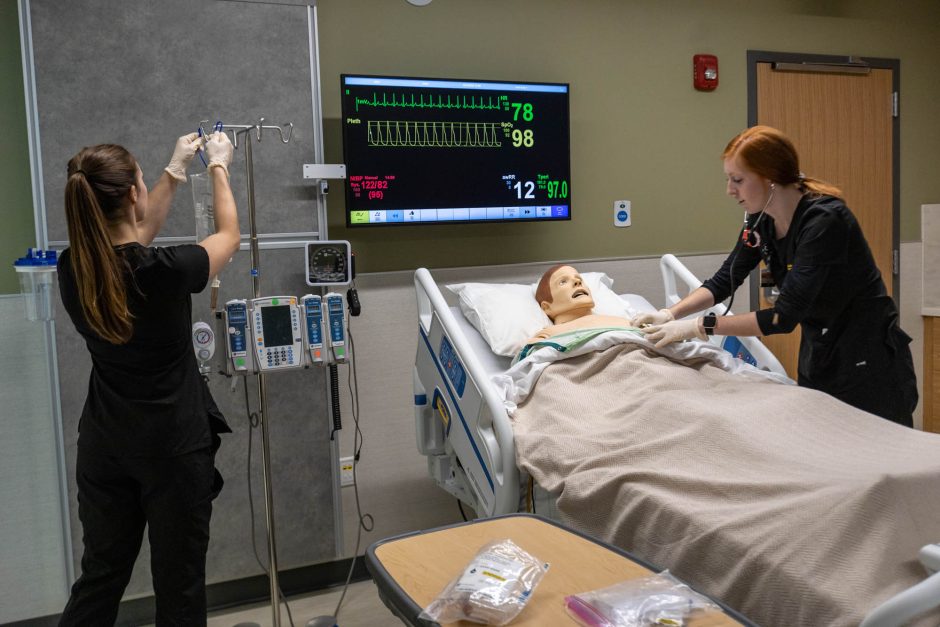 Nurses must master a variety of skills — one of which is knowing what needs to be prioritized. For instance, medication and communication errors can be common in hospitals. Simulating a patient-focused environment will help decrease these errors in the future. "Simulation is merging book knowledge and patient care," Oeth said. "This new space allows us to use active learning strategies that are engaging to our students and help them become better nurses."