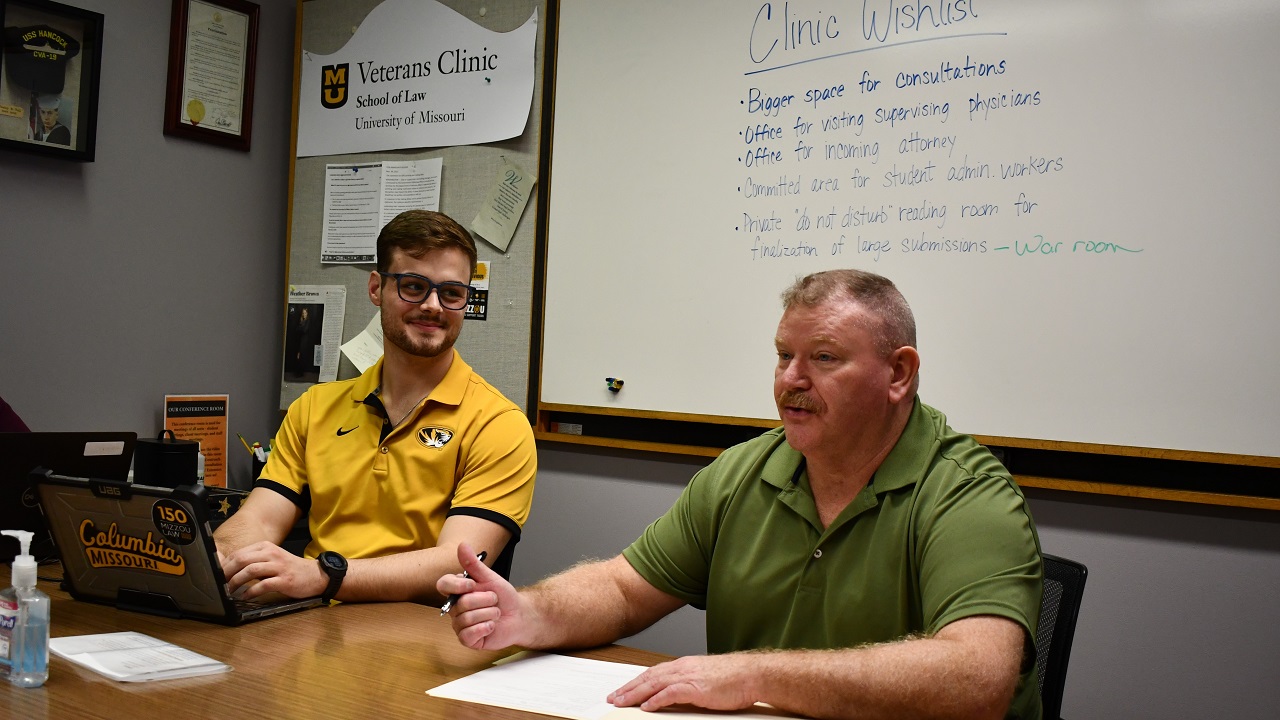 Aug. 22, 2023
Contact: Courtney Perrett, 573-882-6217, cperrett@missouri.edu
Since 2009, the number of veterans experiencing homelessness across the United States has shrunk by more than 50%, according to a 2022 Department of Housing report.
With the support of a $150,000 grant from the Department of Veterans Affairs (VA), the University of Missouri School of Law Veterans Clinic is aiming to continue this trend here at home with a new program designed to further empower veterans in taking steps out of homelessness.
The Veterans Outreach Program will help attorneys connect with veterans experiencing homelessness with the goal of offering them the legal assistance they need to access compensation from the VA for service-connected disabilities and health care. The clinic will also help veterans with applications for changing their discharge status.
"Those are the two primary things we will do because they're essential to lifting veterans out of being homeless," said Brent Filbert, director of the Veterans Clinic. "Homeless veterans are often experiencing mental health issues, and that's what prevents them from getting VA access, which can relate to how they were discharged. For example, a veteran who was in Afghanistan or Iraq who was in combat may come back with mental health issues, traumatic brain injury or physical trauma. Or they may have a discharge that prevents them from getting disability compensation or health care, and we work to get that rectified."
In part, the funding from the VA will support the hiring of a program manager, who will be tasked with streamlining the process of finding homeless veterans and veterans at risk of homelessness and setting them up with legal services. Tigers for Troops also will support the program.
The School of Law Veterans Clinic, which was founded in 2014 by longtime law professor Angela Drake, is staffed by MU law students who serve real-life clients under the supervision of licensed attorneys specializing in veterans law. In this clinical experience, students learn skills vital to building a successful legal career, including preparing disability compensation appeals, writing amicus briefs and working closely with clients.
"I think most students really appreciate the opportunity to have that hands-on experience," said Drake. "The students come in and they get two or three clients and they're told what they need to do for their clients. Then we meet with them weekly to make sure they don't run down rabbit trails, but they do the actual research. The clinic simulates the practical experience of being in a real law firm."
It can take several years for discharge upgrades to be granted and claims appeals to be accurately decided by the VA, processes that often require legal representation for the veteran to succeed. Today, half of the clinic's clients are veterans from the Vietnam era, Drake said.
For veterans in Missouri, this clinic represents a chance at navigating what Drake terms "the hamster wheel of appeals," which, when done successfully, can change the direction of a veteran's life.