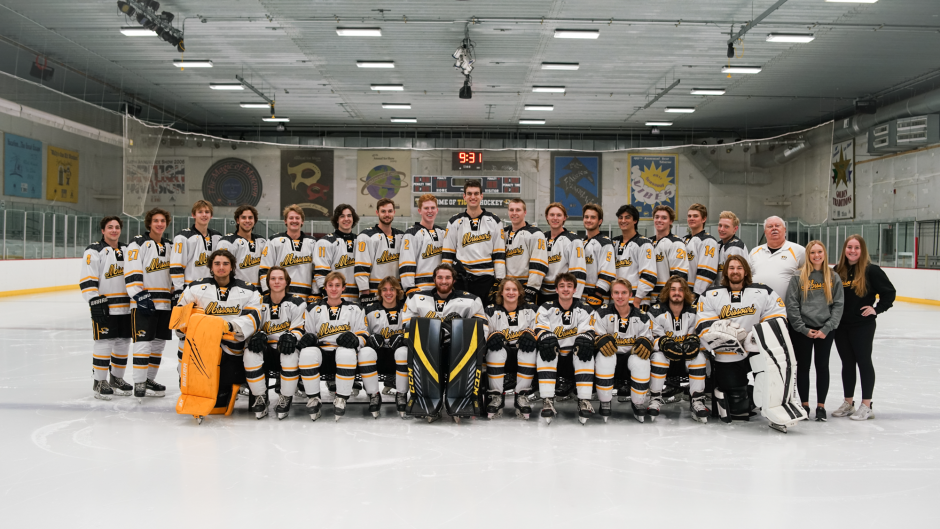 March 13, 2023
Contact: Deidra Ashley, ashleyde@missouri.edu
The University of Missouri Club Hockey Team is making history. Later this week, they'll represent Mizzou at the American Collegiate Hockey Association (ACHA) National Championship in Boston and Marlborough, Massachusetts — the squad's first trip to the national championship tournament since the program was founded nearly 50 years ago.
The team finished its regular season 19-5-1 and won the Mid-American Collegiate Hockey Association Silver Division tournament in February. Their recent success has increased interest — on campus and in the community.
"It has been exciting to see more and more people buying in and taking a look at what we're all about," said Brett Martin, senior finance major and team co-captain from Woodridge, Illinois. "We're entirely student run, and all of the support — whether buying jerseys, coming to our games or helping support our travel to nationals — means a lot to us."
The Mizzou Club Hockey Team is one of 34 Mizzou club sports. It's also a part of the ACHA, a conference of more than 460 college- and university-affiliated women's and men's hockey teams that compete independent of the NCAA. Founded in 1991, the conference has grown continually with more than 13,000 active athletes. Because Columbia doesn't have an ice rink, the team drives to Jefferson City for practice and most games.
"Being a club sport athlete is great because we know we're getting guys who truly love the game and want to be a part of something bigger than themselves," said Nick Spolec; junior parks, recreation, sport and tourism major; and co-captain from Kansas City, Missouri. "It's a lot of sacrifice on our end to drive 30 minutes to practice, but we do it because we love the sport and each other, which ultimately helps us grow stronger as a group."
Spolec said he's looking forward to the trip to Massachusetts and continuing to grow the hockey program at Mizzou.
"Our preparation has put us in a good spot to compete and bring a national championship home to Mizzou fans," Spolec said. We are excited to continue improving and growing our organization and this great sport within the institution and in Missouri. We want to show the world that the University of Missouri is a hockey school."
Story written by Kyli Williams