March 14, 2023
Photos by Sam O'Keefe
Most students today enjoy hands-on learning, and students in the University of Missouri's radiography program are finding their clinical placements can also lead to first jobs. Radiography Program Director Carla Allen said six of her students who will graduate in May have already accepted jobs that begin after graduation; at least five of those new grads will be working with advanced modalities in radiography.
Mizzou radiography students have two years in the professional phase of their program. They start their program in the summer with classroom instruction only then begin to add clinical rotations during the fall and spring of their first program year.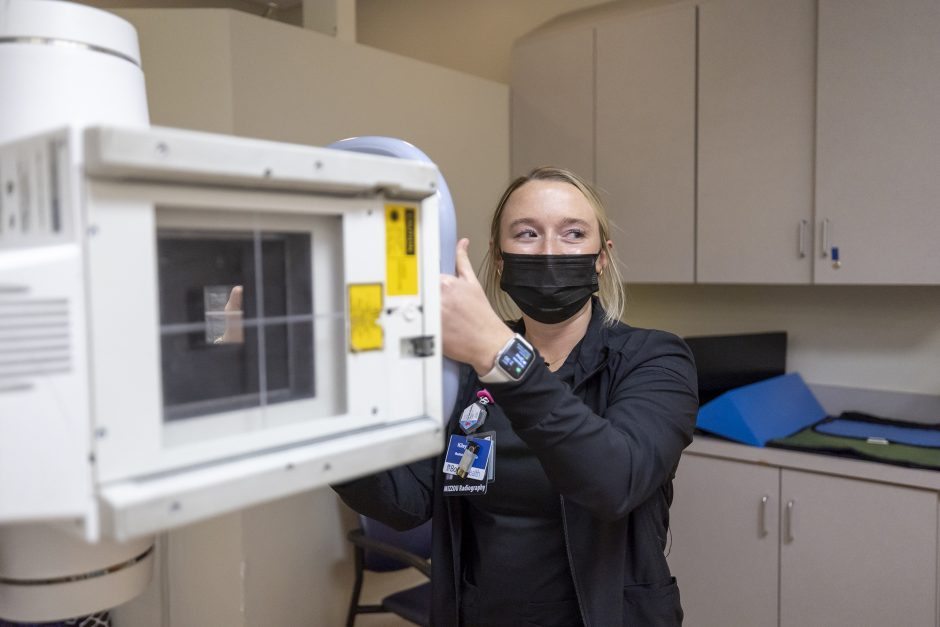 Kiley Bailey is a junior in her first year of the radiography program. She recently completed a clinical placement where she was able to finesse her patient care and technical skills practicing everything from abdomen X-rays to assisting a radiologist with esophagrams. An esophagram is a series of X-rays where the patient swallows liquid barium so the radiologist can see the anatomy of the esophagus and the stomach.
"While positioning the patients, I make sure they are still doing okay and explain what to expect from each position," Bailey said.
Starting a clinical rotation so early in a professional program shows students what their careers will really be like. Bailey says in each of their classes, she and other students learn about every aspect of exams including patient anatomy, radiation protection and how the machines work.
"Being able to have hands-on experience with each patient exam helps us retain every detail we have learned previously," Bailey says. "Seeing it done on an actual patient compared to using a fake body is completely different and really allows us to make that education-to-real world connection."
Read more from the School of Health Professions