May 9, 2023
Contact: Deidra Ashley, ashleyde@missouri.edu
Photos courtesy Ellie Abernathy
Colton Hicks might be from a small town, but he has big time dreams and aspirations. The English and Spanish dual major from Mount Vernon, Missouri, is preparing to graduate this week. After that, the first-generation college student plans to attend graduate school and become his family's first doctoral degree recipient.
"My sisters and I are the first people in our family to go to college, but I want to take that even further," Hicks said. "No one in my family has ever gotten a Ph.D., and I feel like this is a chance for me to finally break that chain and hopefully start something new."
As Hicks prepares to complete the first step of his college career, he reflects on his experience at the University of Missouri and the programs and people who helped him succeed.
A network of support
Although his parents did not attend college, they always stressed to Hicks and his sisters the importance of college.
Because the university experience was so unfamiliar to Hicks and his family, in-state schools seemed to be the best option. And, thanks to the Missouri Land Grant — a program that covers all tuition and fees for eligible Missouri residents — Mizzou was within reach.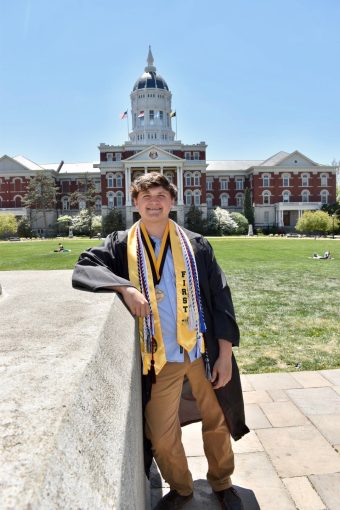 Hicks arrived at MU in 2019 and began meeting with his TRiO peers as part of a freshman interest group. "Mizzou was a completely different world than anything I had experienced," Hicks said. "That first week on campus was insanely eye opening for me, and getting to be a part of something as diverse and inclusive as that group was an amazing start to my Mizzou experience."
Hicks said TRiO advisor, Lisa Scheese, and the rest of the TRiO community played a huge role in supporting him early on in his college career. "If it wasn't for the connections I made with TRiO and the resources they provided me, I would not have accomplished a fraction of what I did," Hicks said.
As a junior, Hicks got involved with McNair Scholars — a program that prepares underrepresented students for doctoral study. He began working with Department of English Professor Aliki Barnstone and eventually Associate Provost for Academic Programs, Alexandra Socarides.
"I am blessed to have met such incredible faculty members," Hicks said. "They are fierce advocates, and a lot of that has carried over into my own dedication to advocacy. Working with them has had an immeasurable impact on my development."
That feeling of appreciation was mutual.
"Colton is an ambitious and creative thinker," Socarides said. "He's got such a fire in him about writing and history. I know that he will find his way into a profession that allows him to keep developing those passions."
A passion for success
Such passion and drive rarely go unnoticed. The recipient of more than 13 awards during his undergraduate studies at Mizzou, Hicks has proven his capabilities to himself and others time and time again. After graduation this week, he will spend the next two years at Mizzou pursuing a master's degree in English Literature.
"People don't quite realize how much of a disadvantage being a first-generation student is," Hicks said. "But I have always loved learning and often joke that I would stay in school forever if I could. At Mizzou, I have been blessed with a community of support and the beginning of a new legacy for my family."
Story written by Kyli Williams