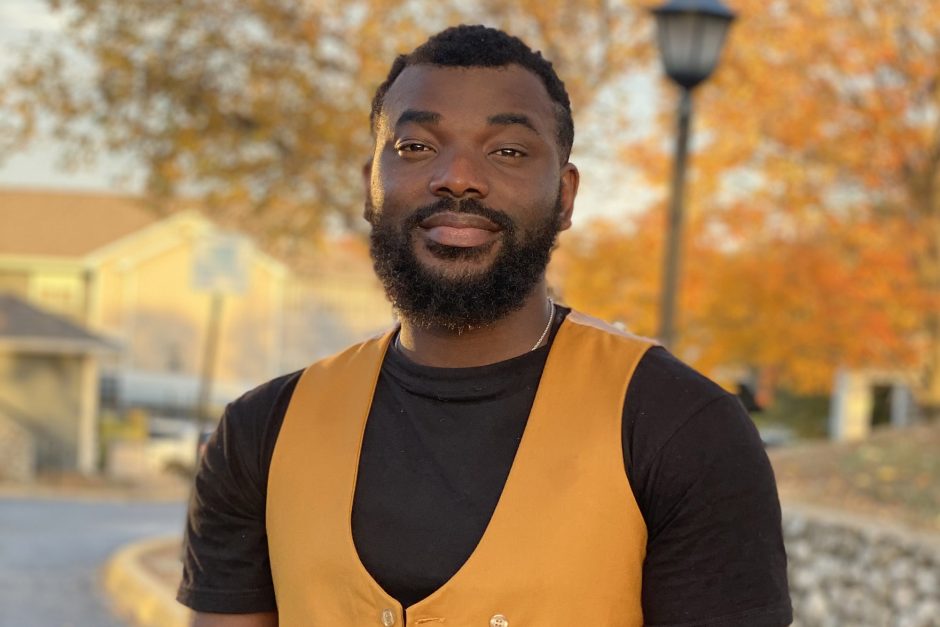 Oct. 9, 2023
Contact: Deidra Ashley, ashleyde@missouri.edu
When Emmanuel Umeh walks through the University of Missouri campus, his peers call out, "Hey, Umeh!"
He smiles.
For Umeh, being addressed by his last name is a privilege — and an homage to his family back home in Nigeria.
The first-generation student is on his way to being the first person in his family to receive a Ph.D. — and he couldn't be prouder to be a Tiger.
"I feel so lucky to be pursuing my Ph.D. in the United States at a school like Mizzou," he said. "The University of Missouri has a rich diversity and world-class faculty. My program has allowed me to work on different research opportunities, and I believe I can leverage this experience to grow my personal and academic goals."
Umeh is pursuing a Doctor of Philosophy in Learning, Teaching and Curriculum, with an emphasis in mathematics education. His goal is to one day open a foundation that helps students who struggle with math.
Read on for a Q&A with Umeh about his research and time at Mizzou.
Tell us about your research.
I am interested in equity and inclusion, and one of my main research projects is looking at recent Black immigrant students aged 13 to 18 and their experience learning mathematics in the United States. We're examining how language, culture, technology and past experiences are intertwined and how they affect how students learn in the American classroom.
Why is this research important to you?
Teachers need to understand the experiences Black refugees bring with them when they immigrate. The success measurements we use in the U.S. often differ from the countries students are immigrating from. Additionally, students often have to adjust to a new culture, language and different technologies. There's also the question of what hardships they've gone through — like war and socioeconomic issues — that might affect their learning.
My research will help teachers understand those experiences and offer suggestions on ways to help these students — leveraging their existing knowledge to promote their academic success.
Why is math so important to you?
By nature, we are all mathematicians. Math is instilled in us from a young age, and it helps us develop logical and critical reasoning. It helps us question assumptions and find solutions to our questions. Also, the surge in technological innovations today is a result of the human mind being a mathematically creative element.
What has been your experience at Mizzou?
I have been at Mizzou for a year, and it has been a wonderful experience. As an international student, adjusting to living in a new country and culture was difficult. But I got support from my faculty and fellow Ph.D. students and have found my place here.
The mathematics education program has allowed me to explore the things I'm passionate about, and I've also found my community through The Bridge and the Office of Academic Access and Leadership Development in the Division of Inclusion, Diversity and Equity. The best part is that these extracurriculars are perfectly aligned with my research.
What is your goal?
Ultimately, I want to give back and help people achieve their goals.
Short-term, I'm looking to further develop my research in a way that helps teachers and immigrant students in the classroom.
Eventually, I want to become a faculty researcher at an R1 university in the United States. I'm also interested in starting a foundation and opening a mathematics center that helps students struggling with mathematics.