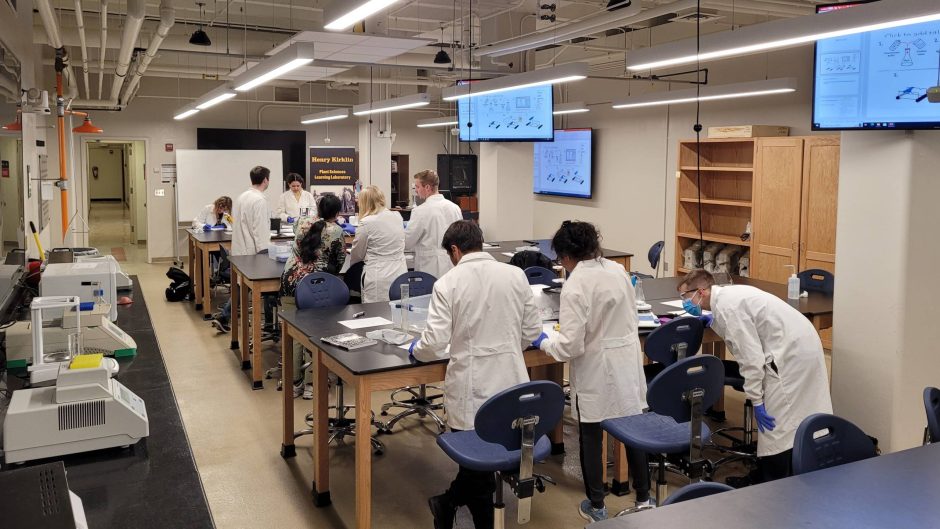 March 23, 2023
Two years ago, the University of Missouri College of Agriculture, Food and Natural Resources (CAFNR), recognized Henry Kirklin with the naming of the Henry Kirklin Plant Sciences Learning Laboratory. Kirklin was a celebrated Black farmer and educator who lived in and around Columbia from 1858 until his death in 1938. Since the lab's opening, plant sciences students have been able to benefit from the renovated space through a variety of courses and laboratory work.
With MizzouForward funding help, the Henry Kirklin Plant Sciences Learning Laboratory has recently added even more features to help with student success.
"It's really exciting," said Soyon Park, an assistant professor who helped request the funds. "When the renovation was completed a couple of years ago, it provided students with a very nice space; however, there was certainly an opportunity to add more equipment for our students. This funding has allowed us to do exactly that."
The new equipment includes a real-time PCR machine, which amplifies DNA by regulating temperature in cyclical programs, as well as a high-tech microscope. Park teaches a plant biotechnology course where equipment of this nature is vital.
"One of the dilemmas we faced before having this new technology was having to take our students to different labs to do the projects required in the courses we teach," Park said. "We now don't have to move our students from lab to lab."
Park added that the equipment also helps prepare students for the future. Plant science students pursue a variety of careers, including jobs in research laboratories and industry settings. Being able to work with new technology gives plant sciences students a head start when they enter the workforce.
"Each week our students are doing something different, and the new equipment is playing a huge role in helping them do that work," Park said. "Even if they aren't experts with the equipment, they are at least becoming familiar with cutting-edge technology. It allows them to market themselves at a higher level."
Read more from the College of Agriculture, Food and Natural Resources