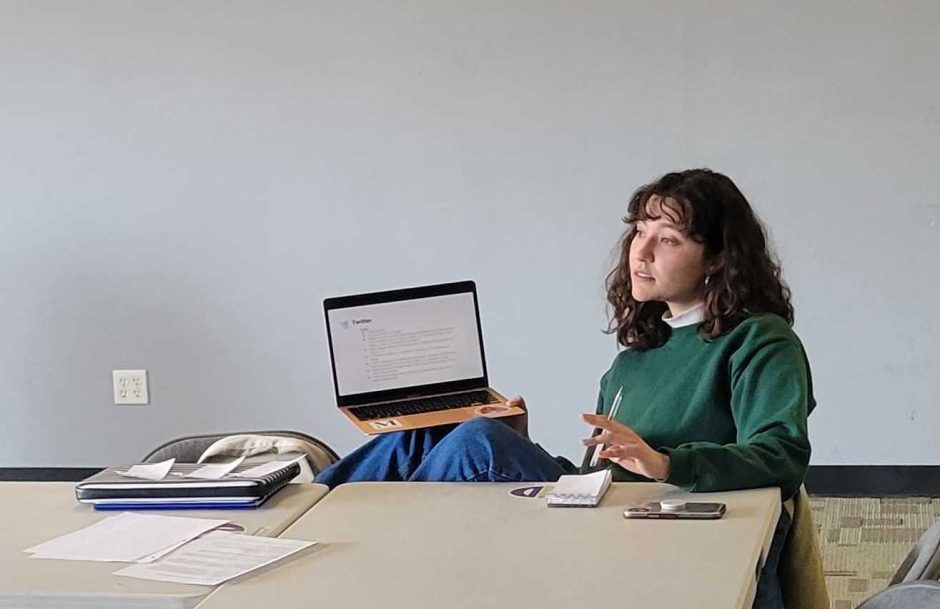 Feb. 16, 2023
Contact: Sara Diedrich, 573-882-3243, diedrichs@misssouri.edu
Don't tell publisher Mike Bushnell and his award-winning staff at Kansas City's Northeast News that readers don't crave community journalism. The bustling multimedia weekly is proof they do.
The challenge for Bushnell and crew is keeping up with an ever-evolving digital world that demands small community news outlets like The Northeast News be as tech savvy as much bigger outlets.
That's where the Potter Digital Ambassadors come in — a posse of digital-wise students from the University of Missouri School of Journalism who go into community newsrooms across the state for one week during winter break. The journalism students are sent by the school's Donald W. Reynolds Journalism Institute (RJI) to spend five full days gathering information and training staff in digital tools and practices — helping them maximize their outlet's digital presence. At the end of the week, the students leave behind written routines designed to sustain the initiatives they brought to the news organization.
In January, 13 MU journalism students were paired with 12 community newspapers in Missouri through program. This was the fifth set of ambassadors sent out across the state since 2018, bringing the total number to 40.
"The School of Journalism has its Missouri Method which is to learn by doing, and this program is a perfect example of how effective that approach is," said Randy Picht, executive director of RJI. "These ambassadors are getting an opportunity to learn by being innovators and teachers. It's an experience that will serve them well in their careers while also benefitting community newspapers in the state."
Bushnell couldn't have been happier with his ambassador, MU senior Sofi Zeman.
Among the long list of multimedia tasks Zeman completed at The Northeast News was adding a multi-language plugin to the website so the paper's increasingly diverse readership can translate the news into several languages. She also got a taste of old-school community newspapering one early morning by tossing papers on doorsteps.
"Sofi was awesome, and her final report and flow chart is something we'll post and use daily moving forward," Bushnell said. "It's already paying off in terms of social media traffic and using search engine optimization words/terms to get a higher traffic count on our website."
Recruit, match and train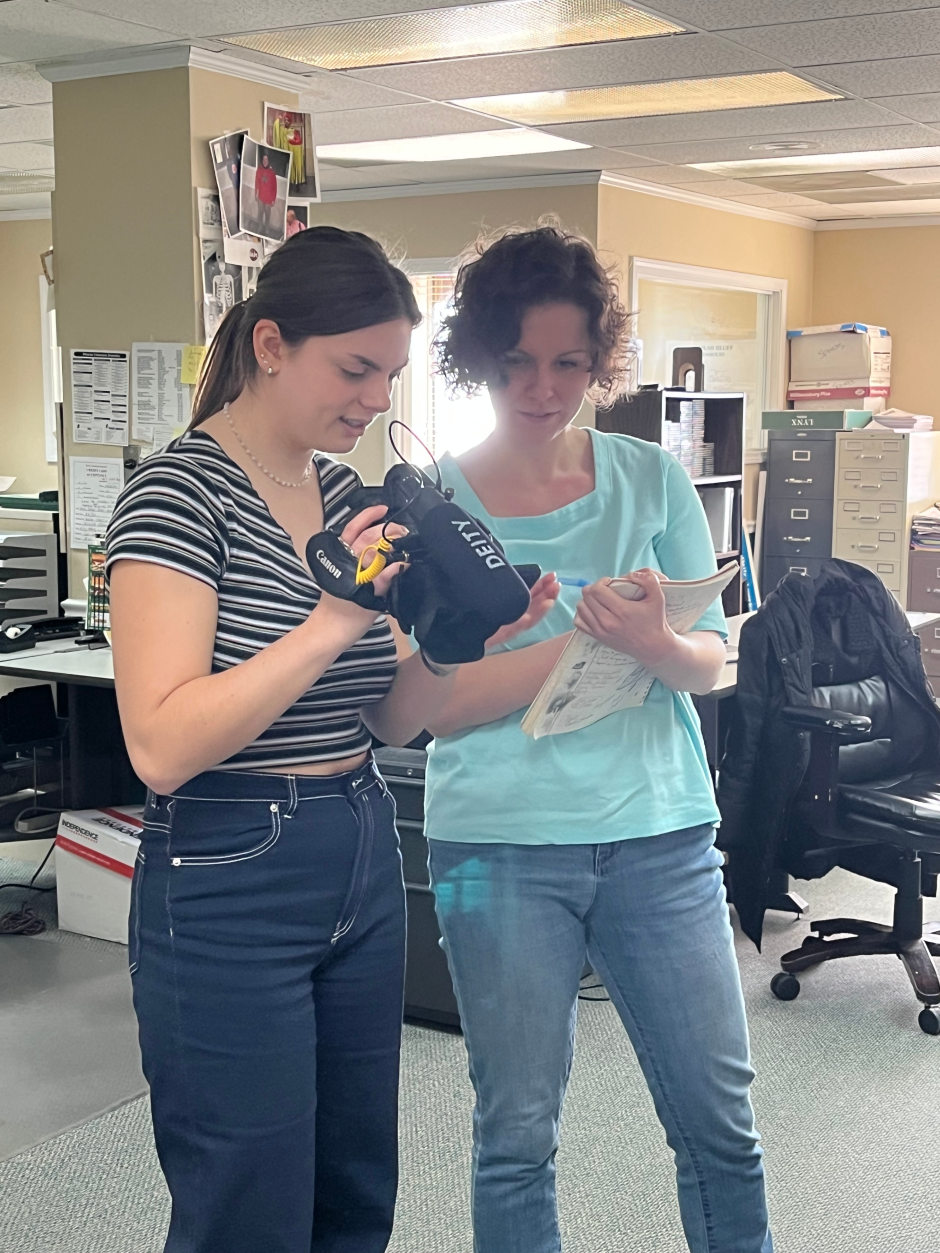 Recruitment for the program begins each year in September when Jeanne Abbott, a professor in the School of Journalism who oversees the program, attends the Missouri Press Association convention. There, she encourages community news outlets to apply to have an ambassador. This year, every news outlet applicant was accepted and matched with a student, who is also recruited by Abbott from upper-level journalism courses.
"Sometimes the papers are afraid or worried that maximizing their digital presence will add to their already heavy workload," Abbott said. "What we show them is it can help reduce it."
Before embarking on their five-day digital mission, the ambassadors attend a daylong training during which Abbott helps prepare them for their assignment. Once matched with a news outlet, the ambassadors have several weeks to prepare an in-depth community audit that explores the demographics of the community, media competition, social media presence and much more. Using their audits, the students develop a plan to address the issues they've uncovered. Their research is shared first thing with their assigned newsrooms upon arrival, setting a tone that the ambassadors are prepared and ready to work. Additionally, the students prepare a detailed work list for each day of their assignment while also keeping thorough notes of what they accomplished. Finally, the students also check-in with Abbott at least once during the week.
"The idea is to hit the ground running as soon as they arrive," Abbott said. "We also want the students to be flexible and open-minded because once they arrive, the editors might want them to do something different or in addition to what they had planned."
A win-win
The results have been a win-win for the ambassadors and the community newspapers. Kevin Jones, chief operating officer of The St. Louis American, was impressed with the energy and expertise his paper's Ambassador, MU senior Katie Quinn, shared with his staff.
"She helped from start to finish, including teaching a lot of us 'veterans' new tech-related things," he said. "Several folks here have been dilly dallying with Slack the last six months. She made sure everyone on the editorial team was signed up, and she taught each of them personally how to use it. She even taught yours truly Canva, which I love."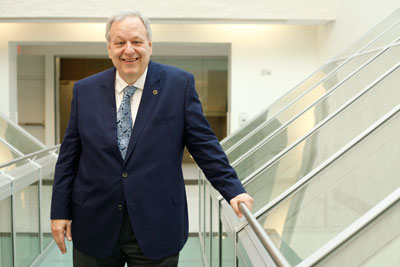 Additionally, Quinn attended editorial meetings and worked to improve the paper's social media platforms and use of headlines to drive more readers to their website.
"All here agreed on how much of a delight she was," Jones said. "I'd hire her on the spot, if she was interested."
Quinn, who plans to attend law school in the fall, said she enjoyed the opportunity to share her knowledge.
"I wasn't just teaching but learning myself," she said. "For me, I learned to be a better advocate for myself. It's a wonderful program."
Zeman said her experience at The Northeast News was an opportunity to use many of the skills she's honed at the School of Journalism.
"The classes I've taken at the J-School were key to me being able to help the newsroom," she said. "Even things I learned freshman year, like basic design. It all came in handy."
Keeping up with technology
In 2010, Walter Potter, who received a master's in journalism from MU in 1981, established the Missouri School of Journalism Water B. Potter Fund for Innovation in Local Journalism. The endowment supports teaching and research centered on journalism that serves small communities, such as towns in rural areas or individual neighborhoods in larger urban areas. Potter made the gift in honor of his father, who operated six community newspapers in his home state of Virginia.

In the beginning, the endowment only supported conferences. But in 2015, Potter decided to find out for himself what community newspapers in Missouri needed. So, he embarked on a six-week, statewide tour, dropping in on community news organizations across the state.

"What I learned was they all needed help in various ways with technology — help with the internet, their websites and social media," Potter said.

Community newspapers had the passion and the drive to cover the news but little bandwidth to keep up with the ever-changing digital world. Armed with his discovery, Potter met with Randy Picht, executive director of Reynolds Journalism Institute, and together, they hammered out a solution: The Potter Digital Ambassadors Program. Newspapers are selected through an application process, and students are matched with the newspapers.

"I envision it as a two-way street," Potter said. "The students teach the community newspapers how to do new-fangled things and in turn, the experienced journalists show them what the real world is like and why the fundamentals of journalism are so important."