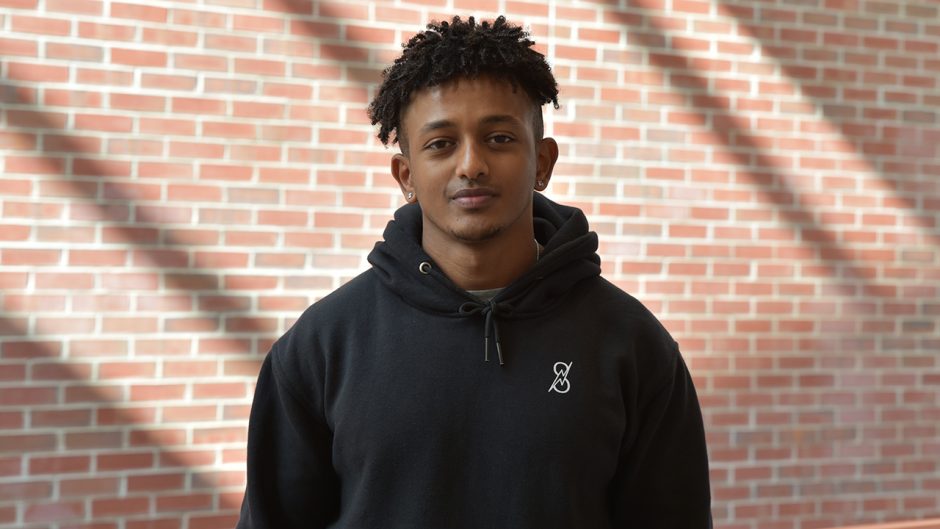 March 15, 2023
Nez Redi wears many hats — student at the Trulaske College of Business, part-time employee, student council treasurer, podcast host and entrepreneur, to name a few. Self-sufficient and ambitious, Redi is the owner and creator of VSNFirst, an online clothing brand that sells athletic apparel and loungewear, set apart by its vision for giving back.
Memories of his childhood in Ethiopia leave him in awe of the blessings in his life now — from the shoes on his feet to having his own car. Redi said he recognizes that he is surrounded by many people with potential shrouded by unfortunate circumstances and aims to use VSNFirst to bring them opportunities just barely out of their reach.
"I want to have a brand that invests in those people," Redi said. "Those people who have a dream — who have a vision — but just no way of getting to it. That's what I want it to be long-term. I want it to have an impact on a lot of people's lives."
In its growth stage, VSNFirst gives 5% of all proceeds back to homeless Columbia residents. And as it grows, Redi wants to see his company provide school supplies and essential clothing items to support housing-insecure Mizzou students.
Guiding Redi through his entrepreneurial journey are a plethora of faculty and staff, including Scott Christiansen, an associate teaching professor and director of the Center for Entrepreneurship, and Matt Reiske, director of Business Career Services. Redi says Annette Kendall, associate director of MU's McQuinn Center for Entrepreneurial Leadership, has also been critical to his growth as an entrepreneur.
"Everyone's always giving and always willing to get you there," Redi said.
His work is never done, as he solicits ongoing feedback from his friends and mentors. The next release of VSNFirst apparel, featuring a more design-heavy collection of spring athletic wear, is in the lab being prepared for the next drop.
Read more from the Trulaske College of Business