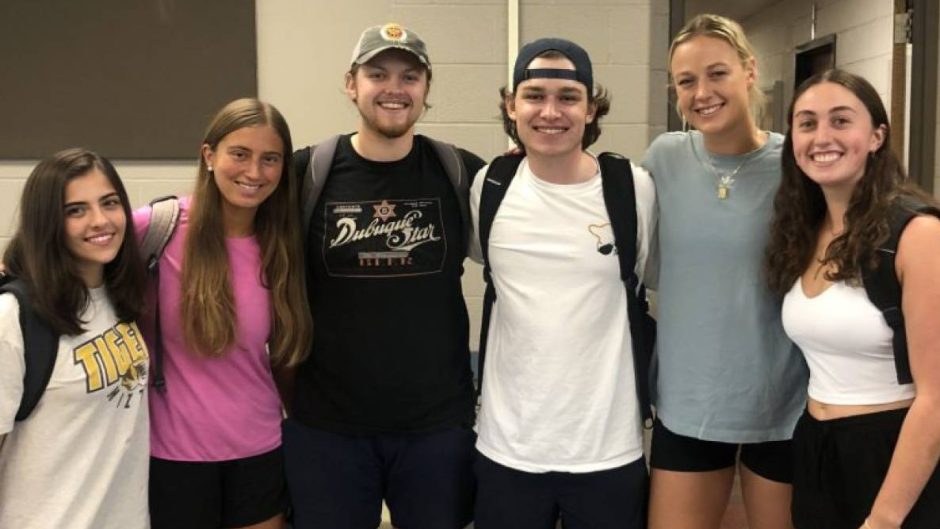 Feb. 13, 2023
In early December, high school girls basketball teams from three states took part in the inaugural Sophie Cunningham Classic, a three-day tournament in Columbia created by women athletes for young female athletes. The shootout allowed for those athletes to take center stage and for Cunningham to give back to the community where she dominated opponents on the court as a player at Rock Bridge High School and as a college athlete at the University of Missouri.
The event also allowed MU students in parks, recreation and sport (sport management is one emphasis area) the opportunity to gain valuable hands-on learning experiences at a high-profile event.
"We strive to provide our sport management students with plenty of hands-on opportunities," said Michelle Brimecombe, an assistant teaching professor in the School of Natural Resources. "With an event like this, we want our students to experience the ups and the downs, the anxiety, the drama, the successes and the failures. We are obviously here to keep them organized, but a key part of learning is giving the students the ability to make their own decisions."
The students were tasked with a variety of projects leading up to the event. They researched best practices for marketing campaigns, including sales, promotions and sponsorships. The group also studied consumer relations and how to create an exciting experience for those in attendance. During the actual event, students also had several responsibilities, including coming up with halftime activities for the fans.
"When we talked through how we would be helping with the Sophie Cunningham Classic, everyone wanted our ideas, which was a huge boost to know that what we were saying was being valued," said Gwen DeWaele, a junior parks, recreation and sport major. "Sport management gives us an opportunity to gain experiences inside and outside of the classroom, and this work is truly a once-in-a-lifetime opportunity."
Cunningham just finished her fourth season as a member of the Phoenix Mercury in the Women's National Basketball Association (WNBA). She was drafted in 2019 after a standout career at Mizzou that included numerous national honors and ended with her name etched across the MU women's basketball record books. She is MU's all-time leading scorer (2,187 points), all-time leader in free throws made (537) and holds multiple top-five spots in other statistical categories.
While Cunningham was dominant on the court, she was also involved in the parks, recreation and sport degree program. She chose the sport management track, too, earning her degree in 2020.
"I love being able to give back to CAFNR," Cunningham said. "Being a former parks, recreation and sport student, I know how valuable an opportunity of this nature is for students to grow. I'm so happy that the students wanted to be part of this, and they did a phenomenal job throughout our time working together. I'm hoping to keep this relationship going long-term."
Read more from the College of Agriculture, Food and Natural Resources