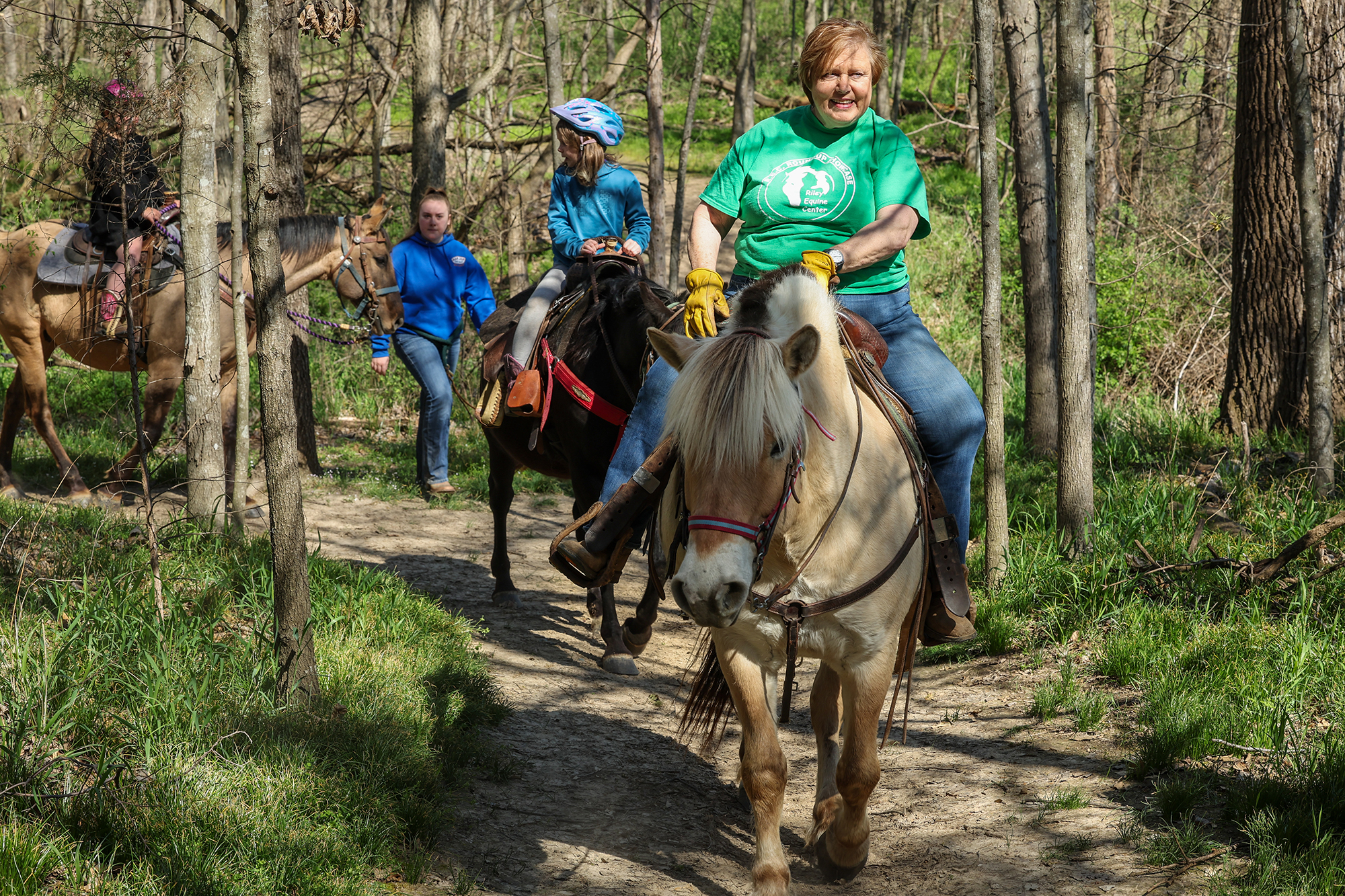 Bonnie Riley — a Mizzou alumna and the executive director of Riley Equine Center in Boonville, Missouri — leads a team of MU health science interns who facilitate therapeutic horseback riding for people of varying ages and abilities.
May 1, 2023
Contact: Marcus Wilkins, wilkinsm@missouri.edu
Photos by Abbie Lankitus
University of Missouri alumna Bonnie Riley holds high standards for her colleagues. They must be empathetic and gentle. They must be and patient and cooperative.
They must minimize their snorting.
Riley is the executive director of Riley Equine Center in Boonville, Missouri. The facility is home to 13 horses (and several talented humans) who provide clients — many with physical and mental disabilities — therapeutic horseback-riding.
The center partners with the MU School of Health Professions to deliver hands-on learning opportunities for health science majors who help administer tailor-made treatment plans. Through the one-of-a-kind internship, undergraduate students assist children and adults on the autism spectrum as well as neurotypical children simply learning to ride.
"Equine therapy is especially effective for people on the autism spectrum or with ADHD who might be dysregulated," said Riley, who has degrees in psychology and counseling services. "The size and movement of the horse is soothing. We've had children who are screaming or crying when they arrive, but when our Mizzou students set them on the horse and work with them, they become calm. Parents tell me the effect can last for an entire week."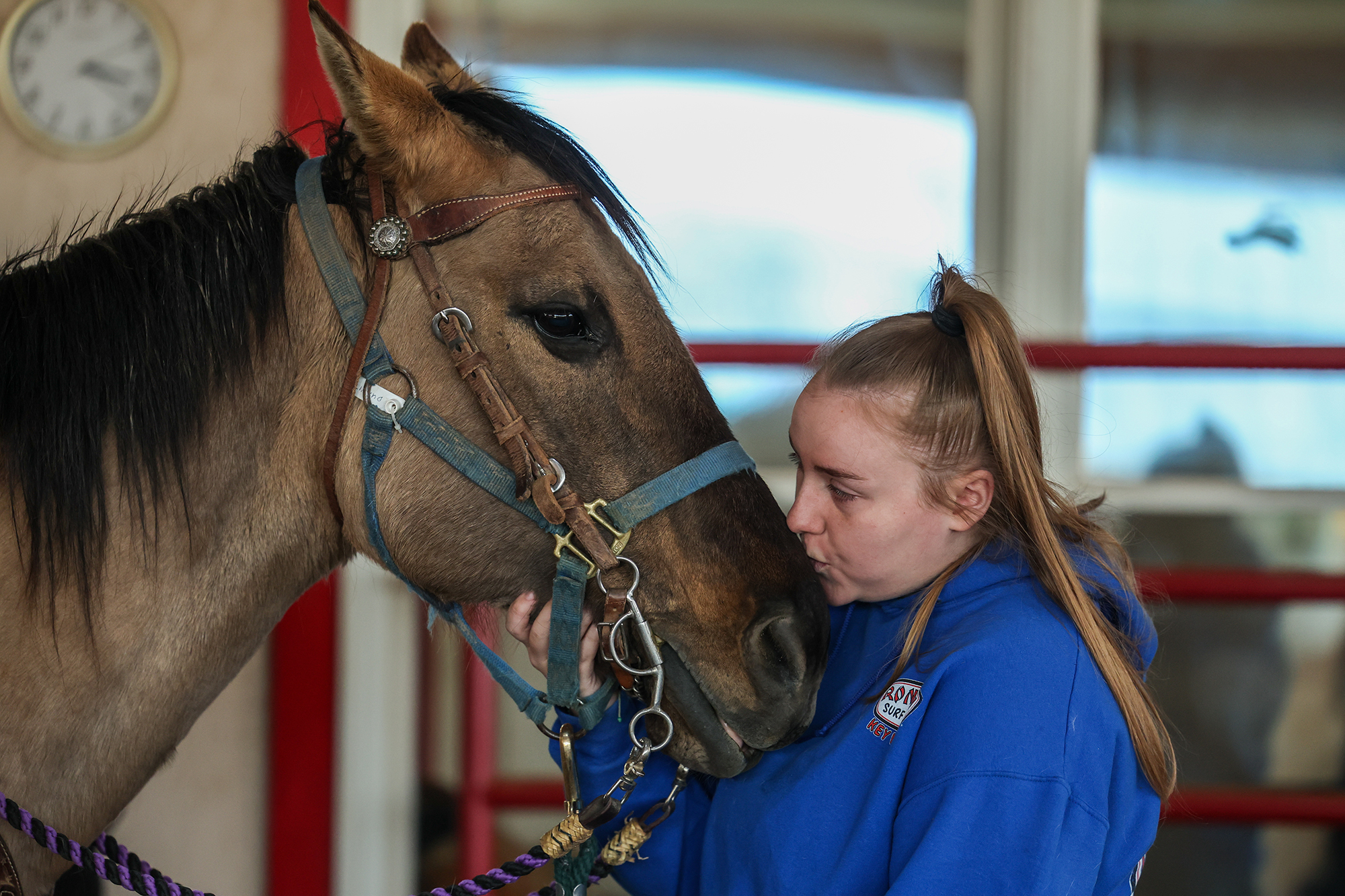 Morgan Dorley nuzzles Dunnet, one of 13 therapy horses at the facility. Dorley, who interns at the clinic, also helps manage the MU Hockey Club in her spare time.
Helping hooves
Mizzou interns work at the clinic Monday, Wednesday and Saturday, prepping the horses for duty (e.g., saddling, grooming) before greeting the day's riders. For clients with physical disabilities, students are tasked with observing the rider's posture as the horses traverse the barn obstacle course or one of the property's several trails. For example, a rider with limited mobility in the lower extremities might lean to one side, and constant adjustment helps build strength and endurance.
For riders on the autism spectrum or with intellectual disabilities, daily goals might incorporate following instructions, guiding the horse or making conversation.
"The beauty of this internship is that we spend a lot of time with the riders and get to know them as individuals," said Morgan Dorley, a senior health science major from Spring Hill, Kansas. "There is one little girl who is nonverbal, and part of her treatment plan is that we ask her questions throughout the lesson. We might ask what color her hair is or if she wants to stop and pet one of the horses. As the session goes on, she makes more sounds and interacts more. There's no other internship quite like this."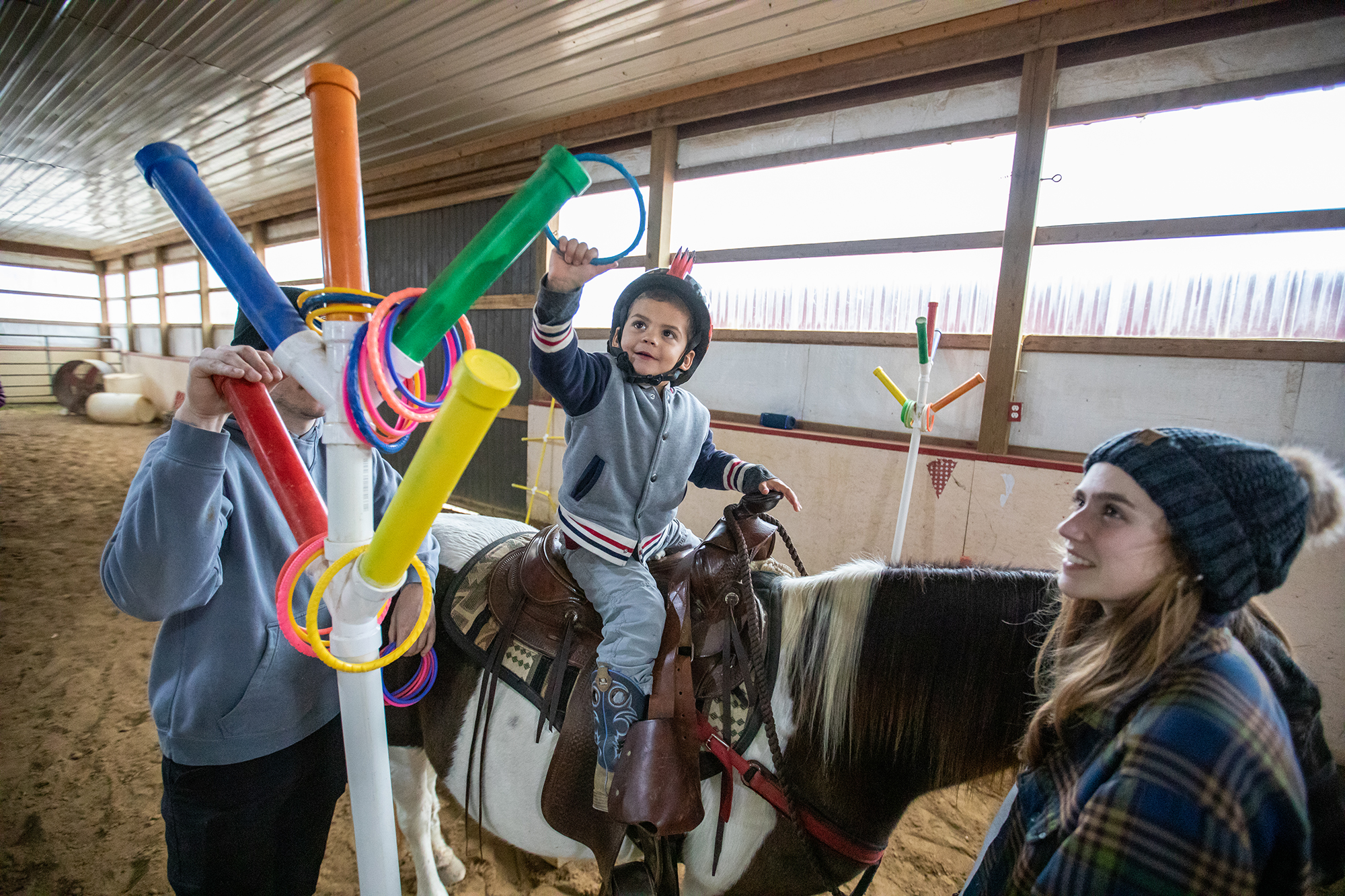 Riders at Riley Equine Center participate in horseback activities that improve dexterity and coordination, such as ring-placement and bean bag exercises.
Macie McNeely, a senior health science major from Gallatin, Missouri, was drawn to the opportunity to work with clients both emotionally and physically.
"I was inspired to pursue a career in health science because my sister's friend had cancer, and we went through the whole process with him — treatments, therapies, hospice care — up until he passed," McNeely said. "When I got to Mizzou, I wasn't sure which direction I wanted to go, and I started looking into different internships. This one allows you to work with people of varying abilities and witness the progress they make every week. It's preparing me for my next step — a master's degree in occupational therapy."
Horse sense
As parents and guardians arrive with clients excited to saddle up, the day's troop of four-legged friends stand ready to receive their riders — and perhaps an exquisite pre-ride scratch under the bridle. For Riley, the operation combines her three loves: counseling, horses and the disability community, with which she bonded following her son's debilitating aircraft accident in 1992.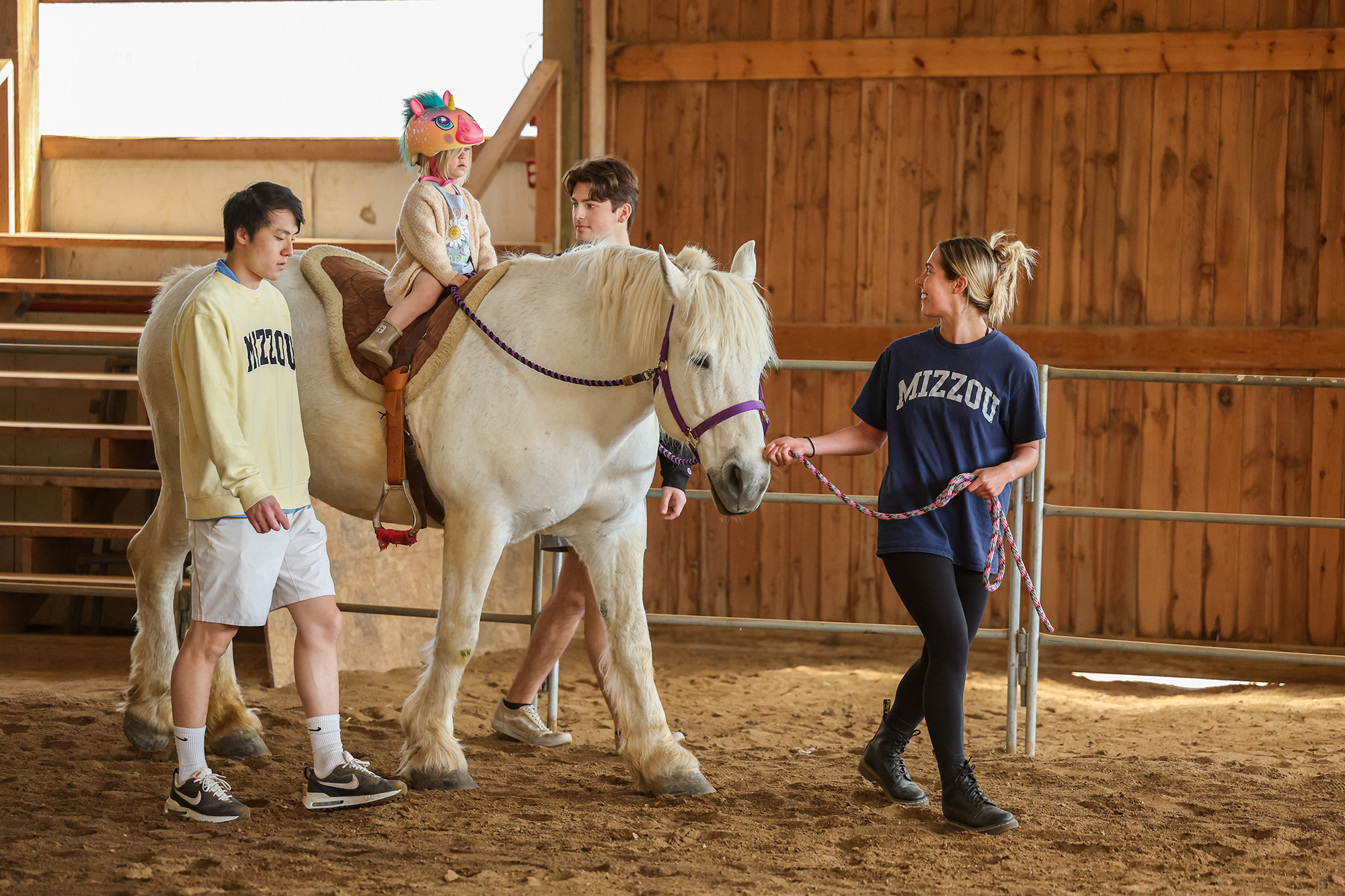 Molly Morrell (right) helps a young rider atop Pearl. "I'm especially a hands-on learner," Morrell said. "Working directly with the horses and children has really opened my eyes to different career paths."
"It really helps to have MU's health sciences students here because they are so committed to learning this type of therapy and giving it their all," Riley said. "We've come to rely on them. In fact, during semester break, we kind of go into panic mode."
Molly Morrell, a senior health science major from St. Louis, said the appreciation is a two-way street.
"Bonnie and everyone here have been so supportive, even though I had no experience working with horses or children," said Morrell. "I've learned so much about therapy just by watching their example."
As the parade of equine enthusiasts plod through the gate, sporadic shouts of "yeehaw!" or "ride 'em, cowboy!" evoke chuckles from the group. Riley leads the way, beaming and bouncing down the trail.
"Mizzou is sending us the cream of the crop," Riley said. "Every student we've worked with has been intelligent, organized, dependable and energetic. It makes me proud to be a Tiger."