Dec. 9, 2022
Contact: Deidra Ashley, ashleyde@missouri.edu
Photos by CJ Harris, Abbie Lankitus and Andy Ramirez
More than 800 faculty, staff, students and community members gathered on Dec. 8 for the second annual Deck the Columns event.
The event was a campuswide celebration and an opportunity to donate to the Tiger Pantry — an on-campus resource that helps address food insecurity. Eighty-nine pounds of food and nearly $650 were donated at the event.
Mini Mizzou helped kick off the event with holiday and Mizzou-themed music.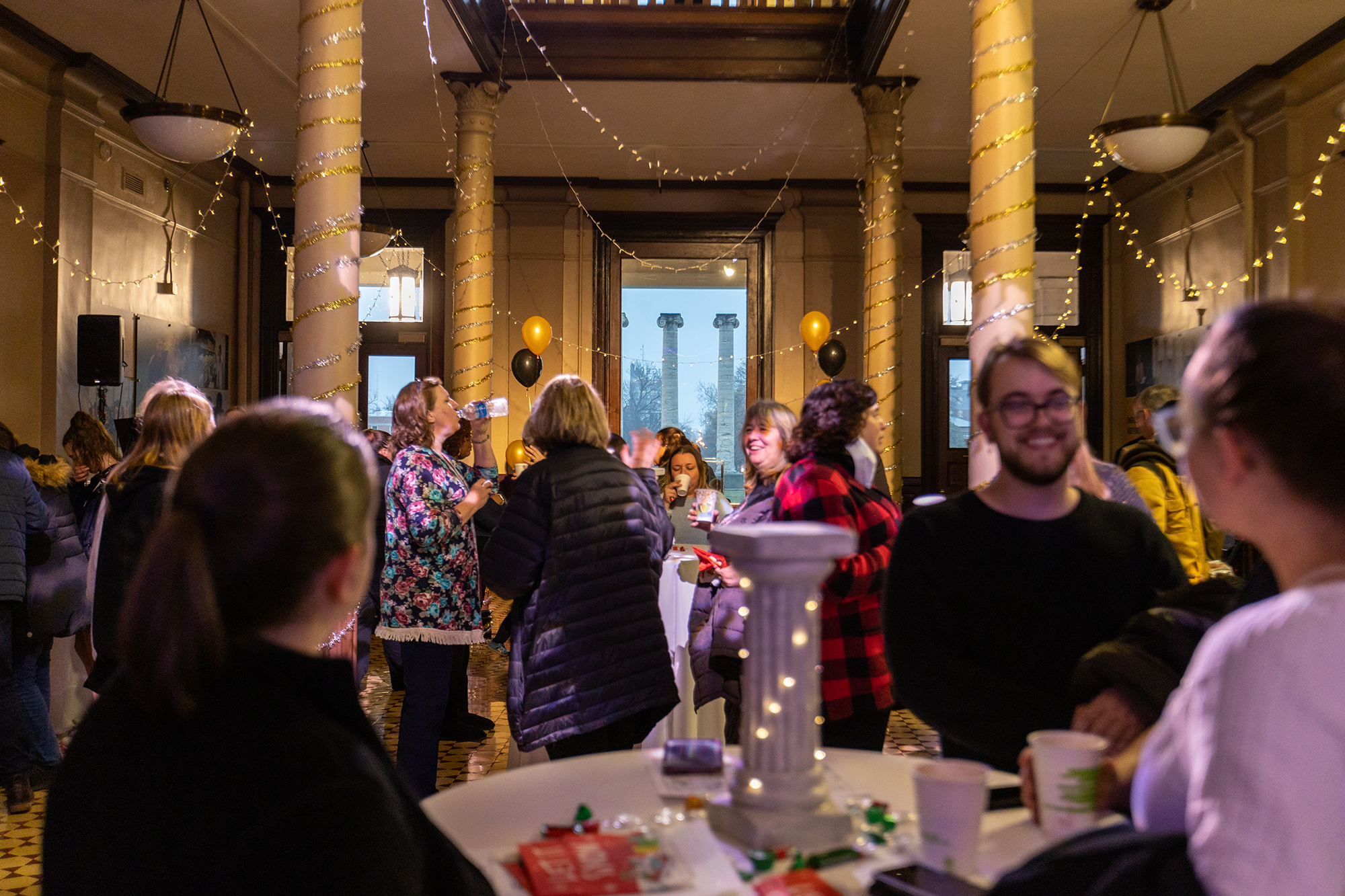 Despite the event having to move inside due to weather, students, faculty and staff enjoyed celebrating the season together.
Guests also celebrated the inaugural lighting of the columns with a little help from representatives from the Missouri Students Association, Faculty Council, Staff Advisory Council and Graduate Professional Council. Instead of the Quad Columns being illuminated, pillars inside Jesse Hall were wrapped in lights.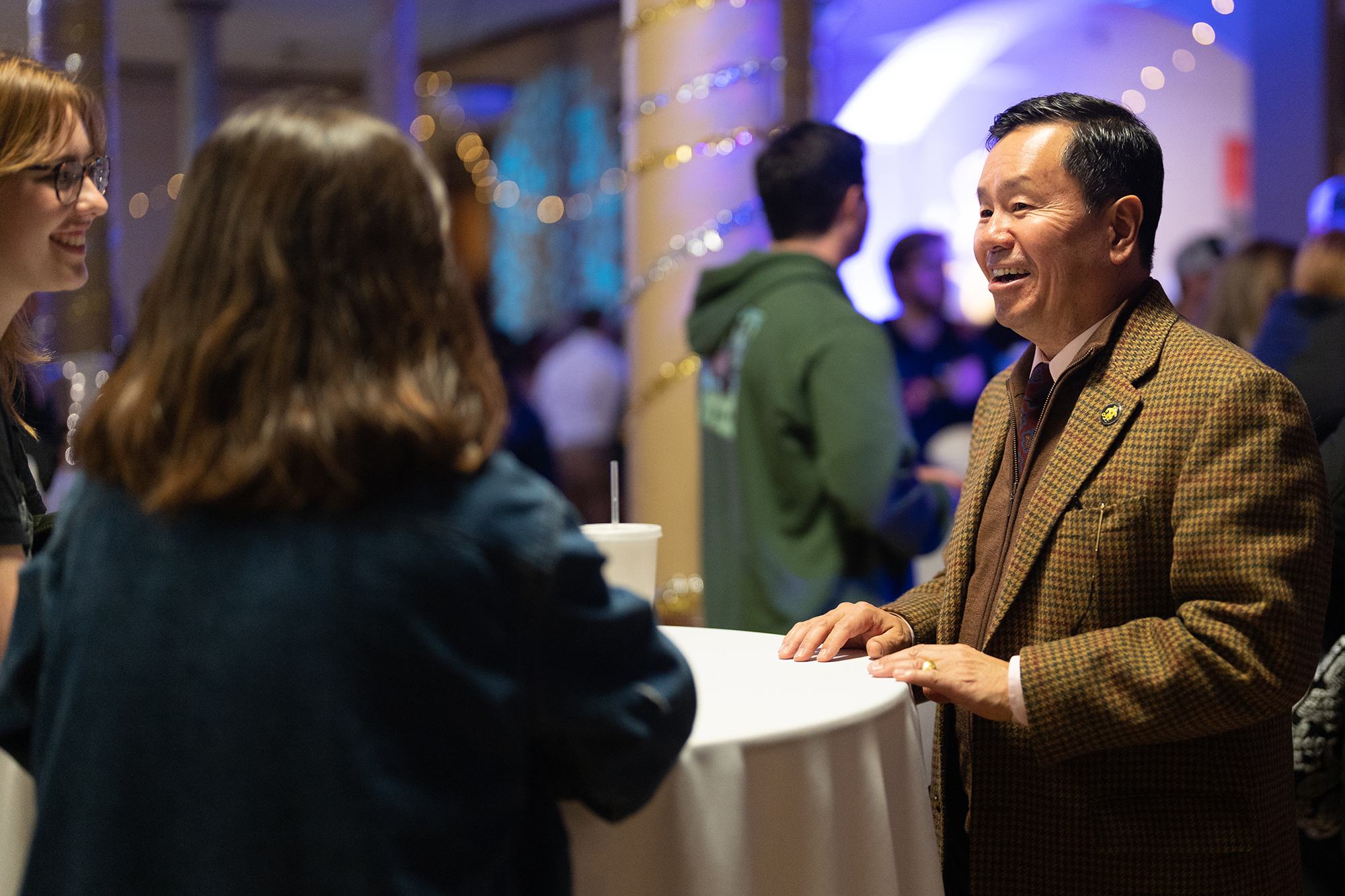 Students talked with faculty and staff, including University of Missouri President Mun Choi.
Eventgoers sampled the customizable hot cocoa bar with supplies donated by Campus Dining Services and hot chocolate from The Grind.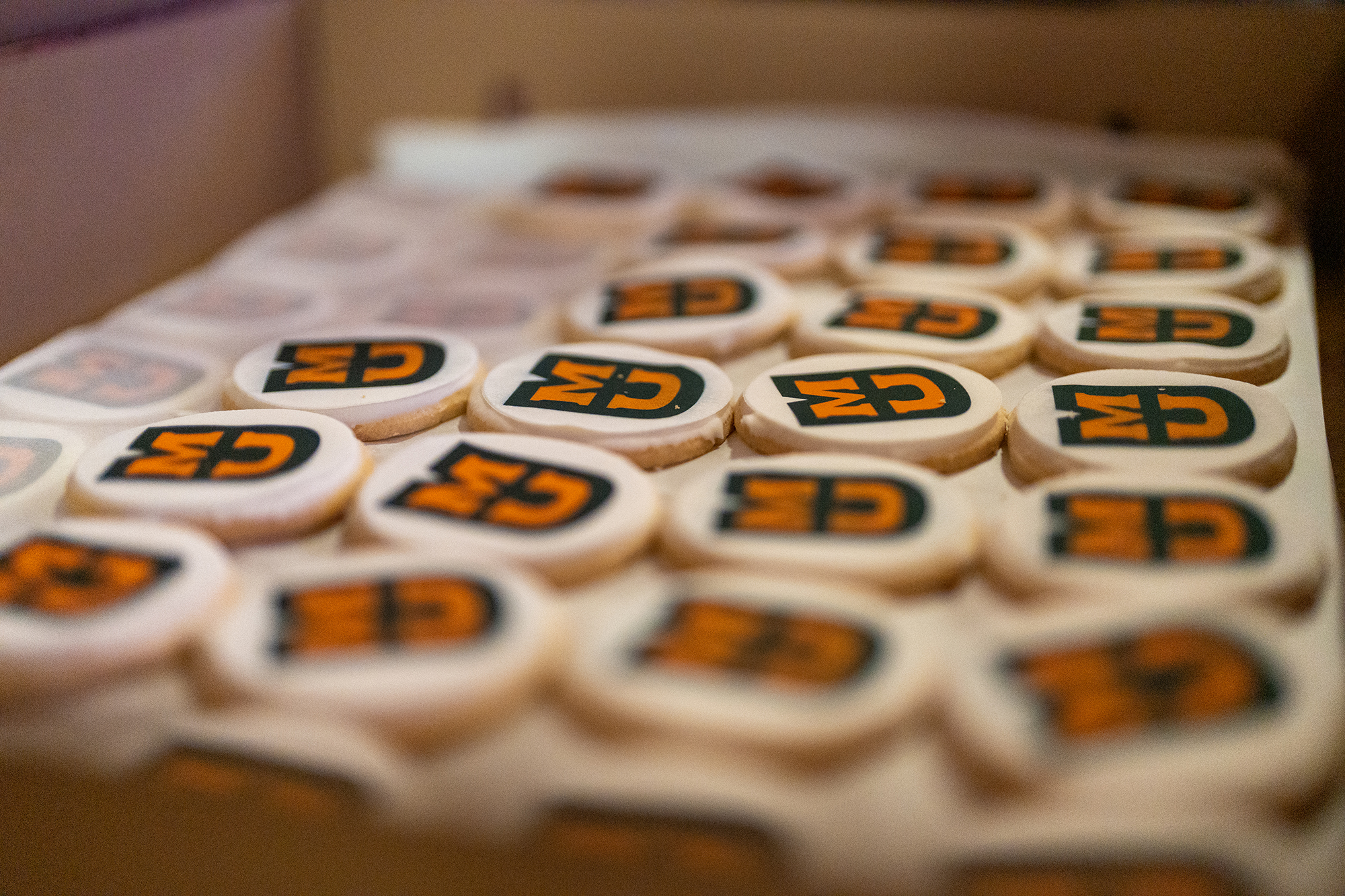 Attendees also had snowflake and MU-logo cookies. More than 120 prizes were distributed in exchange for stickers found at various stations throughout the event — including the Holiday Treats station, group photo station and Truman's Winter Wonderland.
One of the most popular areas of the event was the group photo station with Truman the Tiger in Jesse Auditorium.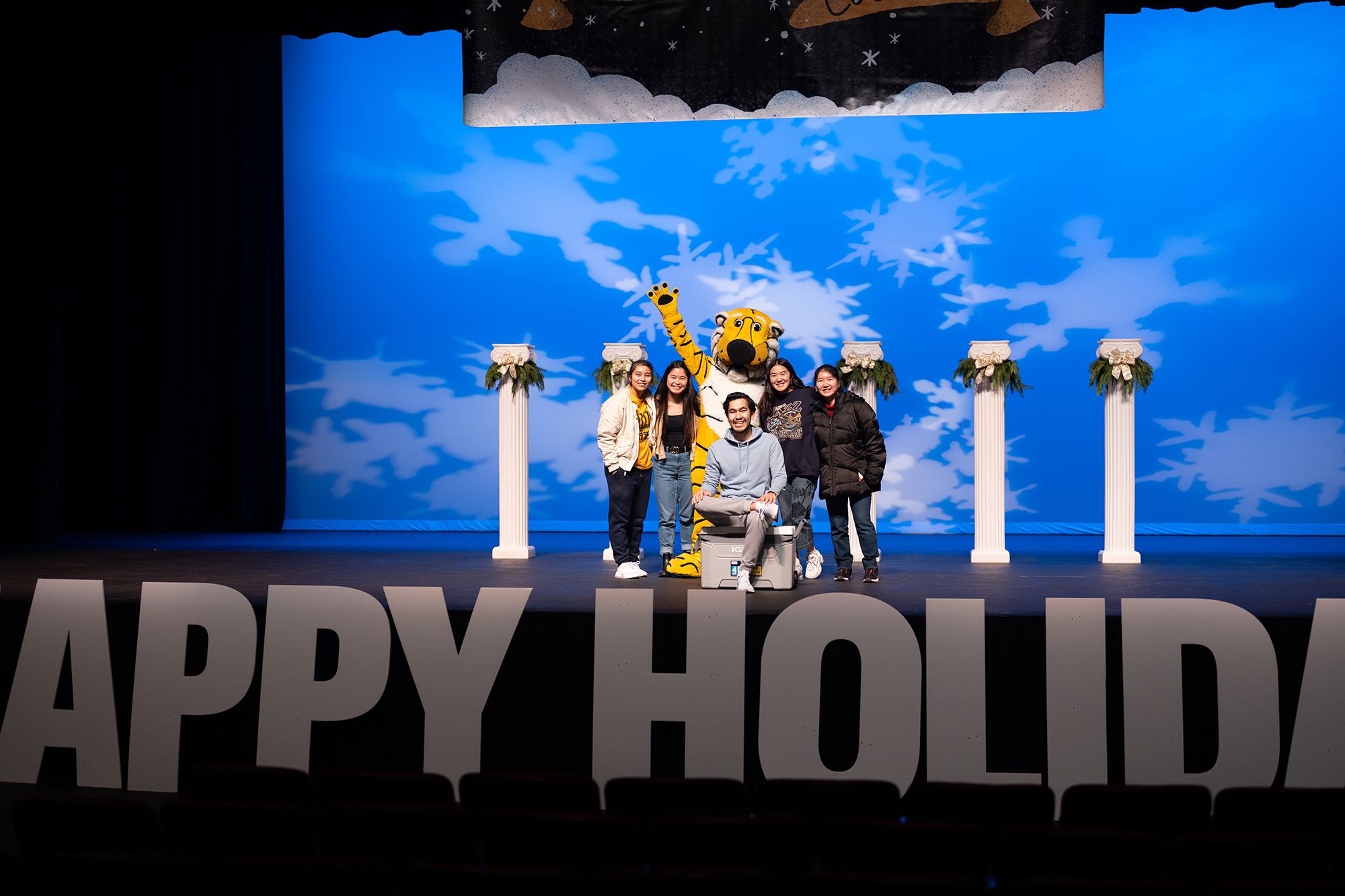 Shon Sayfuddinov, center, a digital storytelling major from St. Louis, won an Igloo cooler — which he asked Truman the Tiger to sign before taking a group photo with friends. Other prizes included Mizzou apparel and tailgate gear, athletics ticket bundles, Yeti cups, Vera Bradley totes and more.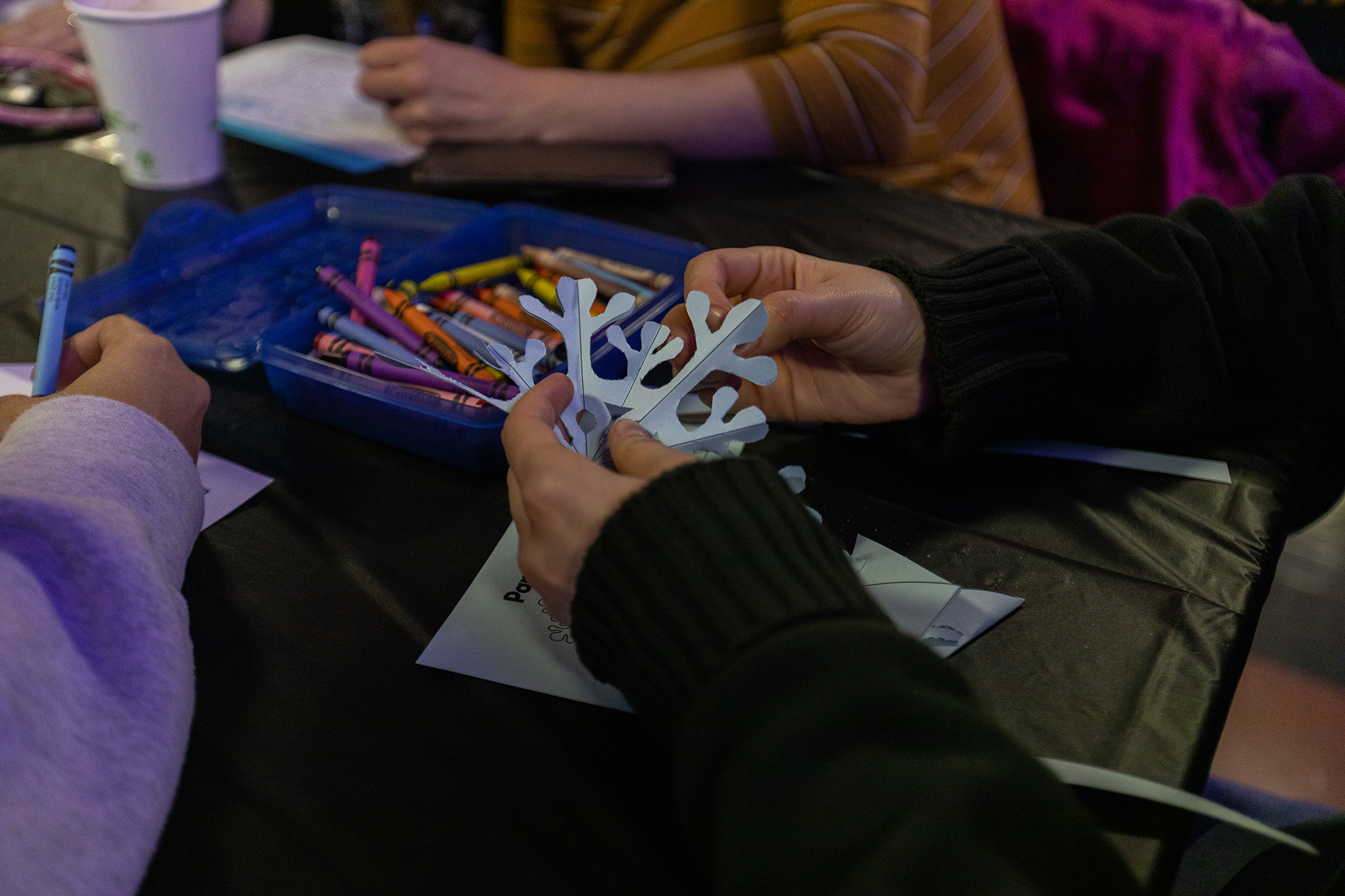 Craft tables for making paper snowflakes and pages for coloring helped students decompress in Truman's Winter Wonderland. "This is my first time attending this event, and really my last opportunity because I'm finishing my PhD soon," said Omiya Hassan. "It's a fun way to take a break and experience the seasonal festivities."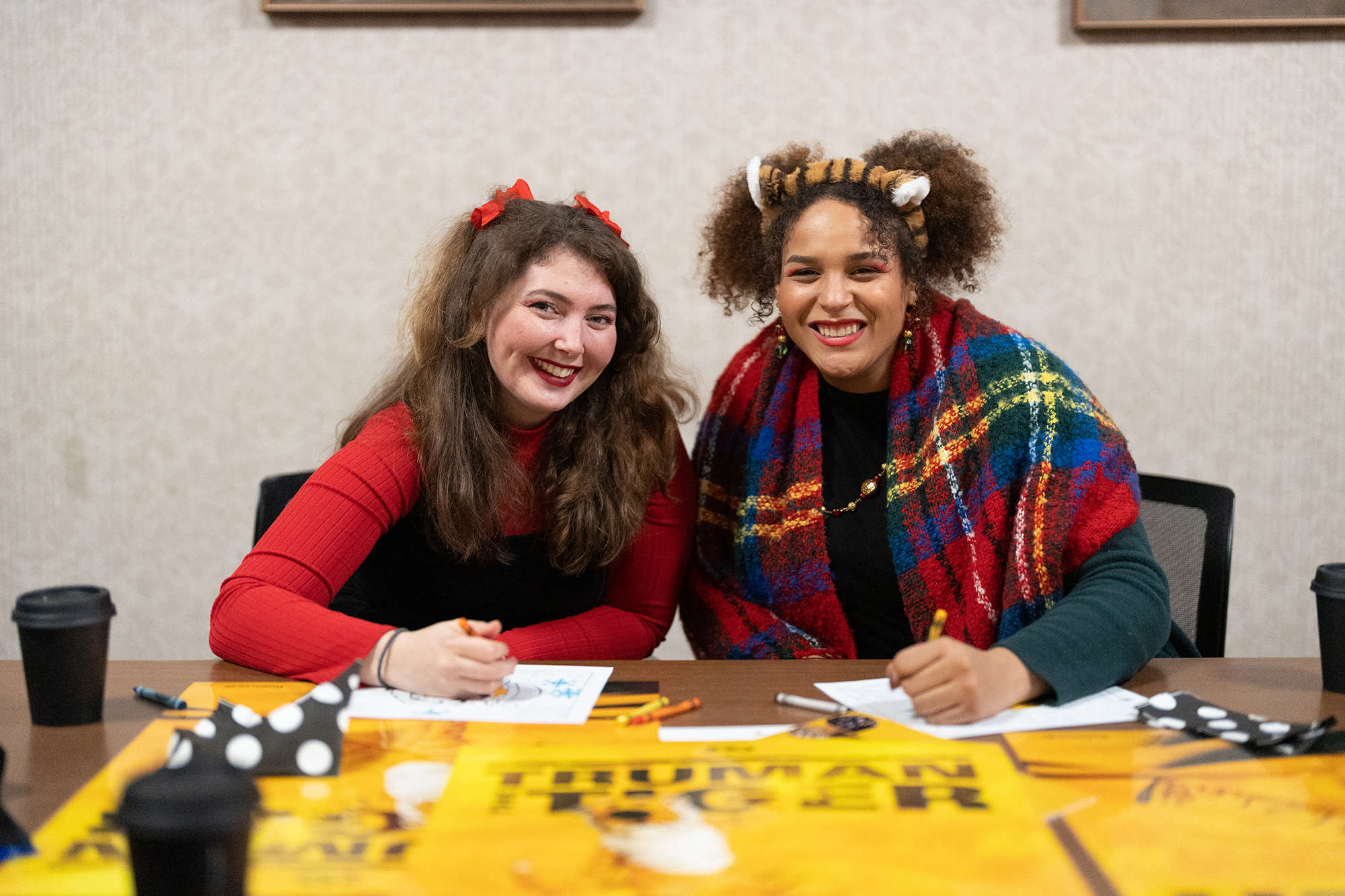 Graduate students Megan Sundberg and Michelle Renee Quinn took a break to color Mizzou-themed drawings. "We're having a great time," Sundberg said. "It's fun to see all the holiday cheer around campus — especially during exam season."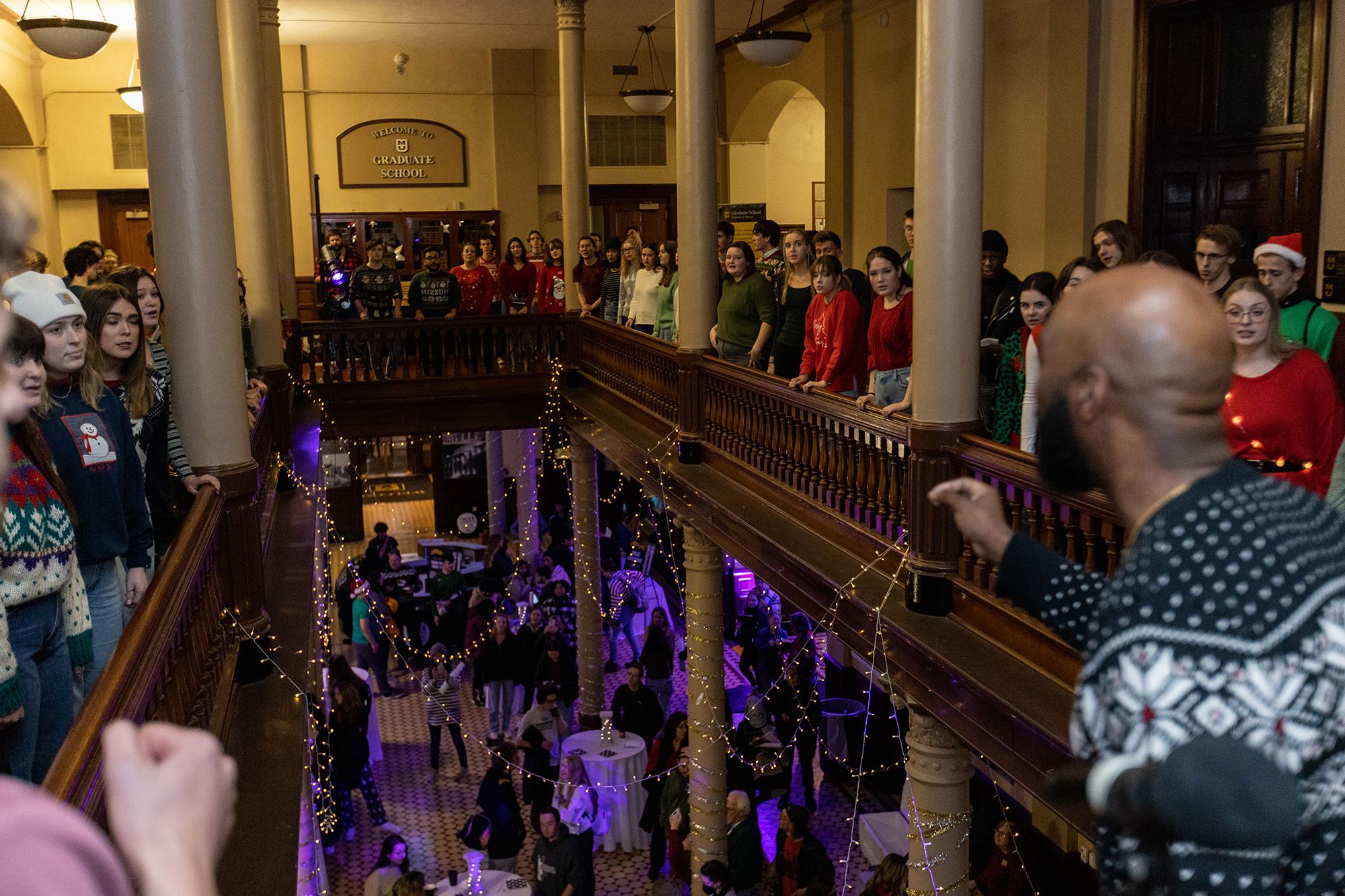 A number of choral groups from the School of Music performed festive tunes from the second floor of Jesse Hall.
Sophomore Chloe Schellman (center in overalls) sang with the MU Concert Chorale and Hitt Street Harmony groups. "Singing is something that always lifts my spirits, and it's really special to be able to share music with the Tiger community at an event like this."
Attendees didn't just come in human form. Spot and Bucky, robots from the College of Engineering, made a special appearance and performed tricks for guests. While the "dogs" are a lot of fun, they are used for serious hands-on learning and advanced tasks.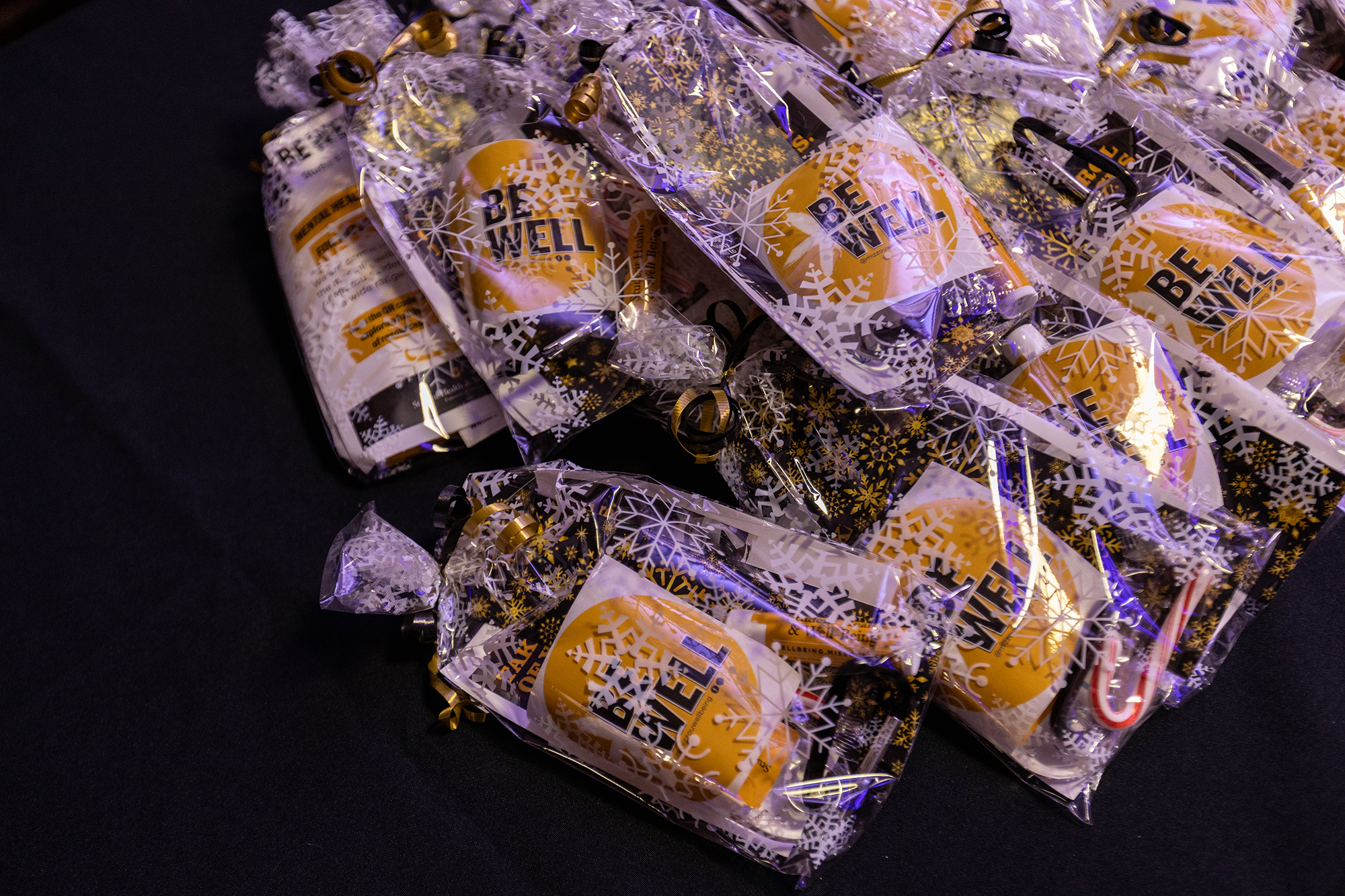 Student Health & Well-Being rounded out the event by passing out "good luck on finals" bags to students.