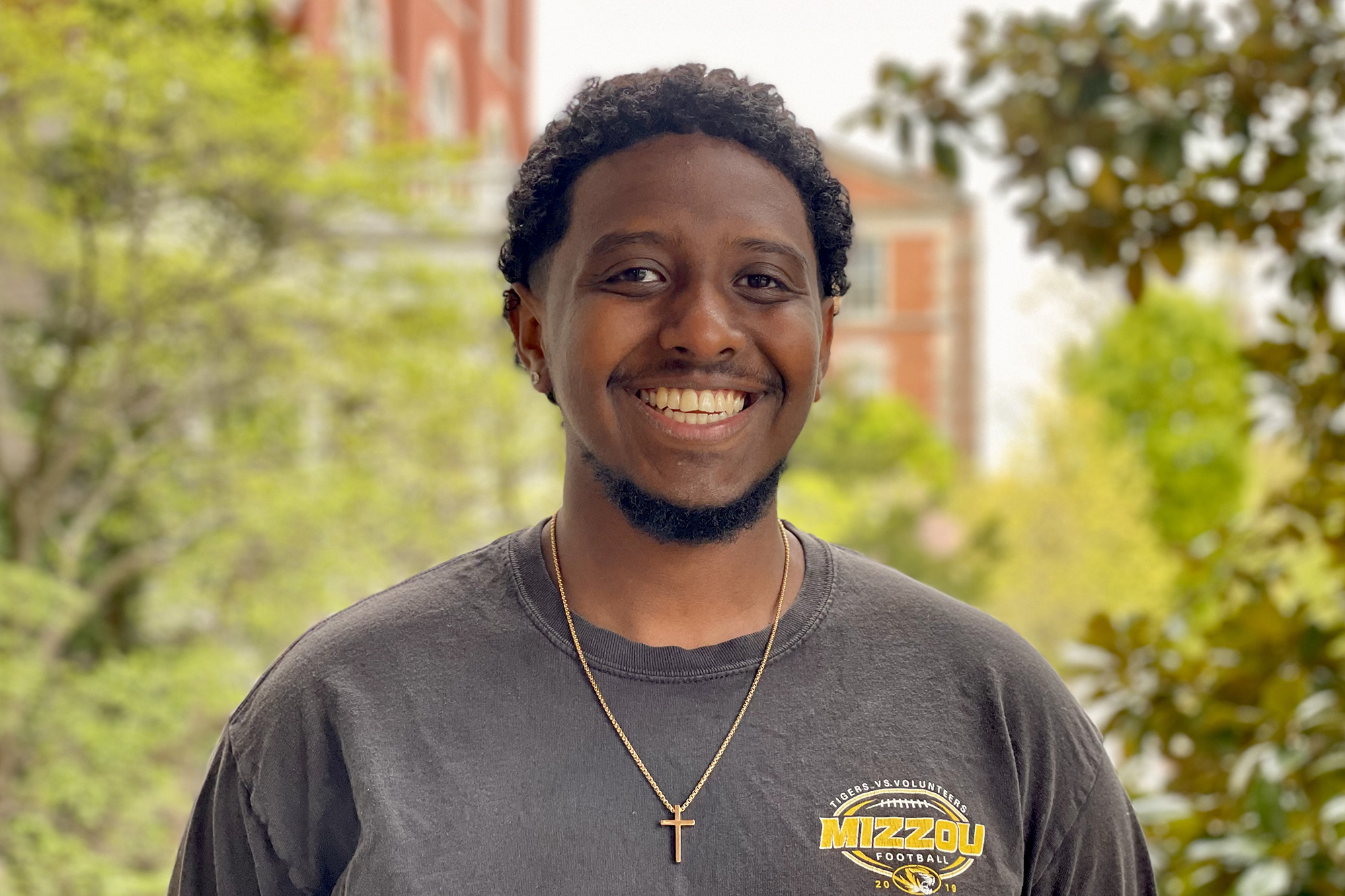 May 9, 2022
Contact: Deidra Ashley, ashleyde@missouri.edu
For many native Columbians, attending the University of Missouri seems to be the next logical step after graduating high school. The same was true for senior health science major Eyob Teklesenbet.
"Mizzou became my home away from home," he said. "I liked being so close to family — and there are so many great programs to choose from."
Teklesenbet started out as a pre-nursing major and combined his in-class learning with a job as a certified nursing assistant (CNA). "After being a CNA for two years, I realized that the clinical setting wasn't for me," Teklesenbet said. "I shadowed a few health administrators and changed my major to health science with an emphasis in leadership policy."
In his new home at the School of Health Professions, Teklesenbet shines. "Eyob continually seeks out opportunities to grow — both as a student and an outstanding human," said Claire Altman, associate professor and Teklesenbet's mentor. "He has taken on numerous leadership roles at Mizzou and cares deeply about his fellow students. His attitude and engagement are a clear embodiment of the spirit of the MU School of Health Professions."
A network of support
In addition to connecting with faculty and staff in the School of Health Professions, Teklesenbet also reached out to Mizzou alumni for advice and support as he acclimated to a new major. "There were a number of people I spoke to — both through the Mizzou Alumni Association and other connections — who helped me find my place at MU," he said. "It's so important to lean on those people who are familiar with Mizzou and have industry experience."
On campus, Teklesenbet joined the Autism Speaks group, mentored transfer students through the Transfer Center and was a member of the Health Sales Industry Club. He also participated in recreational sports — his favorite of which was basketball.
"One of my favorite things about campus is getting to meet new people," Teklesenbet said. "College is about discovery, and everyone brings a different perspective to Mizzou. COVID made it a little more challenging to connect with people, so I adapted and took advantage of every opportunity I got."
Once a Tiger, always a Tiger
After graduation this May, Teklesenbet will take the summer off before diving into his next venture: pursuing a master of health administration degree at MU.
"Eventually, I want to be part of the executive suite at a health care organization," he said. "But, for now, my goal is to do more research on health disparities and public policy. Mizzou is helping me achieve my goals by providing professors and opportunities that help me excel — both inside the classroom and out in the real world."