Oct. 19, 2022
Contact: Deidra Ashley, ashleyde@missouri.edu
1. You have to be in Columbia to participate in Homecoming.
False. Tigers from around the world are invited to celebrate the University of Missouri's Homecoming the week of Oct. 17. Tag onto the tradition by finding a local blood drive, watching the spirit rally and parade live stream, participating in the Tiger Trot Virtual 5K and more. Visit Mizzou.com/HomecomingAtHome for even more ways to Paint the Town Gold wherever you are.
2. Mizzou's first Homecoming celebration was in 1911.
True. The 1911 celebration began with a football game against the University of Kansas and brought more than 9,000 students and alumni back to Columbia. Today, Homecoming continues to be one of Mizzou's largest celebrations and has expanded to include a student talent show, blood drive, community service projects and more.
3. The Homecoming football game has always been played on Faurot Field.
False. The first Homecoming game was played in 1911 on the land that is now Stankowski Field. The Tigers played KU, and the game ended in a 3-3 tie. In 1926, Homecoming games moved to Memorial Stadium — with the Tigers beating the Jayhawks 15-0 that first year.
This year's Homecoming game kicks off at 3 p.m. Saturday, Oct. 22, at Memorial Stadium.
4. The first Homecoming king and queen were crowned in 1941.
False. The first Homecoming queen, Betty Hall, was crowned in 1941. The first Homecoming king, Don Downing, wasn't crowned until 1977.
This year, Homecoming royalty will be announced during halftime of Saturday's football game.
5. This year's theme is Paint the Town Gold.
True. 2022 is the year of golden memories for our beloved black and gold. Tigers of all ages are invited to paint the town gold in honor of Tigers past, present and future.
Learn more about this year's logo, designed by MU Advancement's Jon Mueller.
Fun fact: The first themed Homecoming was in 1961 — Tigers Roar With the Twenties.
6. The in-person Homecoming Parade averages more than 50,000 participants and attendees.
True. There are a variety of ways for community members to participate in Mizzou's Homecoming parade. In addition to attending the event, groups and individuals can ride on floats and in cars, march in bands or just walk.
This year's parade steps off at 9 a.m. Saturday, Oct. 22. It features a new sensory-friendly viewing area located on Fifth Street between Broadway and Cherry streets to make the tradition more accessible for people with sensory sensitivities. When floats, marching bands and community groups move past the area, they will lower their noise levels and turn off any bright lights.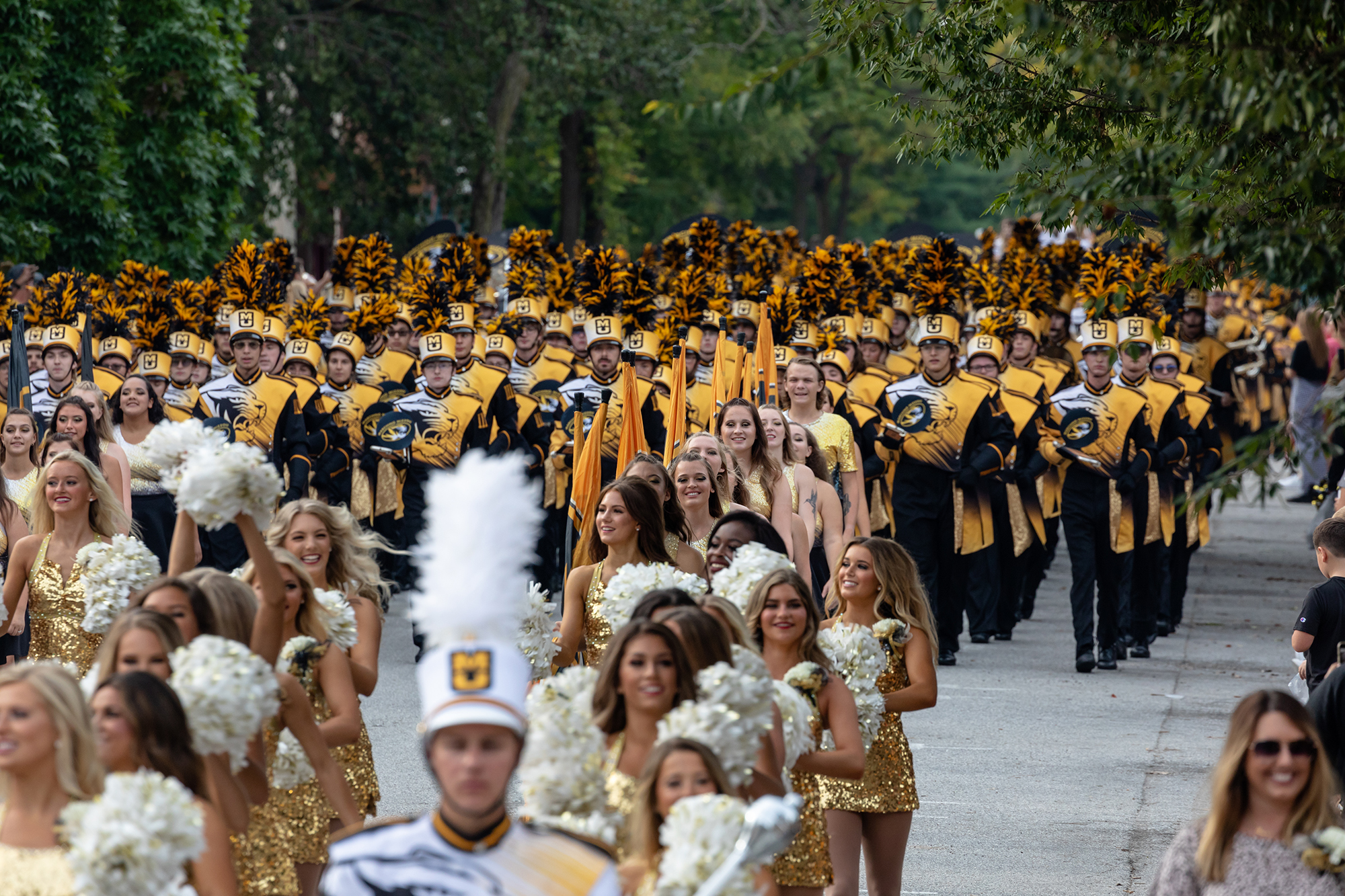 7. During Homecoming, Mizzou hosts the largest student-run blood drive in the nation.
True. The first Homecoming blood drive event was in 1983. Last year, more than 2,500 units of blood were collected — potentially impacting more than 7,500 lives. This year, participation has skyrocketed; more than 4,000 units of blood were collected at the Hearnes Center during this year's on-campus drive.
Locals can still donate at the Boone County satellite blood drive on Friday, Oct. 21.
8. Community service is a cornerstone of Mizzou Homecoming.
True. Various campus and student organizations compete in a friendly contest during Homecoming. Points are awarded throughout October for their efforts in parade float decoration, talent show rankings and more. Points for community service also count toward these standings.
This year's Homecoming Day of Service was Oct. 8, and members of each participating campus organization logged hours throughout Columbia in support of philanthropies and charitable causes. Participants are also Roaring for Rainbow House this year, a local organization that provides children across Missouri with emergency shelter in times of crisis.
Fun fact: Each Homecoming competition grouping is required to have at least 50 members donate two hours each to earn their full allotment of community service points!
9. Two Tigers will be inducted into the Mizzou Alumni Association Hall of Fame this week.
False. Starting at Homecoming 2016, the Mizzou Alumni Association (MAA) evolved the Parade Grand Marshall to become the first class of Mizzou Hall of Fame. Today, MAA annually inducts high-achieving alumni who have exhibited excellence in their chosen field into the Mizzou Hall of Fame. This year, five Tigers will be inducted: Ann Covington, Jim Fitterling, John A. Gordon, James E. Nave and Nischelle Turner.
10. Homecoming traditions only take place in October.
False. While the bulk of the festivities take place over Homecoming weekend in October, service projects, student activities and royalty applications happen as early as September — and that doesn't take into account the planning and organization required to bring Homecoming to life.
Fun fact: The Homecoming tri-directors are chosen in November — giving them just under 11 months to organize this beloved tradition for the following year.
Story written by Madalyn Murry