Published on Show Me Mizzou April 20, 2022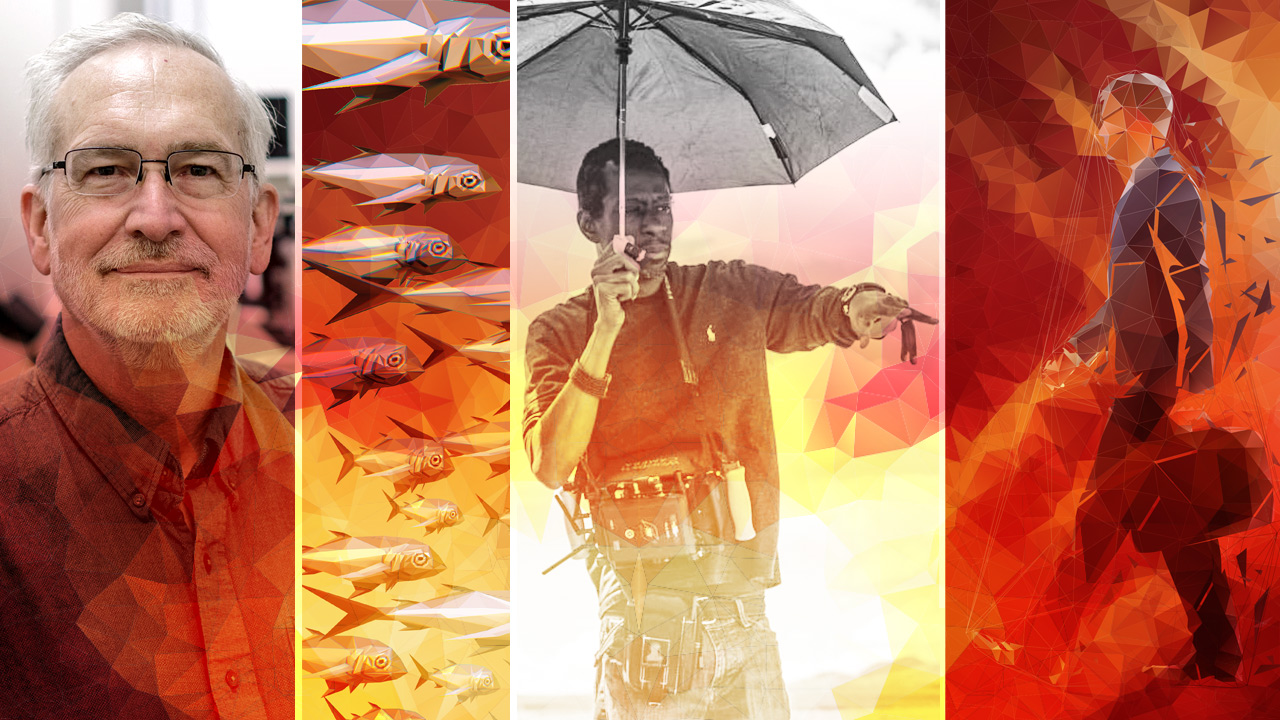 Have a heart
Research that began two decades ago in a Mizzou lab is allowing leaps forward in organ transplants. Story by David LaGesse, BJ '79
Scientists recently dazzled the world by successfully transplanting pig organs into humans, initially a kidney last year and then remarkably a heart early this year. Maryland-based surgeons used a porcine heart to extend the life of a patient who otherwise faced certain death. The surgery has raised hopes that the 100,000 Americans awaiting organ transplants might find a steady supply from pigs.
First, though, somebody had to make it possible to grow that special pig. That's where Mizzou's Randy Prather comes in, or rather came in more than 20 years ago. An animal sciences professor, Prather worked with MU colleagues and a Boston-area researcher in the early 2000s to grow and clone the first "knockout pigs," so-called because researchers delete a portion of a pig's DNA to alter its development.
One of their pigs was a 2001 breakthrough that would enable xenotransplantation, or moving an organ from one species to another. "It's a foundational gene modification that will be needed for pretty much all xenotransplantation," says Prather, who also directs MU's National Swine Resource and Research Center.
In that landmark knockout pig, the MU team showed how to delete a gene that produces a type of sugar. Bacteria produce the same sugar, priming human immune systems to attack within minutes whatever brings it into a body. That caused a body's defenses to quickly reject organs from other species, which doctors call hyperacute rejection.
Xenotransplants seemed impossible if researchers couldn't get past hyperacute rejection. "It was like a brick wall that nobody could see through," Prather says. "When that wall came down, they could begin to see the other problems they needed to address."
In the years since, researchers at MU and elsewhere developed gene changes for other issues in interspecific transplants. The pig that donated its heart for the Baltimore surgery had 10 genetic modifications, including that sugar knockout developed at Mizzou. The patient lived two months with the transplant.
And where scientists once saw organs from nonhuman primates, such as baboons and chimpanzees, as the most promising for saving humans, MU's work helped demonstrate that pigs are a better source. For one: "Primates are difficult and expensive to raise. Pigs are much easier," says Kevin Wells, another animal sciences researcher who works alongside Prather at Mizzou. Pigs also have bodily systems that function surprisingly similar to humans with organs about the same size.
Wells' and Prather's years of success with the swine research center helped Mizzou win an $8.6 million federal grant to open the Swine Somatic Cell Genome Editing Center, directed by Wells, that uses genetics to cure human disease.
The Prather and Wells labs, meanwhile, helped develop genetically modified swine that aid research on a variety of human ailments, including cystic fibrosis and cancer. Other modifications help protect pigs from their own diseases. One guards against a virus that kills thousands of the animals every day.
When it comes to food, the 2001 sugar-knockout modification also enabled a company to produce pork that won't trigger a red-meat allergy in people. The allergy to that sugar typically develops after tick bites.
But through the decades, it was the promise of transplanting pig organs that Prather often highlighted. The recent news suggests we're entering what he calls a new era of human health. "It's taken a long time," Prather says. "Now we're seeing real progress."
---
Now streaming
Two Tiger filmmakers — a professor and an alumna — merge cinema and social commentary in their new feature-length films. Story by Margaret Engel, BJ '73
Young Apaches
Daily life on a Native American reservation is a mystery to most outsiders. When Christian Rozier, an assistant professor in MU's School of Visual Studies, became a visiting artist at the San Carlos Reservation southeast of Globe, Arizona, in 2010, the society he discovered there altered the trajectory of his filmmaking. Over 11 years, he helped Apache citizens build cinematic skills, and together they created his first full-length feature film, Apache Leap. It opens a true-life window into the rewarding and frustrating lives of Apache teens, their parents and elders.
Rozier's story of young Apaches with achievements and unrealized dreams emphasizes the strength of community ties. As he unspools the story of a restless young woman returning to the reservation, viewers see how life choices are thwarted by basics — nonexistent transportation, lack of jobs, poor internet and little money. It's a film that also celebrates tribal members' talents, like a young man's long-distance running or an elder's deep knowledge of history and nature. Families triumph despite barriers most Americans never face. Apache Leap takes an unhurried look at the despair and inertia stemming from alcohol use, car trouble and difficulties living off the reservation. Yet it is a deeply optimistic portrayal of the strength of human connections.
The result is a film of near-documentary precision in its depiction of reservation life. Rozier enlisted mostly nonprofessional actors and crew, as only three of the reservation's 15,000 tribal members had ever been on a film set before. "The actors were both confident and insecure, with zero experience," Rozier says. "They put so much of their lives on the screen. It was profoundly moving."
Instead of parachuting on and off of the reservation, he trained young adults from the San Carlos community in filmmaking, leaving his equipment behind as part of the reservation's Media Arts Exchange that had brought him to San Carlos a decade earlier.
"My development as a storyteller was fundamentally transformed," Rozier says of working with Apache citizens. "After 10 years of directing music videos and television, I was more inspired by working in the 115-degree heat in that summer experience in San Carlos."
The film had an emotional premiere in the movie theater in Globe, the only one in 80 miles, which was where the cast and crew saw films growing up. "The actors saw themselves on the screen where they've watched Hollywood's biggest movies," Rozier says.
Apache Leap has since screened at film festivals in Portland, Oregon, and Montreal and at the American Indian Film Festival in San Francisco, which is in its 46th year.
"We want to find a great home on a streaming platform," Rozier says of the film's future. He also is raising money for the Native Arts Film Academy he's helping to build on the reservation, to create jobs and upward mobility in the entertainment industry.
Apache Leap took a decade of instruction and planning and three weeks to film but has had lifelong effects on Rozier. "I saw what radical inclusivity could achieve, both in front and behind of the camera. It shows in the quiet moments. It was a true community production." More: apacheleapfilm.com
Labor of Love
Back in 2015, actor and director Paula Rhodes first had the idea to film a dystopian drama during her actual pregnancy, linking the uncertainty of childbirth with the uneasiness of our current world. The LA-based artist couldn't know that a pandemic, protests and raging fires in the intervening years would provide real-life empty grocery shelves and burned-out storefronts needed for her directorial debut, Delicate State.
The journalism graduate and her actor husband, Charlie Bodin, are the film's leads and entire production crew. Seeing the couple share personal footage of her pregnancy makes the scripted terror that follows particularly real and persuasive.
"The mortality you feel in pregnancy fits with the extreme stresses of today," Rhodes says. "Civil war should never be an option. I aim to humanize what that threat would look like and to keep my film a docu-fiction." Her film won the Audience Choice Award at Dances With Films, a Los Angeles film festival, and was presented at the St. Louis International Film Fest. It was shown at the Santa Fe Film Festival and is available on iTunes and Amazon. More: tinyurl.com/DelicateStateFilm
---
30 under 30
Forbes magazine highlights a pair of innovative young Tigers. Story by Mara Reinstein, BJ '98
Putting on the gas
A lot of people say they're making the world a greener place. Corey Staller, BS, BS ChE '14, put his words into action. As a senior engineer at the Chicago-based Celadyne Technologies, he's helped develop hydrogen fuel cells that emit water vapor instead of carbon dioxide. He hopes the new cells can replace heavy diesel engines in trucks, cars and boats and decarbonize the environment in the process.
Staller's creative ingenuity and leadership led to funding from Shell Ventures and Celadyne's selection as a Breakthrough Energy Fellows company. But being honored as one of Forbes' 30 Under 30 in the energy sector was a special personal honor. "When I heard the news, I spent the day calling people who had impacted me along the way," he says.
That list begins with a high school physics teacher who sparked his love of curiosity and science. Staller learned how to harness his knowledge at Mizzou, where he double majored in chemical engineering and economics. "I learned how to take insurmountable problems and break them down into little bites that I could handle," he says. He started working at Celadyne in the summer of 2020, shortly after earning a doctorate from the University of Texas at Austin.
Staller is just getting started. He envisions a future in which anyone can drive to a (hydrogen) gas station and power up using the technology. In fact, Toyota Mirai hydrogen fuel-cell vehicles are already on the road. "It would cut down on smog and pollution," he says, "and be a big quality-of-life improvement for everyone."
An entrepreneur digs in
The seeds were planted at various Mizzou dining halls, where biological engineering student Sami Tellatin would collect food waste and take the bags straight to the Bradford Farm for composting. "It was my first foray into agriculture," she says. "I've been hooked ever since."
Now Tellatin, BS BE '15, is watching her work grow on a much grander (and less pungent) scale. The entrepreneur and environmental engineer — named to Forbes' 30 Under 30 in the finance category — is a co-founder of FarmRaise, a startup enterprise that helps farmers nationwide apply for private and public funding and grants. Comparing the program to TurboTax, she says, "We're a one-stop shop that eliminates all the hassle and confusion."
Tellatin gained firsthand knowledge of the industry while studying for an MBA and Master of Science at Stanford University. She and classmate (and future co-founder) Jayce Hafner were pursuing strategies to help farmers adopt soil-health practices but soon learned about the financial roadblocks. "We talked with more than 100 farmers who asked us to help make funding easier to find," Tellatin says. "They would have to Google and pull up multiple tabs, do the research, and fill out all this paperwork." With FarmRaise, what used to take more than three hours whittles down to just 15 minutes. Any funding farmers unlock supports improved soil-health practices, a transition into organic foods and various energy-efficiency projects.
The stats are impressive. Since its official launch in March 2020, FarmRaise has amassed more than 10,000 account members. Farmers have applied for $8 million in funding with a 60% success rate in landing money, twice the rate of going solo. Beyond the numbers, she's happiest hearing her clients' success stories. "Farmers are the most honest, grittiest and funniest people. It's so fulfilling to provide value to them."
---
Carp crazy
Long considered a trash fish, invasive carp are hammering watery ecosystems. And now they are on the verge of disrupting a multibillion-dollar fishing industry. Yet, beneath the half-moon scales, Asian carp pack some of the best aquatic protein going. Is there a way to upcycle our way out of the problem? By Jack Wax, BS Ed '73, HES '76, MA '87
Mark Morgan has spawned a new approach to two seemingly unrelated problems — too many invasive Asian carp in the Mississippi River basin and too little protein in the bellies of undernourished people throughout the world. "I had this idea, and I still can't get rid of it," says the associate professor of natural resources. The concept sounds simple. If he could find a way to harvest the unwanted and destructive fish and get them to people in developing countries, he'd be doing his part both for the environment and for global hunger. That's easier said than done, and Morgan has spent a decade linking commercial fishers, other researchers, manufacturers and nonprofit service groups.
In 2018, Morgan spearheaded a proof-of-concept project in which he transported several hundred pounds of processed carp from Midwest rivers to Port-au-Prince, Haiti, where people need protein. "About one-half of the pregnant women in Haiti suffer from anemia," says Idalbert Joseph, CEO of Glory House Services in Kansas City, a relief organization supporting Haitians in the U.S. and Haiti. Morgan accompanied Idalbert to Haiti, helping to set up the pilot project that tested the acceptance of Asian carp as a food source among Haitians.
With the assistance of Andrew Clarke, associate professor in the food science program at MU, Morgan pioneered a process to smoke, salt and vacuum pack Asian carp. The fish could then be transported and stored without refrigeration. In Haiti, Asian carp passed both the storage and taste test. "Haitians who tasted the carp loved it," Idalbert says.
Despite the project's success, Morgan knew he hadn't found the sweet spot. "This method of preservation was not scalable because it was too intensive — thawing, salting and smoking the fish in such a short time," he says. "That's when I came up with the idea of powdering the carp." Pulverizing it also mashes any stray bones into a nutritious mix, needing no refrigeration.
Asian carp are a healthier source of protein than most fish. Because they eat only plankton and microscopic-sized animals, carp have lower levels of heavy metal contaminants. And they are high in micro and macronutrients, including iron, calcium, potassium and omega-3 fatty acids. "Asian carp contain all nine essential amino acids. It's like a superfood. Ironically, it comes from a fish that most people consider to be the most useless, worthless of all," Morgan says.
Asian carp's reputation as a low-status fish is due, in part, to its high ranking among menacing invasive species. They entered Midwestern waters in the 1970s during a misguided attempt at using them to control algae and weeds in large ponds. They hog food that native species, such as bass, bluegill and catfish, would normally consume. They are incredibly fecund, spawning massive quantities of eggs two or three times a year. And now they are threatening to get into the Great Lakes. "If that happens, they can disrupt commercial and recreational fishing industries worth $6 billion or $7 billion a year," Morgan says.
With so much at stake, environmental groups and government agencies are searching for ways to prevent Asian carp from further damaging the environment. Morgan doesn't have the answer, but he has an answer, one that mobilizes public support. While applying for grants, Morgan inspires others to get involved by donating to his project through Mizzou Give Direct. "People want to help," he says. "I get emails and telephone calls from complete strangers who donate money or hold fundraisers. It's an idea that people care about."
---
Crusading lawyers
Stephen F. Hanlon is reforming the public defense system. Sarah Burns is securing money for relief programs in communities hit by the opioid epidemic. Story by Sara Bondioli, BA, BJ '05
Going on Offense for the Defense
Many public defenders are assigned three to five times as many cases as they can reasonably handle. As a result, they have to pick and choose. They often devote the majority of their time to the most serious cases in their portfolio, such as homicides, leaving little time to investigate the cases of those accused of misdemeanors and lesser charges.
It's a problem Stephen F. Hanlon, JD '66, calls "an enormous failure of the whole profession," and he has made it his mission to establish enforceable caseload limits for public defenders so they can provide an adequate defense for all their clients.
Hanlon, who previously ran the nation's largest private practice pro bono department at Holland & Knight for 23 years, has researched reasonable caseload limits in eight states, and others have done similar work in nine other states. For example, public defenders in Missouri spend, on average, 2.3 hours working on a misdemeanor case. However, a 2014 study he led found they need to spend an average of 11.7 hours to provide reasonably effective counsel for their clients.
Now, Hanlon is helping to develop new nationwide caseload standards — reasonable expectations about how many hours, on average, defenders should work on each type of case they handle so each defendant gets adequate representation in court. He has assembled an impressive team to help him do that: RAND, the National Center for State Courts and the American Bar Association.
Hanlon has worked with members of Congress on the Equal Defense Act, which may have a hearing in a House Judiciary subcommittee this year. The bill calls for additional funds for public defenders, coupled with tracking their caseloads. Hanlon hopes the legislation will be amended to include the new National Caseload Standards as well as sentencing reform for higher-risk cases and decriminalization for low-risk misdemeanors, to help manage the number and severity of cases public defenders handle.
In Missouri, Hanlon's research was used in a case that led the state to hire 53 additional public defenders last year to help whittle down its waitlist of defendants.
Hanlon knows widespread and lasting changes in the public defense system won't happen overnight. But he is hopeful that, in five to 10 years, his work will result in public defenders being able to fully investigate each of their cases and provide a competent defense to all their clients.
If it doesn't change, he says, the next generation of lawyers will still be mired in that dysfunction. "That's really what motivates me. We cannot leave this behind. We have to change it."
Taking Down Opioid Distributors
Sarah Burns didn't plan to be a lawyer. She was an undergrad biochemistry major at Mizzou. She knew she didn't want to go to medical school like many of her classmates planned to, but she also didn't want to go straight into the workforce. So, she took the LSAT.
"It turned out to be a really good impulse decision," says Burns, who graduated from MU in 2001 and later from the University of Tulsa College of Law. "And it worked out well to have the biochemistry degree and work in law."
Now, she's using her skills to represent county and municipal governments in hundreds of cases against opioid manufacturers, distributors and retail pharmacies.
Burns, who's part of the opioid litigation team at Simmons Hanly Conroy LLC, a national law firm, was part of a historic win against the opioid supply chain last year: the first opioid case decided by a state jury. Jurors found a drug manufacturer and distributor liable for fueling the opioid epidemic in the community of her client, Suffolk County, and New York state as a whole.
"It's important for a jury to sit and make the decisions in these cases because the opioid epidemic affects the communities where jurors live and work," says the St. Louis resident, who also helped her client secure more than $1.7 billion in settlements with several other opioid defendants involved in the trial. State and local governments will use the funds they win through settlements and litigation for community outreach and education, treatment programs, and provider education to address the problems created by the opioid crisis.
"It's been a hard lesson to learn how much this has affected our society and culture. And it was satisfying to put the evidence before a jury and then have them hold the defendants accountable for their decision to put profits over people," Burns says of the case and the opioid epidemic, which has resulted in more than half a million overdose deaths since 1999, according to the Centers for Disease Control and Prevention.
Thousands of opioid cases are still pending in federal and state courts, and a $26 billion national settlement is in the works with Johnson & Johnson and the three pharmaceutical distributors, McKesson, AmerisourceBergen and Cardinal Health.
"We know it's a long fight," Burns says. "We're in it for the long haul."