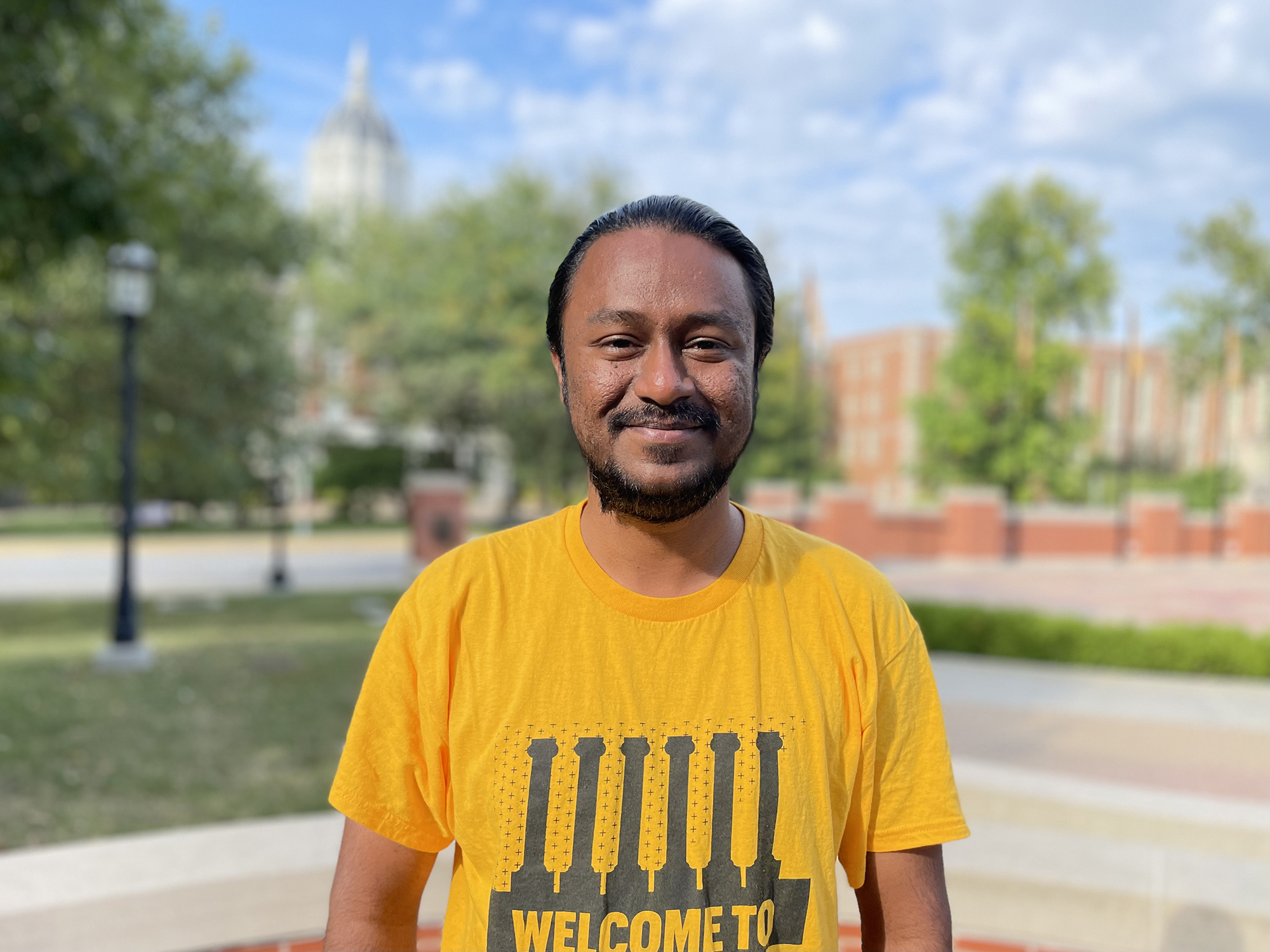 Nov. 15, 2022
Contact: Deidra Ashley, ashleyde@missouri.edu
For many, college is a time of discovery: finding out who you are, what you're passionate about and what you want to do with your life.
While this is often a fluid process, graduate student Rishabh Mahendra recalls a specific day in his undergraduate career in India that changed the trajectory of his life.
"My professor and I were having a spirited debate about who bears the responsibility for controlling child labor," Mahendra said. "The professor argued that the government alone is responsible, as the citizens elect their leaders, and I argued that citizens share the responsibility to create the world they want."
Mahendra went home after class, but he couldn't stop thinking about the conversation. "It made me realize that most people simply complain about their government but don't do anything about it," he said. "And that was the day I decided I will enter politics and serve people."
Mahendra has his sights of service set high: he wants to one day become the prime minister of India.
Becoming a Tiger
Ready to embark on an academic path to leadership, Mahendra began looking for an institution to help him explore humankind's most important issues. "I considered PhD programs at universities around the globe," he said. "But I chose Mizzou because of the beautiful campus, skilled faculty who share my research interests and the city of Columbia itself."
At Mizzou, Mahendra studies ecosystem restoration and conservation through agriculture and applied economics in the Division of Applied Social Sciences in the College of Agriculture, Food and Natural Resources (CAFNR).
His research — some of the first of its kind — focuses on ecosystem cooperatives. This organizational structure would work to protect and restore ecosystems by relying on environmental personhood — the idea that the environment has rights in need of protecting, ensuring the longevity of it.
This is just one of the solutions that Mahendra hopes to bring to office and be able to apply in the future — actionable steps to solve a problem most people only talk about.
In addition to his research work, Mahendra has found multiple ways to get involved on campus and make an impact.
"Rishabh arrived at MU in January 2021 and immediately started making an impact," said Kerry Clark, director of CAFNR International Programs. "He stepped into leadership roles right and left. With Deaton's Scholars he really makes sure things stay on track and that everyone is included. He's really leaving his mark on Mizzou."
One of those impacts is through the Deaton Scholars Program (DSP) where Mahendra serves as assistant director. The program encourages students to explore interdisciplinary teamwork and empower local action to address global poverty — another topic Mahendra is passionate about.
"I care about the environment a lot, but if I am to become a high-level politician, I shouldn't limit myself to just one topic of interest," said Mahendra. "I should explore other problems — including poverty — that exist in society. DSP helps me do that while working with other students."
One of his first assignments through DSP was chartering Mizzou's Universities Fighting World Hunger (UFWH) chapter. The international organization is focused on educating and mobilizing students, faculty and administrators in the war against hunger, and Mahendra served as president for the chapter's first year.
"He sees hunger as a global issue, but also as something that can be addressed by starting with the community," said Erica Little, Mizzou's UFWH public relations chair under Mahendra's leadership. "He's very knowledgeable, inspirational and energized. He is really good about getting people from all around campus and bringing them all together to accomplish important things."
Creating change
For now, Mahendra continues to lead on campus and help the Columbia community. This fall, he has returned to direct the Deaton Scholars as well as to serve as treasurer and co-director of projects for UFWH.
"Rishabh is compassionate and committed to doing the right thing for people," Clark said. "He's not just at Mizzou to build his résumé. He actually cares and wants to make sure things get done in the best and most helpful way. That's why he will make a great prime minister."
Story written by Madalyn Murry