May 4, 2018
This year we have been sharing stories of #MizzouMade successes in an effort to shine a light on current students, alumni, faculty and staff who exemplify the values of Respect, Responsibility, Discovery and Excellence.
With the 2017-2018 school year coming to an end, we wanted to share the stories of some of the students behind #MizzouMade who spent time this year telling other people's stories.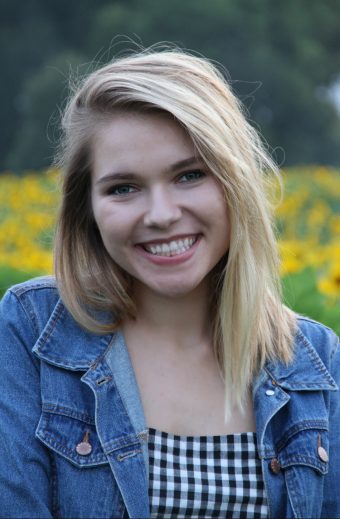 Amanda Battmer
Major: English and digital storytelling
Expected graduation year: December 2018
Hometown: Kansas City, Missouri
Campus activities: Film club, digital storytelling club
Favorite Mizzou tradition: The Homecoming celebrations/tailgating
Favorite place in CoMo: Lakota Coffee
Post-college aspirations: I would love to get a job working in photography or film production—really just doing something creative that matters to me. I love screenwriting and directing so it would be awesome to get started in that industry in some way.
Q: Why did you choose Mizzou?
I went on a tour here during my junior year of high school and fell in love with it. I didn't even apply to any other schools because I just knew it was the right fit.
Q: What is your role in telling other students' stories?
I am a communications intern with the Office of Undergraduate Studies. I get to write stories about Mizzou students and faculty and the cool things they accomplish. This involves conducting interviews with various members of the MU community, writing content for university websites and photographing special events at MU.
I've really enjoyed working with the Office of Undergraduate Studies and am so happy that I get to create content and contribute to the university's online presence.
Q: What was your favorite #MizzouMade story?
My favorite story I've written is titled "Photo Opportunity," which is about Robin Haithcoat, a photography major who had her work displayed in the Undergraduate Visual Arts and Design Showcase this year. She won an exhibition award and is having a bigger version of her work displayed in the UK this summer for Photo London Week. It was a lot of fun to get to talk about art and exhibitions with another photographer; I find what she's doing to be really exciting and am a big fan of her work. It was also cool to see that a video I worked on in my digital storytelling capstone, a promotional video for the Visual Arts and Design Showcase, was posted with this story.
Q: What is your advice for new students at Mizzou?
I would probably advise new students to really make the most of their college experience and to keep an open mind. I started here as an English major but heard about the digital storytelling program and decided to start taking production classes. Because of that, I found an entirely new passion and skillset. If I hadn't been open minded about my studies, extracurricular activities, and social life, I wouldn't have gotten involved in film production or met the amazing, creative people I've gotten to collaborate with and become friends with in the last year or so. I am so grateful for the technical and creative skills the program has given me and am extremely excited about where I can take it in the future.
Brian Consiglio
Major: Journalism, emphasis in strategic communications and a minor in history
Hometown: San Jose, California
Expected graduation year: May 2019
Campus activities: Acacia Fraternity, MUTV sports, MU News Bureau writing intern
Favorite Mizzou tradition: Kissing the 50 yard line at Faurot Field
Favorite place in CoMo: El Rancho
Post-college aspirations: I would like to be a spokesman for an NFL team or continue working at the MU News Bureau.
Q: Why did you choose Mizzou?
I chose Mizzou to pursue a degree in journalism and to experience SEC football in a different part of the country. It has been the best decision I ever made. I have realized that college is about the people that you meet, and I have made some life-long friends here.
Q: What is your role in telling other students' stories?
As a writing intern with the MU News Bureau, I enjoy my role in helping to tell Mizzou's story. Since there are tens of thousands of students and more than 300,000 living alumni, it can be easy to forget that at the end of the day, the university is a product of the people that make it up and each one of those individuals has a story to tell. Listening to their stories is inspiring because I get to learn about all the cool ways Tigers are the changing the world.
Q: What was your favorite #MizzouMade story?
I enjoyed writing about the Missouri College Advising Corps. Recent Mizzou graduates have been partnering with high schools throughout the state to help low income, first-generation college and underrepresented students pursue higher education by assisting them as they navigate the admissions and financial aid process. This is an amazing example of how Mizzou impacts the lives of others. That is what Mizzou is all about: using your own education and experiences to influence the world.
Q: What is your advice for new students at Mizzou?
My advice for new students would be to get involved in as many different organizations and meet as many new people as possible. If you step outside your comfort zone, your view of not just the world but also of yourself will expand.
Maya Nunn
Major: Pre-journalism, strategic communication emphasis with a minor in Spanish
Expected graduation year: 2020
Hometown: Chicago
Campus activities: Alpha Kappa Alpha Sorority Inc., MU News Bureau clerical and writing intern
Favorite Mizzou tradition: Running through the Columns; it's a good way to symbolize your transition to and from Mizzou.
Favorite place in CoMo: My apartment, I enjoy having my own space.
Post-college aspiration: My goal is to be the public relations manager for a sports team or company.
Q: Why did you choose Mizzou?
I chose Mizzou because of its esteemed journalism program. The hands-on "Missouri Method," really left a good impression on me (and on my parents!)
Q: What is your role in telling other students' stories?
As an intern in the MU News Bureau, the university's media relations office, I assist with different writing projects, including Mizzou Made stories. I use students' stories and memories to promote positivity in our community and shine a light on those students doing extraordinary things.
Q: What was your favorite #MizzouMade story?
My favorite Mizzou Made story was the story I wrote about Raven Smith. Not only are we in the same sorority, but we are both from Chicago. Her brand, "Straight from the Go," has become so important in our hometown and serves as a reminder of the positivity within Chicago.
Q: What is your advice for new students at Mizzou?
My biggest piece of advice to new students is to branch out! Mizzou is comprised of so many people of different backgrounds from different walks of life. You can learn just as much from the diverse population here as you can in the classroom. Stepping outside of that comfort zone will only make you grow as a person.
Sarah Sabatke
Major: Convergence journalism and a minor in peace studies
Expected graduation year: May 2018
Hometown: Monroe, Wisconsin
Campus activities: MUTV, Missouri Flute Society, Involvement Ambassadors, Mizzou Women in Media and University Band
Favorite Mizzou tradition: My favorite Mizzou tradition is by far Tiger Walk. I participated in it as a freshman in August 2014, watched my residents do it (I was a community advisor with Residential Life) in August 2015, and went to photograph it for student affairs (and for my own enjoyment) in August 2016 and August 2017. It always makes me emotional because I remember how nervous and excited I was when I ran through the Columns for the first time. It's crazy to look back at what that event symbolized and see how amazing my Mizzou journey has been.
Favorite place in CoMo: The Futures Lab in the School of Journalism. Yes, it's on campus, but the Futures Lab is my home away from home and always the first place I'd rather be – therefore, my favorite place in all of Columbia!
Post-college aspirations: I will be reporting for the Columbia Daily Tribune this summer and then beginning grad school, the two-year master's program in the journalism school, at Mizzou in fall 2018.
Q: Why did you choose Mizzou?
I chose Mizzou for the journalism school. I originally wanted to get as far from the Midwest as possible but decided Mizzou was the best fit because of the hands-on experience I would get and the opportunities I would have to study and intern abroad. I toured Mizzou right before I had to make my college decision and, for someone who was very anxious about going to college, campus felt like it could become a home.
Q: What is your role in telling other students' stories?
Within student life, I am the reporter for the Division of Student Affairs and have been in that position since May 2016. I also have previously told the stories of MU students as a multimedia reporter for VOX Magazine, a multimedia reporter for USA TODAY College and a reporter/anchor for MUTV.
In my role with student affairs, I both pitch student profiles and work to create profiles about students who have been referred to us from other entities. I conduct the interviews, write the stories and work with our supervisor and our photographer to get them up on the site and shared on social media.
Q: What was your favorite #MizzouMade story?
I think my favorite story is the profile I wrote on senior Kayla Myers this year. She has had an impact on so many people on this campus and I knew her from social media, but I enjoyed the opportunity to get to know her on a more personal level and learn about her Mizzou experience. She is so full of sunshine and wisdom, and was a joy to work with!
Q: What is your advice for new students at Mizzou?
Get involved in everything right off the bat. Get your hands on a variety of different things, even if you're not sure you'll like it. The most unexpected things can lead to places that feel like home and friends that become family.
Megan Liz Smith
Major: Convergence journalism
Expected graduation year: May 2019
Hometown: Burnsville, Minnesota
Campus activities: In addition to being the student honors manager for the MU News Bureau, I'm a multimedia reporter for Vox Magazine and the Missouri Business Alert. I am the membership development chair for Online News Association. I also shoot and edit video for MU Film Crew occasionally.
Favorite Mizzou tradition: My favorite tradition at Mizzou is probably Stop Day. It's the last Friday before finals and classes are always cancelled. It's a day for friends to get together and hang out or study one last time before finals and break. From campus to downtown, the whole area of Columbia is always packed with people. There's a very communal feel to the day.
Favorite place in CoMo: My favorite place is Shakespeare's. It's cliché, but the restaurant is just such a staple of Columbia. The pizza is good, but the people and the atmosphere are even better.
Post-college aspirations: I hope to get a journalism job in New York right after college, but my big dream is to be a movie director.
Q: Why did you choose Mizzou?
I chose Mizzou for the journalism school. I took a broadcasting class in high school, and my teacher would always wax poetic about the journalism program in Missouri.
Q: What is your role in telling other students' stories?
I've been a writing intern for the MU News Bureau since January 2017, which was the winter of my sophomore year. That was before we really started doing the Mizzou Made stories, so my job was primarily writing press releases for student achievements. I am now the student honors manager, which means I am in charge of the whole process, from assigning stories, to editing, to sending them out and tracking what gets published. Now I also get to write Mizzou Made stories. These stories allow for more creativity, as the topics tend to vary. Because they're getting published on Mizzou's website, rather than being sent to another publication, I have more freedom in the ways that I can write and tell stories.
Q: What was your favorite #MizzouMade story?
I enjoy any story that allows me to really get to know a person. I once wrote a longer story about a number of our alumni who are now in their retirement years. It was fascinating to read and write about their experiences as students at Mizzou from decades ago. One man wrote about helping to lead the effort to make Mizzou a more accessible campus for people with disabilities. Recently, I wrote a story about a pair of Textile and Apparel Management students who got the chance to attend New York Fashion Week. I got to interview them both and we talked all about the Big Apple, Mizzou and their love of fashion. It was a great conversation and it lead to a great story.
Q: What is your advice for new students at Mizzou?
Your college experience has very little to do with the school itself. It's the relationships you make and the activities you get involved in that really matter. Mizzou is a big school and there's a place for everyone here—you just need to put in the effort.