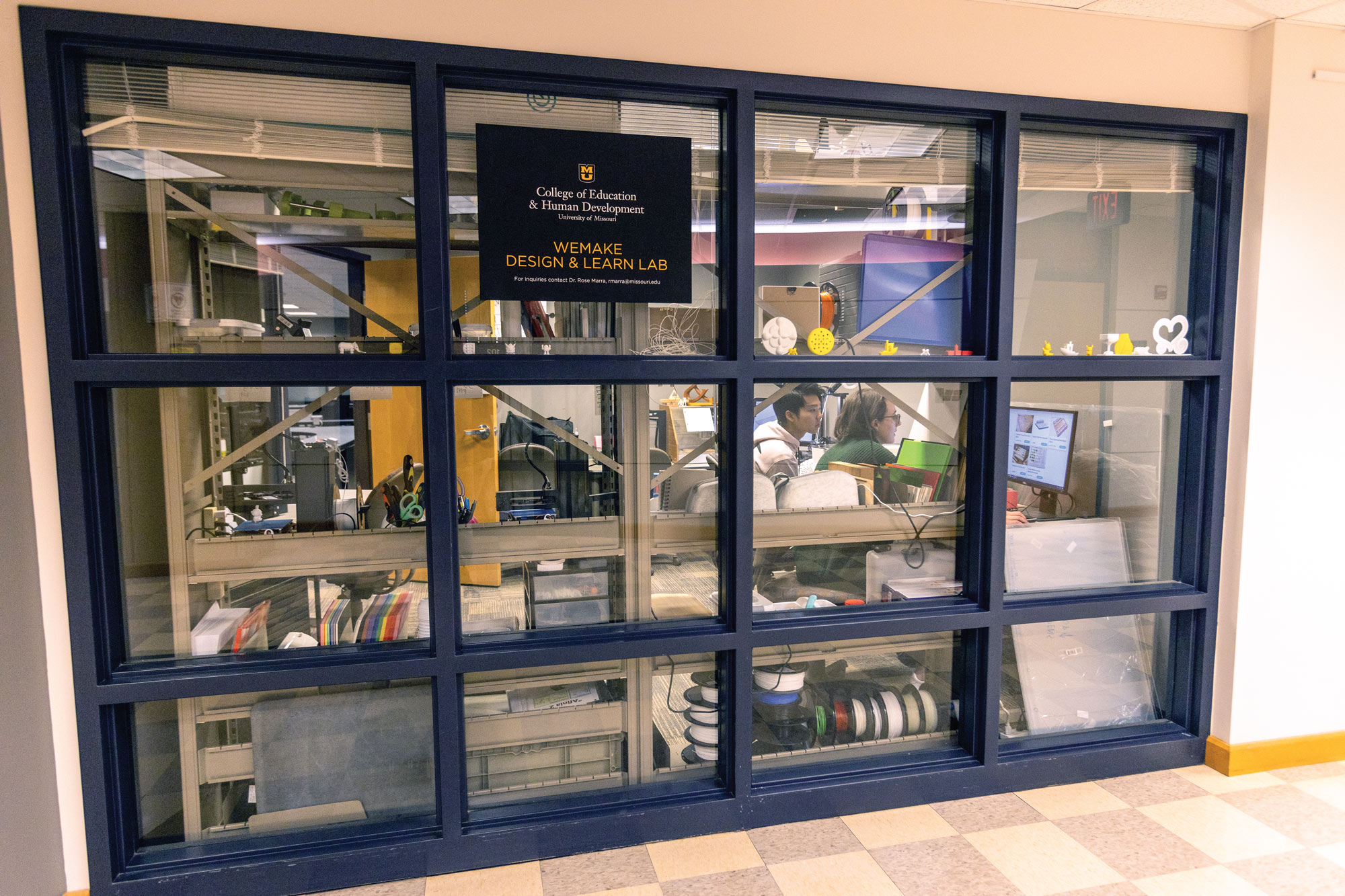 Published on Show Me Mizzou April 27, 2023
Story by Tony Rehagen, BA, BJ '01
For years, the WeMake Design & Learn Lab in Townsend Hall has been the 3D-printing hub of campus. The only problem was the sole spoke led to the engineering school. Students from other specialties were either unwilling or unaware that the technology was available to them.
That changed last year with a $30,000 MizzouForward student success grant geared toward remaking WeMake into a more versatile, open-ended space. "Making things is not just for engineers and artists; it's for everyone," says Cindy Dudenhoffer, associate teaching professor in the School of Information Science & Learning Technologies and faculty adviser in charge of WeMake. "The idea is to shift the point of view from the technical side of 3D printing and AutoCAD and make this a place for successful entrepreneurs, designers and critical thinkers."
The grant enabled Dudenhoffer to do just that by expanding the lab's offerings to include two new 3D printers, one that works in silk (and can be used in biological functions) and another with wood. There's also a precision CNC carver; a Glowforge Pro laser cutter, etcher and engraver; and a commercial embroidery machine. Lab-goers can go old-school, too, with clay pottery, crocheting needles, a sewing machine, soldering irons, paint and markers to mock up prototypes of any designs they might pursue.
Notably, an early victory for the new WeMake lab has been a partnership between the lab and health professionals. Students studying physical therapy and occupational therapy are planning to use the facility to design and create assistive technology — rehab and adaptive devices for people with disabilities and older adults — customized to their patients' needs.
Dudenhoffer also harnessed the grant money to bring in two aides, one an engineering student and the other studying library science, to help facilitate collaboration between the mathematically minded and those steeped in the humanities. It's indicative of Dudenhoffer's hope that WeMake becomes more than just a lab where students and faculty can access manufacturing and prototyping technology but also a meeting place where minds from different disciplines can converge. "It's really neat to see that synergy," she says. "You can bring your ideas, feel comfortable sharing and maybe even find a project partner."
To read more articles like this, become a Mizzou Alumni Association member and receive MIZZOU magazine in your mailbox. Click here to join.