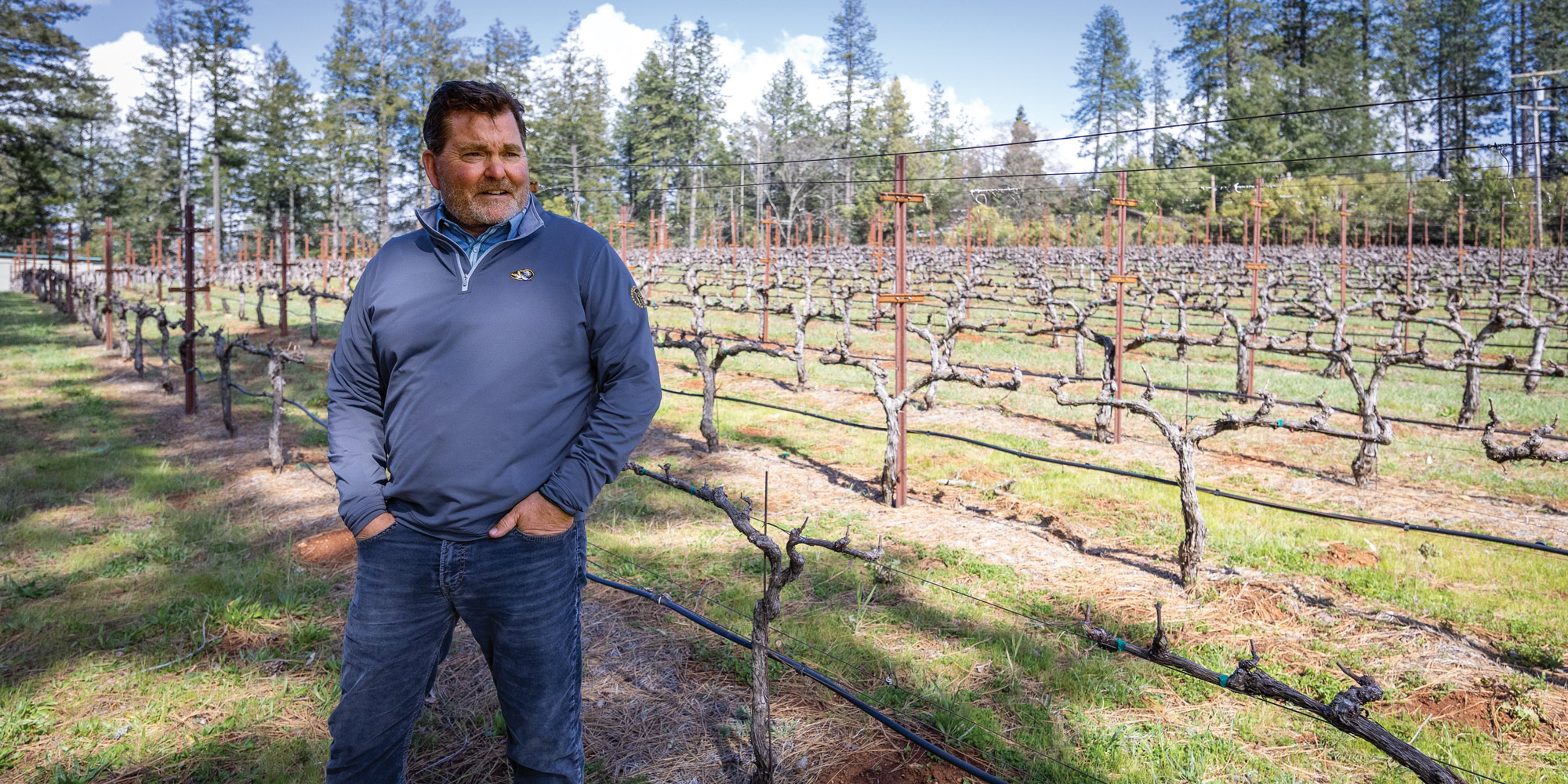 Published on Show Me Mizzou April 27, 2003
Jack Wax, BS Ed '73, HES '76, MA '87
It's not only his business accomplishments that set Dave Spence, BS HE '81, apart from other 65-year-old entrepreneurs. It's his voice — bright, energetic and unmistakably authentic. During a phone conversation with Spence, you might mistake him for an eager college student at the beginning of a new adventure.
"I love the intellectual stimulation of learning something new," Spence says.
This drive has led to a string of successful business startups and a future full of fresh challenges. For the past year, he has been overseeing his latest business venture, Spence Vineyards, located in Napa Valley, California. Spence bought the winery and its nearly 10 acres of grapes from cousin and MU alumnus Allen Spence, BS BA '78, MBA '80. Dave and his wife, Suzie, make regular trips to Napa Valley to keep tabs on the vineyards and to their four-star restaurant, Riverhorse on Main, in Park City, Utah. Spence enjoys discussing the climate, soil and altitude of his Napa vineyard and how the terroir affects the grapes and wine he produces. But he's free of the pretenses that characterize some old-vine wineries. He refers to the frequent business trips he and Suzie now take as "following the hamster trail from Missouri." As for the prestige associated with owning a vineyard and restaurant, he laughs it off, describing it instead as "pretty darn fun" and adding, "I was always in manufacturing, but talking about those businesses could put a person to sleep. People can relate to a winery and a restaurant."
His business ventures haven't been as boring as he portrays them. Not long after graduating from Mizzou, Spence, then 26, bought a struggling plastic bottle manufacturing company in St. Louis and turned it into a business with annual sales of $260 million. He also founded and is the current chair of Legacy Pharma Solutions, a St. Louis-based medical packaging company.
As a lifelong MU supporter, Spence has served on the Entrepreneurship Alliance advisory board and contributed to the launch of Every True Tiger Foundation, a collective linking MU student-athletes to charities and community nonprofits. Spence credits his Mizzou education with forging his character and setting his path. "I always had two or three jobs while going to school, and I made a lot of friends. As rush chair for my fraternity, I developed sales and social skills. Those experiences taught me how to be a young man versus a child," he says.
The entrepreneur interrupted his business career in 2012 to lead the Republican ticket in the race for the Missouri governorship. Although Spence had hoped to apply his business acumen to state government, his eventual loss didn't dampen his interests in politics. A few years later, he served as a state delegate to the 2016 Republican National Convention.
Now that his four children are grown, Spence looks forward to spending more time traveling with Suzie. So far, Dave has been to 60 countries, a few more than Suzie. He's reduced his workload but still thrives on business challenges. "With the winery and restaurant," he explains, "you're only as good as your last bottle of wine or last meal."
To read more articles like this, become a Mizzou Alumni Association member and receive MIZZOU magazine in your mailbox. Click here to join.