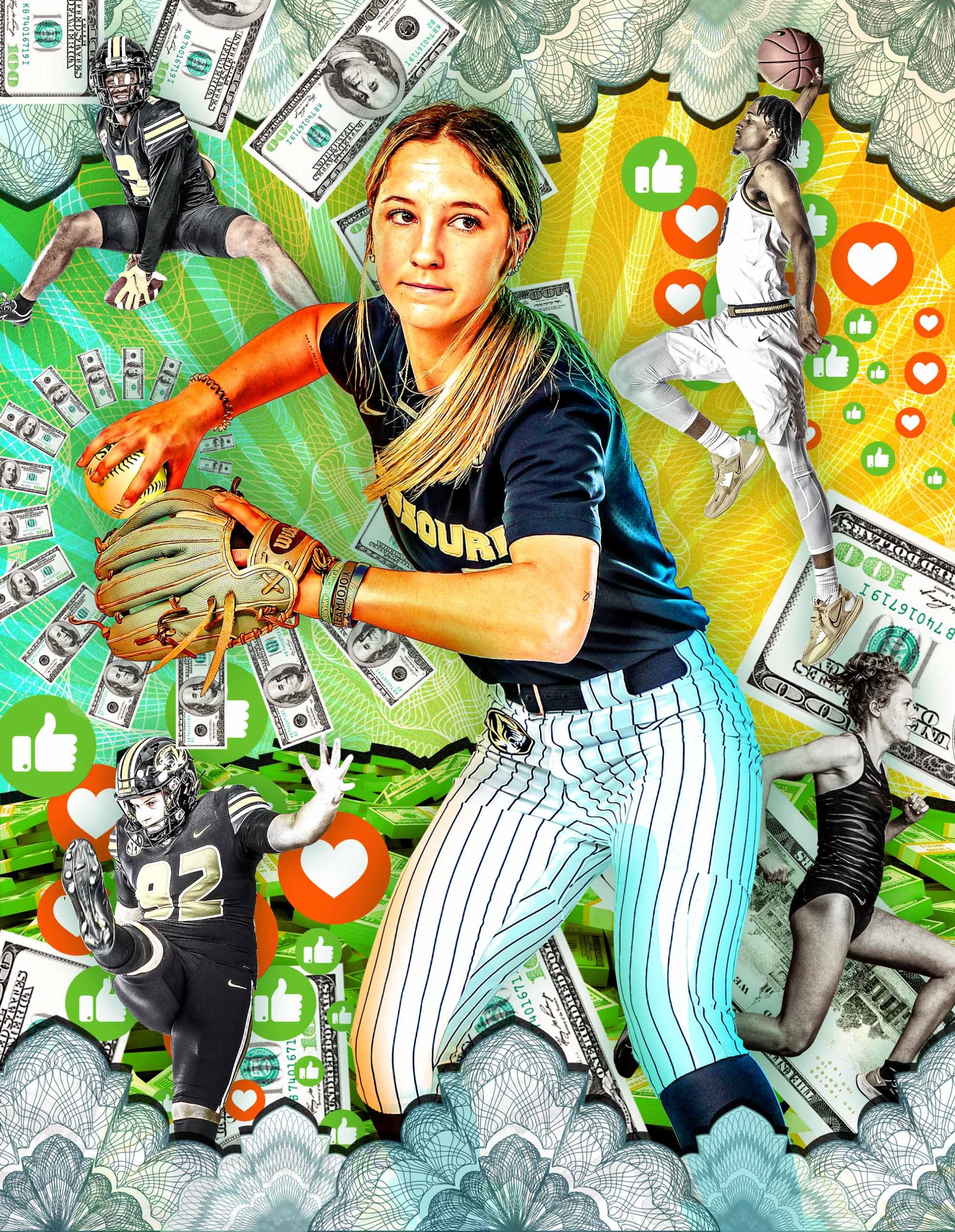 Published on Show Me Mizzou April 27, 2023
Story by Tony Rehagen, BA, BJ '01 | Illustrations by Blake Dinsdale
Jenna Laird has never been one to put herself out there. She's never had any aspiration to be a social media influencer or a YouTube star. Her performance on the softball field has always spoken loudly enough, first at East Meadow High School in New York, where she was a Premier Girls Fastpitch All-American, and then at Mizzou, where she is a Gold Glove and All-SEC shortstop. For Laird, it's always been about the helping the team rather than promoting herself.
Then in 2021, Laird's sophomore year, the Missouri State Legislature, following NCAA rule changes, joined states across the country in passing a law enabling college student-athletes to profit on commercial use of their names, images and likenesses (NIL) without losing eligibility. Student-athletes could now not only seek out and accept endorsement deals just like the pros, but they could also market themselves, their emerging individual brands, directly to their fans.
Seemingly overnight, there were stories about quarterbacks at some schools signing multimillion-dollar contracts with various companies. Incoming Mizzou wide receiver Luther Burden III was in uniform (altered and scrubbed of MU trademarks) on bags of Old Vienna potato chips before he caught a college pass at Faurot Field. College sports had suddenly changed forever.
The new opportunity was available to all student-athletes, not just football players. Still, Laird was leery about singling herself out. Besides, softball wasn't a high-revenue, high-visibility sport like football or basketball — what was the point?
Laird's parents saw the bigger picture. "They told me: 'Kids know your name; if you put a shirt out there, people are going to want to buy it. You could make some money,'" says Laird. "'But more importantly, you're going to be able to get your name out there. Other young girls are going to know who you are and come out to see you play. You're going to benefit Mizzou in the long run.'"
Laird hired an agent, settled on a slogan ("Trust the Process") and built her own website, jennalaird3.com. She posted her bio, photos, sign-ups for private softball lessons and hitting camps she runs with teammates. Her "mom-ager" designed a logo, the silhouette of Laird rearing up to throw to first, and emblazoned it on shirts, balls and water bottles, which Laird sold online, donating 5% to charities for childhood illnesses that had impacted her family and friends. Along the way, the health science major learned how to market herself, build a brand, and essentially start and run a business.
"You're not just posting to your friends — there might be millions of people following this and seeing this and some of them might want to invest in you."


—Kathryn Lucchesi, assistant professor of social media and audience strategy at the Missouri School of Journalism
This educational component is part of the reason the Missouri Legislature amended the state's NIL law last summer to permit school involvement in these deals. This allows the university to bring in businesses to meet with and pitch ideas to student-athletes, work with other companies on broader multiplayer projects like jerseys and trading cards, and perhaps most crucially, offer workshops and counsel on debt management, budgeting, marketing strategy, social media, contract negotiations and other entrepreneurial tools that will help student-athletes manage their affairs — and learn invaluable real-world skills.
To facilitate this, the University of Missouri athletics department has created an entire NIL program, headed by new assistant athletic director and former Mizzou football player Brandon Lee, MS '18, MBA '20. "When I was on campus, I always recognized that if you were a general student and you wanted to be an entrepreneur and start your own business, no one would say anything. But student-athletes didn't have that opportunity. It wasn't fair," says Lee, who played from 2014 to 2018, before serving on the Federal and State Legislative NIL Working Group as the student-athletes representative, on behalf of the SEC, that helped break ground on these NIL policies. "This is long past due. We're still ironing out all the wrinkles all across the country. But I'm happy that student-athletes are finally able to take part in a program that provides a fair platform for all students."
Lee sees the new NIL rules as a win for all parties involved. The university can now provide a gateway for companies and would-be sponsors that want to explore licensing deals with individual student-athletes (under state law, no school representative can act as agent for or be otherwise compensated by the athlete or the sponsoring company). The athletics department can also work with third-party, nonprofit/for-profit collectives that pool booster money to fund potential endorsements, like Every True Tiger Foundation, a collective started in 2021.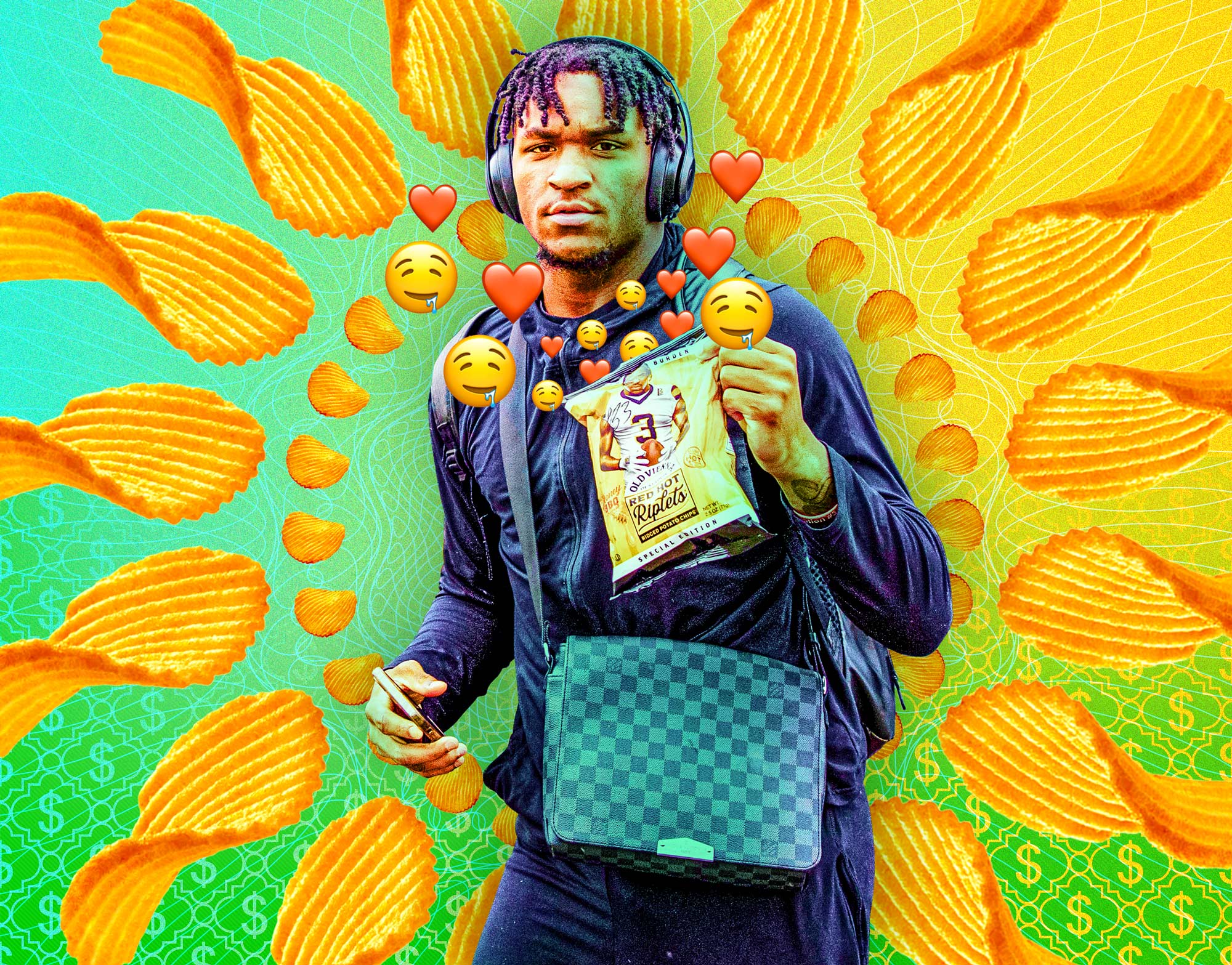 Meanwhile the university benefits by showcasing the unique opportunities available to student-athletes in Columbia, a college sports-crazy town surrounded by two nearby major metro business and media hubs in St. Louis and Kansas City. The NCAA still outlaws the use of NIL money in recruiting new students and transfers, but prospective student-athletes obviously take note of other athletes' successes in particular markets. Plus, anytime a Mizzou Tiger is featured in an ad campaign or other prominent endorsement, they are often wearing the uniform and/or featuring, in certain cases, the school logo (with permission) and at the very least drawing attention to an MU field, pool or arena.
Of course, the greatest beneficiaries of these new policies are the student-athletes themselves. And Lee says it's vital that the students, faculty and general public all understand that NIL isn't just about big-money deals for athletes playing big-revenue sports or future pros getting a head start on building their fame and fortune. It's also a chance for student-athletes in any sport, from swimming to track to wrestling to softball, to grow their sport, their brand, their resume and their skill set in preparation for whatever field they'll go into after college. "NIL gives them a way to express themselves and share themselves a little more," Lee says. "They are more than just athletes; they all have stories and backgrounds. NIL gives them a way to shine a spotlight on what they value and care about. And it gives the real-life skills before they step out into the world."
To that end, Mizzou announced last summer a partnership between the athletics department, School of Law, Trulaske College of Business, the Missouri School of Journalism, and the Robert and Shelly Family Griggs Innovators Nexus, the MU Student Center's entrepreneurial incubator, that brings the university's vast expertise to bear in service of student-athletes. Faculty from these sectors have since held workshops for student-athletes covering everything from how to pay taxes on earnings to the law of licensing and branding to how much to charge for personal appearances. "Through NIL, we are catching these student-athletes earlier in their careers than we used to," says Katie Essing, BS BA '96, assistant teaching professor of marketing at the Trulaske College of Business. "They are very similar to all our entrepreneurs on campus. We ask them about the Four Ps of marketing [product, price, place and promotion] and take those elements and do some strategic planning. There's such a great ecosystem at Mizzou. We can really help these student-athletes succeed."
"They are very similar to all our entrepreneurs on campus. We ask them about the 'Four Ps' of marketing [product, price, place and promotion] and take those elements and do some strategic planning."


—Katie Essing, assistant teaching professor of
marketing at the Trulaske College of Business
And because these athletes' images often are their product, they can get help in building, protecting and curating their brand on social media. "You can't just post a picture anymore," says Kathryn Lucchesi, BJ '09, MBA '20, assistant professor of social media and audience strategy at the J-School who has participated in several workshops with student-athletes. "You have to be aware of who you're reaching and what you're doing. You're not just posting to your friends — there might be millions of people following this and seeing this and some of them might want to invest in you."
Lucchesi says, in general, the biggest overall takeaway for many of these student-athletes is that being your own business is a job in and of itself. And if you want to do it right, you have to work at it. "But that's all right," she says. "You're getting paid."
If it's too much work or too much of a distraction, Lee says that's OK, too. One of the biggest misconceptions surrounding NIL, he says, is that it's compulsory. "NIL is what you make it," he says. "And all student-athletes don't have to participate, and all don't want to. Some just want to focus on their classes and their sport."
But dozens of Tigers like Laird are finding the time and energy — and being rewarded for it.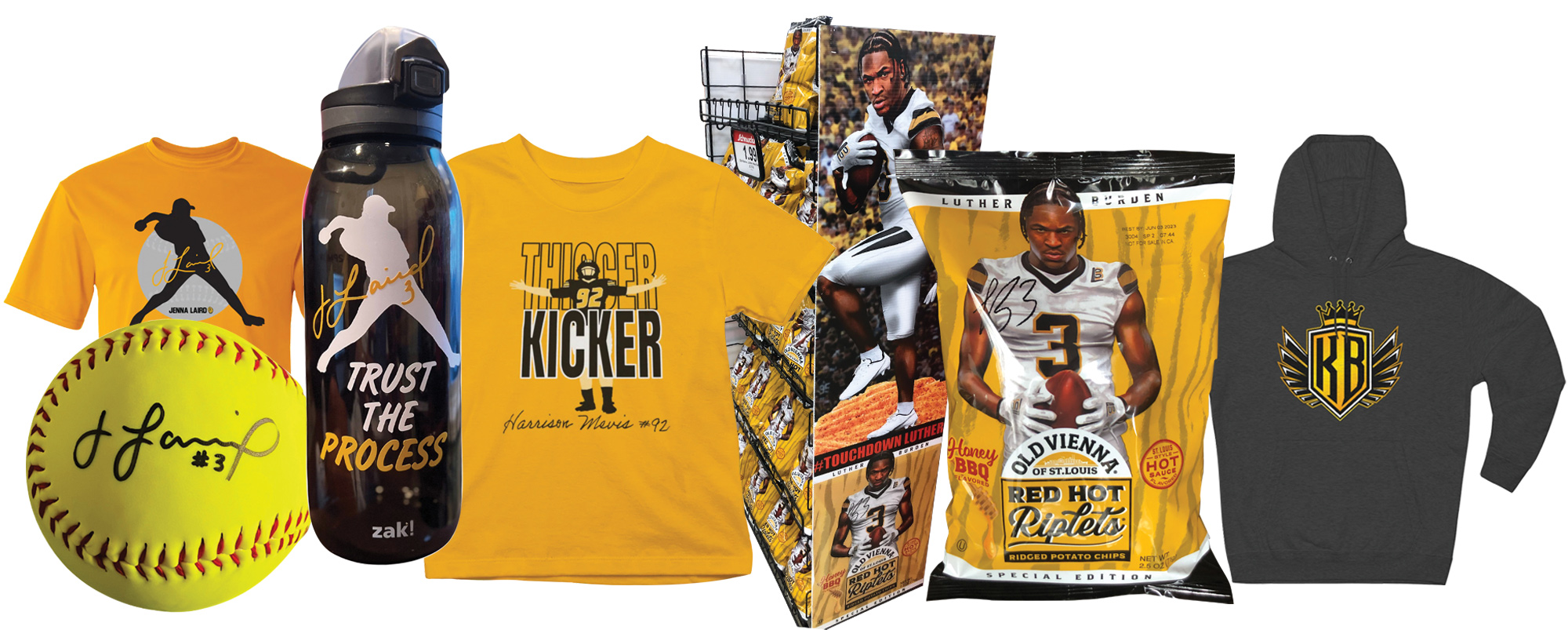 Laird says that so far, she's made about $1,000 selling merchandise through her website. She also believes that she's building a softball brand that might help her continue with camps and lessons and keep her in the sport that's defined her life a little bit longer even after she graduates from Mizzou. NIL is also helping her connect with fans and bring more people to follow her, her team and her sport. "Before this, you knew people supported you, but you couldn't see it," Laird says. "Now people from home in New York who can't make it to a game can buy a shirt. And on the flipside, when a little girl comes to watch you, she can wear your shirt, come up to you after the game and have you sign your own jersey. As this grows, the environment at the game is going to be so much better."
To read more articles like this, become a Mizzou Alumni Association member and receive MIZZOU magazine in your mailbox. Click here to join.