April 25, 2023
Contact: Deidra Ashley, ashleyde@missouri.edu
Photos by Abbie Lankitus
At the University of Missouri, we don't just talk about big ideas — we make them a reality. That was the recurring message during National Science Foundation (NSF) Director Sethuraman Panchanathan's visit this week.
Panchanathan came as the inaugural speaker in the President's Distinguished Lecture Series. He also spent the day touring campus and meeting with students, faculty and staff.
See photos from his visit.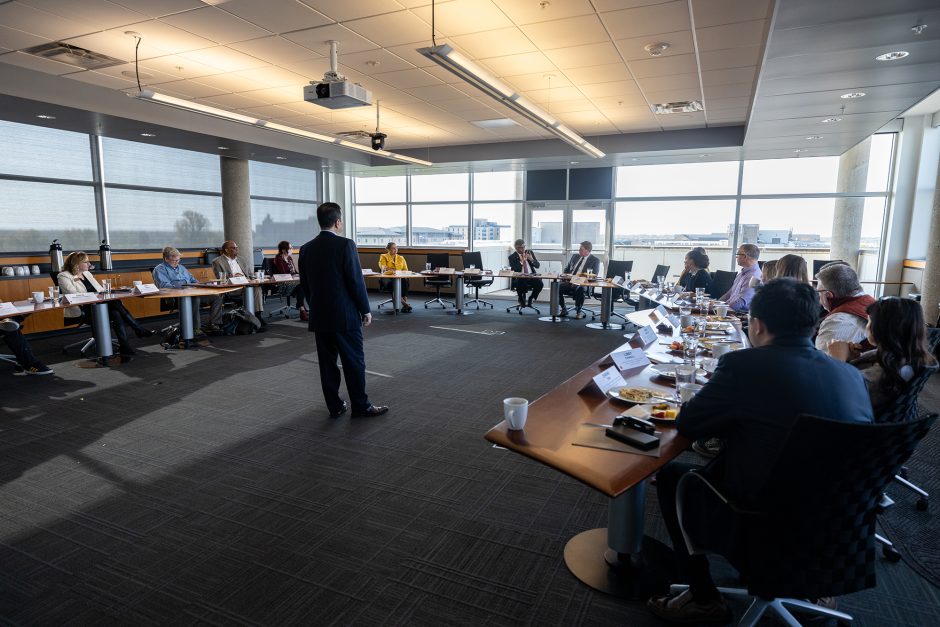 Panchanathan started his day by meeting with some of Mizzou's NSF-funded researchers. There are currently more than 220 MU investigators with active NSF projects.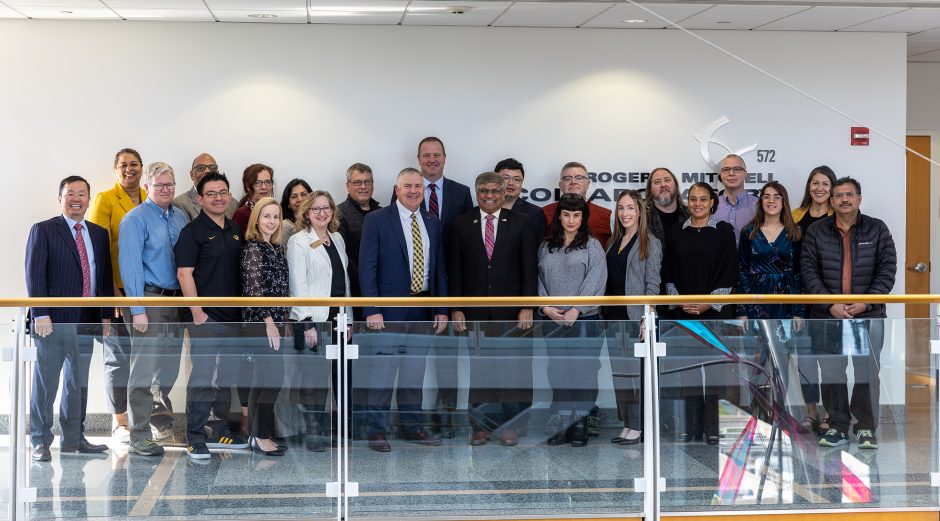 Mizzou faculty are principal investigators on incredible projects ranging from cybersecurity to STEM literacy to genomics research and education. "Dr. Panch's visit was instrumental in showing NSF support for the varied work that we do in NSF-funded programs," said Amy Lannin, an associate professor and NSF-funded investigator. "As he listened to each of us, he then offered ideas for further funding and potential focus areas. I was encouraged by this and appreciate his wisdom as I consider next steps for funding and research."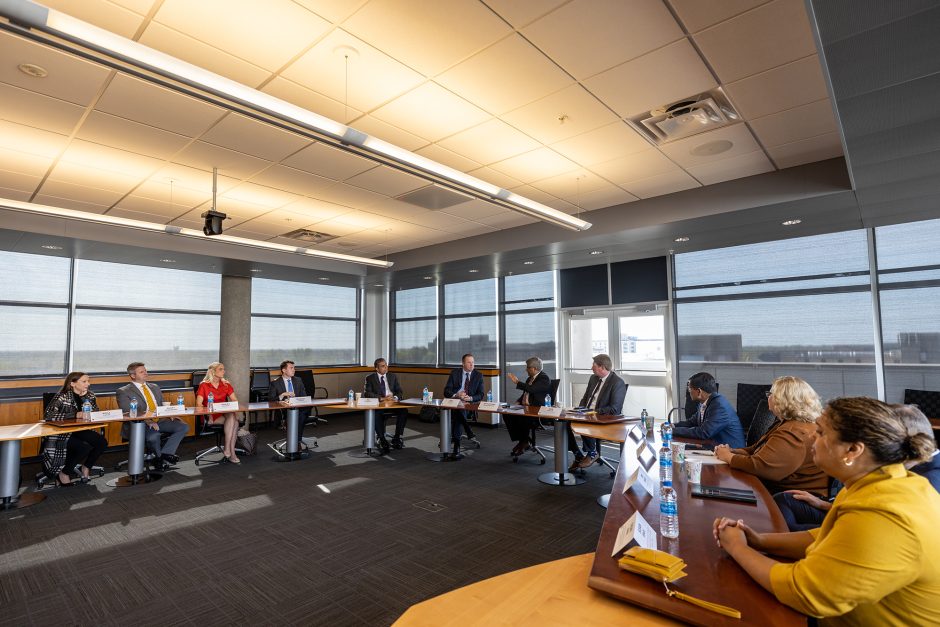 Panchanathan also spent time with University of Missouri President Mun Choi, UM System chancellors, Missouri Senator Eric Schmitt and other campus leaders to talk about the value of research in higher education and share the importance of federally-funded research for our universities.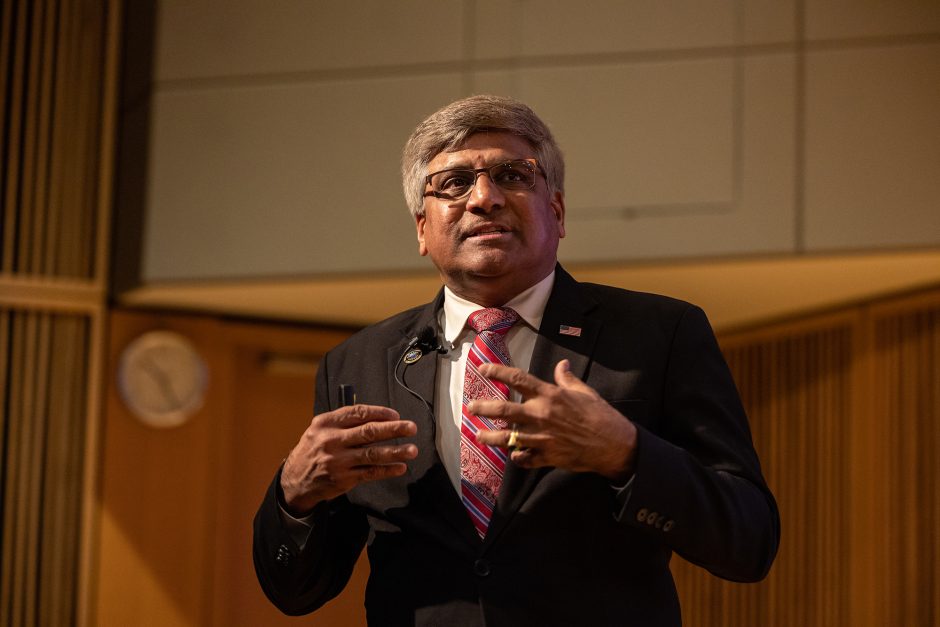 At 10 a.m., Tigers and community members gathered for Panchanathan's presentation in Monsanto Auditorium at the Bond Life Sciences Center. His talk focused on urgency of innovation and how it can be found everywhere and by everyone. "The time is now; there's no time to waste," Panchanathan said. "We need every one of you. We need your ideas. We need you to inspire more high school students. We have to get it done."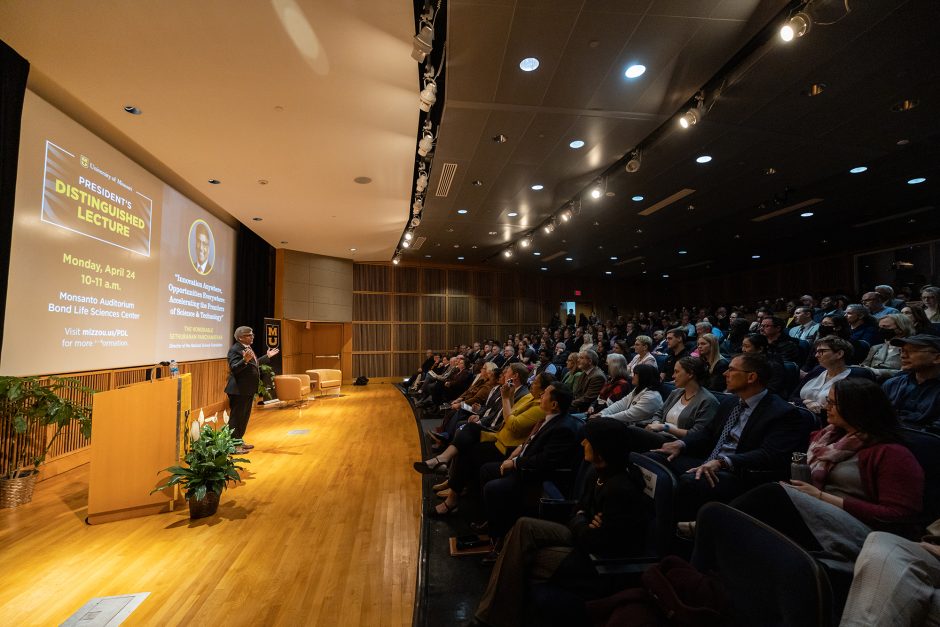 At the conclusion of his presentation, Panchanathan showed his appreciation for the students in attendance. "I look at these students and am like, 'wow,'" Panchanathan said. He also commended graduate research fellows for wanting to pursue their education at Mizzou. "They want to stay here and work at the University of Missouri, he said. "That's what we need more of."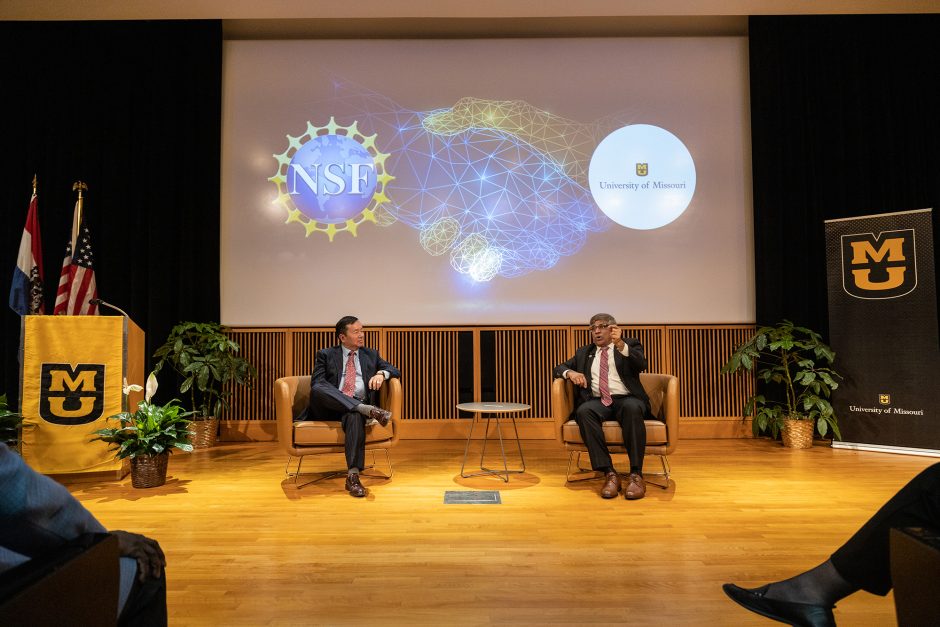 "It was the perfect way to kick off the President's Distinguished Lecture Series, which brings leaders to campus to discuss grand challenges and how MU is positioned to make a difference," Choi said on his blog. "I want to thank Dr. Panchanathan for visiting our community."
After his presentation, Panchanathan visited the Roy Blunt NextGen Precision Health building and had lunch with students who presented their posters.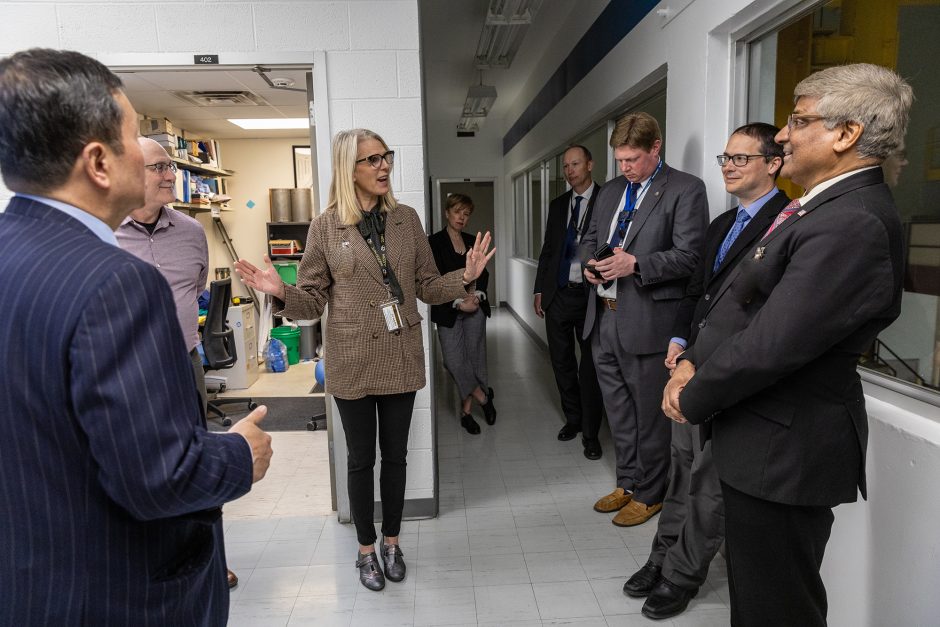 And to round out the visit, the group visited the MU Research Reactor — the most powerful university research reactor in the United States. Carolyn Anderson (center), Simón-Ellebracht Professor in Medicinal Chemistry and professor of radiology, shared how she and her team are using targeted radiopharmaceutical therapy agents to kill cancer cells with less damage to the body.
Did you miss Panchanathan's presentation?