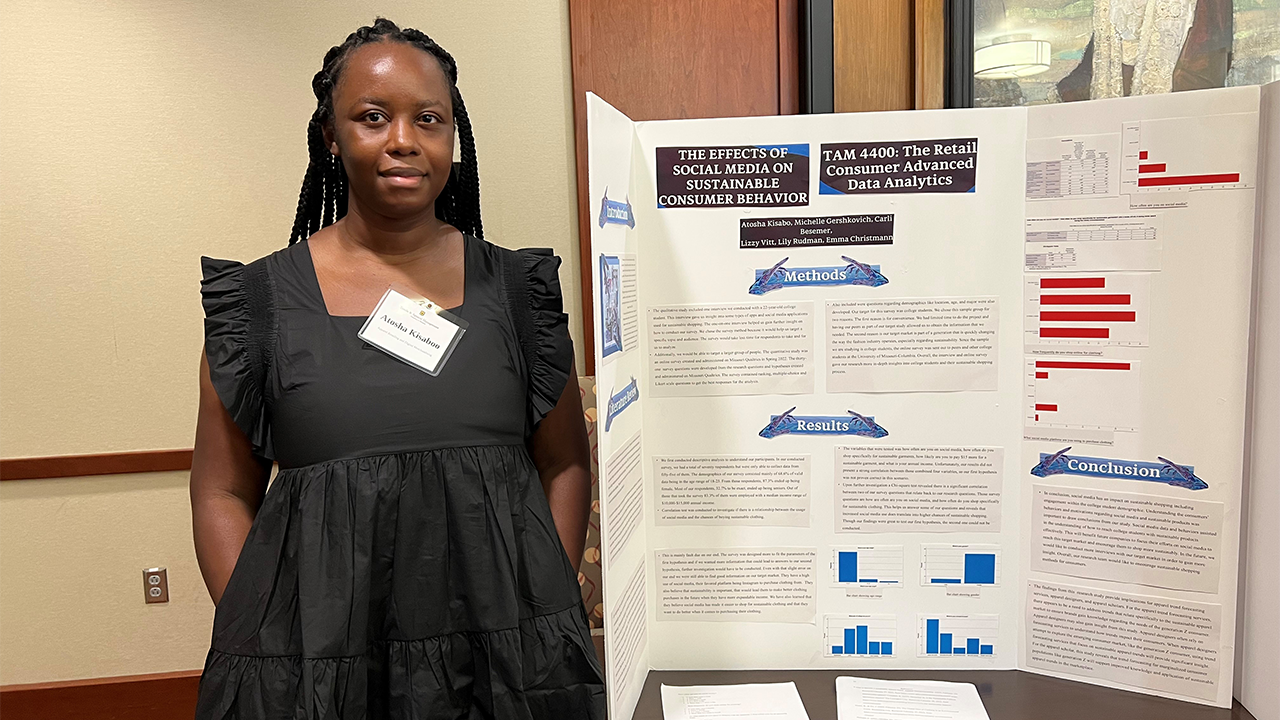 April 24, 2023
Contact: Courtney Perrett, 573-882-6217, cperrett@missouri.edu
When you think about big data and fashion, it seems unlikely that the two might be stitched together. However, the modern fashion industry depends on data analytics throughout the supply chain to serve customers in ways that champion innovation, including expanding designers' creativity, calculating the environmental impact of making a product and keeping brands up to date on changes in the market.
In an inventive project funded by a Department of Agriculture (USDA) grant of $149,000 awarded to Li Zhao, a professor of textiles and apparel management in the University of Missouri's College of Arts and Science, students will learn the tricks of the trade, becoming fluent in the language of digital data and giving them the best chance at success in a rapidly modernizing industry.
"We're truly delighted to receive this grant as it marks a significant achievement for our project team," Zhao said. "We appreciate the opportunity to have a positive impact on students' education, career readiness and the broader Fiber, Textile, and Apparel and Food, Agriculture, Natural Resources, and Human (FANH) fields."
Specifically, Zhao and her team will develop educational packets, teaching modules and datasets to enhance students' digital data literacy skills at all levels. Understanding data is central for graduates entering the fashion industry as it provides a foundation for forecasting demand, measuring store performance and grappling with a changing market.
This project's two main goals include:
Better preparing students for careers that depend increasingly on an understanding of data analytics to meet industry demands.
Providing educators with much-needed datasets and educational resources to broaden the literature in this field while concentrating teaching efforts to provide a foundation based on the skills students will need to be successful in a changing field.
This project will be implemented through two primary classes: a data analytics class on understanding clothing/textile consumers and a course focused on digital merchandising.
"Overall, this grant will benefit both students and educators while addressing the current skills gap between academia and the industry," Zhao said. "In particular, considering the discussions around data analytics and generative AI, which are also impacting the textile and apparel industry, this grant will create opportunities for students to explore new career paths in related fields."
As advances in generative learning and AI continue to influence the way teaching functions, this grant will equip students with digital data literacy knowledge and cultivate an open-minded approach to what it means to work in an increasingly digital creative industry.
This grant is part of the Higher Education Challenge, an investment funded by the National Institute of Food and Agriculture (NIFA) intended to strengthen universities' infrastructure, curriculum and ability to recruit top-quality faculty and students. Co-principal investigators include Jung Ha-Brookshire, Caroline Kopot and Michael Williams at MU.