April 11, 2023
Contact: Marcus Wilkins, wilkinsm@missouri.edu
Photos by Hanna Caldwell and Sam O'Keefe
The echoing thrum of mowers on Francis Quadrangle. The fragrance of spiraea and fresh mulch in the crisp mid-Missouri air. Sunbeams streaming past the spires of Memorial Union onto a flowering dogwood. As Tigers traverse campus in April — perhaps with a bit more pep in their paws as the semester marches toward commencement and summer break — one thing is clear in Columbia: Spring has sprung.
The University of Missouri's picturesque campus has long been one of its trademarks. A certified botanic garden, MU's 1,252 acres host 45,000 students, faculty, staff and visitors daily. More than 6,200 trees and 200-plus plant varieties representing 50-plus genera make planting and maintenance a year-round endeavor.
Tending to the spectacle is MU's Landscape Services — planting, trimming, weeding, snowplowing, hauling and tidying — a small but mighty team of 28 specialists behind and in front of the scenes. It's a responsibility Pete Millier, director of Landscape Services and Mizzou Botanic Garden, and his staff take great pride in.
"I am constantly awestruck by the proliferation of perennials," Millier said. "Maybe that's because my background area of horticultural expertise is turf management and so I notice the floral beauty. Landscape Services is a big and important job, and we're open every day, all four seasons."
Follow along for a behind-the-scenes look at a typical day.
7:30 a.m.: Arrival
After a brief, informal huddle, Landscape Services staff — including Jerry Nichols, left, and Blair Crosby — head out to their various duties bright and early each weekday and occasionally on weekends. The team is composed of 28 staff members, among them two managers, a mechanic and a landscape designer.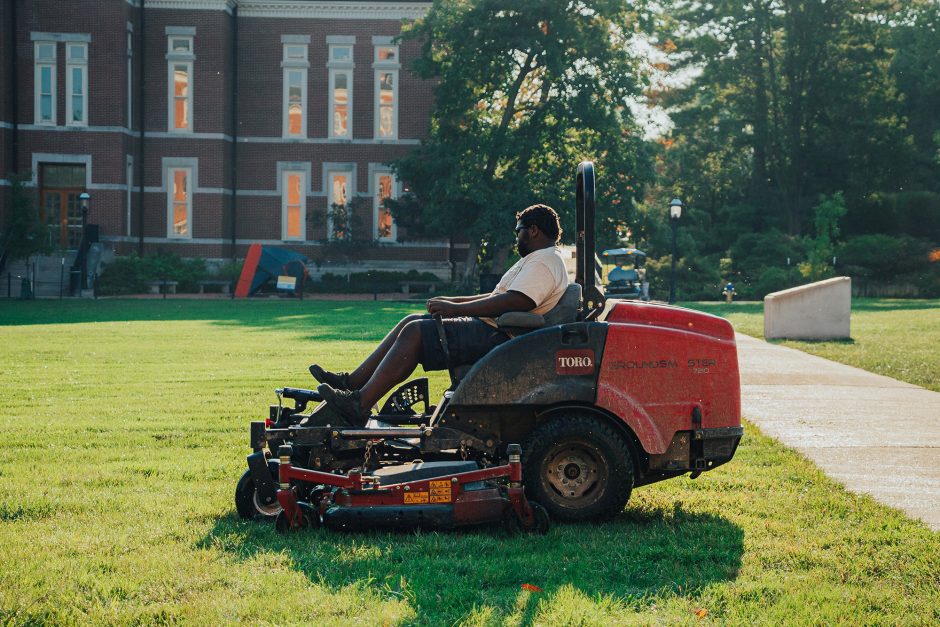 8:37 a.m.: Mowing
Mizzou's greenspace is intentional and meticulously designed, providing intermittent areas of shade and open spaces for outdoor classes, lounging, campus ceremonies — even Frisbee and Quidditch. James Darden is one of the groundskeepers who each maintain an average of 48 campus acres (1,655,280 square feet).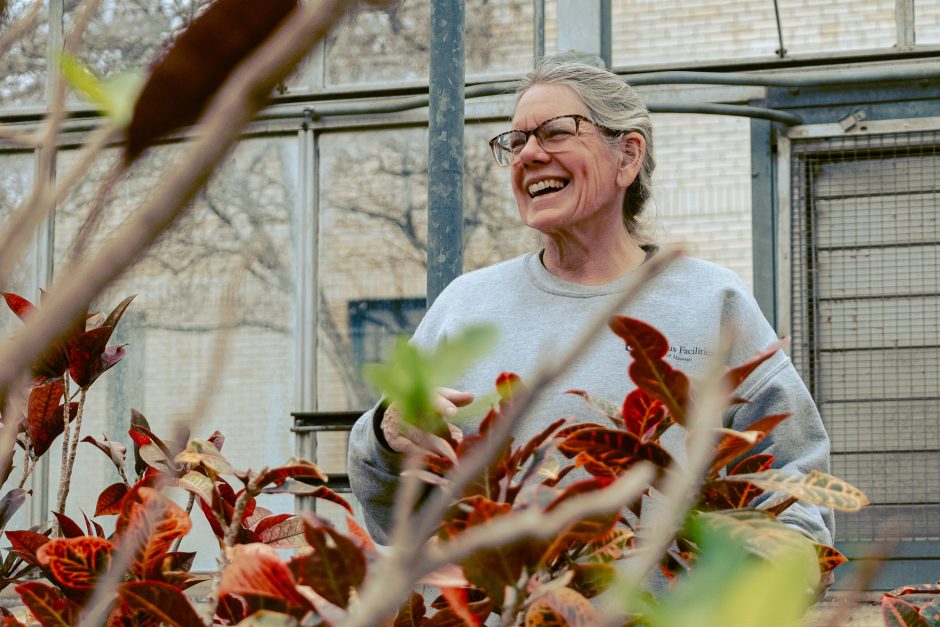 10:03 a.m.: Tending the greenhouse
Before plants make their way to campus plots, Colleen Thomas surveys flora in the greenhouse, located near the MU Research Reactor. The plants in the greenhouse are generally tropical varieties used for summer flower displays. Staff frequently take cuttings for propagation to use when landscape design calls for certain species. Some of the plants come from "mother" plants that staff have tended for more than 20 years.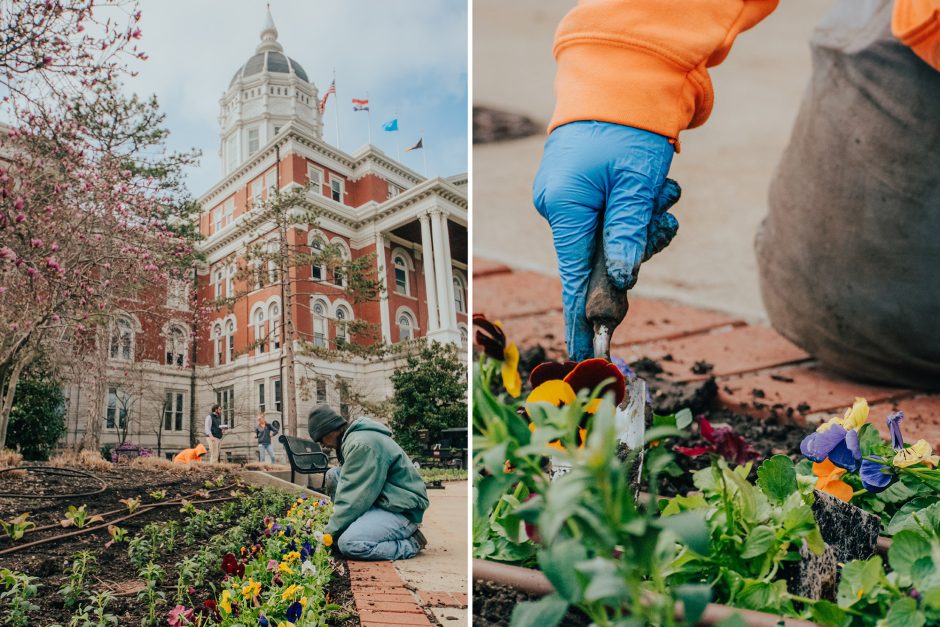 10:45 a.m.: Planting
In early April, staff — including Brian Thomas, in stocking cap — plant pansies, snapdragons and peonies around Francis Quadrangle in preparation for the thousands of cap-and-gown portraits about to be taken before commencement. There are 18 different gardens throughout campus — each with a different theme.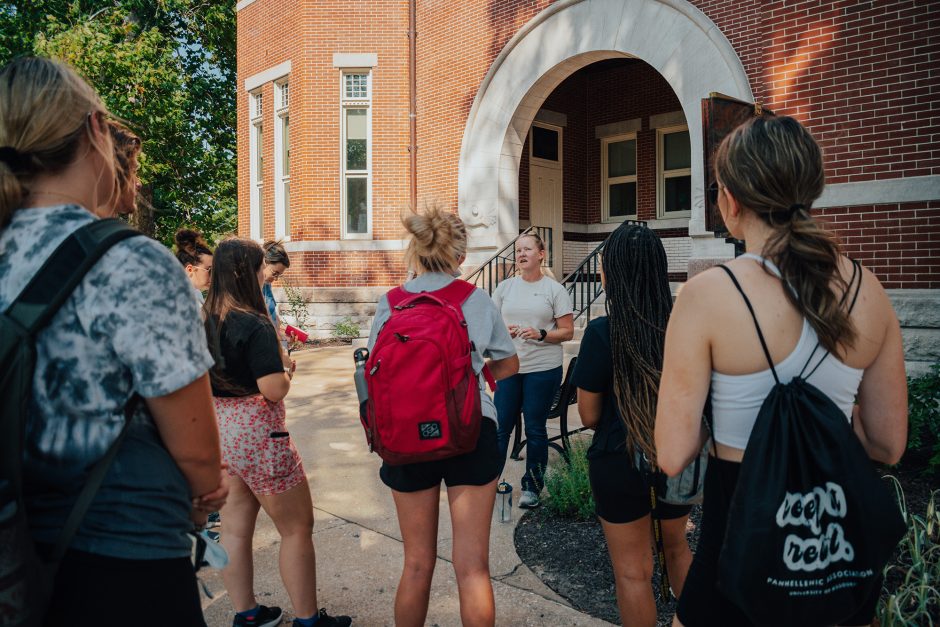 1:42 p.m.: Tours and outreach
Jenna Sommer, MU Botanic Garden horticulture manager, gives a tour of campus flora. Tours are offered year-round for six or more people and can be arranged by calling 573-882-4240. There is no set schedule for tours, though some faculty request tours annually for specific courses they teach.
2:51 p.m.: Debris clean up
Most grass clippings across campus are left to return their nutrients to the soil. In an effort to promote sustainability, things like tree debris (leaves, needles) are collected, composted and used in seasonal plant beds.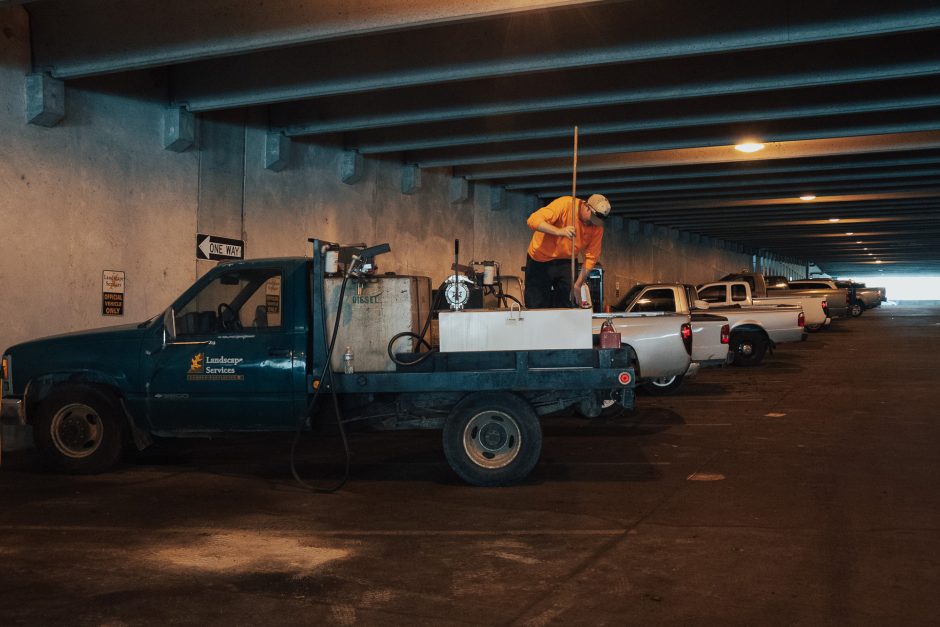 3:15 p.m.: Departure
After a long day of work, staff park the trucks and head home. Landscape Services maintains 705 acres. (The 1,252-acreage total includes the forest behind Mizzou Arena and other wooded areas.) Staff plant more than 30,000 annuals and 150–200 trees each year.
Reminder: Help keep campus beautiful!
Hundreds of Tigers are preparing for May commencement. As you're taking photos on campus, remember to pick up after yourself: take your corks, confetti and photo props home with you … and be sure to stand outside of the flower beds when snapping a pic.