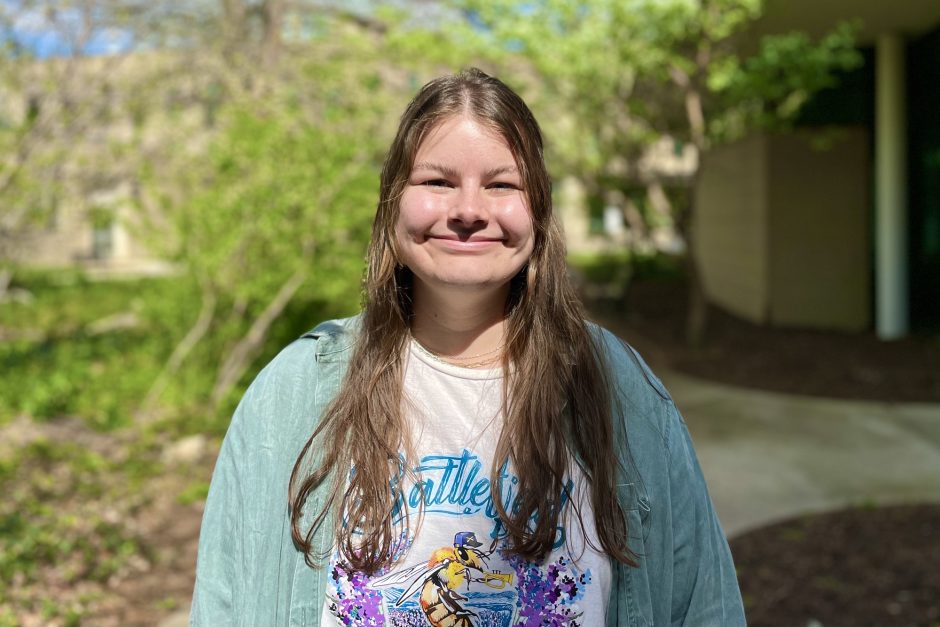 May 8, 2023
Contact: Deidra Ashley, ashleyde@missouri.edu
Ellen Phillips knows a thing or two about farming. The Mexico, Missouri, native grew up in a farming family — one side focusing on row crops and the other on cow-calf operations.
As a child, Phillips participated in 4H and FFA. She also raised cattle and market hogs, which she sold to her neighbors. So, when Phillips decided to pursue a degree in agriculture, the decision about where to go to school was easy: Mizzou.
At MU, Phillips designed her own program under the agriculture degree — allowing her to combine her passions and uncover new ones, like her love of law.
Read on for a Q&A with Phillips about her Mizzou experience.
Why did you choose Mizzou and your degree program?
I grew up 45 minutes from Mizzou. My mom went to school here and graduated from the College of Agriculture, Food, and Natural Resources, and when I decided I wanted to study agriculture, there was no question that Mizzou is the best place to go.
I started out as a natural resource science and management major and ultimately switched to the agriculture major. What's great about this program is that it gives you so much freedom. It's kind of a build-your-own-degree program — allowing me to combine all of my passion areas. My areas of concentration are natural resource policy, agribusiness management, and agricultural education-leadership.
Do you feel like you had the resources to help you succeed at Mizzou?
Absolutely. CAFNR and Mizzou are very good at helping you find where you need to be and where you want to go.
In addition to getting help from my professors and advisor, I was involved in the professional agriculture sorority, Sigma Alpha, where I participated in a lot of professional development activities and was able to connect with industry leaders. I also became a CAFNR Ambassador and was able to make connections with leaders on campus, in admissions, etc. They helped me navigate campus and were a big support system for me.
You studied abroad a few times. What was that like?
Studying abroad was amazing. I got to do it twice — once for a week in Italy studying food insecurity and sustainability, then a second trip where I spent three months in Austria taking classes in Salzburg and then working at a diversified livestock farm just outside Vienna.
I grew up raising animals, but my experience in Austria was really eye-opening. There were four generations on the farm, and they all lived in the same house and worked together. Each one had a different area of expertise — forestry, crops, raising animals for meat and dairy — and it was cool to see how diversified they were. It was also my first time working with exotic animals, so that was fun.
Are there any professors who had a big impact on your time at Mizzou?
Professor Robin Rotman has helped me so much. I've taken three of the four undergraduate classes she teaches — climate change in the law, environmental law policy and justice, and natural resource policy and administration. She's been like an unofficial mentor helping me apply for law school, and I admire all of the industry and practical experience she shares with her students.
What's next for you?
I have a huge passion for agriculture, natural resources, and the environment. After graduation, I will be attending Drake University Law School to earn a degree emphasizing in food and agricultural law. I want to work within the crossroads of the natural resource, agricultural, and environmental sectors. After I graduate law school, I would like to pursue a governmental job within those crossroads and gain experience within the public sector. Eventually, I'd like to settle down in a rural area where I can make a difference.
Meet more spring 2023 graduates