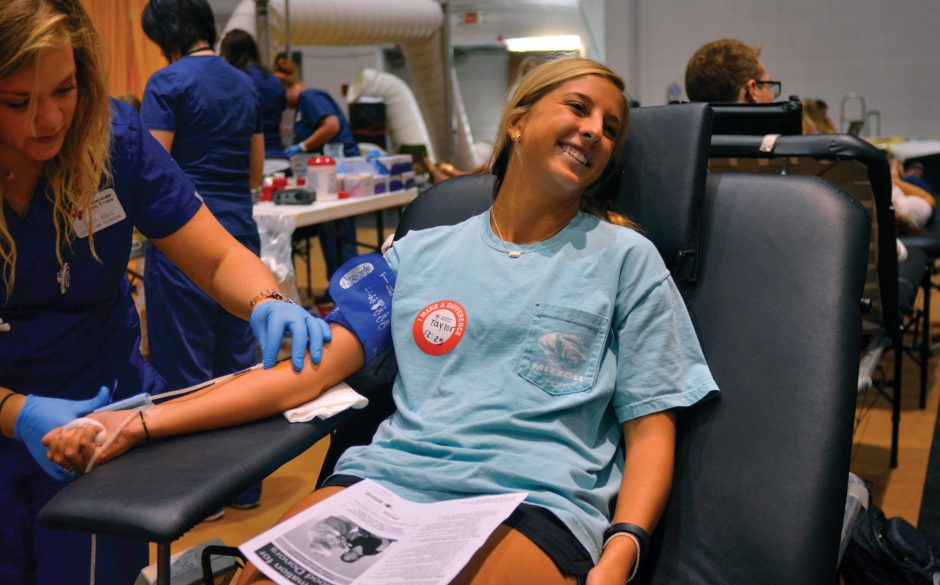 Published on Show Me Mizzou Sept. 4, 2023
Story by Blaire Leible Garwitz, MA '06
It took a lot of blood, a little bit of sweat and probably a few tears, but Mizzou students potentially saved thousands of lives this past year as part of the Homecoming festivities. Mizzou's Homecoming — widely considered to be the country's very first — included a variety of events such as pep rallies, a parade, a bonfire and a football game when it began in 1911.
Wanting to add a community service component to the festivities, decades later the Homecoming committee began partnering with the American Red Cross to host a blood drive. Now in its 38th year, the event has grown to become the largest student-run blood drive in the country. Last year, 800 students volunteered for the drive.
Maddie Dunkmann, BJ '20, served as a student leader on the Homecoming blood drive committee in 2018. "I loved my experience working on Homecoming and helping lead the blood drive," she says. So much so, in fact, that she's now on staff as coordinator of Mizzou's alumni and student programs.
Every year's drive goal has exceeded the last. In 2022, they collected 4,055 units of blood — nearly twice that of the previous year. It's become a competition among different residence halls, campus organizations, Greek chapters and academic units. Mizzou students are, quite literally, out for blood to see which group can donate the most. "Every year, we shatter our goal thanks to these different student groups trying to beat one another," says Abbey Overstreet, account manager at the Red Cross, who has worked on the Mizzou drive for the past three years. "It can get pretty competitive."
A blood drive of this size requires a lot of resources. The Red Cross commits nearly all their teams across the region just to have enough phlebotomists to draw the blood. "We pull in our teams from St. Louis, Kansas City, Columbia, Springfield, Cape Girardeau and even southern Illinois to make this happen," Overstreet says. The drive requires 125 phlebotomists per day.
Donations collected during Homecoming are helping meet the nation's high demand for blood. According to the Red Cross, someone in the U.S. needs blood every 2 seconds due to accidents, burns, surgeries and cancer treatment. However, only about 3% of age-eligible people donate blood yearly.
This year's Homecoming Blood Drive will take place Oct. 9–12 from 11 a.m. to 6 p.m. at the Hearnes Center. For those interested in donating, appointments can be made by downloading the Red Cross Blood Donor App, calling 1-800-RED CROSS or visiting redcrossblood.org and entering sponsor code MIZZOU. Walk-ins are accepted, but appointments are strongly encouraged due to the popularity of the event.
To read more articles like this, become a Mizzou Alumni Association member and receive MIZZOU magazine in your mailbox. Click here to join.