May 1, 2023
Contact: Marcus Wilkins, wilkinsm@missouri.edu
Photos by Abbie Lankitus
Students from the University of Missouri's College of Agriculture, Food and Natural Resources (CAFNR) volunteered at the 2023 NFL Draft Experience, a multi-day event beginning on April 27, in the Union Station area of Kansas City, Missouri. A group of 38 parks, recreation, sport and tourism majors worked various game stations, oversaw logistics and offered general assistance at the NFL's biggest offseason event.
The centerpiece of the festivities is the draft itself, but fans participated in football-toss competitions, photo coordination, vertical leap measurements and autograph sessions with players throughout.
"It's so valuable for our students to be in that atmosphere, working side by side with future colleagues and learning what it takes to put on such an event," said Jenna Fusinatto, a senior academic advisor at CAFNR. "It's part of what at CAFNR we call the RISE — research, international, service-learning and experiential — program. When you've done something that you can talk about in an interview, something connected to your passion, employers will see that and know that you put that heart into it."
See photos from the event.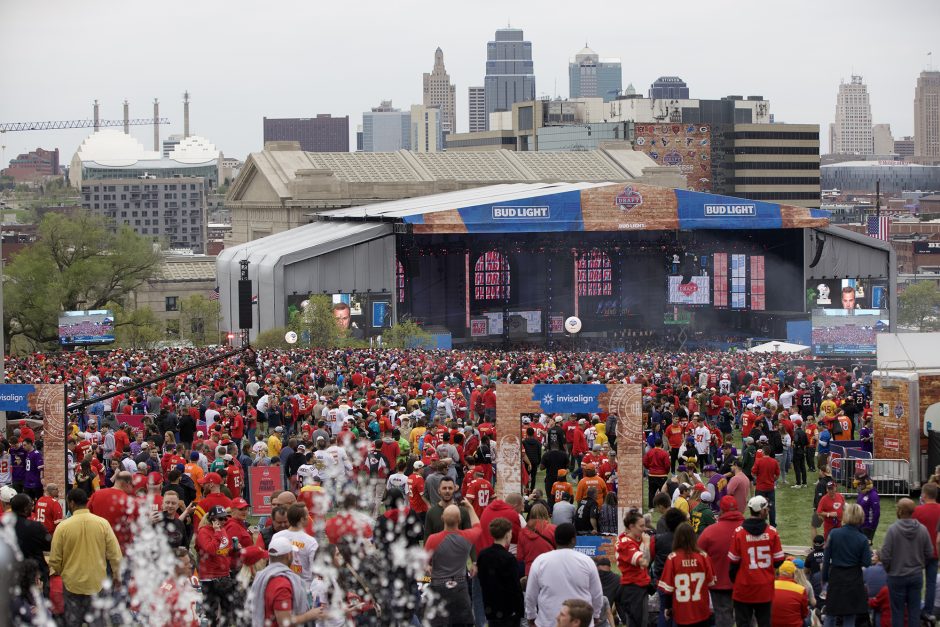 The NFL Draft Experience takes place over three days and incorporates dozens of activities and events beyond the draft itself. Mizzou students helped run activity stations and assist patrons in finding their way around the crowded event with an estimated 312,000 in attendance.
CAFNR students line up for a photo opportunity in front of the main stage. "Since I have taken classes in the parks, recreation, sport and tourism program, I've learned to watch and listen to sports from a new perspective," said Sydney Duenckel (third from left), a junior from St. Joseph, Missouri. "We talk in class a lot about how there is so much more to sports than the product on the field. I am actually working with an NFL team this summer, so this experience gave me a real taste of the environment."
Logan Nachtrab, a senior from St. Charles, Missouri, helped out with the Hail Mary event. Fans were given three attempts to throw footballs into nets at varying distances. Mizzou students ushered in participants, gathered footballs and encouraged patrons.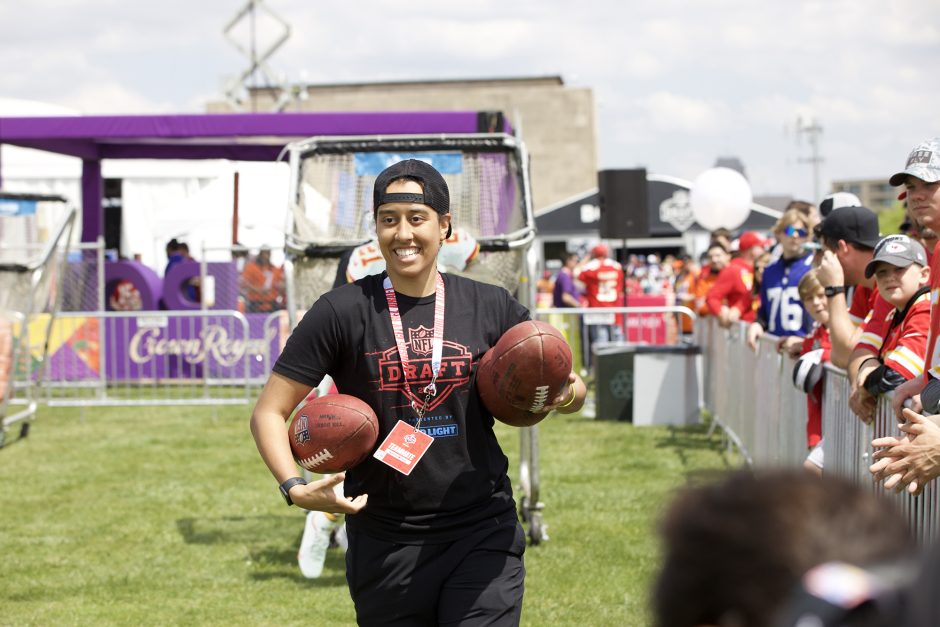 "Every professor within my major has prepared me for success," said Amelia Wilson, a sophomore from Centerton, Arkansas. "The things we learn in class translate out into the field, and seeing the things I learn be applied outside the classroom continues to give me confidence."
Chris Ebbesmeyer, a junior from Paris, Missouri, watches a fan participate in the Hail Mary event. Parks, recreation, sport and tourism alumni have gone on to work for organizations including the Houston Astros, the Walt Disney Co. and several national parks.
Brady Lane, a freshman from St. Charles, Missouri, tosses a football back to a participant at one of the NFL Experience stations. "Running a large-scale event like this requires hundreds of employees, with all hands on deck, all working together to make sure it runs smoothly and efficiently," Lane said. "I honed my skills interacting with people and talking to them in a high stress situation, which something I know I can take into my future."
Whitley Benson (right), a freshman from Topeka, Kansas, and Julia Harper (left), a sophomore from Edmond, Oklahoma, kept the youngsters hydrated between activities. "Learning to work on the fly at an event like this will help me in a number of ways professionally," Benson said. "Helping fans answer questions — even if just means figuring out who to ask in a crowd — was a great learning experience."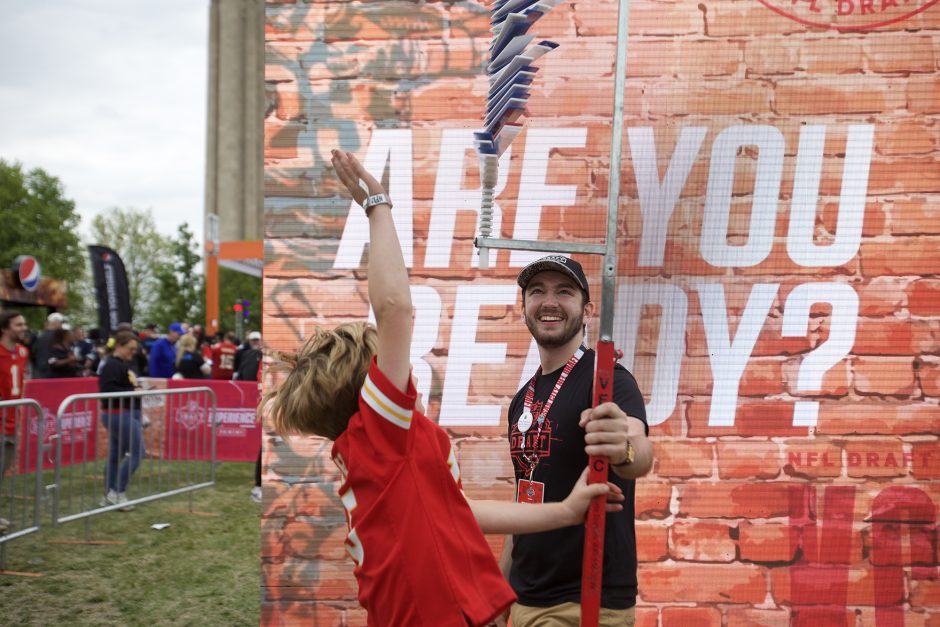 Sam Skelton, a junior from Kansas City, Missouri, holds the vertical-jump testing pole for a young participant. "The NFL Draft was a special thing to be a part of, especially seeing what it meant to my community," Skelton said. "I haven't worked at such a large scale event before, so it was a rare chance to gain that type of practical experience."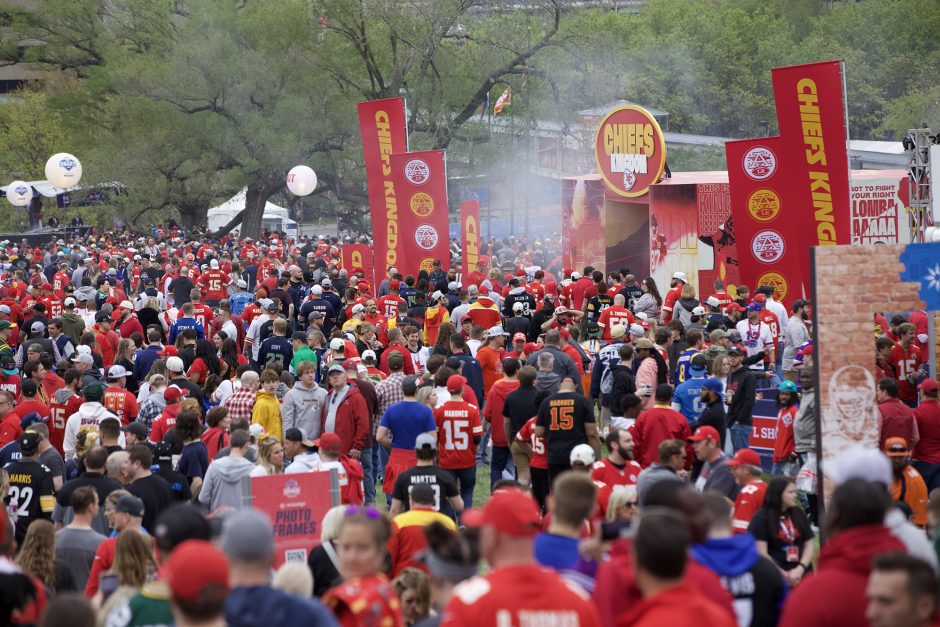 Thanks to CAFNR's close relationship with the Kansas City Sports Commission, Mizzou students experienced this a one-of-a-kind event just two hours from campus. In addition to volunteering, students had the opportunity to tour Hy-Vee Arena, Arrowhead Stadium and Kauffman Stadium. "Having the NFL draft in Kansas City was a no-brainer for us to participate," said Jennifer Wentz, an assistant teaching professor of parks, recreation and sport. "It was an experiential opportunity for our students to see behind the scenes of an event probably unlike anything they've ever seen."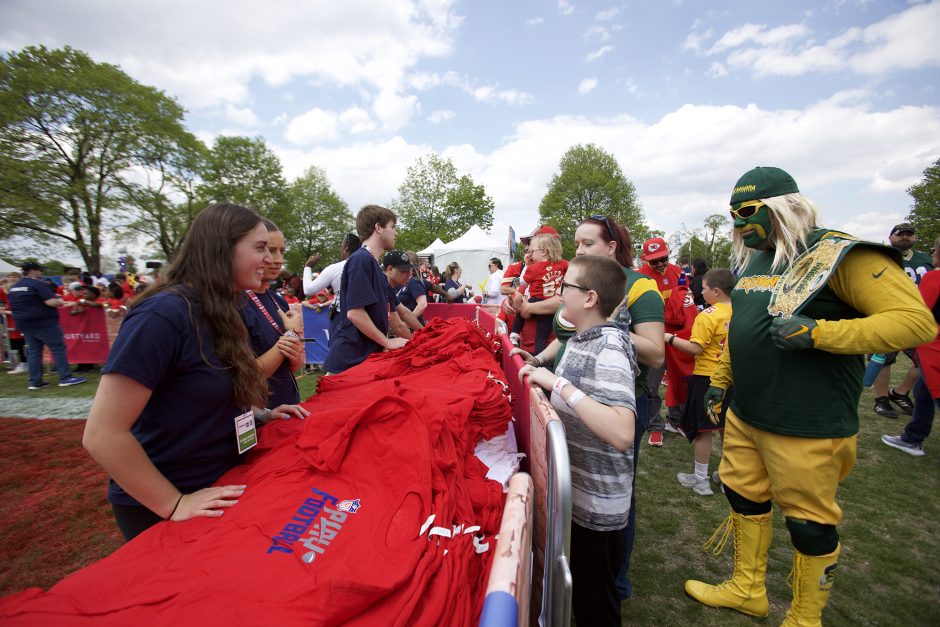 Gwen DeWaele, a junior from Roselle, Illinois; Maddie Swanson, a junior from Libertyville, Illinois; and Tyler Magdziak, a freshman from Apple Valley, Minnesota; greet a family of Green Bay Packers fans. The trio helped hand out hundreds of shirts to event attendees.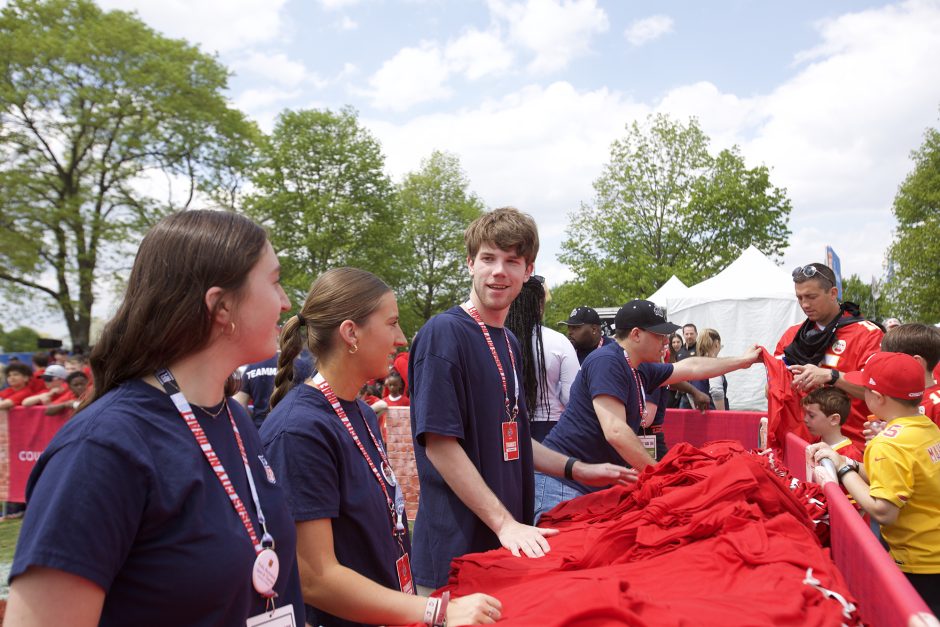 "The NFL is the biggest sport organization within the U.S. and working for it looks great on a résumé," said Tyler Magdziak, a freshman from Apple Valley, Minnesota. "The skills that I learned in this day-long job can transfer to the future as well."
"This will definitely be a highlight on my résumé," said Logan Williams, a freshman from New Haven, Missouri.
Sloane Snyder (center), a junior from Frisco, Texas, had a unique perspective of the event as the daughter of former Chicago Bears quarterback Brent Snyder. "I've always been around sports, and I played a little of everything growing up," Sloane said. "I also work in operations with Mizzou football. Gameday and team operations are super interesting to me, and I hope to make a career out of it someday."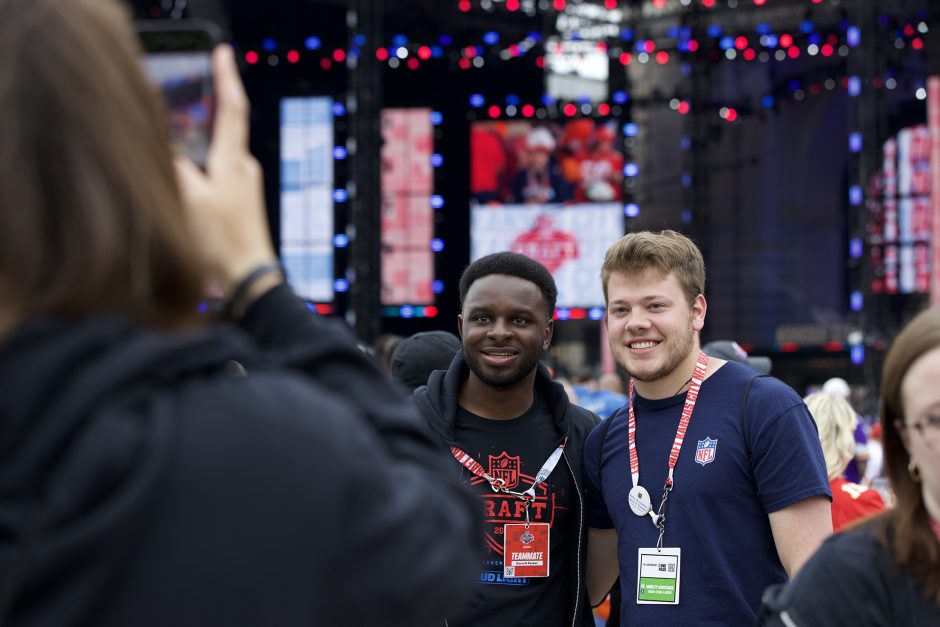 Garrett Parker (left), a senior from Jefferson City, Missouri, poses for a photo with fellow student Garrett Pave, a junior from Brentwood, Tennessee. "This experience was unbelievable, and it showed me how much work truly goes into putting together such a huge event," Parker said. "This also showed me how much hard work I will need to put in if I want to be successful in this industry."