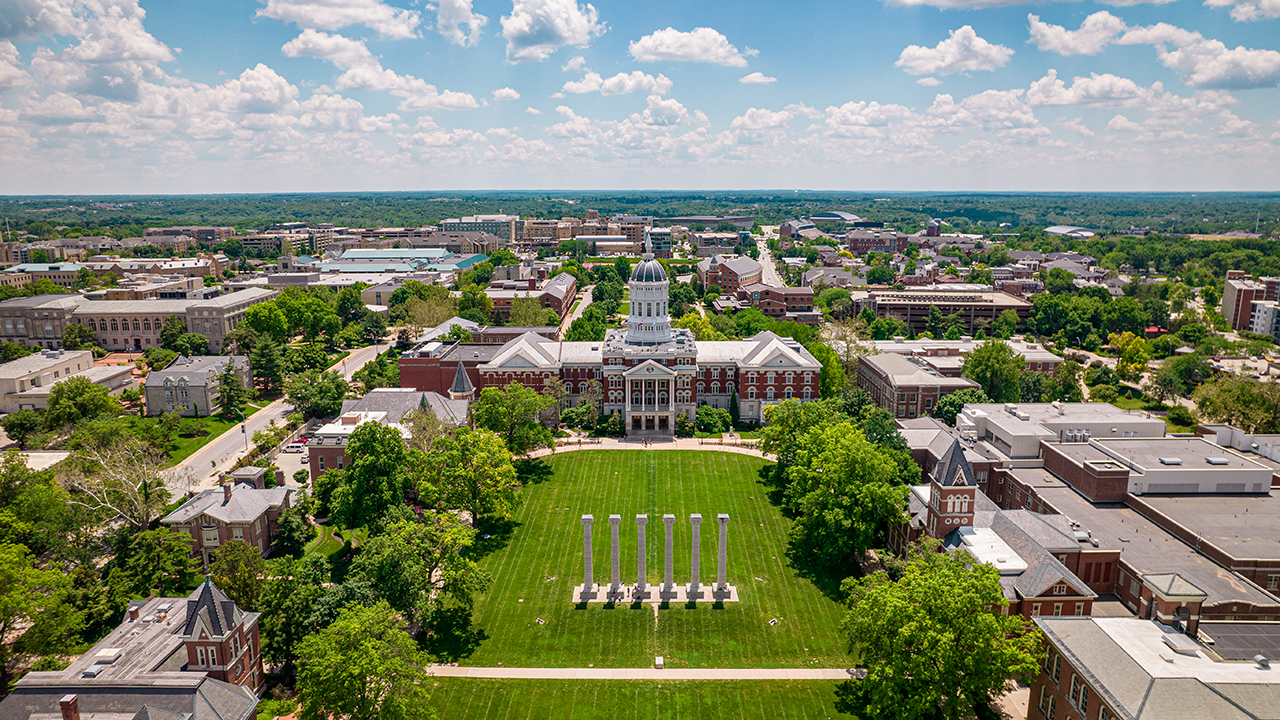 April 27, 2022
Contact: Deidra Ashley, ashleyde@missouri.edu
When you think of Mizzou, what's the first thing that comes to mind?
For many, it's the iconic image of Francis Quadrangle: the six columns and Jesse Hall, protected by the arboreal guard of 15 pin oak trees. The stately timbers act as a frame for campus's most-photographed spot, but their health is declining.
That's where the Friends of the Mizzou Botanic Garden (MUBG) come in. The group is working with several MU alumni and friends to plant the Legacy Oaks of Francis Quadrangle — a project more than four years in the making.
"Universities are a dynamic place, and their grounds and facilities are always changing," said Bill Ruppert, BS Ag '80, MUBG board member and former Mizzou employee. "But the Quad is the one place on campus I can come back to and have it feel the same as it was when I was on campus all those years ago. The Legacy Oaks project is going to ensure students 200 years from now have that same experience."
To help learn more about the project and how we're preserving our campus's beauty for the future, join the Show Me Mizzou team for a game of true or false.
The oaks are being replaced because of their failing health.
True: About 70 years ago, 26 pin oaks were planted around Francis Quadrangle. In the early 2000s, six of the mature oaks fell prey to bacterial leaf spot and were removed. Another five were removed in 2018 when they were deemed hazardous to pedestrians and buildings. While native to Missouri, pin oaks are one of the most short-lived oak species (with a life expectancy of 70-90 years), and they require acidic growing conditions with good drainage (the Quad hosts an alkaline soil with poorer drainage conditions). In response, an end-of-life plan was put in place.
Seventy new white oaks are being grown at MU's South Farm — waiting for a chance to take their place on the Quad.
True: In spring 2019, 70 white oaks were donated by College of Agriculture, Food and Natural Resources alumni Wayne Lovelace and his daughter Kim Lovelace-Hainsfurther. The duo owns and operates Forrest-Keeling Nursery, located in Elsberry, Missouri, and recommended the white oaks due to their adaptability to our soils and their long lifespan of 200-plus years. Oaks that are not planted on the Quad will be planted elsewhere on campus.
All of the new Legacy Oaks are the same species.
False: While the group did choose to plant from the white oak family since it has the longest lifespan of the oaks, five different species will be featured: Quercus bicolor (Swamp White), Quercus lyrata (Overcup), Quercus macrocarpa (Bur), Quercus x 'Jillian Anne Young' (Swamp White x Overcup x Bur), and Quercus x schuetti (Schuette's). Quercus x 'Jillian Anne Young' is a special hybrid species named after Lovelace-Hainsfurther's daughter who was killed in an automobile accident when she was 17 years old. "Jillian had a very strong will — sort of like an oak," Lovelace-Hainsfurther said. "Nothing would give me more comfort than to know that in 100 years, students will be sitting under Jillian's oak."
The new Legacy Oaks will be installed at the same time.
True. The trees will need to be installed at the same time so that they grow at relatively the same rate. Pending campus approval, the plan is to remove the remaining declined pin oaks this summer with the planting of the Legacy Oaks to follow.
The Quad is the only place the Legacy Oaks will live.
False: As part of Missouri's bicentennial celebration in 2021, two Legacy Oaks took their place in history on the south lawn of the Missouri State Capitol. They were dedicated as "Missouri Bicentennial Native Oaks" and will serve as arboreal ambassadors and Mizzou representatives off campus.
The Legacy Oaks of Francis Quadrangle
The Legacy Oaks project is supported by the generosity of donors invested in the beautification of our campus. To show your support for the Legacy Oaks of the Francis Quadrangle, please make your gift today.