Jan. 14, 2022
Contact: Deidra Ashley, ashleyde@missouri.edu
From dogs and cats to rabbits and geckos — Tigers know how to celebrate with flair. In honor of National Dress Up Your Pet Day, the Show Me Mizzou team asked for photos of your pets dressed in their best, and you understood the assignment. Here are some of our favorite fan-submitted pics.
Want a chance to have your pet featured? DM Mizzou on Instagram with the name of your pet, a photo of him or her dressed up and any fun facts we should know about. Horizontal photos preferred.
Peppermint
Peppermint is a 3½ year-old French lop who loves to sit outside. Her favorite snacks are timothy hay and parsley. Her neighbors will sometimes see her go for walks when her mom takes her out in a big blue stroller.
Dobby
Dobby has left the wizarding world and is on his way to outer space! The 1-year-old Miniature Schnauzer is owned by 2003 alumna (and Director of Alumni and Donor Communication and Marketing) Ashley Burden.
Maia and Ella
These lovely ladies are Instagram-famous with more than 27,000 followers! They love showing off new looks and costumes on their social media platform. Ella, right, is a certified therapy dog.
Tommy
Tommy is a 12-year-old former stray who chose his adoptive family by returning to their yard each day. He loves going for rides in the truck and he even let his mom dress him as a tiger Webkinz for Halloween last year.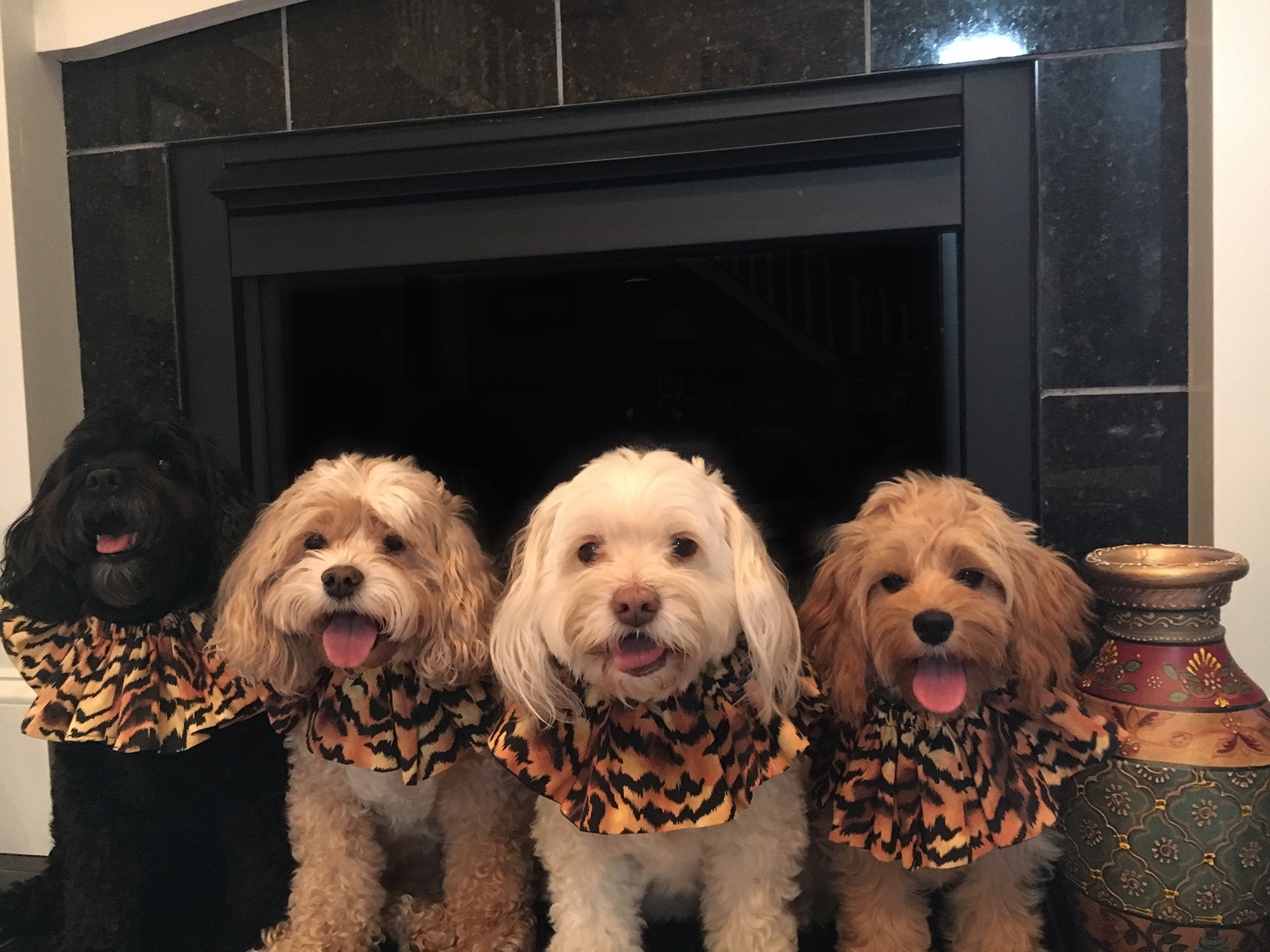 Bella, Sophie, Chloe and Ruby
These black and gold Cockapoos are certified therapy dogs and love to snack on carrots and ice cubes in their spare time. They always know it's time to go to work when their scarves and frilly collars come out.
Gunner
Gunner is a 2-year-old lab who has been sporting Mizzou gear since he was a puppy. He loves eating pup cups and being chased, and his favorite spot on campus is the Columns.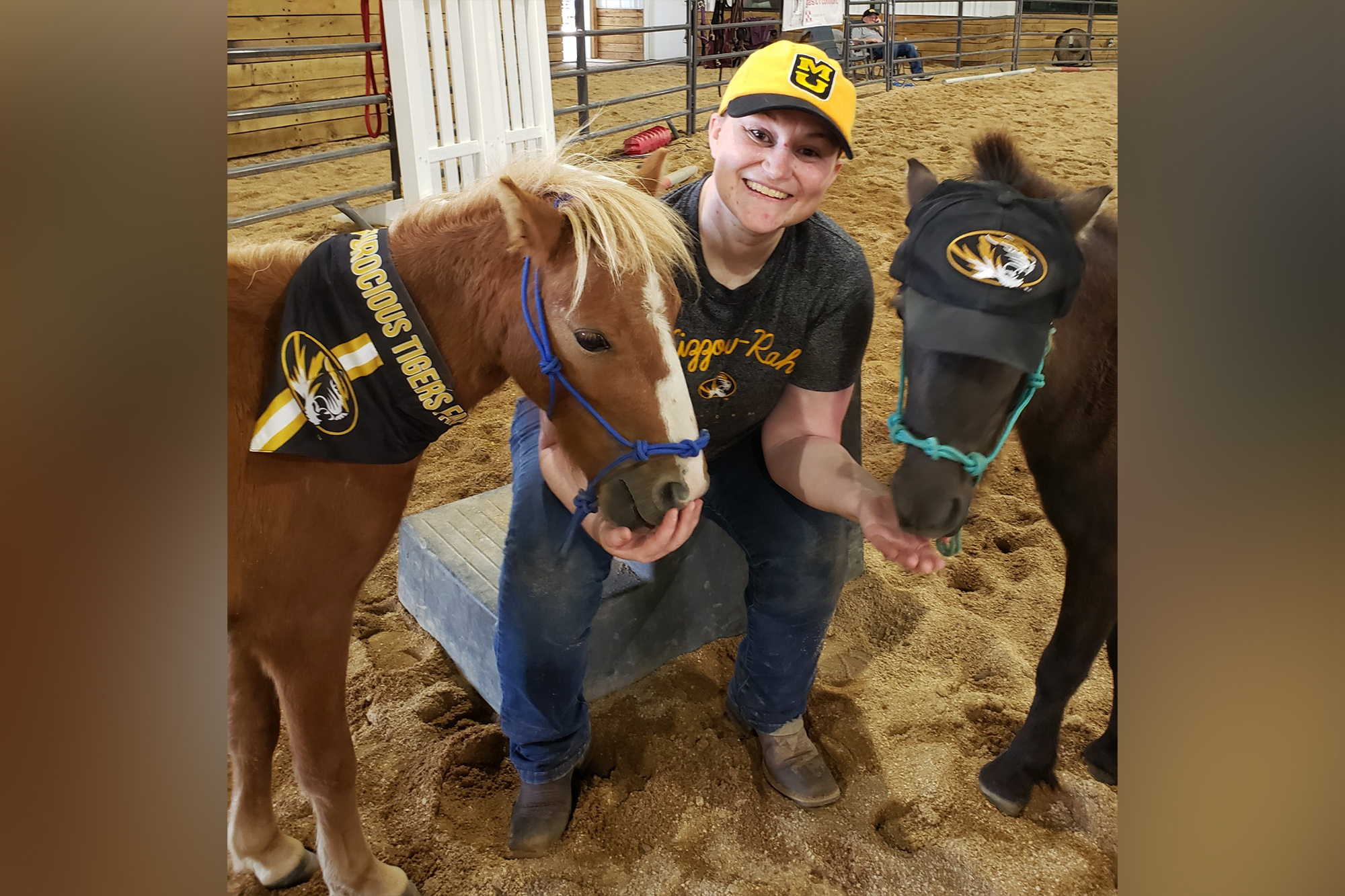 Teddy and Weston
Teddy and Weston were adopted by student Brittney Patton to be therapy horses. They sure look snazzy in black and gold!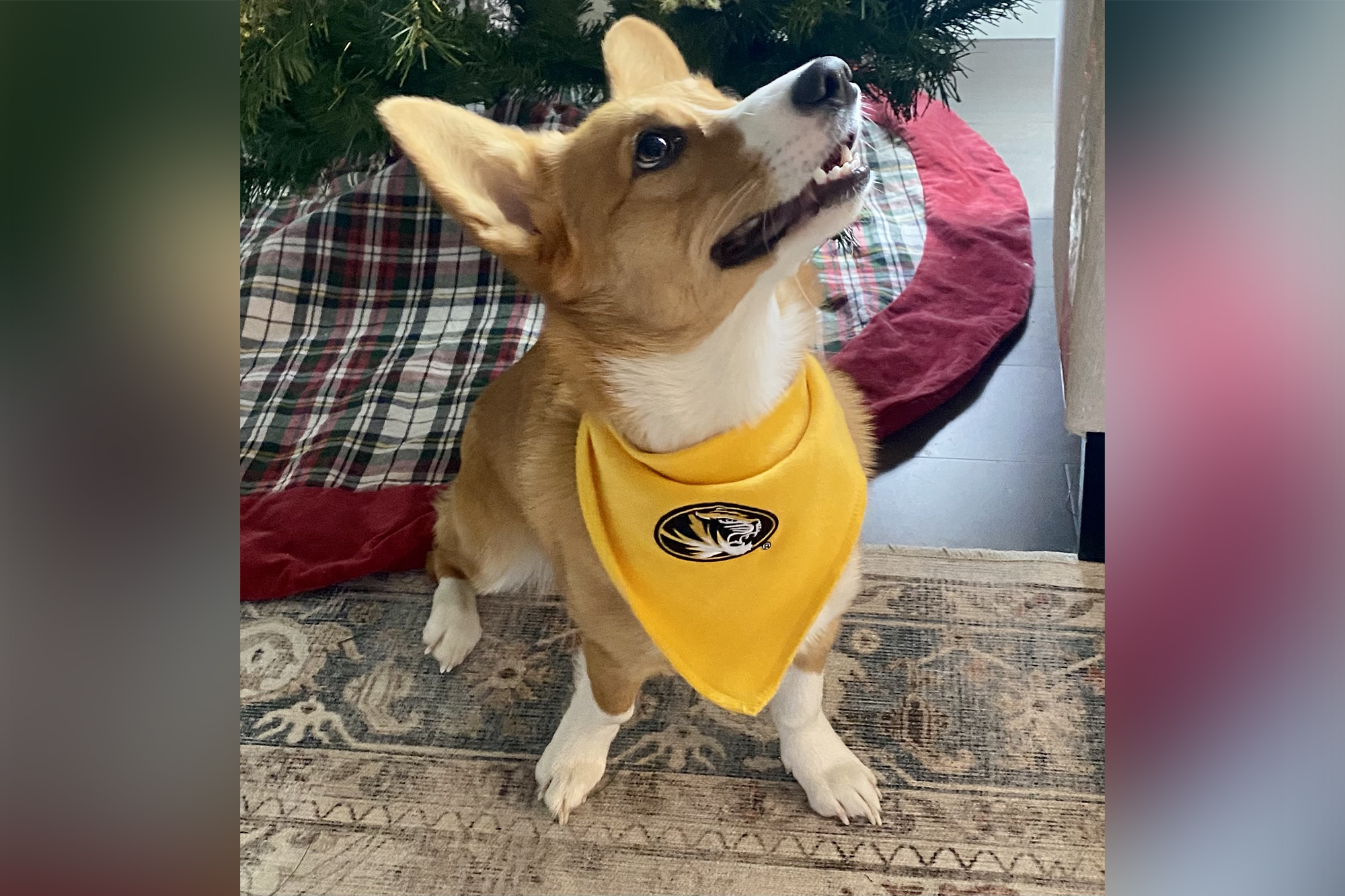 Penny
Penny is a 2-year-old Corgi who loves to chase cats and snuggle. She loves to take walks around the Quad.
Izzy
Izzy is a 5-year-old rescue who started as a foster when she was just three weeks old. She loves treats of all sorts and sitting on laps.
Holly
Holly is a four-year-old Scottish Fold who enjoys sneaking into bedrooms at 5 a.m. to meow at the top of her lungs when her food bowl is empty
Bob and Chez
Bob and Chez are the beloved crested geckos of Dawn Brown's fifth-grade class at Columbia Independent School. The students custom designed their Mizzou gear during recess today.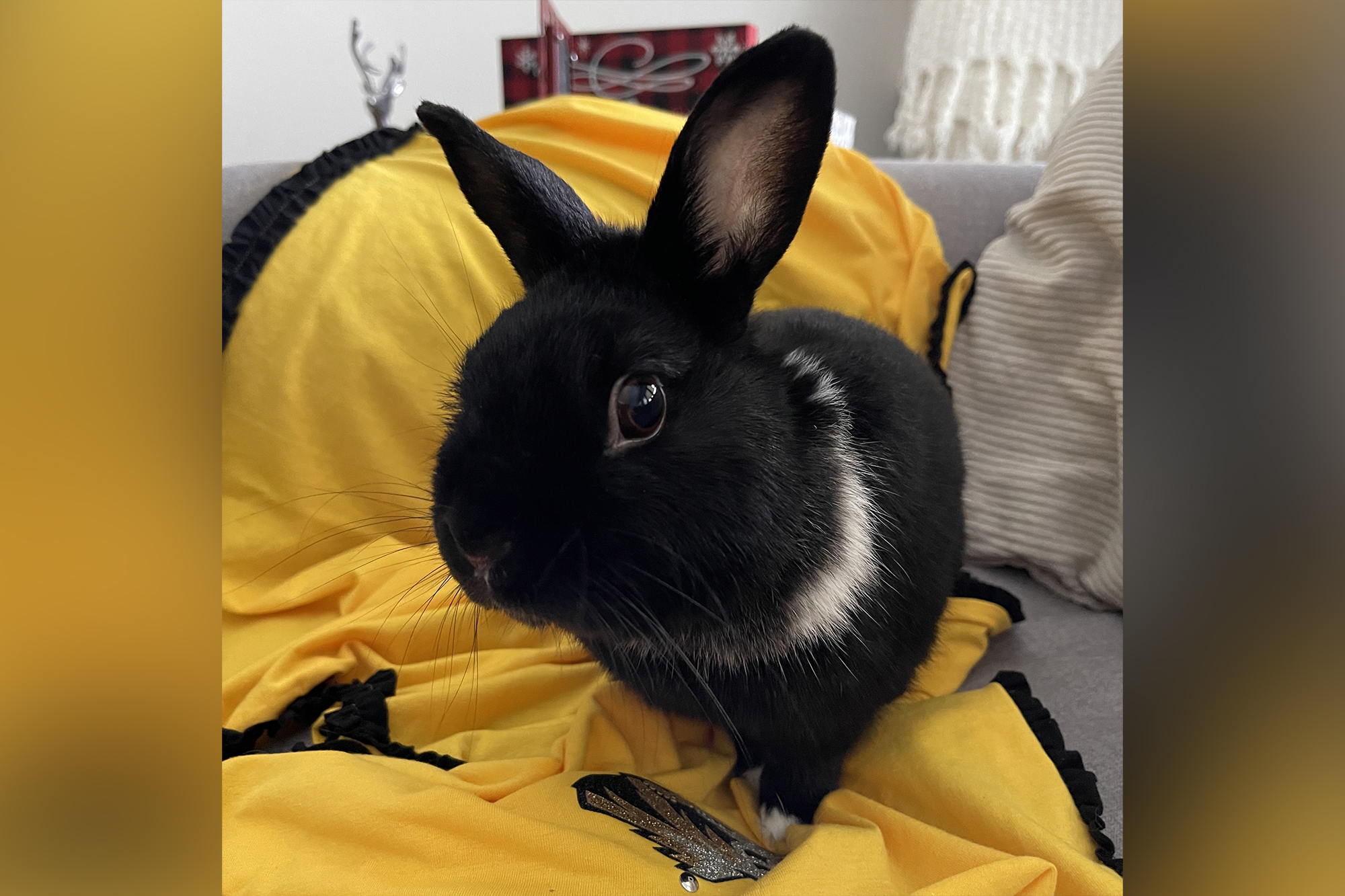 Bunbun
BunBun is a rescue rabbit who loves carrots and playtime.
Brady
Brady is a 13-year-old rescue who likes to think he is king of the castle. He loves his little human brother (and the snacks he drops), going for walks on the trail and barking at delivery drivers.
Edna
Edna is a 3-year-old English Bulldog who loves eating vegetables — especially broccoli. Her favorite place on campus is Peace Park.
Sebastian
Sebastian, an 18-pound floof, is almost 5 years old. He is a certified therapy cat and loves to wear black and gold on his visits.
Koda
Koda, seen here as a puppy, is a 3-year-old German Shepherd. His favorite toy is a football.
Flynn
Flynn is a 1½-year-old rescue who spends a lot of time out on the Quad with his owner, student Haley Haring.
Zeus
Zeus is a rescue who loves nothing more than taunting his four-footed siblings. On football Saturdays, you'll find him tailgating at the Zou!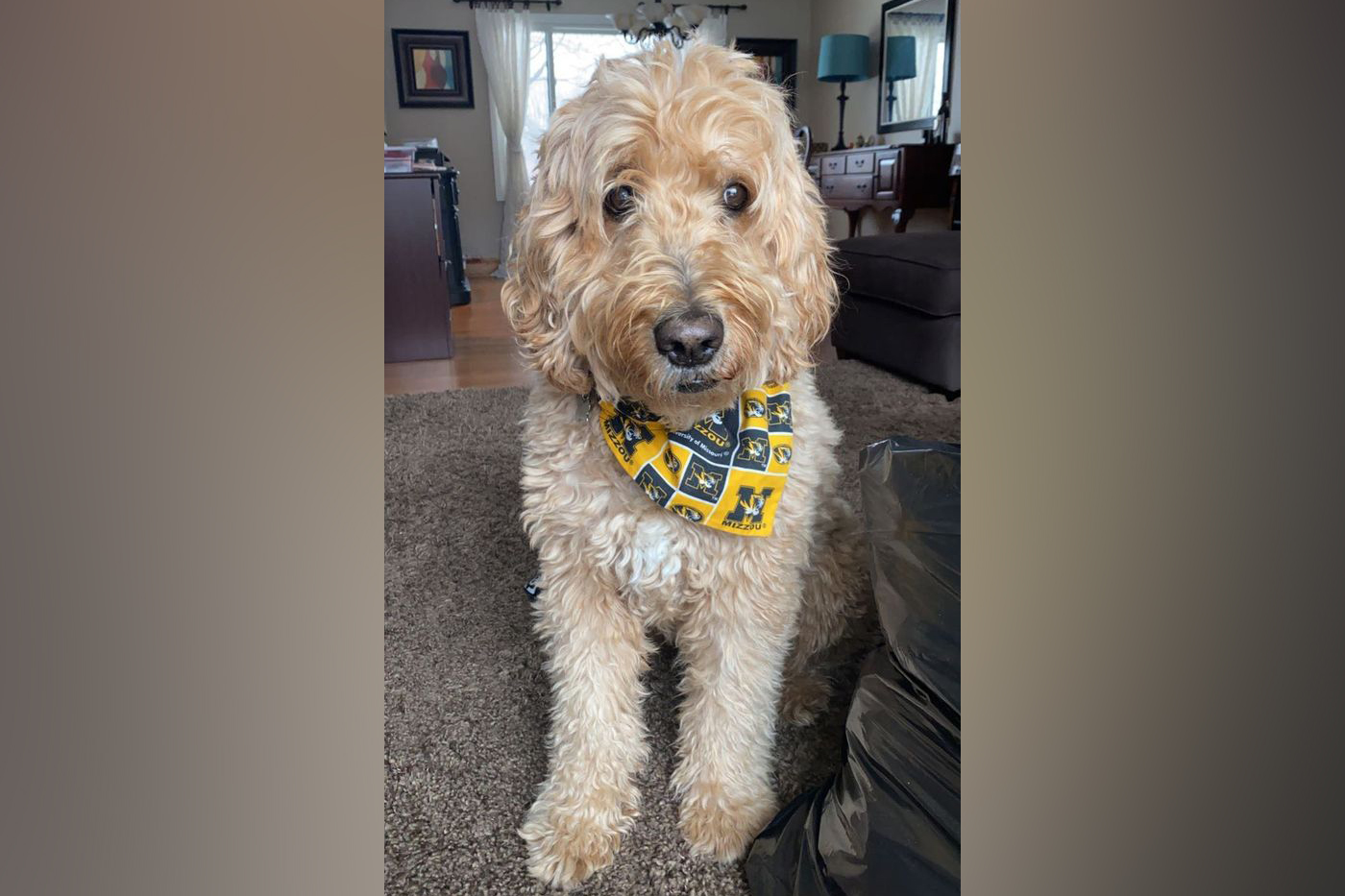 Kaner
Kaner, named after Chicago ice hockey player Patrick Kane, is an 8-year-old Goldendoodle. His owner, student Caroline Heneghan, said he's a good boy with lots of energy!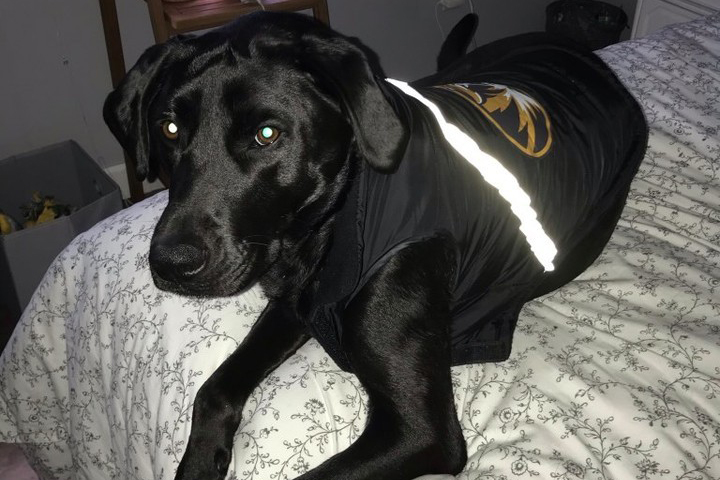 Yoshi
Yoshi is a 3-year-old black lab who loves warm weather gear — especially when it's Mizzou-branded! Despite his age, Yoshi's owner, student Madalynn Owens, says he still has a lot of puppy energy.
Little Kitty
Little Kitty is a Domestic Shorthair rescued as a kitten during an early morning run on Stadium Blvd. She likes to climb the walls (literally).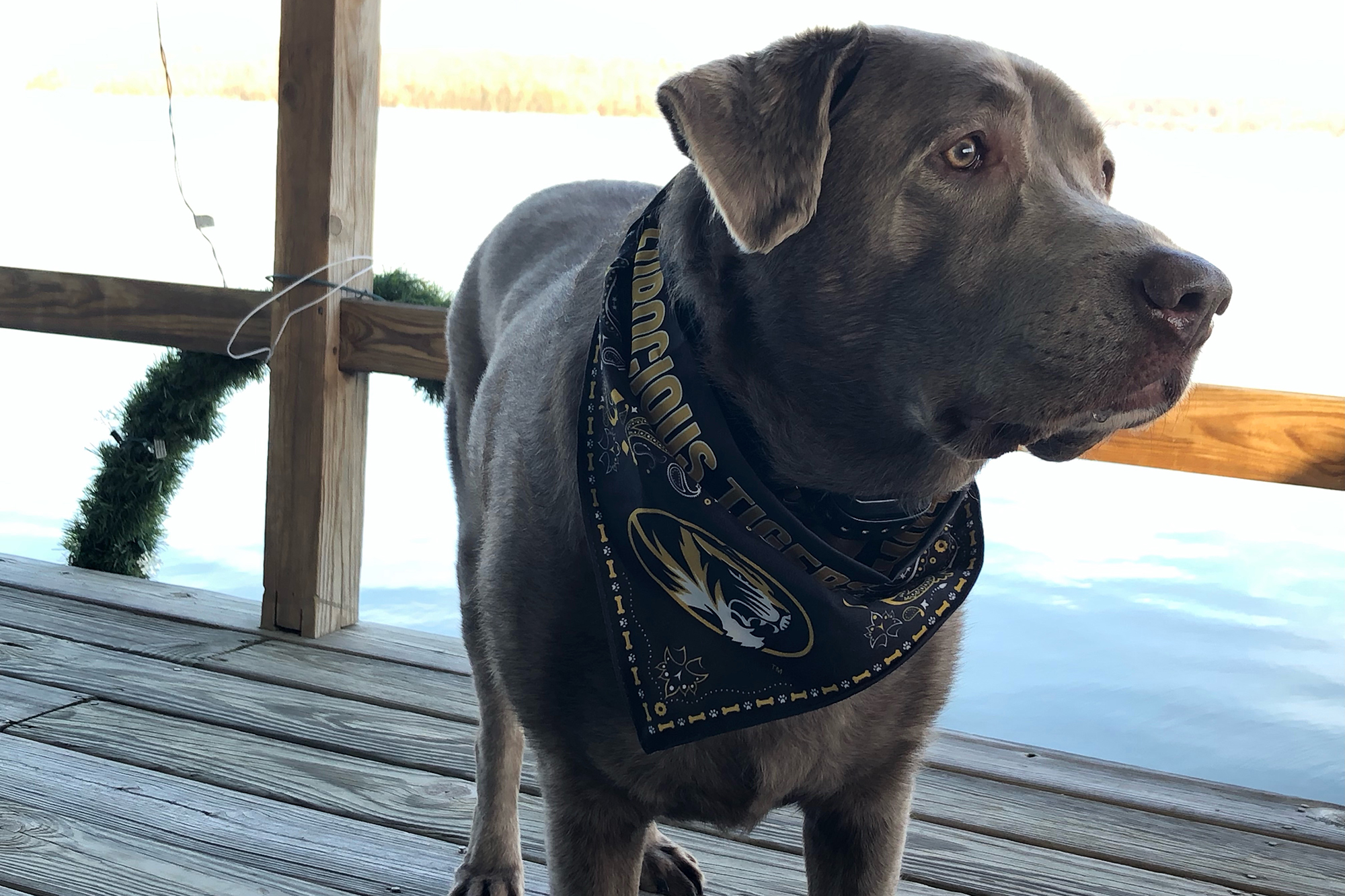 Misty
Misty is a 7-year-old silver lab with a quirky personality. She's a huge Tigers fan, and when she isn't watching the game, she's hanging around the lake catching a cool breeze. Misty belongs to student Hattie Bartlett.
Katie
Katie the black lab just turned four last week. Her favorite snack is chicken nuggets and she loves to play fetch and go on car rides.
Smokey
Smokey is a 1-year-old Blue Heeler. He loves green beans, car rides and playing in leaf piles. Fun fact: He is terrified of plastic bags.

Walker
Walker is an 11-year-old English Springer Spaniel who loves playing in the snow (he's got his paws crossed for some this weekend!). He loves playing with his blue bone toy and keeping tabs on the neighbor kids as they go to and from school.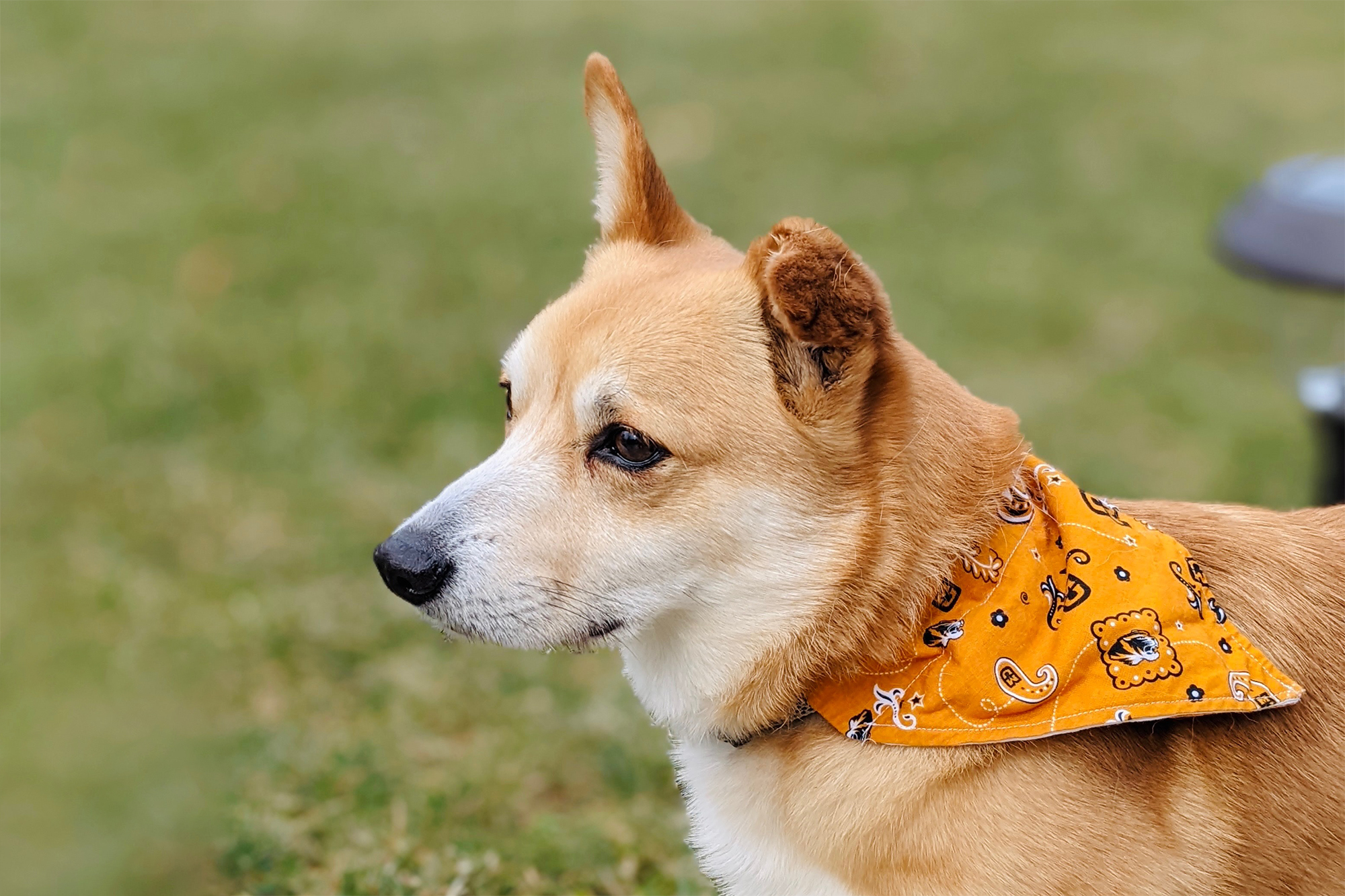 George
George is a 5-year-old Corgi whose favorite pastimes include protecting his humans' yard from squirrels and soaking up attention. His favorite place on campus is the Mizzou Marketing office.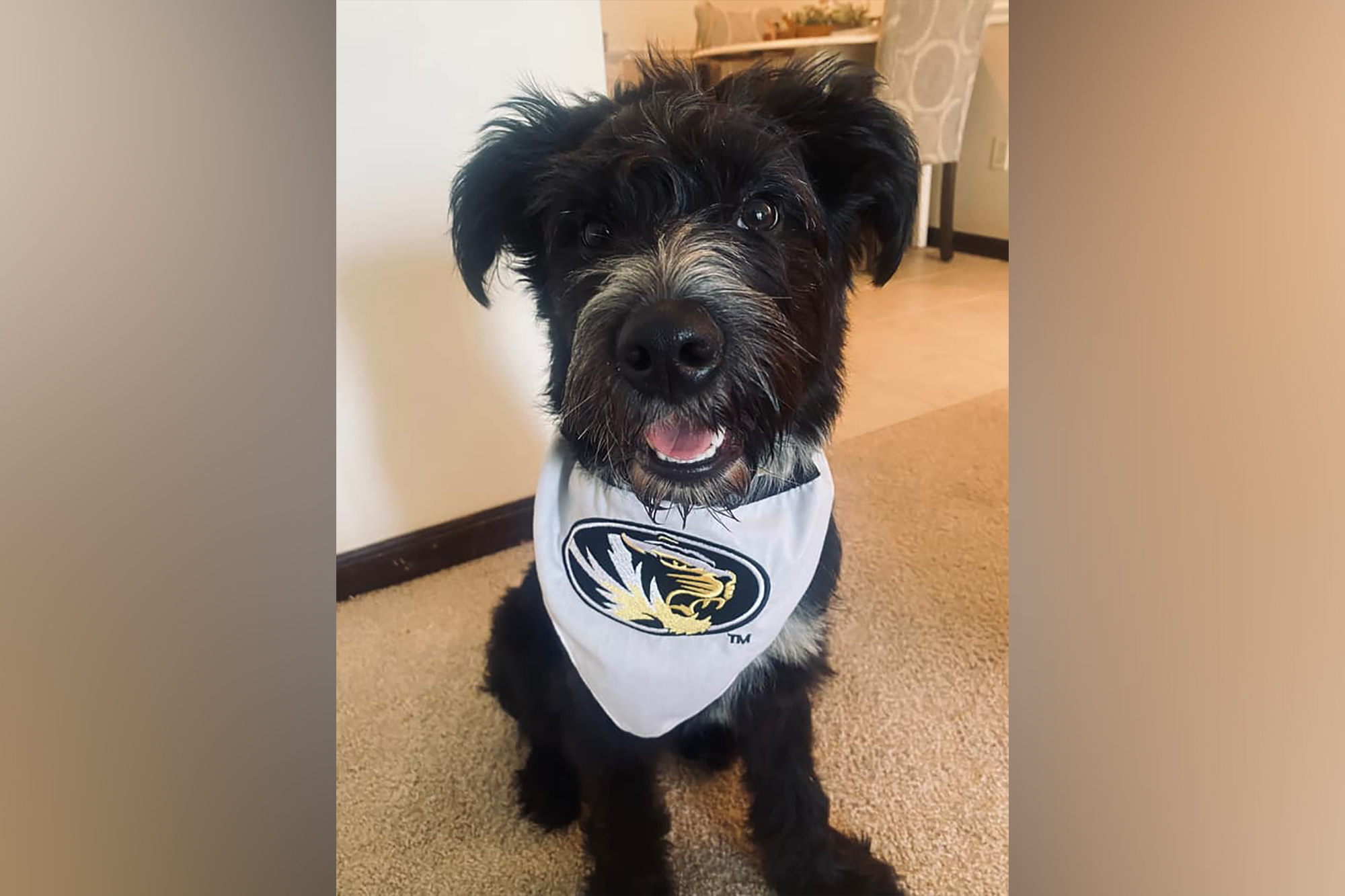 Tito
Tito is the 1-year-old pup of Missouri Orthopaedic Institute employee Lauren Dahm. He likes to dig holes and visit the dog park.
Brewski and Trixie
Brewski, left, is a 9-year-old red fox lab. Trixie, right, is a 2-year-old mixed breed. They're best friends and belong to mother-and-daughter Mizzou employees.

Koda
Koda is a 1-year-old Australian Shepherd who loves to be chased. His favorite place on campus is the Columns.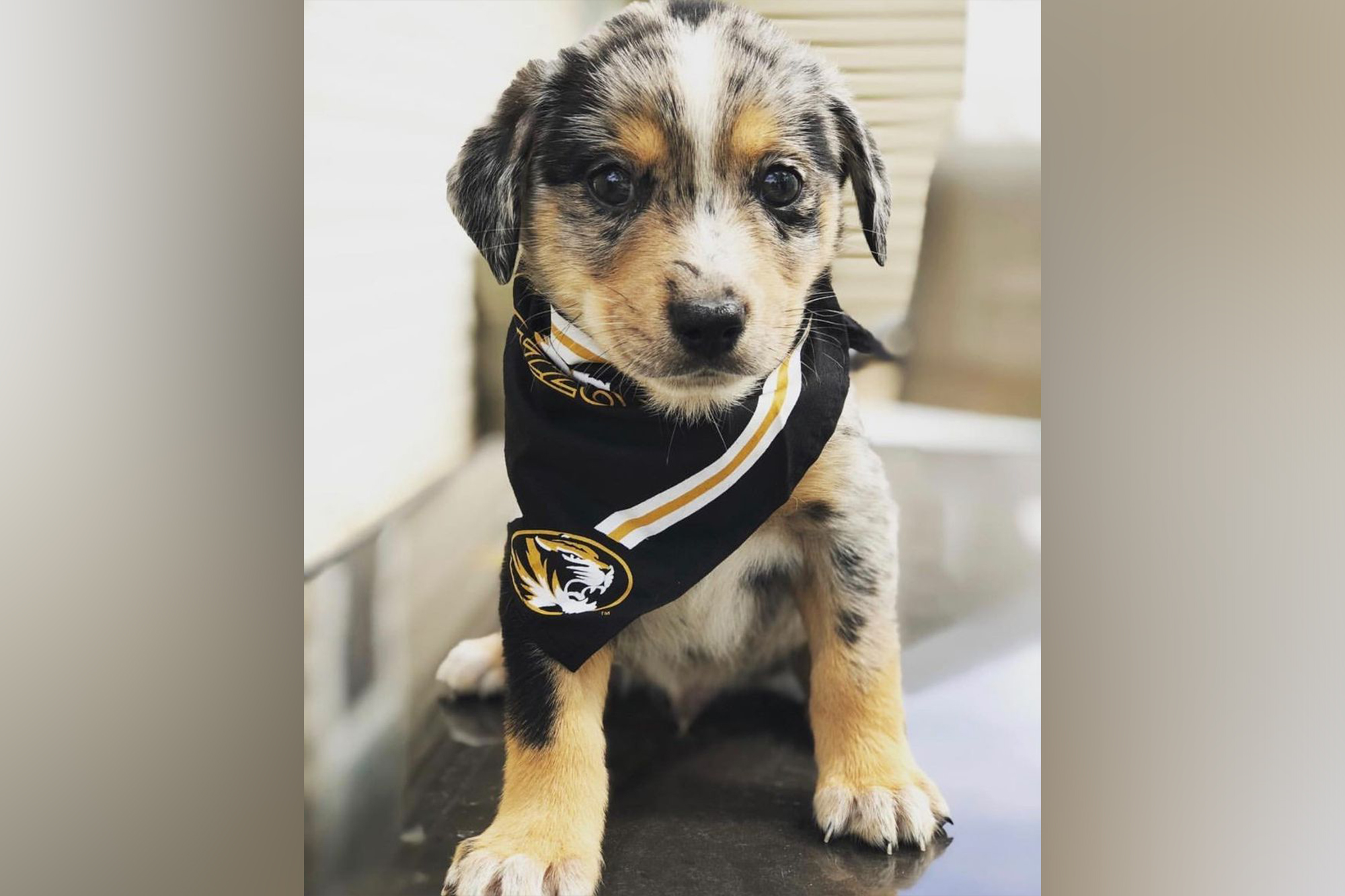 Gryffindor
Gryffindor is a baby Blue Heeler/Australian Shepherd mix who loves Mizzou as much as his all-Mizzou alumni family! His favorite hobbies are playing fetch and playing with his sister, Patti Mahomes.