Feb. 14, 2022
Contact: Deidra Ashley, ashleyde@missouri.edu
From stories about falling in love, to engagements, on-campus weddings and babies — here are some of our favorite fan-submitted Mizzou love stories.
Have a photo and story to share? DM Mizzou on Instagram.
My fiancé, James, and I got engaged on Lowry Mall in January of this year. We both went to Mizzou at the same time and had many mutual friends, yet we somehow never met (that we know of). In 2018, I saw James wearing a Mizzou jacket at a bar in Kansas City, and that sparked our initial conversation. We always joke that we "met" at Mizzou, so it is fitting that it's the place he asked me to marry him. After he proposed, passing students yelled "MIZ," and, of course, we replied with a "ZOU" through happy tears. — Noelle Kirkman
My husband, Kyle, and I met at Summer Welcome 2013. We both did our undergrad and master's at Mizzou and stayed together all six years. After we graduated with our master's degrees, we got married at the Alumni Center in July 2019. — Rebecca Leaf Brown
Mike and I first met during our sophomore year in 1989. We got married in April 1995. Our wedding was the first one ever attended by Truman! — Kim O'Bryan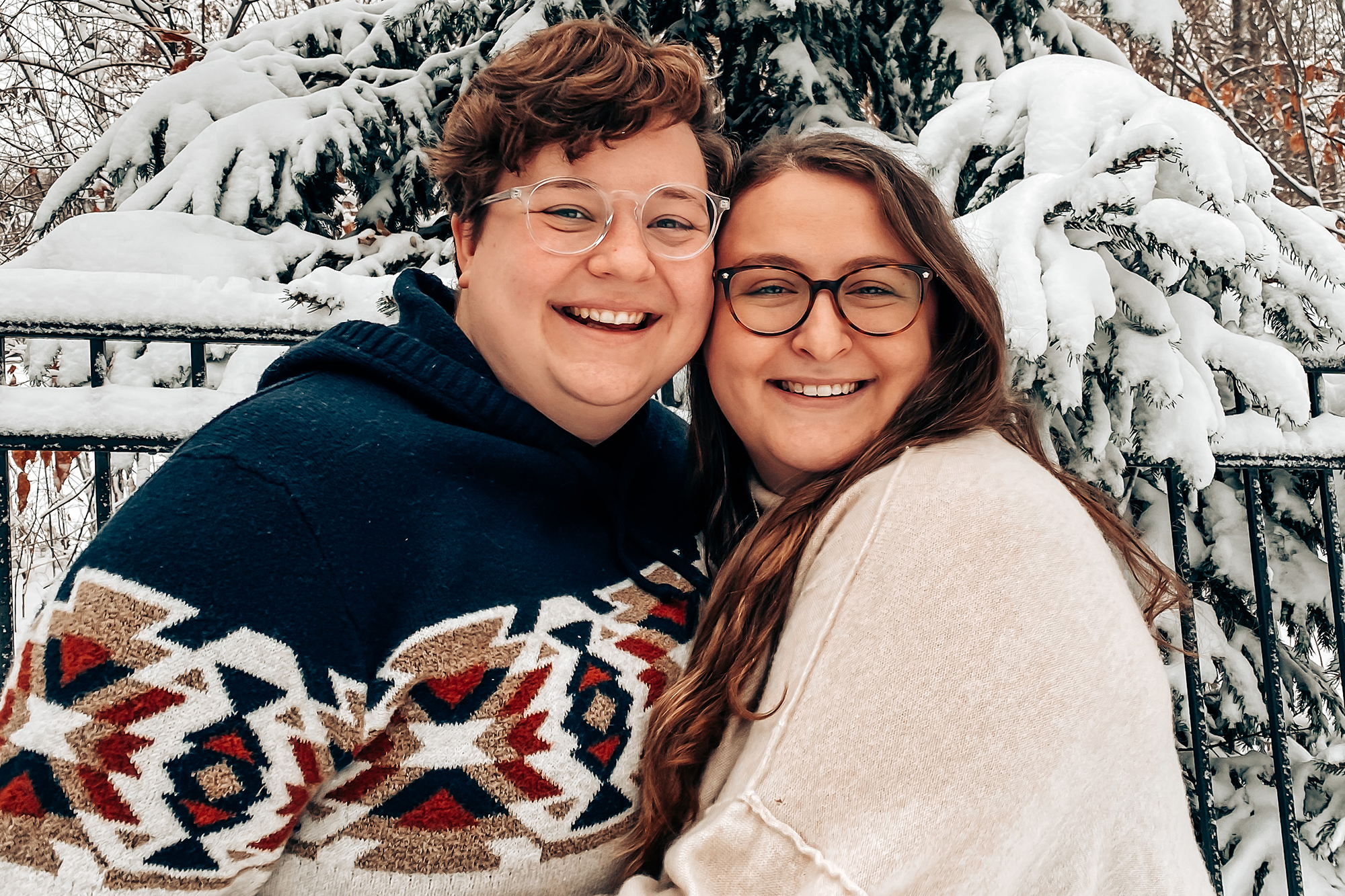 My fiancée, Lauren Roberts, and I (both class of '18) met at a Mizzou After Dark event at the beginning of our senior year. We've been together ever since. After graduation, we moved in together in Phoenix and got a dog named Brady (after Brady Commons). In December 2021, we came back to visit Columbia and Lauren proposed to me in Peace Park, a place we spent lots of time together on campus. We're getting married in November! — Garren Dulka
It was the first day of the semester in the Fall 2017. I was running up the stairs in Strickland Hall, running late for Spanish 3000. When I got to the classroom, there was an empty seat on the far side of the classroom next to this girl. I threw my bag on the ground, sat down in the desk chair, put my arms on it, and the whole desktop — wood with the metal arm that branched off the chair — snapped off. I looked over at her and said, "What do I do?!" She laughed and said "I don't know" as the professor walked in the door. She then proceeded to attempt to hold in her laughter as I was forced to take notes in my lap for the rest of class. Kathrynne and I been together almost four years now. — Gabriel Truby
Ours is a story of friendship and love. Ten years ago, we were eight international and American students who met at Mizzou. Now, we're four married couples, still very close friends, and have kids. Mizzou created love across borders! — Myriam Sage
My husband, Doug, and I, both class of 2014, got engaged at the Columns in February 2014. He was a midshipman in the Naval Reserve Officers Training Corps program, and I was studying nonfiction in the English department. Now, he's completing his service as a nuclear submarine officer, and I wrote a book about it. It all started at Mizzou! The best part is we now have a tiny Tiger of our own! — Samantha Otto Brown
My husband, John Austin Miles, and I met as freshmen at Mizzou and campus will always have a special place in our hearts. He was a Mizzou baseball pitcher, and I was a Golden Girl from 2011-2015. Five years after graduation, he proposed on the Quad. We got married in Columbia last summer! — Taryn Miles
I met Kathy in October 1977 at a dorm Halloween dance. We started dating a week later. We got engaged during our junior year and were married exactly two weeks after graduation in 1980. Kathy passed away three years ago, but I'll forever treasure our 41 years together. Mizzou is the constant in our life together, even to this day (I've retired to CoMo and built our retirement dream home). — Jeff Cook
I proposed to my wife, Becky, during 2018 Homecoming on Traditions Plaza. I surprised her by purchasing a brick in Legacy Circle with both of our names transcribed, the year we graduated Mizzou and the name of the dorm where we first met during our freshman year. Following the proposal, more surprises were in store for her including an engagement tailgate with our close Mizzou friends and family. I can't think of a better place to get engaged than the place where it all began — Mizzou! — Ron Frazier
Patrick and I met in 1988. I lived in Graham Hall, and he lived in Defoe Hall. We got engaged in March of 1989 and were married July 3, 1991, at A.P. Green Chapel on campus. Our daughter Kendall graduated in May with a health sciences degree and is currently pursuing a second degree in nursing. — Stephanie Blair O'Keefe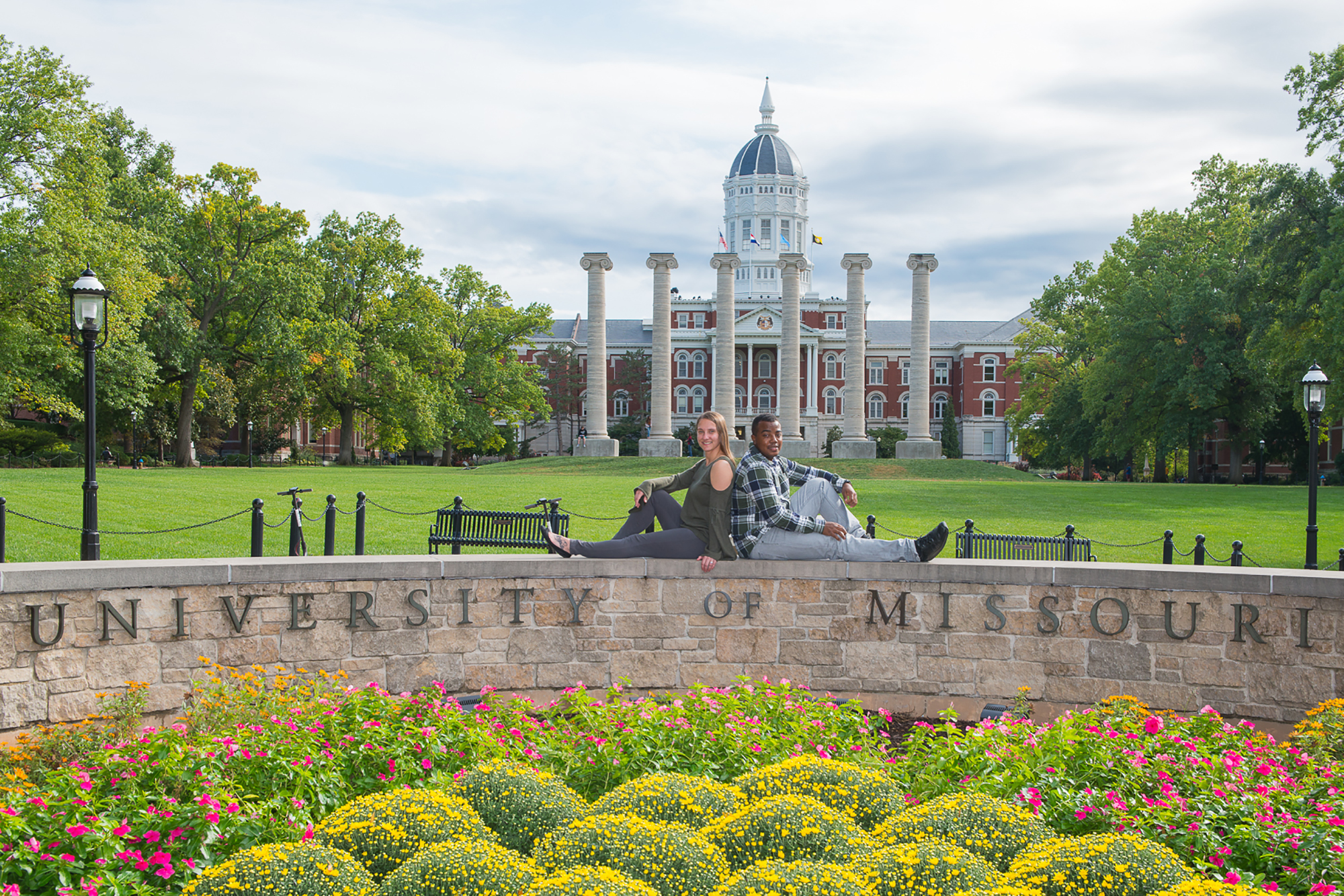 Travis and I met while working at Baja Grill. We both lived in Schurz Hall in 2012-2013. He was on the sixth floor, and I was on the fifth. We kept passing each other in the elevator going to and from work and class. Our Baja friends helped get us together, and the rest is history. We got married in 2019 and just had our first baby! — Alex Harris
In 1988 as a sophomore, I (class of 1991) met my wife Anne Kammerer Bono (class of 1992) in the Rollins Group. I lived in Hudson Hall, and a friend from my freshman year had a girlfriend who lived in Gillette Hall. Since her roommate didn't know anyone, she brought her roommate over to hang out with us. Of course, this new roommate turned out to be my future wife and the love of my life. Even though we grew up and lived only five minutes away from each other in the St Louis area, it took Mizzou to bring us together. After my Navy career, we settled in Florida. Our two kids both chose Mizzou as their first-choice school. Anne and I have often spoken about moving back to Columbia after retirement. It is a place that has been, and continues to be, an important part of our past, present and hopefully our future. — Frank Bono
My husband, Cole, and I met while working together at the MizzouRec. We both graduated in 2016, and I stayed two more years to complete my master's of public administration at Mizzou. We got engaged on Homecoming weekend 2018 outside of the MizzouRec. After postponing our wedding in 2020, we got married in August of 2021 — surrounded by our Mizzou friends.