Aug. 23, 2022
Contact: Uriah Orland, 573-882-6212, uriah.orland@missouri.edu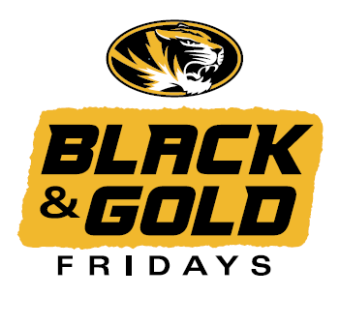 The University of Missouri is bubbling with the excitement of a new school year, and now it's time for Tiger fans to show their Tiger spirit.
Black and gold bleeds from Tigers, past, present and future, and the Mizzou community is encouraged again this year to "Stripe the State" with the school's colors each week to prepare for when the Tigers compete on the football field.
Participation is easy — just put on some black and gold on Fridays and show support for the more than 550 MU student athletes. No matter where you live, show your pride and share the look on social media using #StripeTheState and #MIZ. (Bonus points for pets!)
The tradition continues Friday, Aug. 26, just in time for the home opener football game Sept. 1. In fact, during the week of the home opener, Mizzou will wear black and gold both Thursday, Sept. 1, for the game and Friday, Sept. 2, for National College Colors Day.
"Tigers fans across the state and country answered our call-to-action last fall- striping the state with Black and Gold each Friday of football season," Director of Athletics Desireé Reed-Francois said. "We are looking forward to seeing Black and Gold Fridays continue to grow this year as we welcome our fans home to Columbia for events throughout the season."
Athletics programs are just one of many pride points across MU. From the world-renowned academic programs to cutting-edge research to the long-held homecoming traditions, there are countless attributes of Mizzou that are worth celebrating.
"Here at Mizzou, we strive for the excellence that comes with being a Tiger," said Mun Choi, University of Missouri president. "Wearing black and gold statewide reminds us all of that shared bond. No matter our backgrounds."
Need to refresh your Mizzou spirit wear? No problem! The Mizzou Store, located at the MU Student Center, will offer 25% off purchases of Mizzou clothing and gifts on Black and Gold Fridays that precede home football games. For the Thursday, Sept. 1, game, the Mizzou Store's 25% discount on Mizzou spirit wear will be Wednesday, Aug. 31.