May 2, 2022
Finals week at the University of Missouri is May 9–13. With finals comes studying … lots of studying. You might as well choose one of the best places on campus to get your last grind in before summer break, right? Here are some of our favorite places to study on campus: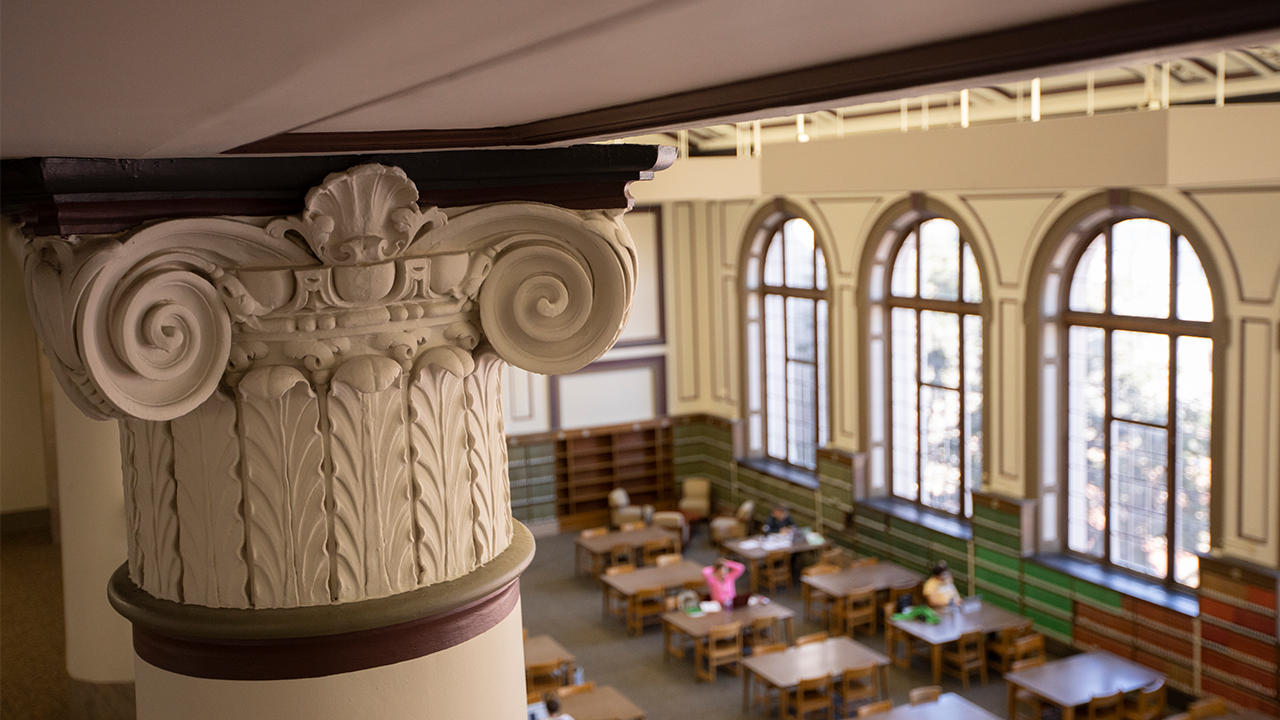 Ellis Library
Whether you're looking for a place to study with friends — or seeking some peace and quiet — Ellis Library is just the place for your late-night study session. Take advantage of the quiet atmosphere of the Nook (located in the fourth stacks) or go downstairs and grab a beverage with friends at the Bookmark Café on the lower level.
"I like to study in Ellis Library, because it's extremely quiet and there's a lot of space." – Kent Waller, freshman political science student from Aurora, Illinois
"I like it because it's quiet. The bookshelves make me feel like I'm in my own space, and I feel ready to do my work." – Lecie Pagel, freshman business student from St. Louis, Missouri
Bonus tip: See all the study spaces in Ellis Library here.
Finals week hours: Open 24 hours per day.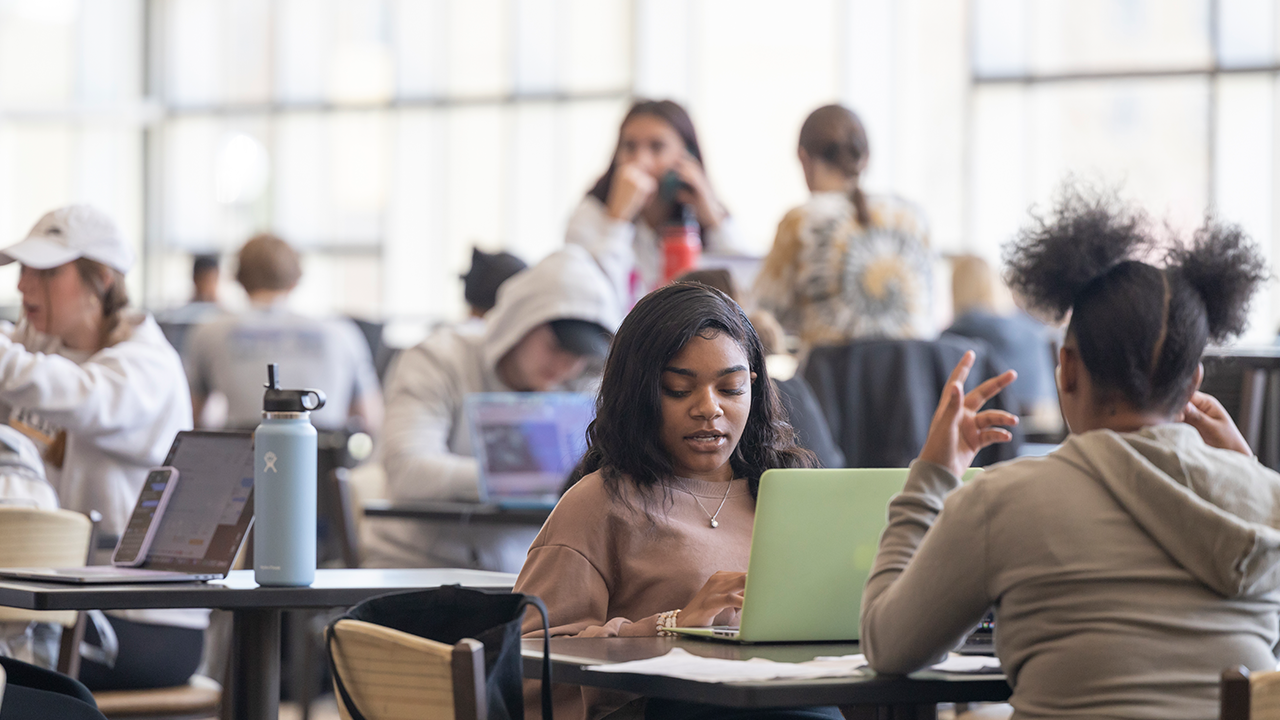 Student Center
With convenient access to food, smoothies and coffee, the Student Center is the ultimate study space. The main floor provides quick access to any break-time desires and offers ample space for those studying in groups or with friends.
"I like coming to the Student Center because I like the energy here and there's other folks around studying as well." – Bini Sebastian, sixth-year PhD student studying counseling psychology from Dallas, Texas
"I enjoy studying at the Student Center because it's close to campus and allows me a resource to be able to get work done." – Darius Robinson, a junior hospitality management student from Southfield, Michigan
Bonus tip: Click here to reserve a study room at the Student Center.
Finals week hours: Weekdays from 7 a.m. to 10:30 p.m.; Friday from 7 a.m. to 6 p.m.; Saturday and Sunday from 9 a.m. to 6 p.m.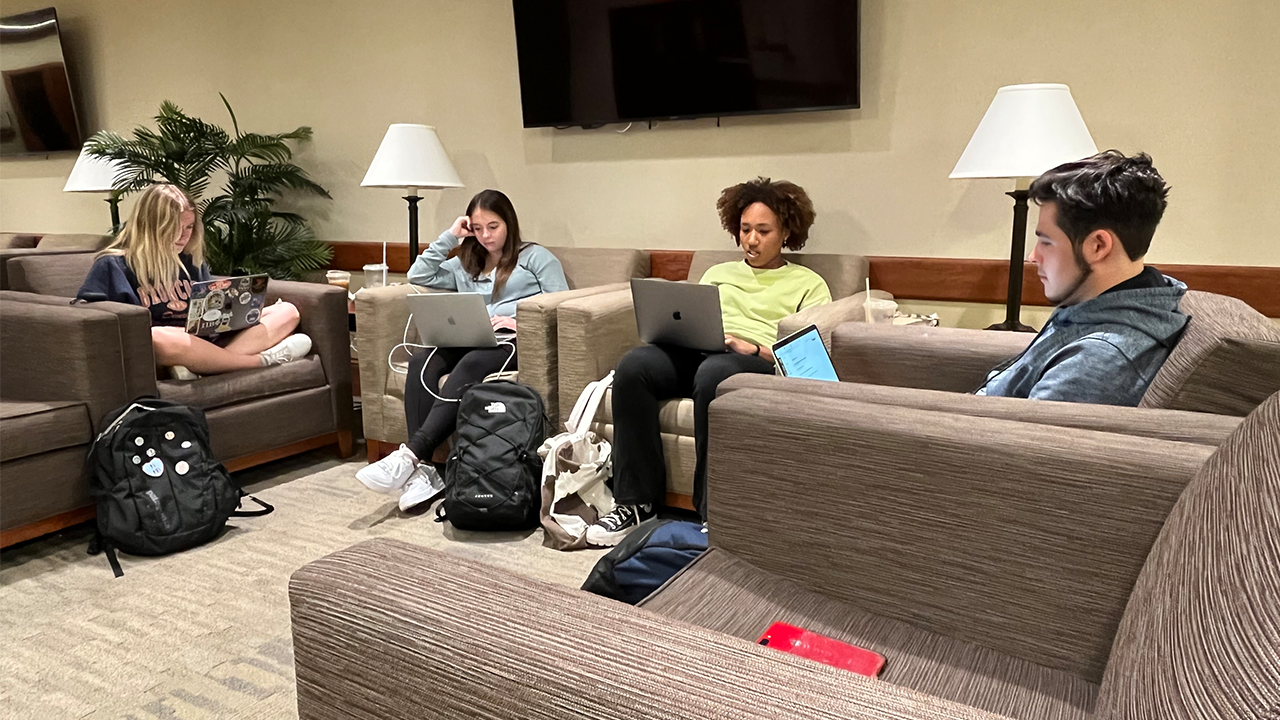 Memorial Union
Are you looking for some hidden study spaces with comfy chairs, coffee and food? Memorial Union is the perfect place for you. Both the north and south wings provide plenty of areas for students to spread out and study, including the Bengal Lair, Tower Lounge, Hawthorn Lounge and more.
"I really like studying at Memorial Union, because it's a very fun atmosphere. I feel like you can talk a little bit with your friends, but also focus on getting stuff done." – Zoe Malik, freshman anthropology student from St. Louis, Missouri
Bonus tip: Click here to reserve a room in any of the Student Unions.
Finals week hours: Monday through Thursday from 7 a.m. to 10 p.m.; Friday from 7 a.m. to 6 p.m.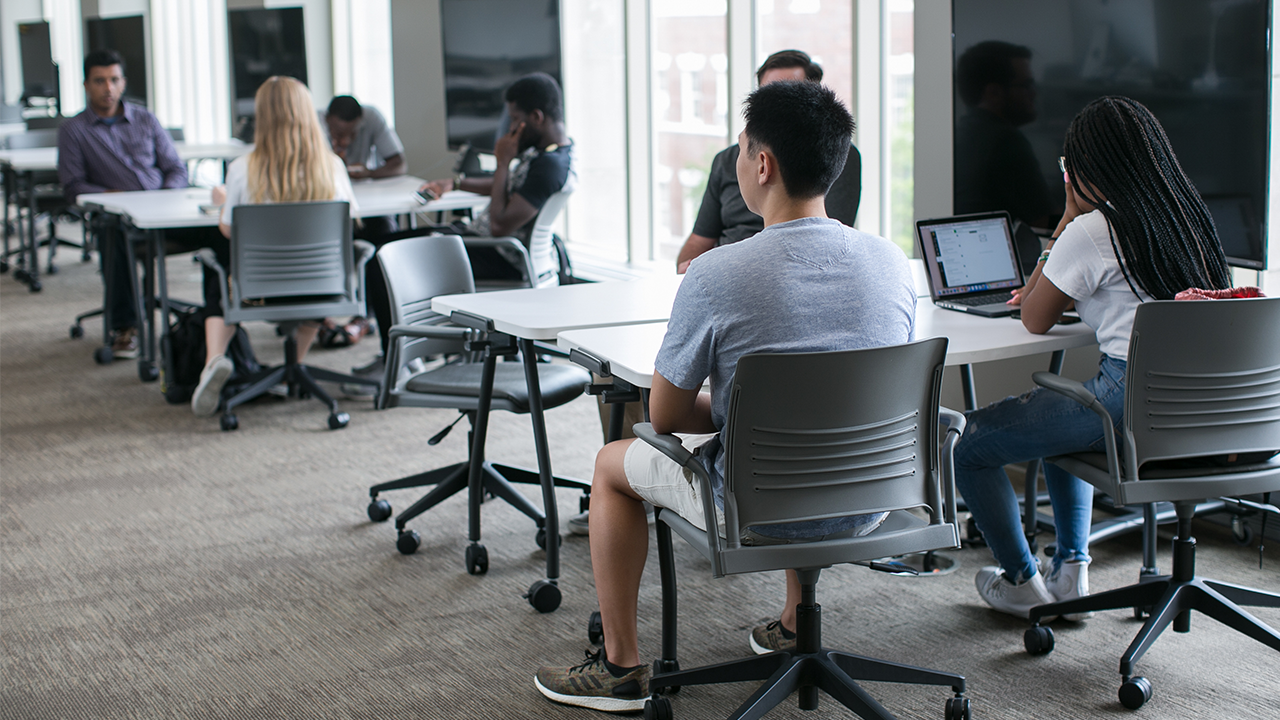 Lafferre Hall
You don't have to be an engineering student to take advantage of this stellar study space. With plenty of study rooms, large Mac desktop computers and open, industrial architecture, it's easy to make the most of your study time. You can even take advantage of food and snacks at Potential Energy Café.
"When I study, I always have stuff everywhere. Lafferre has a lot of open study spaces with room for all that stuff. We also have a coffee shop here, and I live off caffeine, so that's another plus." – Natalie Barber, junior industrial engineering student from Kansas City, Missouri
Bonus tip: It's easy to get lost in Lafferre Hall, but these maps can help you get around.
Finals week hours: 8 a.m. to 9 p.m. Monday through Thursday; 8 a.m. to 5 p.m. Friday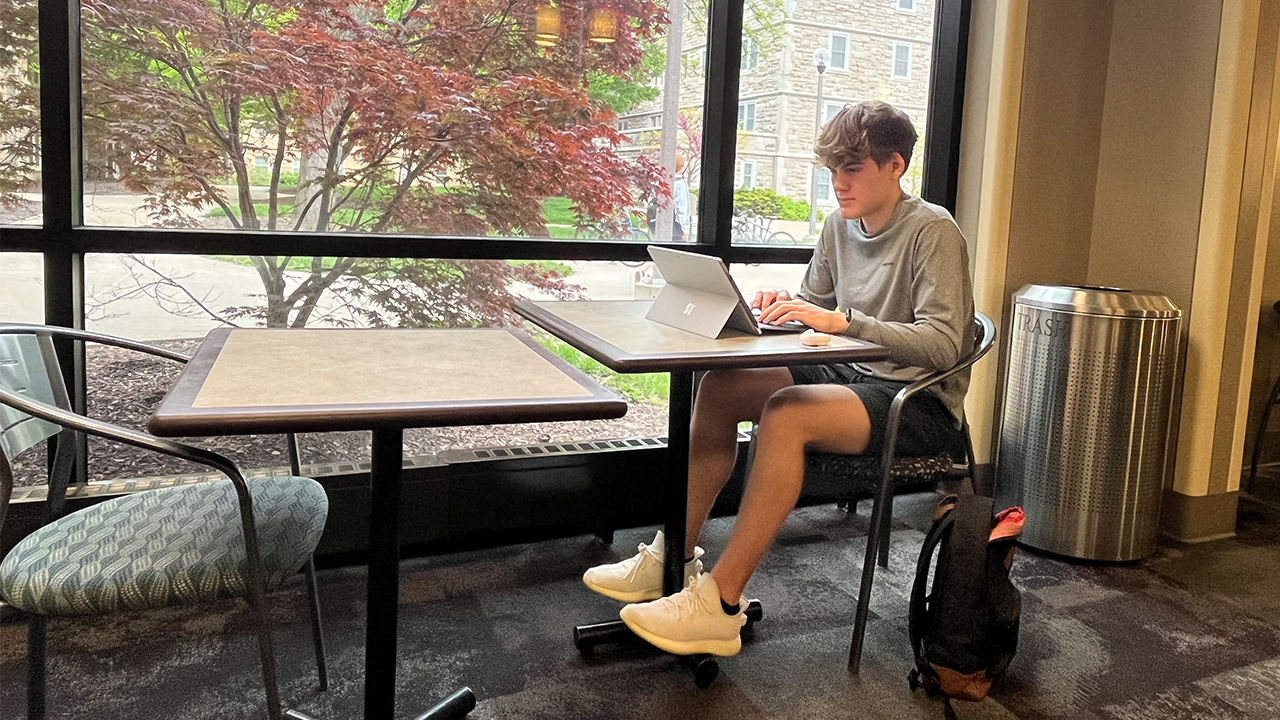 Mizzou Market — Hitt Street
Mizzou Market — Hitt Street is the perfect fit for students who want a quick alternative to studying in their rooms or want a place to work closer to their residence halls. With the Mizzou Market, Subway, extensive study spaces, computer labs and charging areas throughout the building, it's the perfect spot to study on your own or in a group.
"I like coming to study at Hitt Street because it's quiet in the morning and there's not many people here." – Matt Ahearn, freshman fisheries and wildlife sciences student from Chicago, Illinois
Finals week hours: 7:30 a.m. to 11 p.m.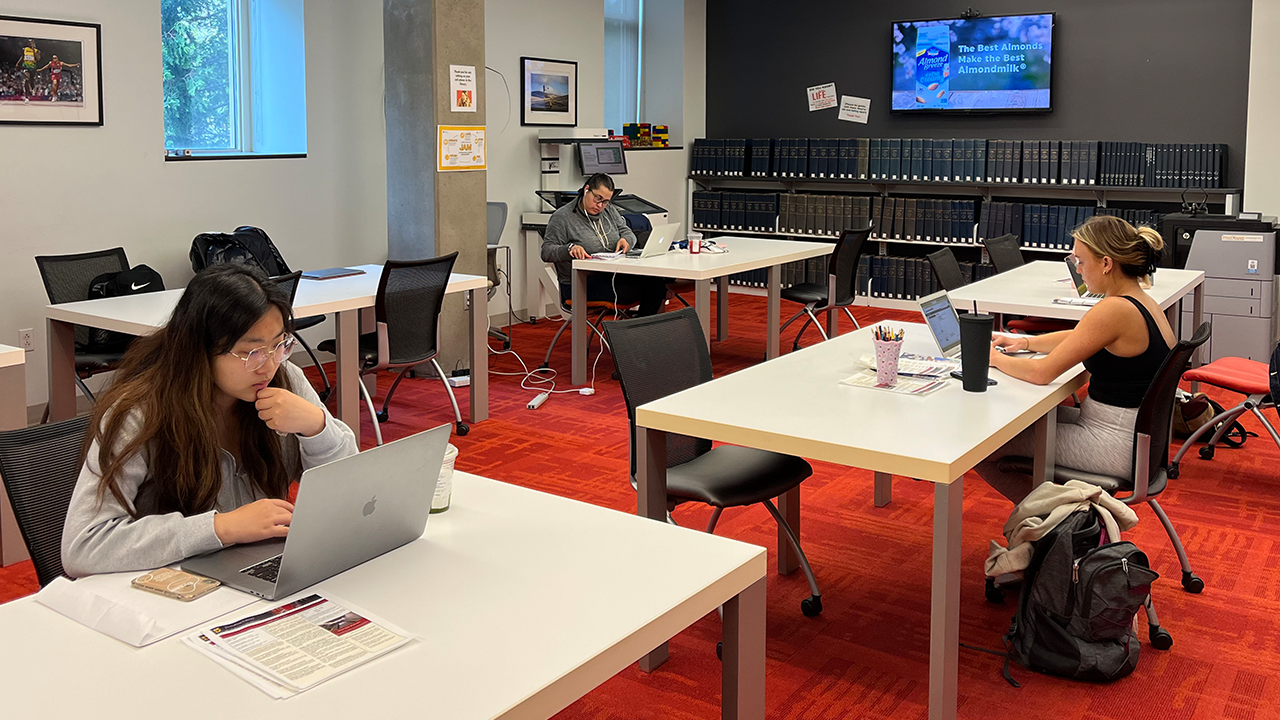 Frank Lee Martin Journalism Library
With a sleek, modern, red-and-white interior, along with Macs equipped with Adobe Creative Suite, the J-School library is an inspiring place to polish up a final project (or even your resume for that post-grad job search).
"I often come to this library to study because I think it's very quiet place, and I feel very productive here. There's also good journalistic energy here." – Valeryia Zakharyk, a first-year documentary journalism graduate student from Minsk, Belarus
Finals week hours: 8 a.m. to 8 p.m. Monday through Thursday; 8 a.m. to 5 p.m. Friday
Bonus tip: Reserve a group study room here (at the bottom of the page).