Sept. 19, 2022
Contact: Marcus Wilkins, wilkinsm@missouri.edu
Leonardo da Vinci is quoted as saying "the artist sees what others only catch a glimpse of." Throughout the University of Missouri, such glimpses of artistry bring life to academic buildings, administrative offices, arenas, auditoriums and lounge areas.
In this series, the Show Me Mizzou team will explore some of these gems and shed light on their background and history. Scroll on to view the first installment of "Art beat," and feel free to send suggestions for future galleries to: digitalpubs@missouri.edu.
Note: Most of the featured items are in public spaces, although some might be in private offices or areas with limited access. Please be respectful when viewing in person.


Wisdom's Puzzle
Artist: Lloyd G. Schermer
Year: 2006
Medium: Antique wood and metal typeface
Location: Reynolds Alumni Center, DonRey Media Room 211
The Donald W. Reynolds Foundation commissioned this piece from Lloyd G. Schermer, a St. Louis native whose work also appears at the Smithsonian American Art Museum. The 600-pound, 4-by-10-foot assemblage features an assortment of typefaces used to print newspapers, along with inserts of the mastheads of various DonRey publications. The artwork hung in the lobby of the DonRey Foundation in Las Vegas until the building was sold. It was donated by the Reynolds Foundation to MU (through the Journalism School) in 2015.

River walls
Medium: Reclaimed wood
Location: Patient-Centered Care Learning Center
When the Patient-Centered Care Learning Center was imagined, there was a desire for the structure to be environmentally friendly and pay homage to the state of Missouri. Adorning each floor of the facility, these decorative walls are made of reclaimed wood, etched with carvings of Missouri rivers: the Mississippi, Missouri, Osage, Current and James. The wood was salvaged from mid-Missouri barns, a wagon factory in Knox City, a shoe factory in Palmyra and a general store in Hannibal.

Jade tiger
Medium: Carved jade
Location: Reynolds Alumni Center, second floor display case
The family of Missouri Sen. Roy D. Miller donated this Chinese jade tiger to the Mizzou Alumni Association in 2002 in his honor. Miller was instrumental in the establishment of several academic programs at the University of Missouri during his time in the state Senate.
The University of Missouri Triptych
Artist: David Spear, MFA '12
Year: 2008
Medium: Oil on canvas
Location: Memorial Union, north first-floor lounge
Commissioned by the Missouri Student Unions, local artist David Spear captured details for the three-part painting using more than 200 aerial photos for reference. The project took about two months to complete, and Spear used actual Mizzou students as the models for subjects featured in the Memorial Union piece. "I took photos of about 50–70 people to use as reference," Spear said. "The painting is meant to illustrate diversity of the university."

Joy of Discovery
Artist: Kenneth Frederick vonRoenn Jr.
Year: 2008
Medium: Aluminum and acrylic
Location: Bond Life Sciences Center atrium
Four stories tall and featuring images of research taking place within the center, this work is meant "to embody the enthusiastic, self-perpetuating joy of discovery woven into the fabric of MU's Life Sciences Center," Kenneth Frederick vonRoenn Jr. said. The spirals between the circles support discs of microscopic imagery, and the double helix represents DNA, fundamental to all life-science research. The work was made possible by a donation from Al McQuinn, a Mizzou alumnus, and wife Mary Agnes McQuinn.

Picasso Dreams
Artist: Robert Vickrey
Year: 2010
Medium: Egg tempera, gesso panel
Location: Trulaske College of Business dean's office
Donated anonymously through the efforts of Sam and June Hamra (both Mizzou alumni) and
Harmon-Meek Gallery in Naples, Florida, this piece almost always elicits an opinion from observers. Artist Robert Vickery's work is known for "transforming outmoded social and cultural symbols into forms that menace the individual."

Indigenous mural
Artist: Yatika Starr Fields
Year: 2020
Medium: Spray paint, acrylic paint and exterior latex paint on canvas
Location: MU Student Center
Painted in honor of Mizzou's indigenous population and its student group Four Directions, this mural captures the kaleidoscopic colors and movement the artist remembers as a child witnessing Native American dance. The piece also features a gold circle representing the four directions, a metaphysical and elemental symbol in the culture. "Art for me is like tying my shoe," said artist Yatika Starr Fields. "It is something that is effortless, but it is something that I've gotten to know over repetition."

Dogwood tiger
Artist: Chris Morrey, MFA '09
Year: 2012
Medium: Silicone and bronze
Location: MU Student Center
Designed to embody the Mizzou community, this fireplace-crowning sculpture blends the delicate blossoms of Missouri's state tree with the strength of MU's iconic and powerful mascot. The outstretched paw symbolizes Mizzou's ever-growing reach in the global community.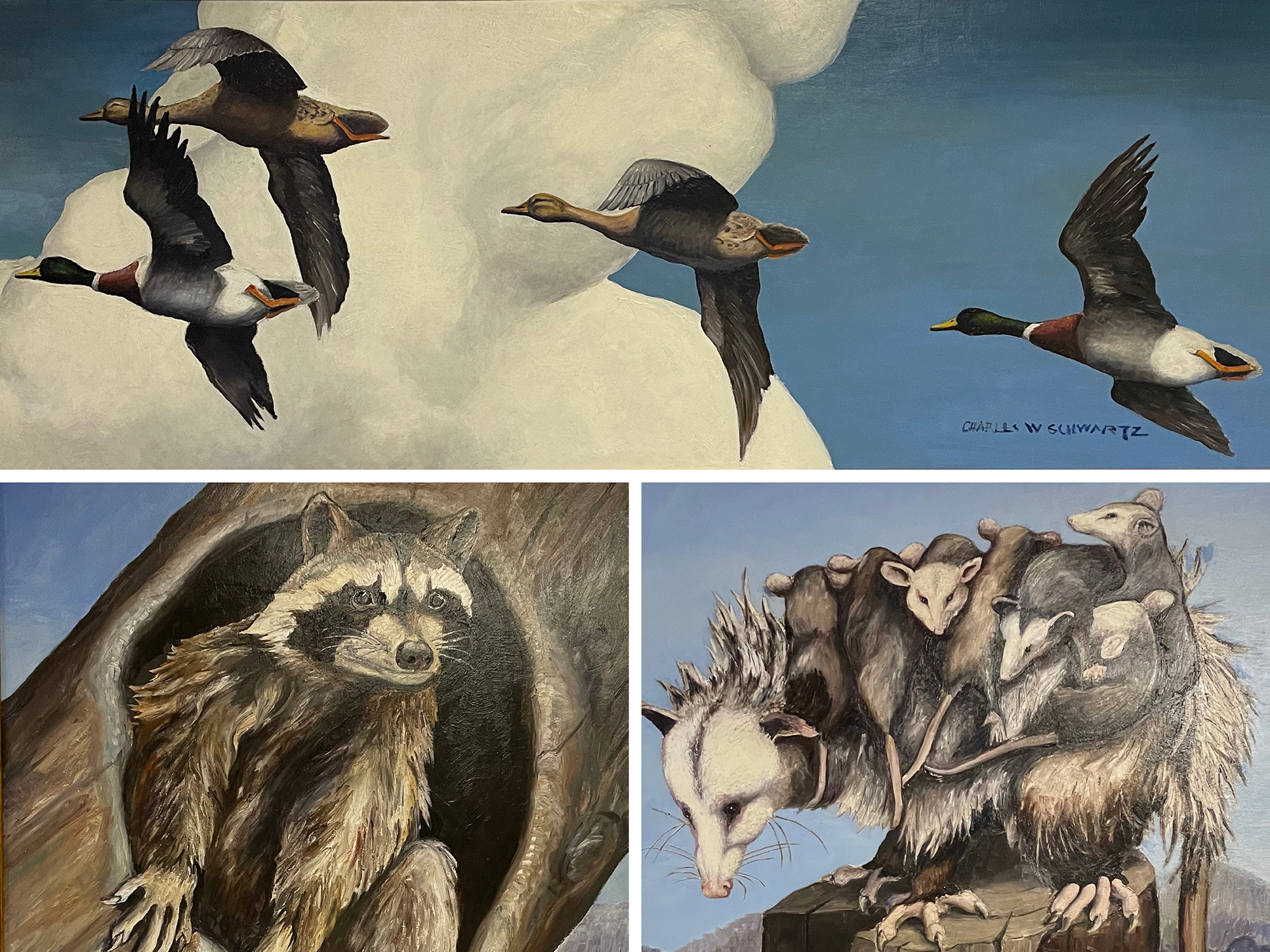 Wildlife series
Artist: Charles Schwartz, BA '38
Year: Circa 1934
Medium: Oil and canvas
Location: Lefevre Hall
The late artist Charles Schwartz was encouraged by MU zoology professor W.C. Curtis to create this series depicting Missouri wildlife: a female opossum with young, a racoon in its den and two panels of mallard ducks in flight. "He arranged that I could find a time by signing up for a special study class that carried two hours credit," Schwartz wrote in a 1989 letter to the zoology department. "It helped me explore the field of wildlife art that I was to incorporate into my career as a biologist for the rest of my life."