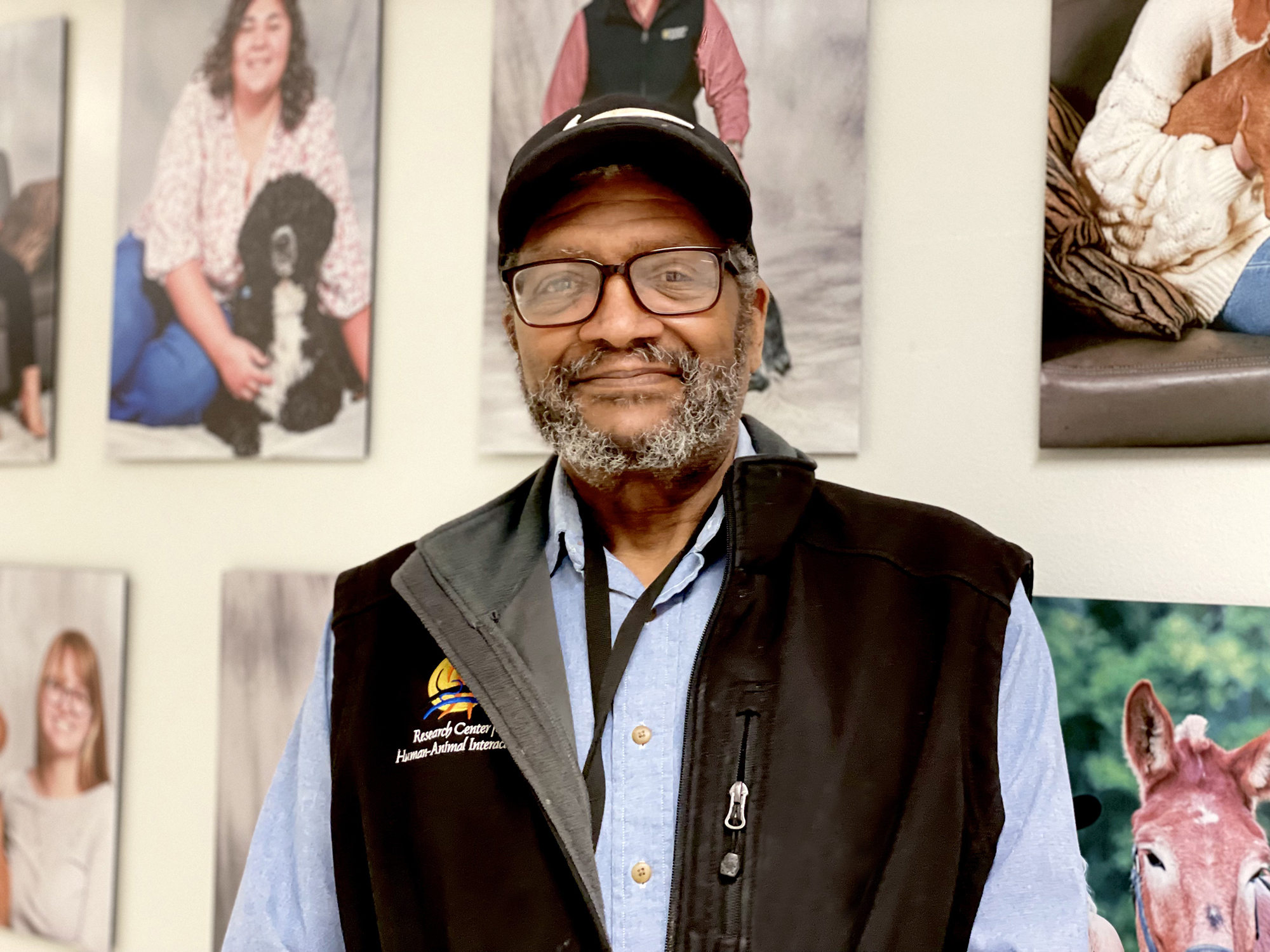 March 16, 2022
Contact: Marcus Wilkins, wilkinsm@missouri.edu
For as long as he can remember, Don Connor has been doodling.
As a child, he constantly transformed paper scraps into tiny worlds. Margins of newspapers became impromptu comics, and embellished napkins sprang to graphite-gray life. Once, when he was nine and feeling inspired, Connor sketched his snoozing baby brother — a rendition that might have been the genesis of a half-century career in visual art.
"My mother always said she knew I was going to be an artist after she saw that portrait," Connor said. "She loved it, and to this day I wish I still had that drawing."
Connor is a multimedia specialist at the College of Veterinary Medicine — and the University of Missouri's longest-serving staff member, with 54 years of service. The jack-of-all-trades has illustrated books, brochures and every manner of visual presentation. He has shot video, snapped photos and designed graphics for countless veterinary researchers and colleagues through the years.
"I have seen a lot of students and administrators come through these doors in my time," Connor said. "And the buildings — wow! Campus has completely transformed."
Drawing on his talents
Connor's Mizzou career began at age 21 as an orderly at University Hospital, where he helped patients in and out of wheelchairs for physical therapy treatments. On the side, Connor occasionally volunteered his drawing skills to illustrate flyers that advertised hospital events. One fateful day, an admirer of his work asked if he would consider a job change.
"I would draw little caricatures for elevator signs, and one day, a co-worker asked, 'How would you like to get paid for that, Don?'" Connor said. "I had taken some art classes at Lincoln University, and they had tried to steer me toward art education — but in my heart I knew I wanted to be an artist."
Connor seized that opportunity in 1972 at the College of Veterinary Medicine. He started as an assistant on a documentary film about miniature swine and went on to create technical drawings for then-professor Joseph Borjab's texts on small-animal surgery. Another one of Connor's early assignments included a particularly graphic illustration of bovine reproductive anatomy — a request the researcher humorously prefaced with, "Don, have you had breakfast yet?"
Connor started many of his illustrations from scratch, but professors would occasionally provide him with stick-figure thumbnail sketches for guidance. One particular colleague was so impressed with Connor's ability to create spontaneous art that it turned into a daily ritual.
"She would make a mark on a piece of paper every morning, and I would look at it for a while and then turn it into something," Connor said. "She was always so complimentary, but creating something out of nothing is just how I am. Even when I'm doing a crossword puzzle, I'm usually drawing something on the side."
These days, Connor creates photo composites of incoming and graduating students, as well as faculty and staff, and assists with research posters — among other duties.
"After all these years, he still likes to learn and to try new things," said Tracey Berry, director of strategic communications for the College of Veterinary Medicine and Connor's supervisor. "He has taught himself photography, Photoshop, InDesign and Illustrator. The students and faculty go directly to him for help, and he's always upbeat. He never has a bad word about anyone."
Columbia life
In his time at MU, Connor has seen 10 chancellors come through Jesse Hall. Enrollment has risen from 20,113 in 1968 to 31,412 in 2022, and aside from Francis Quadrangle and Memorial Union, the campus skyline has been practically redrawn.
At 75, Connor has witnessed all the changes in Columbia, too. His Jefferson Junior High School class was among the first in the area to racially integrate. Interstate 70 opened, the city has expanded in every direction and downtown CoMo has flourished.
Connor has also lost several family members — most recently his wife in 2019 — but grief has only strengthened his bond with the "little family" and his home away from home at the College of Veterinary Medicine.
As for his career longevity, Connor credits the variety of work with his five-plus decades of job satisfaction.
"I never know what they are going to ask me to do next, and it has never been boring," Connor said. "At the beginning, I thought, 'I'll just stick with this a little while.' Well, a little while turned into 50 years."