Psychiatric program helps 5-year-old get the help she needs
The Missouri Child Psychiatry Access Project is helping Juniper Phillips connect with resources to overcome her anxiety disorder.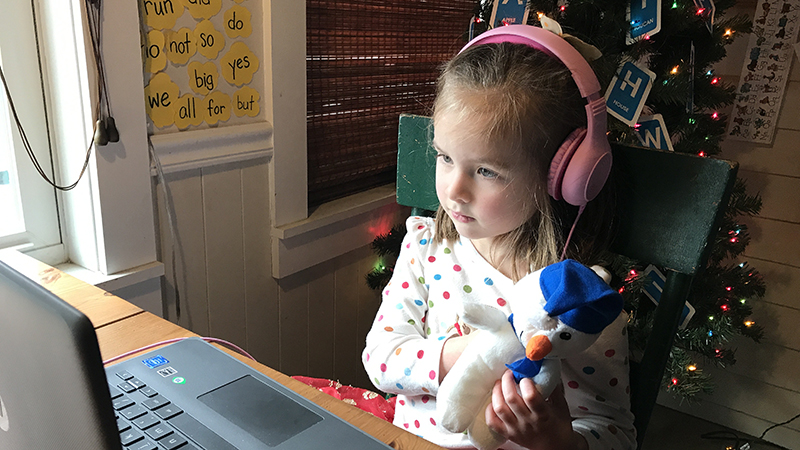 Feb. 26, 2021
Juniper Phillips is a 5-year-old girl who loves to draw, color and write books about her stuffed animals with her brother Jack. The youngest of three, she fills her St. Louis home with laughter and fun.
But when she would meet people outside her immediate family, Juniper required a long warmup period to get comfortable. She wouldn't speak, became visibly distressed and complained of stomachaches.
"We originally thought that she was just extremely shy," said Juniper's mom, Polly Phillips. "People assumed she was just being stubborn when she wouldn't speak, but I knew something wasn't right. As her mother, it was really hard to see my daughter in turmoil."
When Juniper reached school age and the behavior didn't improve, her local doctor turned to the Missouri Child Psychiatry Access Project (MO-CPAP), a statewide program led by Laine Young-Walker, chair of Psychiatry at the University of Missouri School of Medicine.
The project quickly connects pediatric primary care providers with child and adolescent psychiatrists for phone consultations, provides them with information about available community-based behavioral health services and offers training sessions to improve their knowledge, skills and confidence in treating behavioral health issues.
In July 2020, Juniper was diagnosed with selective mutism, an anxiety disorder characterized by an inability to speak or communicate in social settings.
MO-CPAP provided Phillips with the connections needed to make a positive impact on Juniper. She began therapy through play, known as "theraplay," to help her deal with the anxious moments that cause her mutism. Juniper loves it and has been opening up more. She also is being set up with a child psychiatrist.
"Establishing a routine has really helped her feel more comfortable," Phillips said. "I'm still learning what to do, but I'm so glad that MO-CPAP has been here to guide me and give me advice when I needed it most."
Subscribe to
Show Me
Mizzou
Stay up-to-date on all things Mizzou when you subscribe to the Show Me Mizzou newsletter. Issues will arrive in your inbox every Tuesday, Wednesday and Thursday.