March 16, 2021
Contact: Deidra Ashley, ashleyde@missouri.edu
Need an outfit to help you ace the interview or presentation? Truman's Closet has you covered. The student-led service program allows University of Missouri students, faculty and staff to borrow from more than 240 pieces of professional business attire — all free of charge.
The closet recently merged with Tiger Pantry and moved into the Hitt Street Garage location. In addition to taking extra safety precautions, with the staff and volunteers wearing face coverings and gloves, social distancing, and sanitizing frequently, the closet now offers contactless curbside pickup and home delivery for at-risk individuals.
"We are doing everything we can to keep our employees and patrons safe while still providing this service," said Brittany Pomilee, graduate assistant at Tiger Pantry and Truman's Closet. "Our student volunteers are doing a great job of following the Show Me Renewal plan and adapting the way services are offered to mitigate the spread of COVID-19."
It takes a village to keep assistance programs running during a pandemic. Here's a look inside at how Mizzou students and staff are helping their peers.
Brittany Pomilee, graduate assistant at Truman's Closet, maintains the online catalog so requestors know what items of clothing are available. Mizzou students, faculty and staff members then use the online MU Engage form to request particular items of clothing.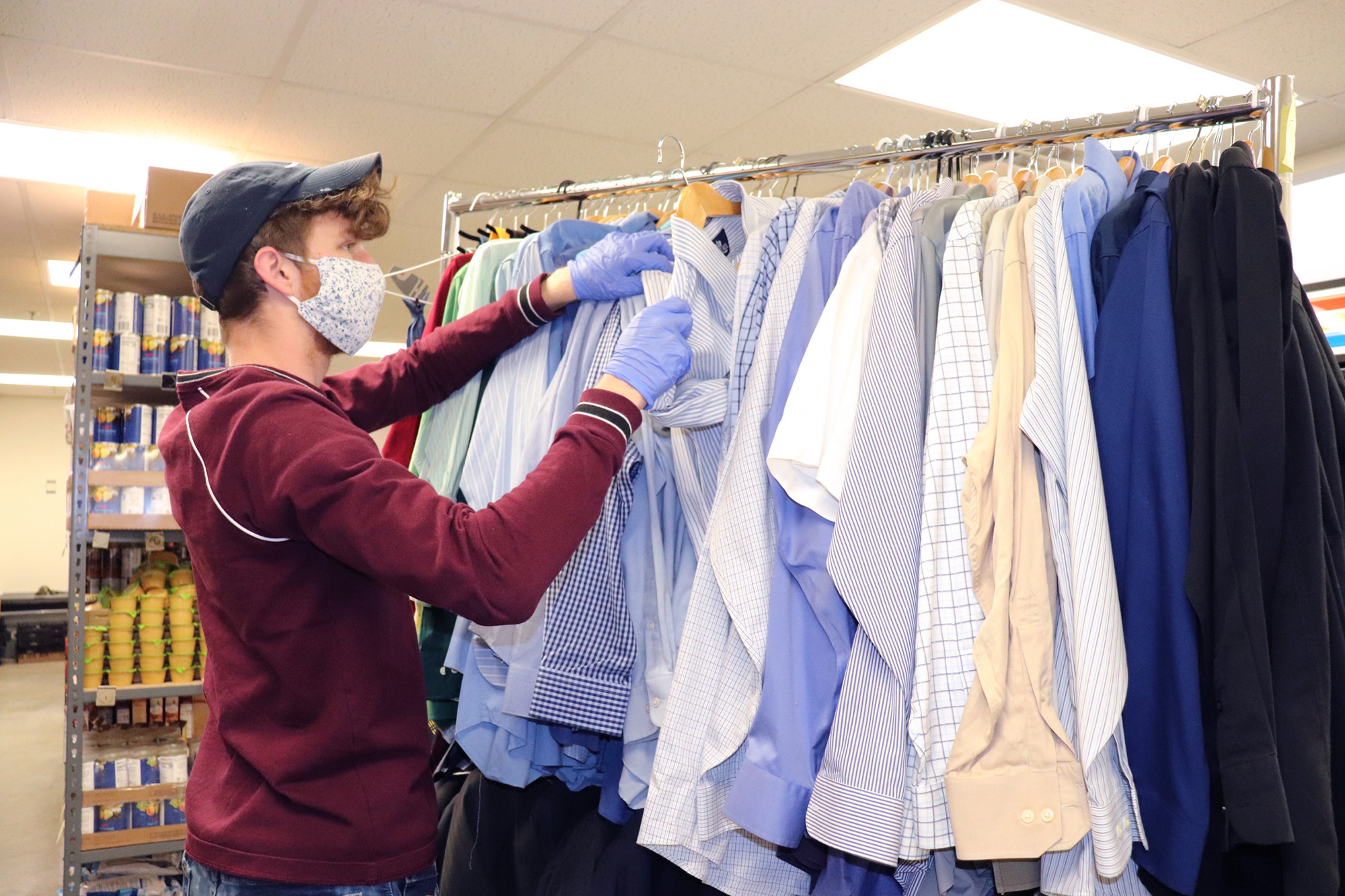 Freshman Thomas Holmes pulls a dress shirt to fill an order.
"Due to COVID, not much else was going on when I first joined. I like being able to be face-to-face with other students for a few hours each week and do something that's fulfilling." — Thomas Holmes; international business major from Bloomington, Illinois
Freshman Chelsie Mackanos wipes down a table so it can be used to sort orders. She and her twin sister, Kaycee, volunteer on the same shift.
"Volunteering here is great because Kaycee and I get to spend more time together. It's easy for us to communicate and that helps us work with the other volunteers and fill orders more efficiently." — Chelsea Mackanos; biology and psychology major from St. Louis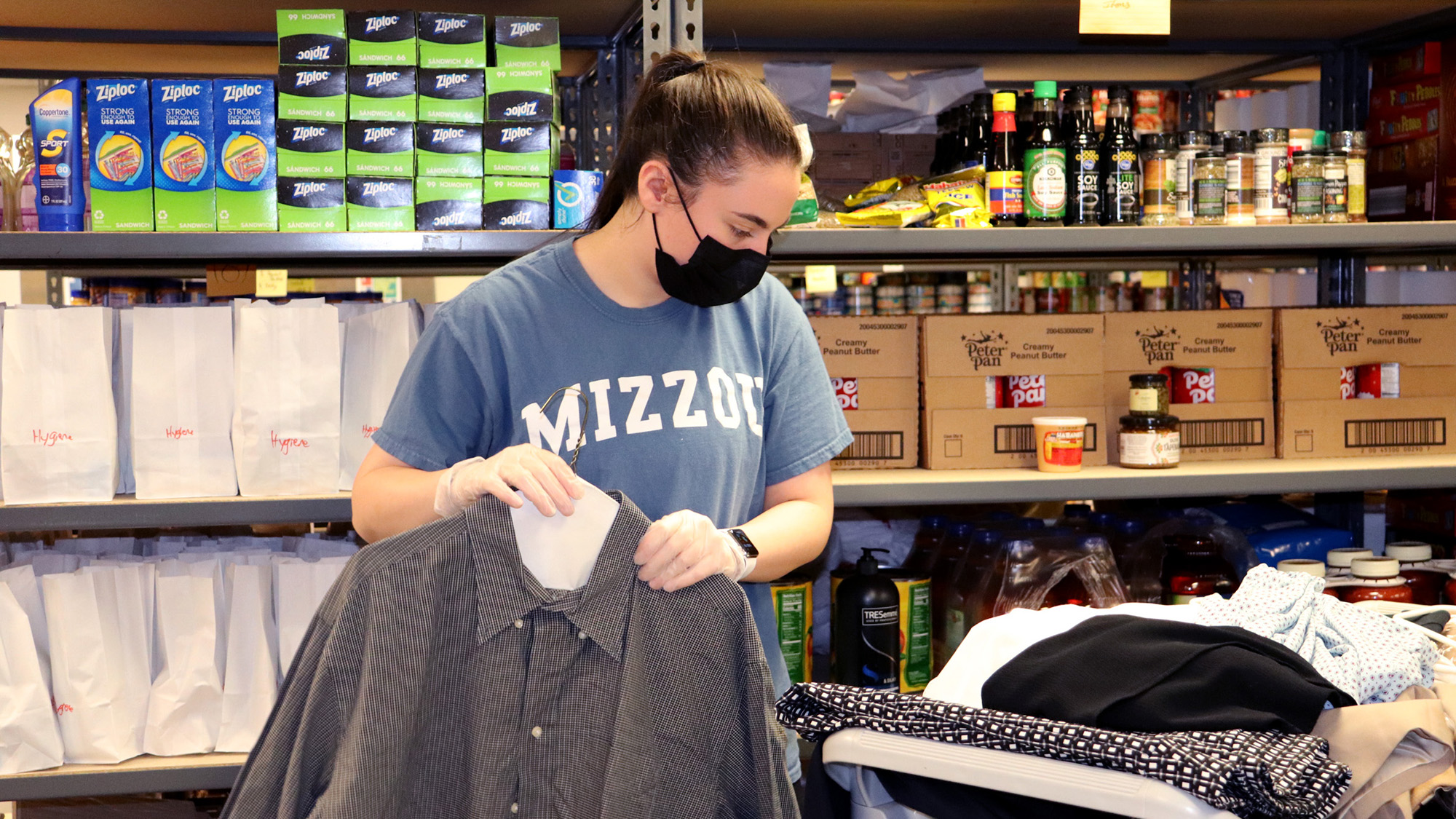 Freshman Kaycee Mackanos sorts through donations to ensure the pieces are in good condition and meet current style trends.
"Truman's Closet provides a wide selection of business attire, and the clothing ranges in size, color, fit and occasion. Everything is cleaned and inspected before and after each use in order to uphold its condition and keep the clothing safe for customers. Whether you're going to a job interview or class presentation, Truman's Closet always has your back and will allow you to dress for success." — Kaycee Mackanos; biomedical engineering and economics major from St. Louis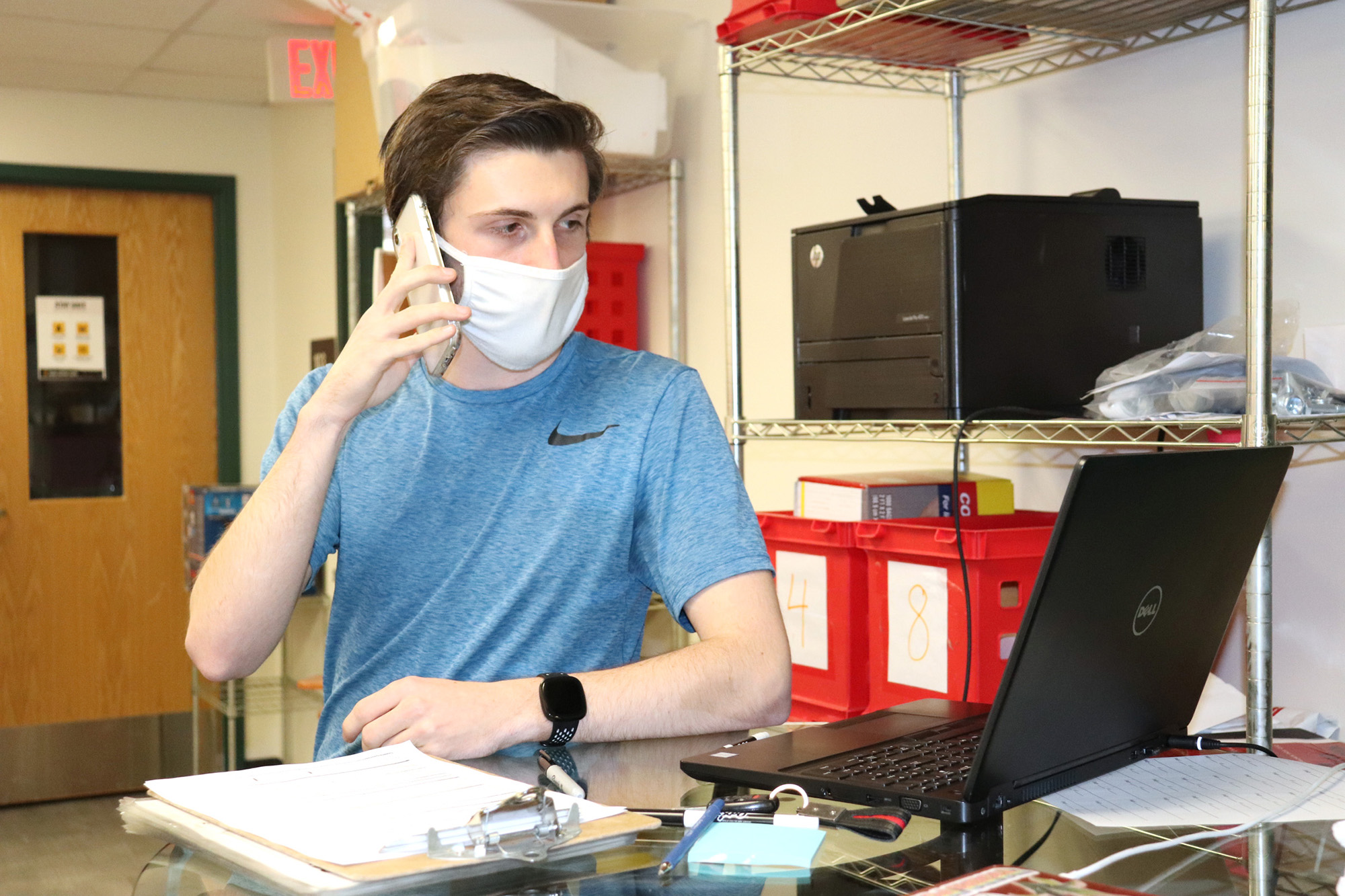 Student director and senior Brady Peters answers a call for a pickup. When patrons of Truman's Closet and Tiger Pantry arrive in Hitt Street Garage, they call the number on the signs and wait for their order to be brought out to them.
"We used to have patrons come inside to pick up, but, due to COVID, we now walk the orders out to their car. Because of this, we've had to increase our number of volunteers to about 40 people across three shifts." — Brady Peters; business administration major from St. Louis
Patrons are encouraged to park in the reserved spaces and call upon arrival. Volunteers take down the color and make of the vehicle, grab the order and bring it out — placing it in the trunk for contactless delivery.
The Truman's Closet and Tiger Pantry teams offer home delivery for at-risk individuals.
"Truman's Closet and Tiger Pantry offer delivery to individuals who are currently in self-isolation or quarantine due to COVID-19. This service is incredibly important as we understand some may not be able to utilize our curbside operation. Truman's Closet wants our students, faculty and staff to feel and look their best for whatever professional opportunity comes their way, and we are happy to contribute in any way we can!" — Brittany Pomilee, graduate assistant at Truman's Closet and Tiger Pantry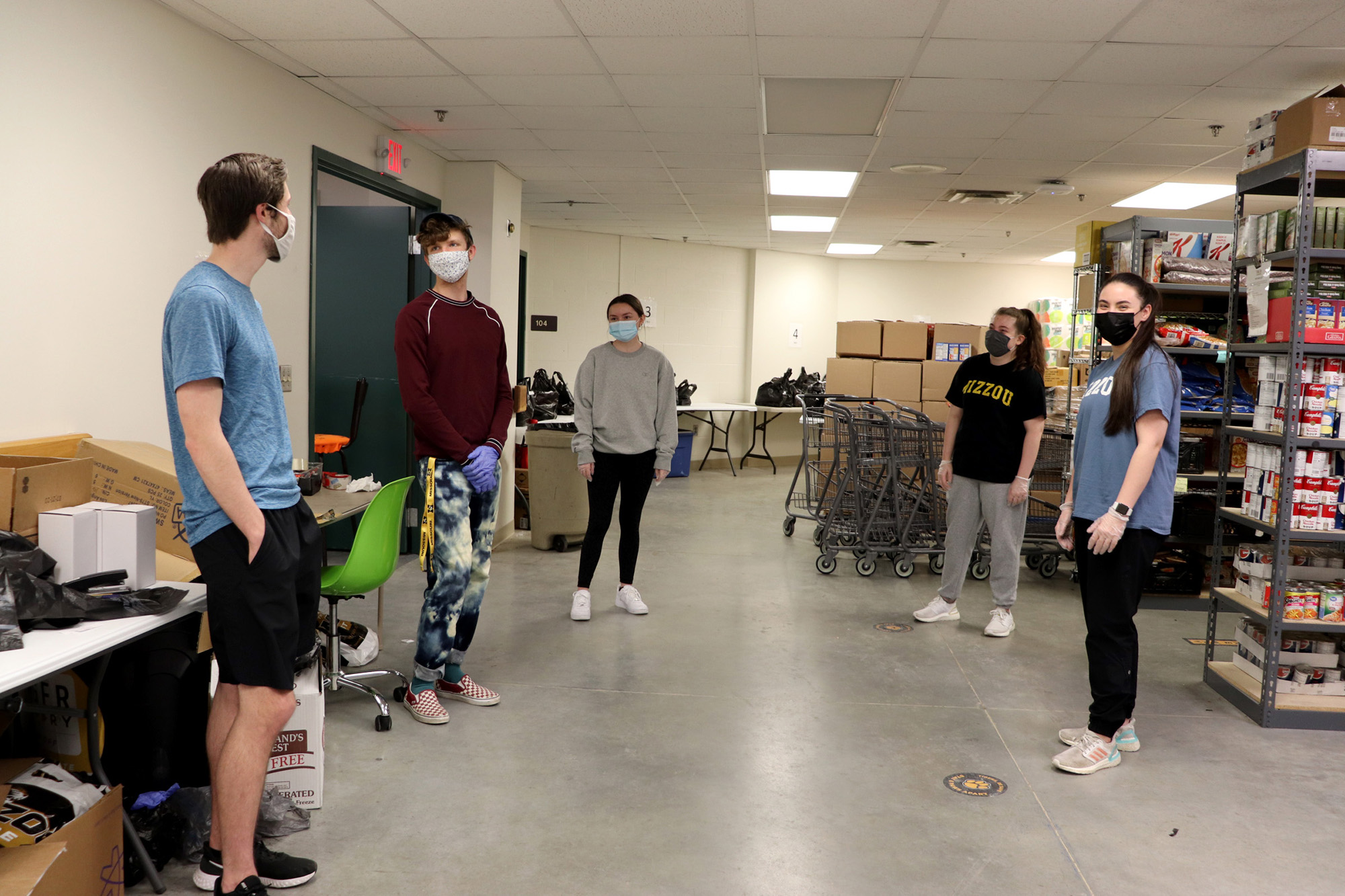 Each shift has a scheduled group of volunteers to help reduce the risk of cross-contamination and the spread of coronavirus. Students are encouraged to engage virtually with volunteers from other shifts.
Renters are asked to return clothes within two weeks. Once the clothes are brought back, they are washed or dry cleaned and prepped for the next renter. The closet hopes to get a washer and dryer on-site soon to increase efficiency and turnaround time.
Rent clothing
Renting clothing is easy.
Go to the Truman's Closet Facebook page and browse the online catalog.
Copy the description information from the item(s) you would like to request.
Paste the description(s) into the MU Engage form.
You can request up to five items at a time. They must be returned within two weeks of borrowing them.
Donate clothing
Truman's Closet is always accepting donations of business attire, winter coats and caps and gowns. Donations can be dropped off at Truman's Closet during normal hours of operation. Learn more