April 27, 2021
Finals week at the University of Missouri is May 10-14. With finals comes studying … lots of studying. You might as well choose one of the best places on campus to get your last grind in before summer break, right? Here are some of our favorite places to study on campus:
Ellis Library
Whether you're looking for a change in scenery — or some actual peace and quiet — Ellis Library is just the place for your late-night study session. Take advantage of the newly renovated Reading Room and catch up with friends outside the Bookmark Café.
"I like to study at Ellis Library in the Nook. It's in the corner, by some book stacks, and is a nice quiet area where no one can bother me." – Danielle Gorman, senior English student from Kansas City, Missouri
Bonus tip: Reserve a single person study room here.
Finals week hours: 7:30 a.m. to 11:59 p.m. Monday through Thursday, 7:30 a.m. to 8 p.m. Friday
Student Center
At the heart of campus, the Student Center is the ultimate study space. It offers access to food, smoothies, coffee and the Mizzou Market. You can pick a table on the main floor, a comfy chair on the second floor, or reserve a secluded study room for those times you really need to focus. The best part? There are plenty of outlets for everyone.
"The Student Center is a great place to study because I have lots of options of where to sit. Whether I'm studying with friends or wanting a quiet space, the Student Center has it all."
— Kayleigh Peterson, junior strategic communications student from Platte City, Missouri
Bonus tip: Click here to reserve a study room at the Student Center
Finals week hours: 7 a.m. to 8 p.m. Monday through Thursday, 7 a.m. to 6 p.m. Friday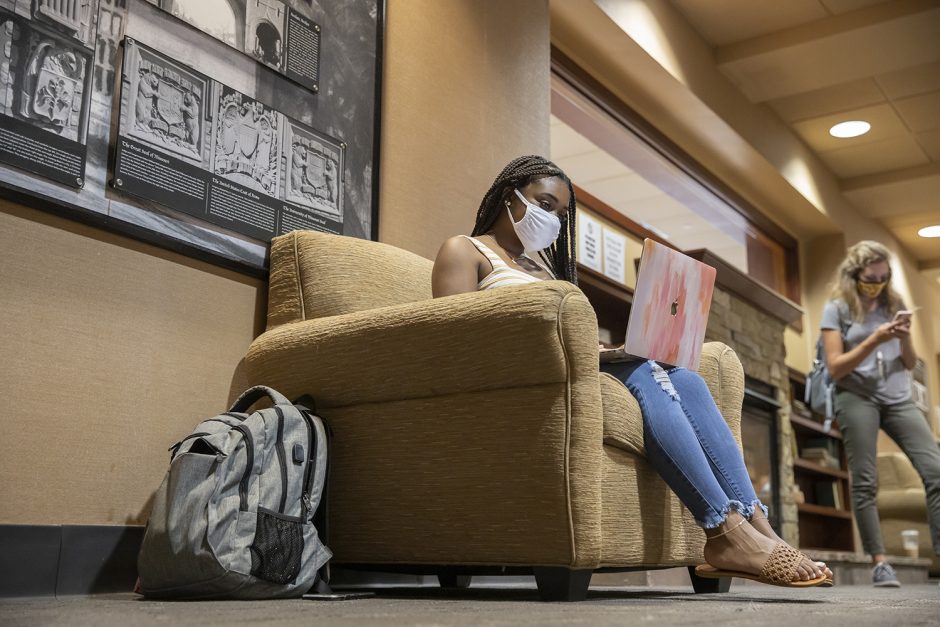 Memorial Union
Memorial Union is a perfect place for a daytime study sesh. Comfy chairs, coffee and Wheatstone … What else could you need?
Bonus tip: Click here to reserve a room in any of the Student Unions
Finals week hours: 7 a.m. to 8 p.m. Monday through Thursday, 7 a.m. to 6 p.m. Friday

MizzouRec
It might sound surprising but stay with us. Near the MizzouRec Hitt Street entrance, there are gorgeous, greenery-filled study spaces that will motivate you to keep pushing for the summer ahead. Plus, if you need a study break to get your body moving, you're already at the Rec!
"I enjoy studying at the Rec. It is thought of as a loud, hectic environment, but they have a very peaceful and relaxing area designated for students to come unwind and do their work. For me, it is also convenient to go and study for a couple hours then go workout." — Alley Hoffmeyer, sophomore health science major from St. Louis, Missouri
Finals week hours: 5:30 a.m. to 10 p.m. Monday through Thursday, 5:30 a.m. to 8 p.m. Friday

Lafferre Hall
You don't have to be an engineering student to take advantage of this stellar study space. With plenty of study rooms, large Mac desktop computers and open, industrial architecture, it's easy to make the most of your study time.
"I'm not an engineering student but I love studying in Lafferre. When I study cell diagrams, I like to use the giant Macs. It almost makes me feel like I'm in the cell." — Brylee Duncan, sophomore biology student from Odessa, Missouri
Bonus tip: It's easy to get lost in Lafferre Hall, but these maps can help you get around.
Finals week hours: 8 a.m. to 9 p.m. Monday through Thursday, 8 a.m. to 5 p.m. Friday

The J-School
Here's a two-for-one:
Frank Lee Martin Journalism Library
With a sleek and modern red and white interior, along with Macs equipped with Adobe Creative Suite, the J-School library is an inspiring place to polish up a final project (or even your resume for that post-grad job search).
"Studying at the J Library is great because it's less busy and much smaller than Ellis. It's really nice to have a library just for your major since there are plenty of journalism-specific resources as well." — Vivian Kolks, junior journalism student from Cincinnati, Ohio
Finals week hours: 8 a.m. to 7:40 p.m. Monday through Thursday, 8 a.m. to 5 p.m. Friday
Bonus tip: Reserve a group study room here (at the bottom of the page).
Palmer Room
Let's hear it for natural light! This giant room, located in the Reynolds Journalism Institute, is a light and airy study space lovingly referred to as "The Fishbowl" by journalism students due to the surrounding windows (which offer a great view of the Quad).
Finals week hours: 8 a.m. to 7:40 p.m. Monday through Friday
The Columns
A classic. This Mizzou landmark isn't just gorgeous; it also makes for a great study space when you need some fresh air.
"Being out at the Columns is nice because it's a way to be outside while also working on things and being on campus. It's also just an incredibly iconic location, not just at Mizzou, but Missouri in general." — Josh Varnon, senior math student from Cape Girardeau, Missouri
Bonus tip: Sun and screens don't always mix. If you're having trouble reading off your laptop, consider bringing printed or handwritten notes with you.
Finals week hours: As long as it's light outside