Treat it right, and Christmas cactus lives to bloom another year
With proper care, Christmas cactus can be a gift that gives for many years.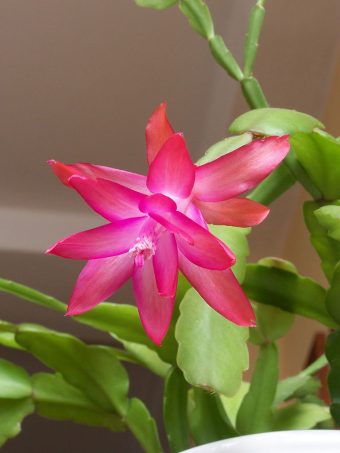 Dec. 18, 2020
With proper care, a Christmas cactus is a gift that gives for many years, says University of Missouri Extension horticulturist David Trinklein.
Trinklein has recommendations for success with Christmas cactus:
Christmas cacti tolerate low light but perform best in bright, indirect light in the home. They benefit from brighter light during winter.
Water only when the growing medium is dry to the touch. Reduce watering from fall through spring.
Keep Christmas cacti slightly pot-bound to induce prolific flowering. Repotting may be necessary every three years.
Sudden changes in temperature, light or other factors, such as excessive drying of the growing medium, can cause Christmas cacti to drop unopened flower buds.
Avoid overwatering and maintain strict sanitation. Remove common insect pests, which include mealybug and scale.
"Given proper care, Christmas cacti often outlive their caretaker and provide years of brilliant color around the holidays," said Trinklein. "The small amount of effort required by these plants is well worth it when one considers the reward of seeing an 'heirloom' plant bloom year after year."
Subscribe to
Show Me
Mizzou
Stay up-to-date on all things Mizzou when you subscribe to the Show Me Mizzou newsletter. Issues will arrive in your inbox every Tuesday, Wednesday and Thursday.