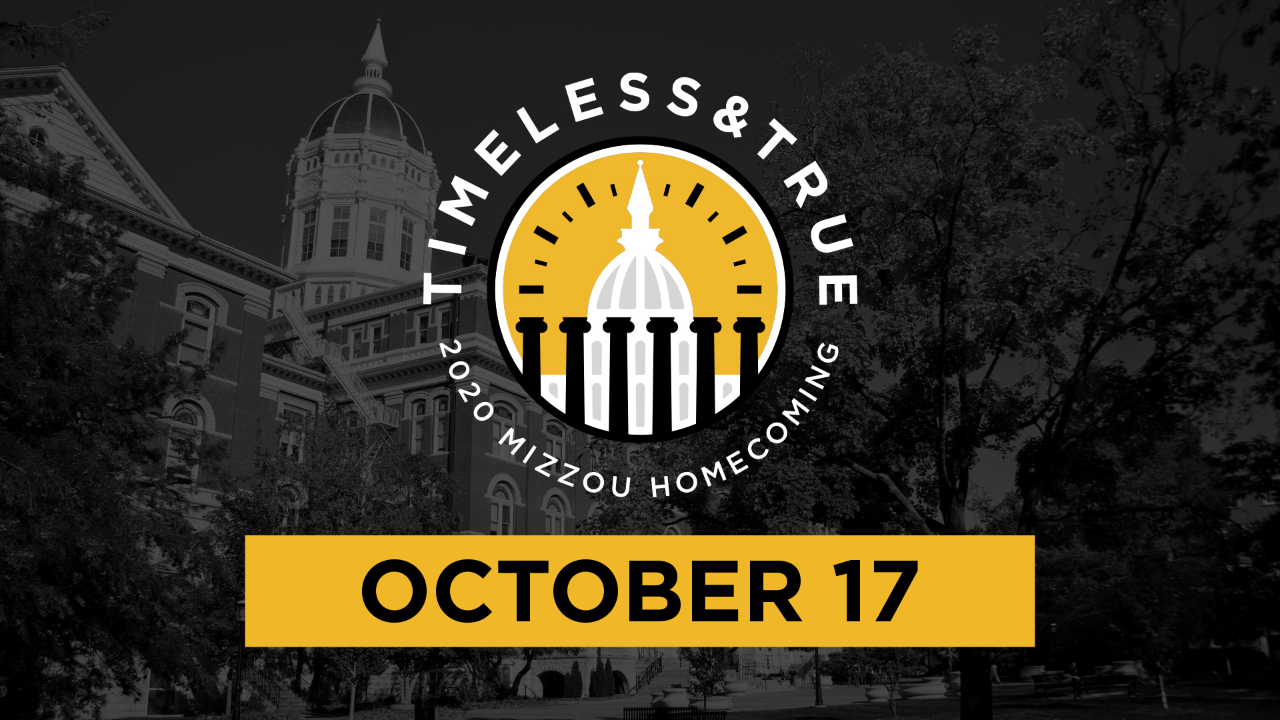 Oct. 1, 2020
Contact: Austin Fitzgerald, 573-882-6217, fitzgeraldac@missouri.edu
The University of Missouri's 109th Homecoming, during which Mizzou Football will host Vanderbilt, will carry on the traditions of one of the country's oldest homecoming celebrations, but in a largely virtual form. While no parade will take place over MU's homecoming weekend of Oct. 17, a spirit rally and inductions to the Mizzou Hall of Fame will take place virtually, among many other events. The columns and Columbia's downtown district will also be decorated by student organizations while respecting social distancing requirements.
"One of the bright spots for Homecoming this year is the chance to involve and engage more alumni and friends," said Robin Wenneker, president of the Mizzou Alumni Association and a member of the UM Board of Curators. "There are so many events for our alumni to participate in around the country. We will host a few of our well-known traditions and add new virtual events that we hope can become future traditions for our Tigers who cannot make it to campus every year."
One such new event is a Homecoming Parade 5K, in which alumni around the country will be encouraged to run, walk or wheel a 5K in their home communities. MU's traditional parade route also happens to cover the distance of a 5K, giving alumni an opportunity to experience a "parade K" in the absence of the event.
"We decided that if we can't have a parade, we can have hundreds or thousands of 'parade K's' around the country," said Todd McCubbin, MU's associate vice chancellor for alumni relations and executive director of the Mizzou Alumni Association.
For McCubbin, who earned a master's degree in education from MU in 1995, homecoming's traditions are an invaluable way to introduce MU to new generations — whether the celebrations are virtual or in-person.
"Homecoming is how my kids know Mizzou," McCubbin said. "Every year, my wife and I take our kids to Ninth Street to watch the parade. As teens now, they still go, and they still want to go. There are so many alums that bring their kids back every year. That's a big part of what makes homecoming such an enduring tradition. This year, we will continue the tradition — but it will look different."
Children will be invited to take part in a virtual coloring contest with homecoming-themed coloring pages, and the decorating-inclined can participate in "pomping at home" (pomping, for the uninitiated, involves rolling tissue paper to create festive decorations). While pomping would have played a big role in building displays for our annual Campus Decorations event, this year participants can share their pomping skills online to add a festive flair to the virtual celebrations.
Rebecca Shyu, one of the tri-directors of homecoming's steering committee and a junior studying computer science, sees these activities as an opportunity to express positivity in an uncertain time. And like McCubbin, she thinks of homecoming as a time to share MU with family.
"Homecoming is the culmination of all the positive relationships formed at MU," said Shyu. "As a student, you really develop a family here, and to be able to come back and reunite with that family while being able to contribute to the community at the same time is incredible."
Service remains a key part of the Homecoming experience. Mizzou will maintain an important community event on Oct.9, Tiger Food Fight, a food drive benefiting Tiger Pantry and the Food Bank for Central & Northeast Missouri. From 12 to 6 p.m. in front of the Reynolds Alumni Center, canned food donations will be accepted in a drive-thru format. The campus and Columbia community are invited to give in the spirit of Homecoming by driving through the circle drive and dropping off canned and non-perishable food donations. Last year, more than 30,000 pounds of food were collected.
Another tradition of community engagement will continue this year, albeit with some changes. In a typical year, MU's Homecoming Blood Drive is the largest student-run blood drive in the nation. This year, efforts will instead be focused on promoting several mini blood drives hosted by the American Red Cross. Across dozens of satellite locations in several counties around Missouri through Nov. 16, people will have the opportunity to help address an urgent shortage of blood in Missouri. One such drive will take place from 10 a.m. to 3 p.m. on Friday, Oct. 16, at the Columbia Public Library. The Columbia community is invited to participate.
To tri-director Macyn McClurg, a senior studying chemical engineering, these efforts epitomize the spirit of Homecoming.
"From college students to families in the community, there have been a lot of hardships that have come with this pandemic," McClurg said. "It's really refreshing to see the community come together and donate for the benefit of people in need. To me, that's a really exciting part of Homecoming."
MU's 109th Homecoming at a glance:
Click here for more information on homecoming's events and festivities.