Bias Hotline brings additional resources, accountability
The 24/7 hotline offers a revamped way to report bias incidents while creating a more inclusive environment for all.
Aug. 25, 2020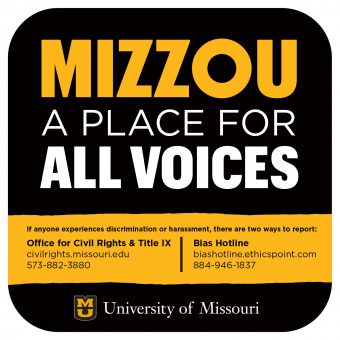 The University of Missouri recently launched a Bias Hotline for community members to anonymously report behavior that targets individuals or groups based on their identities. Bias incidents may be reported that are experienced, witnessed or suspected. The hotline is available to all faculty, staff, students and visitors at both MU and MU Health Care by calling 844-946-1837 or by visiting biashotline.ethicspoint.com.
The Bias Hotline was first announced on July 16 at the Inclusive Excellence Virtual Panel and Q&A with Mizzou leadership. It is one in a series of new initiatives designed to support a more welcoming campus culture.
Reports made through the 24/7, year-round hotline or its corresponding website are anonymous and only accessible to a small team tasked with handling cases, said Michelle Piranio, chief audit and compliance officer for the University of Missouri System. Piranio said staff members have signed confidentiality agreements to protect sensitive information.
"Everyone has the right to work and study in a positive environment," Piranio said. "With that right comes the responsibility of acting in an ethical and responsible manner. You should let the appropriate people know if someone is not behaving in a way that respects university values."
A better MU for everyone
In a letter to campus announcing the Bias Hotline's launch, Mun Choi, UM System president and MU chancellor, and Latha Ramchand, provost and executive vice chancellor for academic affairs, emphasized the university's commitment to its values of respect, responsibility, discovery and excellence. "The Bias Hotline reflects our broader goal of building a culture of inclusivity where everyone knows and feels like they belong," Choi and Ramchand said in the letter.
The letter also noted that the hotline joins the UM System's Integrity and Accountability Hotline and the Office for Civil Rights and Title IX's site as reporting options.
Andy Hayes, assistant vice chancellor for civil rights, Title IX & ADA, said the Bias Hotline's specific focus helps distinguish it from some other accountability tools.
"We've always offered support and resources to those who have experienced incidents of bias," Hayes said. "But I think it's great that we now have the Bias Hotline and we're promoting it, so people have expanded options for reporting and they know the types of incidents they can report. It provides another level of support for people who are worried about power dynamics or for those who are from marginalized communities."
People who report incidents using the hotline will be issued a report key that allows them to review their case status either by phone or online — while still remaining anonymous. They are encouraged to check back periodically in case more information is requested by an investigator.
A culture of caring
Maurice Gipson, vice chancellor for Inclusion, Diversity and Equity, said the Bias Hotline plays into a much larger vision for a "culture of caring" at Mizzou.
Gipson noted that, though it's a powerful tool, the hotline cannot prevent all incidents of bias. But when considered with other improved accountability measures — such as upgraded security cameras and posters around campus emphasizing the university's commitment to diversity and inclusion — it's a step toward making Mizzou more welcoming for everyone.
"No matter the tools or how thoroughly we investigate, each one of us should commit to making Mizzou a better place," Gipson said. "It's our individual responsibility to embrace that culture of caring."
Students may choose to discuss concerns about a possible incident of bias with a trusted supervisor, instructor or advisor before contacting the Office for Civil Rights and Title IX or the Bias Hotline. Employees are required to report any instance of discrimination or harassment of which they become aware to the applicable Title IX coordinator or equity officer.
Subscribe to
Show Me
Mizzou
Stay up-to-date on all things Mizzou when you subscribe to the Show Me Mizzou newsletter. Issues will arrive in your inbox every Tuesday, Wednesday and Thursday.